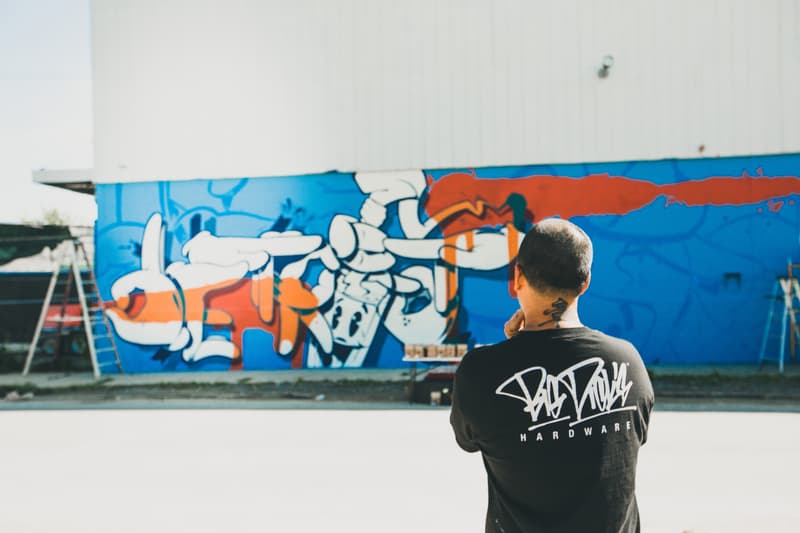 1 of 2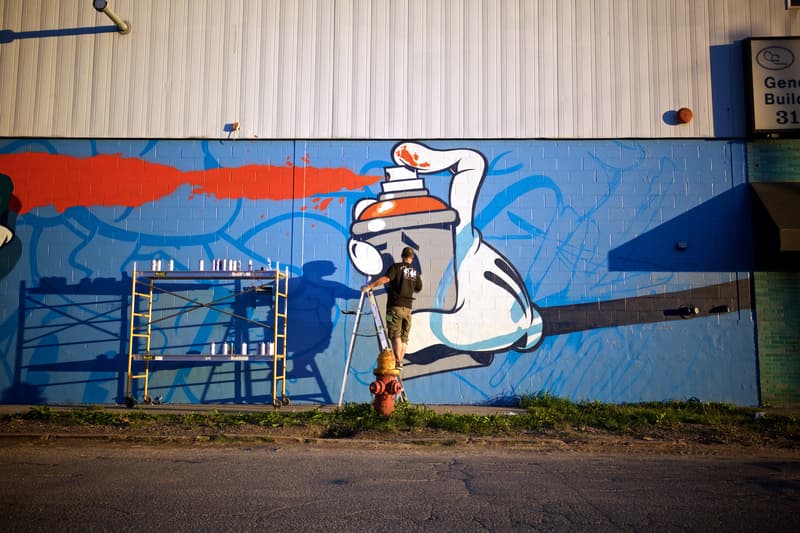 2 of 2
OG Slick On Designing for Stussy and FUCT & Patenting the LA "Mickey Hands"
The graffiti artist breaks down his style at Murals in the Market, Detroit.
---
OG Slick has come a long way from airbrushing T-shirts in Hawaii. Having come up in the seminal era of streetwear when clothing designs pulled exclusively from hip-hop conventions for inspiration, Slick has cemented his O.G. status over decades of stylistic progression and expansion. Graffiti is unquestionably at the heart of Slick's work; while all elements of his work are inextricably linked, Slick has begun to make more delineations between his crafts as of late. "There's a fine line in design," Slick tells us, in regards to the frequent commissioning of handstyles from streetwear companies throughout the '90s, including FUCT and Stussy.
Slick is universally known for designing what has come to be called the "Mickey hands." Crucially, the Disney association was far from intended, yet it was this public reception of the iconic design that eventually prompted Slick's collaboration with MEDICOM TOY, sprouting a gangsterized Mickey Mouse. The LA Hands have since been manufactured in a myriad of plastic and vinyl forms, pushing Slick into full view of a toy collector market that has seen the rise of artists such as KAWS and James Jarvis meteoric resell values for BE@RBRICKS and the like. Now at the helm of DISSIZIT! and Big Dick's Hardware, OG Slick continues to work at the intersection of artistic markets and practices while pushing his brand forward. We catch up with Slick at Detroit's Murals in the Market to talk about his business ethic and art direction.
Could you tell us about the history of your name?
I never called myself OG Slick, I'm Just Slick. Slick One, Slickster. Slick-San or whatever. When I introduce myself people are like "oh OG Slick?", I couldn't even get the name Slick on Instagram. We've been working on a project called "OGmojis". Some people even call me by my real name from Junior High, Ricky. These are old folks from Hawaii who know me from the Bombsquad days. They pull that Ricky card in front of other people all the time. I haven't been Ricky for thirty years. It's funny because Hex, who I battled back in the day, tried to call me Richard. I said anyone who calls me Richard is a probation officer. You gotta cut that noise. Even my mom calls me Slick.
How have you tackled your wall at Murals in the Market this year? 
They did me right for wall selection, I didn't get a corrugated wall. For the piece, I threw up the Slick hands in Detroit fashion. During the sketching process, I realized the "roit" part of Detroit looked like "riot" so I ended up writing "Detriot" as a nod at the 1967 Detroit Riot, also known as the 12th Street Riot, with the hands spelling in ode to anarchy.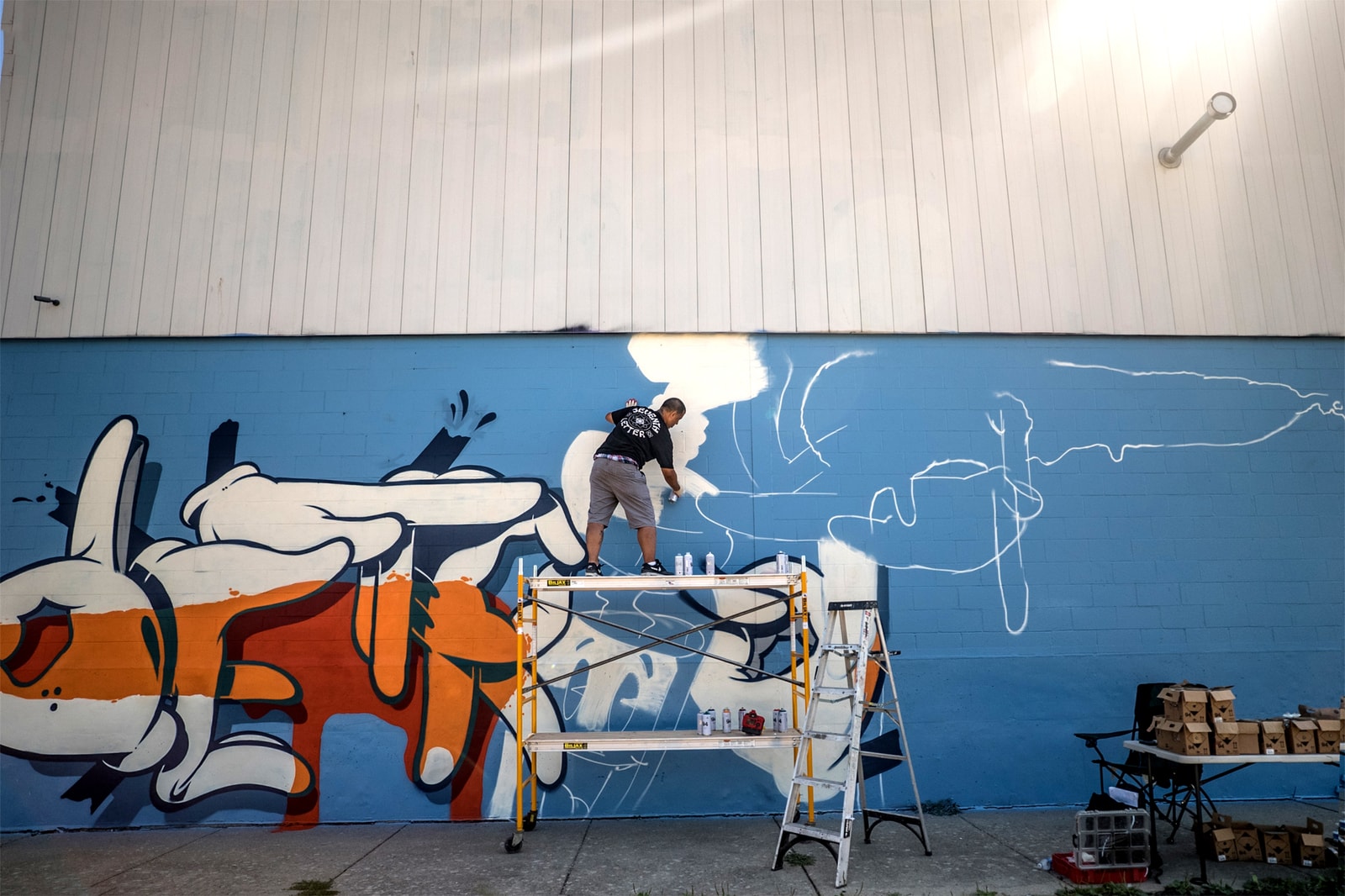 How about the colors for the mural?
I don't know too much about Detorit but I wanted to create something the locals could vibe with. The first thing that came to mind was the Detroit Tigers color scheme, so I went for the navy and orange colorway.
Some graffiti artists move on to become clothing or toy designers. What connects all these world for you, as an artist/designer?
My constant is always painting and graff. Even for my toys, their inspired by graffiti first; like the Rusta Chucka which is  made of Japanese freight cars all welded together to make the robot. Even if you don't see graff on there, there's graff element. It's hard for me to separate graffiti, even when I'm doing my clothing brands or murals. Everything is interconnected. Some of the images you're seeing now with the hands– some people tell me to put that on a shirt because they know me for my brand DISSIZIT, but I'm actually going the opposite way.
Some people want to see my prints on T-shirts, but I feel that almost cheapens my work. Some art should just live on prints/posters. So I'm starting to draw some lines in my work. I can't say I never liked graffiti on shirts because back in the day when we started 3rd Rail and did FUCT, we threw a little graff here and there but we were never one to put our graffiti pieces on shirts. That just never worked for me, because those pieces belonged on walls or trains. I just thought it was weird to have a burner on someone's shirt. To me it's always cheesy.


A lot of brands did do that in the '90s, did they not?
Right, because people were getting all excited about graffiti and we would get a lot of calls as a design company to do handstyles, which I'm borderline okay with, but it can easily go cheesy, once again. There's a fine line in design.
Looking back at your FUCT designs, could you say that there was a definitively "OG Slick" graphic or design?
No we were kind of removed from the designs. People tell me they know my style even if you look at the first shirt I designed from back in the day, there's no hands in there, but when I get asked to collab with people, that's what they want. When I did the Stussy World Tour shirts, that's what Stussy wanted– all the cities with the hands. But even that has changed. My hand style from last month has changed. Can you imagine, I was looking at the Stussy shirt I did in 2005, and I'm like eughhh. My hand style definitely dates me.
Where would you say the current landscape is with brands adopting artists and they're personal work?
Because of the over-saturation of brands and T-shirt companies and with DGT (Director Garment Printing), there's so much out there. I had to take a step back for a second. Besides from the fact that I was getting lost in the mix, there was always a void for what we were doing so we came in and killed it. Nowadays a lot of people are bandwagoning but there's no void for it. If you ask me what the climate is for the T-shirt game right now, it's difficult to say because I'm not that heavily into it. I couldn't care less about it, so I'm letting them eat themselves like incest and piranhas. Then I can come back and drop whatever I want. Wait for the bubble to burst, and we'll see who's on top. I got a DGT too I can come up with an idea in the morning and by the afternoon, I'll have a fresh tee. I'm not really tripping. We have a shop called Big Dick's Hardware, which is dope, because if I really have an itching desire to get a graphic out, we'll drop it through the shop.
You're heavily involved with vinyl toys as well. Where do you see that landscape currently?

There were all these toy collectors from the '90s to the 2000s and I think they've all grown up a little bit. They're kind of like me, they're still kids at heart. I think my sculptures are always playful and youthful. I put out what I like, and it's not mature or abstract on some conceptual shit, I just try to maintain that through my fine art. All these kids have grown up seeing my stuff over the years and now that they know I'm doing fine art sculptures, they don't mind putting out a few [thousand] on a nice sculpture for their homes, whereas before it was just a forty-dollar figurine for their toy shelf. My audience is growing up with me.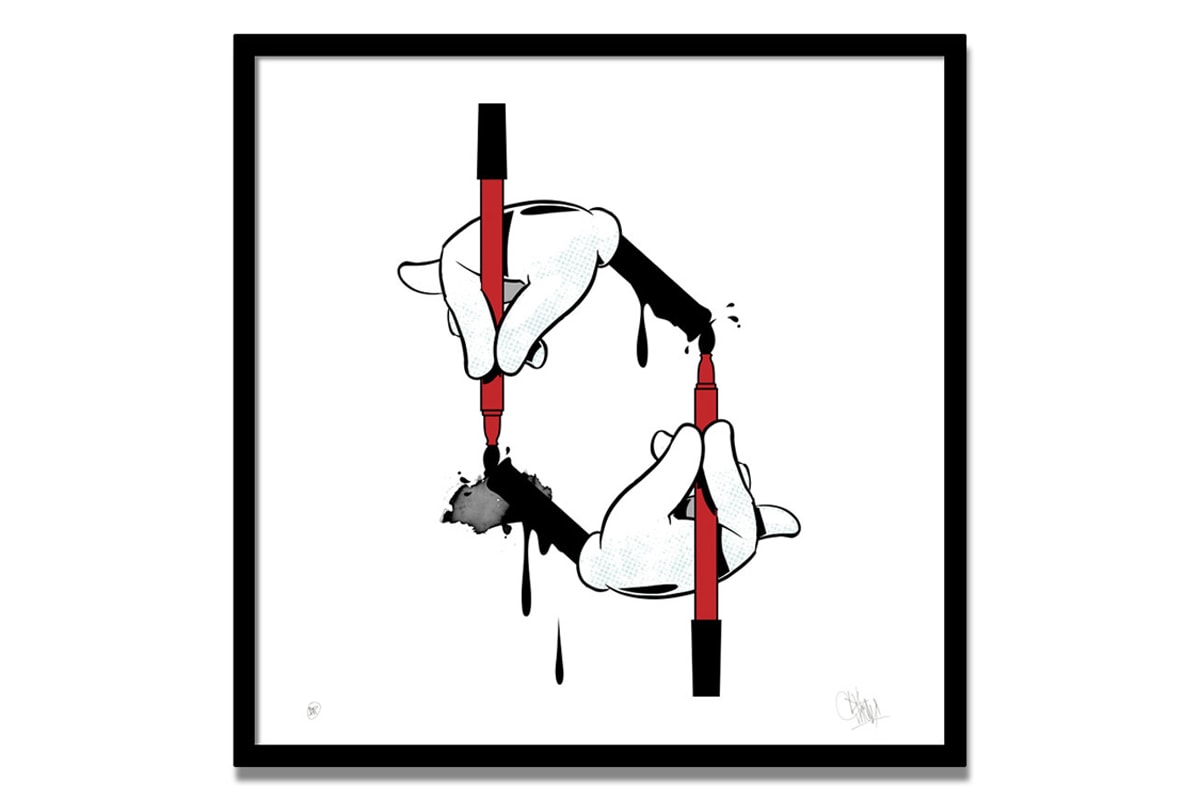 Do you ever take a step back for a second and review the progress in yourself, is that a strategy for you as an artist?
You gotta look back to a certain extent. You go through phases when stuff that used to work for you doesn't anymore. I went through my lettering phase, I went through my bubble phase, my character phrase, my graphic font phase. It's just phases we all go through. I try not to follow trends too much but I always keep up with current trends so I know what not to do. I like to be have that weird edge, which is difficult sometimes, because you're not always the one to capitalise on the trend, it's the people who come after who cash out. I catch shit from the wife, she's like "why cant you do stuff more mainstream," but by the time it hits mainstream I don't want to do it.
A lot of graffiti is hardcore and subversive. What draws you to using and re-appropriating the hands as a more light-hearted theme?
I've always been prone to the character side of graff. It wasn't until my latter years of doing graff that I learned to appreciate doing throw-ups because that should have been there when I first started out. All of my homies were about throws. But now if you can capture the whole essence of your graff in one or two letters. As far as the hands go, a lot of people thought it was a Mickey Mouse thing but the first time I actually painted it was at Belmont Tunnel and it was on this rap character who was cholo-seque, throwing up the LA. If you look at the cover of the book Graffiti of LA, it's my character throwing up the LA. It has nothing to do with Mickey. It wasn't until I did an exhibit in 2005 that I had Mickey Mouse throwing up the LA on one of my canvases.
Was the Mickey Mouse throw-up an intentional progression of that?

People at the time saw that as Mickey hands, whenever it was separate from the mouse, people kept calling it "Mickey hands." So that's why I was like, fuck it, I'll throw Mickey in there. People are really attracted to Mickey for some reason, he's the OG character that transcends through however many generations. I was even asked to do a Mickey Mouse figure for Medicom Toy. They said he can't be throwing up the LA sign, he can't be wearing a bandana, and it just ended up looking like Mickey Mouse. I turned down what could have been a pretty dope collab with Medicom and Disney. I'm not gonna sign my name to that. So I scratched the idea, and it wasn't until years later that they wanted to do Mickey's gangster cousin, which is how the product came about.

Are the LA Mickey hands are still your trademark?
We own the trademark for the LA hands. That's probably the smartest thing we did, trademark it. It's our brand trademark and we license it out for different things and at some point I would love to associate it with an athletic team in LA. We're in talks with different teams to see who comes with the best offer because they can't even do anything close to that; I can chase after them because I own the trademark. We're pretty fortunate that Disney hasn't come after us. They say they don't own the gloves, and neither do we, in a sense. But we do own the gloves in the form of LA. So a lot of people tag me in photos where people have the gloves twisting weed. But as long as it's not the LA sign, we can't sweat them. That's why on this series I decided to take it all back, so I did the alphabet last year to let people know how we use the hands. I remember seeing the Escher print as a kid, of the hands drawing each other.