5 Things Integral to the Nike MAG's Creation
We learn first hand at Michael J. Fox Foundation's raffle partnership in London's Niketown.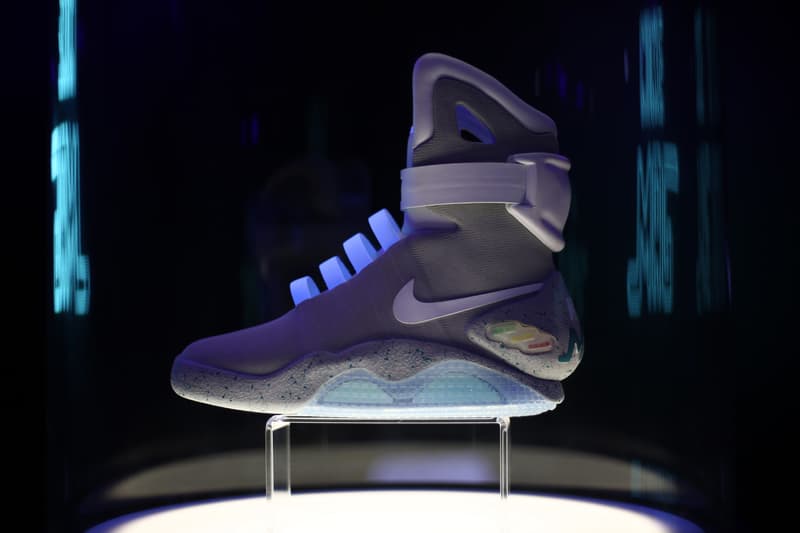 The Nike MAG was recently unveiled at London's Niketown, celebrating the London part of the raffle partnership with the Michael J. Fox Foundation. We were allowed to try on the shoe and ask Tiffany Beers, Senior Director of Advanced Product Innovation at Nike, about the making of the MAG. And with the raffle winners having just been announced through the Nike+ app, we felt it important for them to know the intricacies behind their limited to 89, auto-lacing investment. Here's what we discovered.
Making a Nike MAG Is a 1,000 Step Process
Shoes are complicated. To make even your most basic shoe takes, on average, 192 steps. For comparison, shirts can take four steps. So we asked Beers about the amount of steps it takes to make a technologically complicated shoe such as the Nike MAG. "Definitely a lot," Beers says. "I'd say definitely more than 400. And with the auto lacing, there's a whole slew of additional steps. I'd guess a 1,000 steps or so." Beers noted that the shoe takes 400 steps and the auto-lacing brought it up to 1,000, so we can guess that the auto lacing system takes around 600 steps alone.
The Nike+ Basketball Shoe Was Integral to the MAG's Creation
In somewhat surprising news, it turns out the Beaverton, Oregon's training-focus Nike+ was vital to the development of the new MAG. "In 2012 we launched the Nike+ basketball shoe that had the sensor in them. We took directly from those learnings and that team [and learned] how to put the sensor into the Nike MAG and the Hyperadapt. I was so glad they did that [technology] because that would've been a lot of discovery to do there." The Nike+ essentially worked as a development shortcut for Beers "because we had already launched a product with something like that inside."
Auto-Lacing Will Be Put Into Production for the Hyperadapt Soon
We asked Beers about how long the lacing system has been in production. "It's not even into production yet, really," she says. "It's been in development for almost 10 years, off and on. Intensely for the last five. It actually should be for the Hyperadapt in production pretty soon." We've previously reported that the Hyperadapt will be released November 28, so look for auto lacing on general release then.
It Uses Technology From the Motor Industry
While not necessarily within the car industry, the auto-lacing system utilizes motor technology that you see in small products. "We needed technology from the motor industry," Beers said. "So, the small medical and small toys [industry]. And then we came up with our own fit system to basically attach to the lace engine." And, as you'd expect from one of the most technologically advanced shoes of recent times, there's "a lot of electronics and firmware technology."
The Battery Technology Made Took Approximately Two Years
One lesser talked about technology in the Air MAG is the battery, given the making of the shoe, it'd need to be a long-lasting slimline battery that wouldn't weigh down the shoe. "There's the lace span battery technology. It took a long time to get the battery figured out. We had to basically confirm a battery because batteries take a really long time to go through certification. So we had to commit to that a couple of years."