Now That Every Team Has Played, Here's How the NBA Season Started
"Whose manz is this?"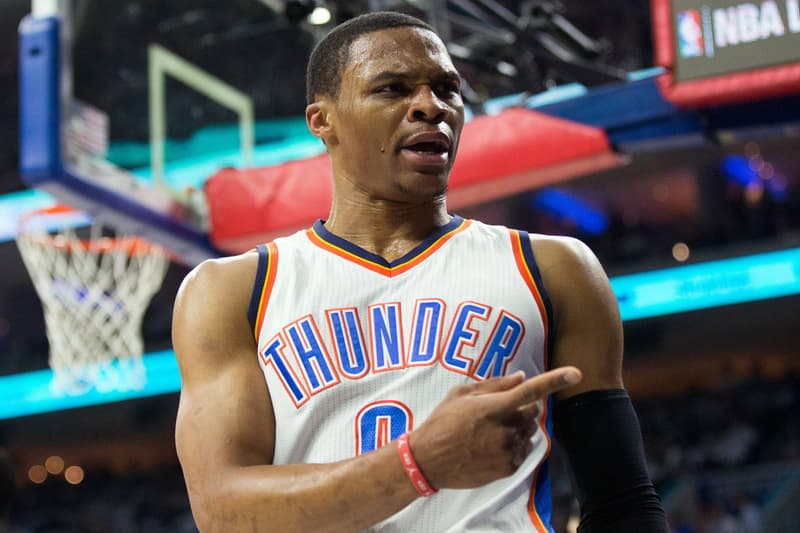 Honestly, it felt like the NBA never really left. There's been so much hype and anticipation surrounding the 2016-2017 season, that we were never short of topics to debate. Can KD meld well with GSW? How will the Spurs fare post-Duncan? Will Emiid live up to the expectations we all had two years ago? And how many helmets will Westbrook tally?
Four months of heated barbershop banter later and the NBA is back, and it sure hasn't disappointed. Now that every team has played at least once, here's some of the more notable stories from the first games.
Anthony Davis Goes Off
In the first game since ending his season in March due to knee and shoulder injuries, Davis tipped off the 2016-2017 season in historical fashion. He joined legends Michael Jordan, Wilt Chamberlain and Elgin Baylor to become the fourth player to score 50 points in a season opener. Finishing the game with 50 points, 16 rebounds, 5 assists, 7 steals and 4 blocks, The Brow also became the first in NBA history (since steals became an official statistic in 1973-74) to put up at least 45 points, 15 rebounds, 5 assists and 5 steals in a game. Although it's good to see a healthy Davis back at the top of his game, the Pelicans still ended up losing to the Nuggets, reiterating their need for a proper supporting cast for the 23-year-old 3-time All-Star.
Kawhi Leonard Leads the New Era of Spurs Basketball
After 19 years, Tim Duncan is no longer with the San Antonio Spurs, and it's a bit weird not seeing him on the floor, even if his productivity has been on a steady decline for the last five-plus years. Nevertheless, two-time Defensive Player of the Year, Kawhi Leonard, reassured us that San Antonio is in good, large hands. Leonard became the first player in NBA history to rack up 30 points and 5 steals in each of his first two games, leading the new-age Spurs pass the Warriors and Kings in two big wins.
Dwyane Wade Delivered a Dagger in His Return Home
In his return home to Chicago, Dwayne Wade tallied 22 points, 5 assists and 6 rebounds in a tight win over the Boston Celtics. The Bulls led most of the game, and were up 95 to 81 midway through the fourth quarter. The Celtics then climbed within three after an 11-0 run. With less than a minute left, and the score favoring the Bulls at 101-99, Celtics' Jaylen Brown got called for a travel. On the next possession, Wade hit a step-back three to put a dagger in Boston and let the world know he's home.
Joel "The Dream 2" Emiid
In 2014, Joel Emiid entered the NBA draft, forgoing his final three years of college eligibility at the University of Kansas. His NBA debut would be delayed until this past Tuesday night, as a foot injury would leave him sidelined for both the 2014-2015 and 2015-2016 seasons. There were a lot of uncertainties surrounding Emiid with his situation looking very familiar to Greg Oden's, but the young 22-year-old center came out dazzling the Philadelphia crowd with shimmies and jumpshots that gave us all Hakeem Olajuwon flashbacks. In a loss to the Thunder, Emiid finished his NBA debut with 20 points, 7 rebounds and 2 blocks in just 22 minutes of play, but he didn't share the ball well and he played too aggressively on defense at times. The 76ers just have to find a way to put both Okafor and Embiid on the floor together.
Harden Is Very Committed to Passing More
After kickstarting his season with the unveiling of his first signature sneaker with adidas, James Harden showed the world he's more than just a scoring machine as he dished out 17 assists in a loss against the young-gunning Showtime Lakers. Don't say he didn't warn you though. Having averaged six-plus assists in each of the last three seasons, Harden told Bleacher Report before this week's opener that he really enjoys being the facilitator, getting his teammates touches and shots. "When they're happy, I'm happy," he said. James is such a great passer that his coach, Mike D'Antoni, honestly thinks he can double last year's average, becoming the first player to sling 15 assists per game. Unlikely it may be, we wouldn't be surprised if Harden finished the year with a 10-plus APG.
Russ Does What He Wants
Russell Westbrook nearly racking up a triple-double isn't exactly breaking news. He's a triple-double machine, and without Durant sharing the floor this year, and forever, we'll be seeing some unprecedented stat-lines over the next six-to-eight months. The Thunder's season will look a lot like Wednesday's game, where Westbrook will have to throw his teammates on his back late in the contest to sneak out with a win. However, the story that stole the show was Russ' altercation with a urologist/part-time comedian who flipped him not one but two birds after being told to sit his pleasantly plump-self down, more-or-less. If you didn't already see his latest Jordan ad, Westbrook does what he wants, and no apologies needed.
The Warriors Got Exposed Up Front
Although they lost to the Cavs in the Finals this past season, adding Kevin Durant put the Warriors back up top as favorites to take home the Larry O'Brien trophy this year. However the unbeatable super-team looked very mortal in its opener against the San Antonio Spurs, losing 129 to 100. The Spurs attacked the rim and dominated the paint for 48 minutes, exposing GSW's achilles heel: front-court defense. Without Bogut, Zaza Pachulia, David West and KD will have to step up as their team's rim protectors, which they are not. And with giving more effort on defense, the basketball world is wondering if Kevin's offensive game will suffer. Luckily they have 81 more games to get it together.
Join Our Discussions on Discord
The HYPEBEAST Discord Server is a community where conversations on cultural topics can be taken further.