An Overview of Kanye West's Tour Stage Designs
12 years of unparalleled innovation.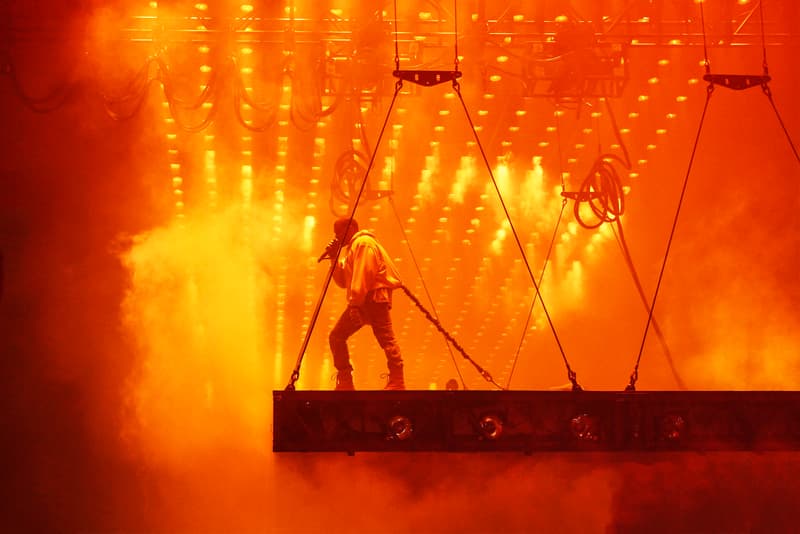 Throughout the past 12 years of Kanye's solo career, creative polymath has not pushed not only the creative boundaries for rap concerts but music, fashion and performance art. There has been no other artist that has pushed the frontiers of stage performance more than 'Ye. He's postponed or cancelled dates before when things weren't up to par with his vision, even if it was far from the most economical decision.
Every time Kanye starts a new tour, it's bigger, grander, more controversial and pushes the envelope to live performance. He pairs with fashion designers, artists, technicians and engineers to create shows that not only receive widespread critical acclaim, but also redefines the concert experience. We have put together a timeline of all of Kanye West's tour stage designs, from his humble beginnings with the 'College Dropout' tour in 2004 to his infamous "floating stage" for his ongoing 'Saint Pablo' tour.
The 'College Dropout' Tour
Dates: March 16 to May 5, 2004 (34 dates)
Supporting and opening acts: Dilated Peoples, GLC and John Legend
Stage and set designer: Roc-A-Fella Records
The 'College Dropout' tour is the most humble and small-scale of Kanye West's tours in terms of production and was the only one that did not feature Esmeralda Devlin's stage designs. It kicked off a few months after the release of West's debut album, The College Dropout. The stage featured seven slim LED-screens which displayed footage of Chicago's skyline as the background. A-Trak was the four DJ and the show was opened by Dilated Peoples and featured John Legend and GLC.
The 'Touch the Sky' Tour
Dates: October 12 to December 11, 2005 (46 dates)
Supporting and opening acts: Fantasia and Keyshia Cole
Stage and set designer: Esmeralda Devlin
Money made: $5,000,000
Unlike his first one, Kanye West's 'Touch the Sky' tour began with a few mishaps and Kanye had to make amendments up until the last minute. 'Ye cancelled the tour's lighting plan two weeks before it opening leg in Miami and hired Esmerelda Devlin to get the set redone two weeks before it kicked off. Common was meant to be an opening act but the Chicago rapper wasn't able to make it because he had just landed an acting role, leaving West with Fantasia and Keyshia Cole. The set was accompanied by a six-piece string section and Kanye wore six different costume pieces (designer blazers). Negative reviews of his music and character were projected behind the stage.
The 'Glow in the Dark' Tour
Dates: April 16, 2008 to December 7, 2008 (61 dates)
Supporting and opening acts: Lupe Fiasco, Nas, N.E.R.D., Rihanna and Santigold
Stage and set designer: Esmeralda Devlin, Martin Phillips and John McGuire
Money made: $30,000,000
The 'Glow in the Dark' tour was Kanye West's first world tour and it featured his first exceptional stage. It found West as a spaceship pilot navigating against a meteor storm, landing on an uninhabited planet of dry ice and attempting to find his way home. The stage was transfigured into a series of different landscapes such as a giant moon, and also exhibited glow-in-the-dark features like a giant, glowing-eyed monster and a robot. It featured a vibrant display of light sequences and Kanye himself was dressed in glowing accessories, stunner shades and other sic-fi-themed outfits. Nabil Elderkin comprehensively captured the tour in his photography book Glow in the Dark. The original sponsor, Best Buy, reportedly pulled out but Kanye self-funded the tour and it ended up grossing more than $30 million USD. On top of the opening acts, guests artists including Gnarls Barkley, JAY Z and Chris Brown appeared at some shows.
The 'Watch The Throne' Tour (with JAY Z)
Dates: October 29, 2011 to June 22, 2012 (63 dates)
Supporting and opening acts: N/A
Stage and set designer: Bruce Rodgers, DONDA, Esmeralda Devlin, Geodezik, John McGuire, Kanye West and Nick Whitehouse
Money made: $95,000,000
The 'Watch the Throne' tour is Kanye West's first concert tour after four years, not including his cancelled 'Fame Kills' tour with Lady Gaga. The concert has no opening act and is in support of 'Ye and JAY Z's 2011 collaborative album. The tour grossed a total of $95 million, making it the highest-grossing hip-hop tour of all time. Kanye West's tried to Esmerelda Devlin was simple: "Attenborough BBC wildlife content and lasers" and she was able recreate a set that featured enormous video cubes displaying sharks, Rottweilers, crows and tigers in a sea of darkness. The American flag lit up the backdrop when The Throne performed their his single "Otis." The also played their biggest hit, "N*ggas in Paris," sometimes more than 10 times. They partnered up with Givenchy for the clothing and the two donned t-shirts and leather pants. Despite its success, the tour received very little promotion before its premiere, only receiving sponsorship by Voyr for behind-the-scene concert footage. The tour inspired Kanye West to launch his own design company, DONDA, which focuses on production and is named after his late mother.
The 'Yeezus' Tour
Dates: October 19, 2013 to December 23, 2013 (53 dates)
Supporting and opening acts: Kendrick Lamar, Pusha T, A Tribe Called Quest and Travi$ Scott
Stage and set designer: DONDA, Esmeralda Devlin, John McGuire and Vanessa Beecroft
Money made: $25,000,000 (First leg only)
The 'Yeezus' tour was in support of West's sixth album Yeezus and served as his first solo concert tour in five years. It's his most ambitious yet: behind Paul McCarney's 'Out There!' tour, it had the second highest grossing leg of a tour during 2013. The theme behind The Yeezus Tour is "end of the world" and the triangular main stage stage featured a 50-foot high mountain that occasionally turned into a volcano (dubbed by fans as Mount Yeezus) and a circular LED screen above the mountain. The set featured explosions, fires, masked beings and creatures, and even a reincarnation of Jesus who delivered sermons regarding the world's current state. Maison Martin Margiela teamed up with West to work on the fashion pieces and outfits, and the stage somewhat resembled a fashion catwalk. The set also featured an iceberg and twelve nude-nylon clad dancers, dubbed by fans as "disciples."
The 'Saint Pablo' Tour
Dates: August 25, 2016 to December 31, 2016 (63 Dates; Ongoing)
Supporting and opening acts: Vic Mensa
Stage and set designer: Donda Surround
Money made: TBD
Kanye West's ongoing 'Saint Pablo' tour exhibits a visionary light show and one of the greatest, most unique stage setups in his career thus far. The "floating" stage is suspended by a network of cables. Yeezy spends the entire set hovering above the crowd, performing on the stage while audiences with floor "seats" mosh and listen from below. The show took more than eight months of planning as he traveled across the world to get insights from some of the best stage designers. The tour's aesthetic is inspired from the likes of Ridley Scott, Daft Punk, Trent Reznor, Radiohead, U2, Michael Jackson and more.