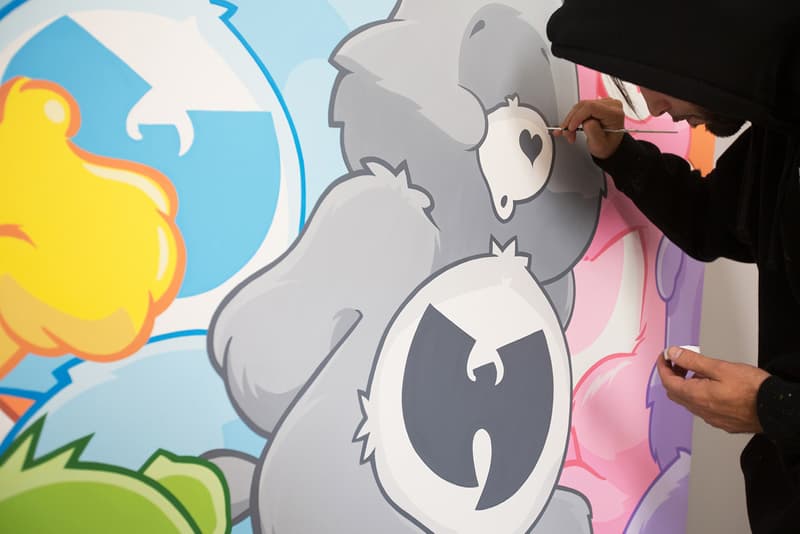 1 of 6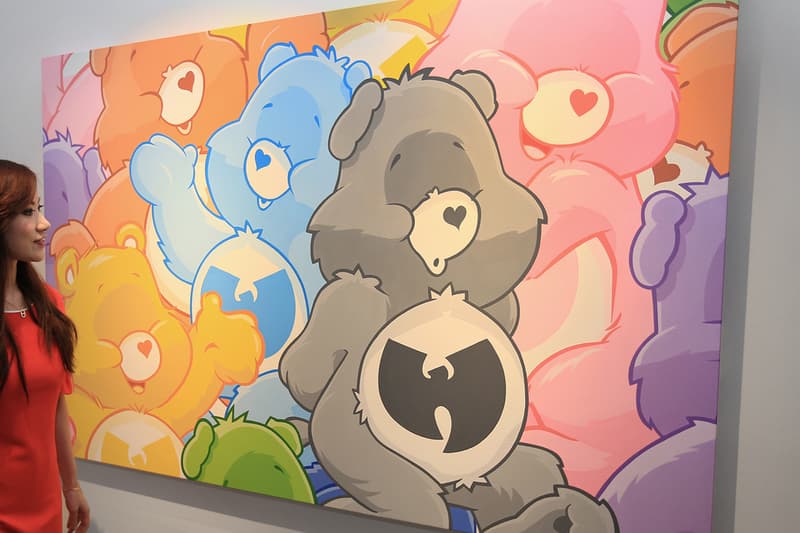 2 of 6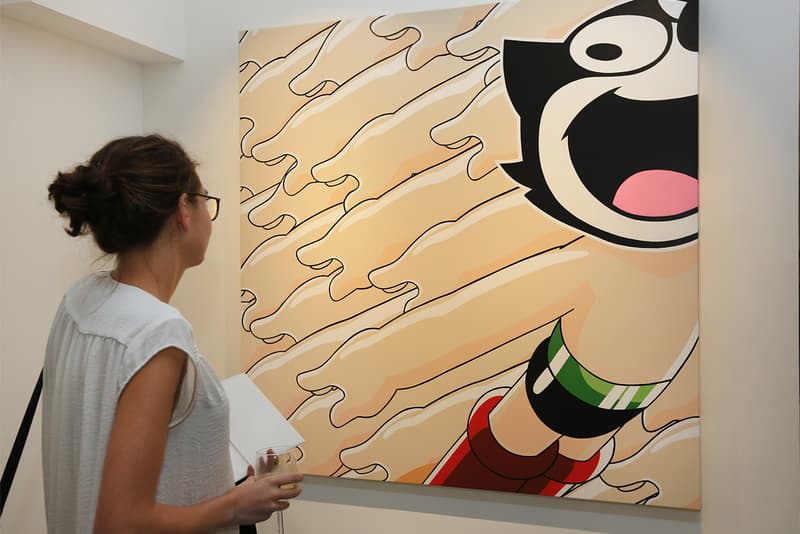 3 of 6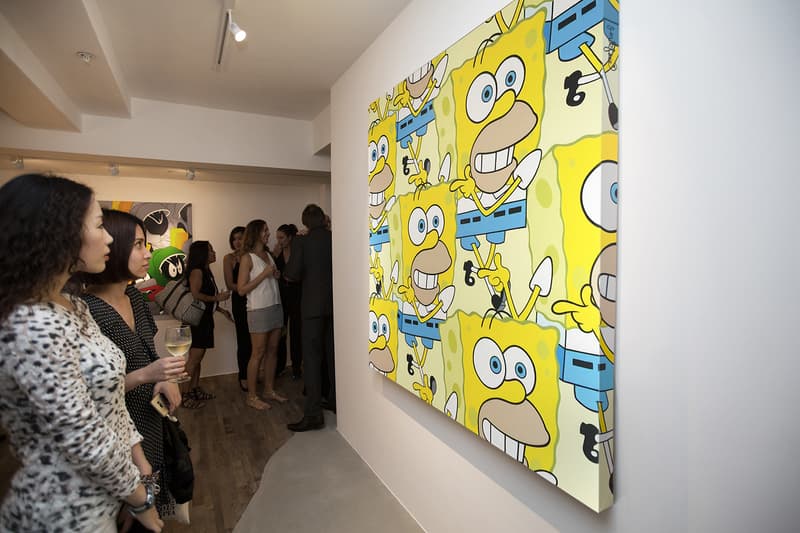 4 of 6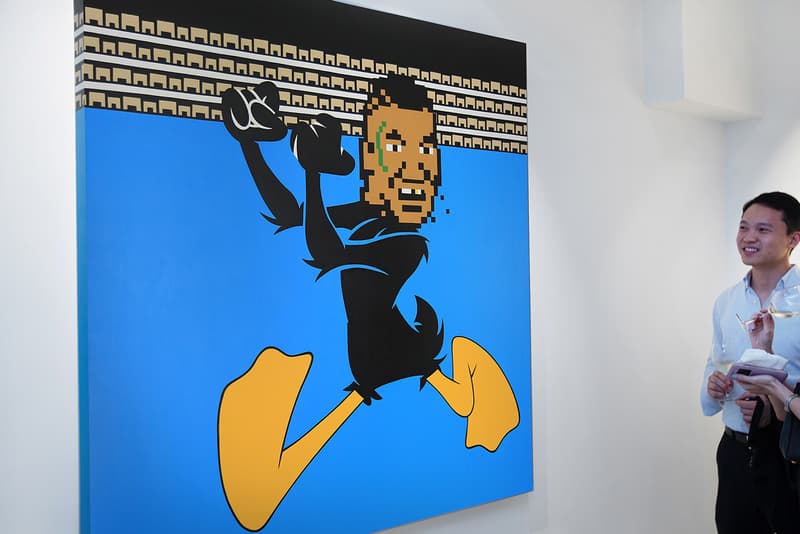 5 of 6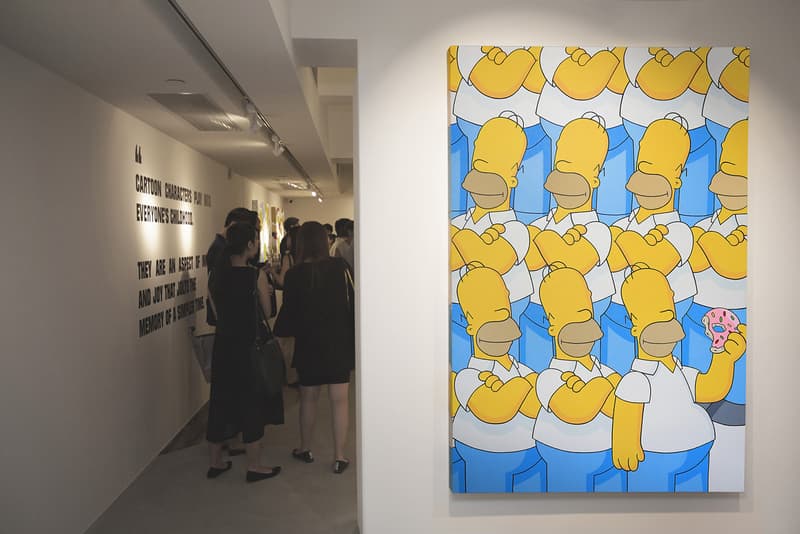 6 of 6
Jerkface Connects Wu-Tang With Care Bears in His "Saturday Morning" Exhibition
We interview the New York creative about his solo show in Hong Kong and other upcoming projects.
---
If you've traversed a good chunk of New York City and its outer-boroughs, as well as even Long Island or New Jersey, you might've come across some of Jerkface's works — there's "The Letter C" mural in Brooklyn, the "Bob and Friends" in Manhattan, and the "What are Those?" wall in the Lower East Side. As you can see from these projects, the NY creative has a knack for revamping and mashing up some our favorite cartoon characters — he'll put Homer Simpson's head on Charlie's Brown body, create quirky repeats of Mickey Mouse without eyes, or put the Wu-Tang symbol on the Care Bares' chests. All of this makes for some really compelling art that not only amuses onlookers, but also transports them back to their childhood. And that's what Jerkface's new solo exhibition, titled "Saturday Mornings" in Hong Kong, is all about — by looking at his art, some of us are quickly reminded of those early weekends spent in front of the television eating cereal, while still wearing our pajamas.
As the intro to his show states, "Traveling back to a simpler time when watching cartoons on a Saturday morning was a ritual shared by the masses, Jerkface's 'Saturday Morning' takes us back to a childhood full of excitement and adventure through referencing popular culture of the day. Taking a fresh look at the icons of pop culture, Jerkface brings to the surface our collective unconscious of innocence, youth and joy."
We here at HYPEBEAST got the chance to talk to the rising artist about his latest gallery show, other projects in the works, and of course, his favorite cartoons growing up. Read the interview below and check out some of the slideshows containing his exhibition art and a few newly-revealed pieces.
1 of 11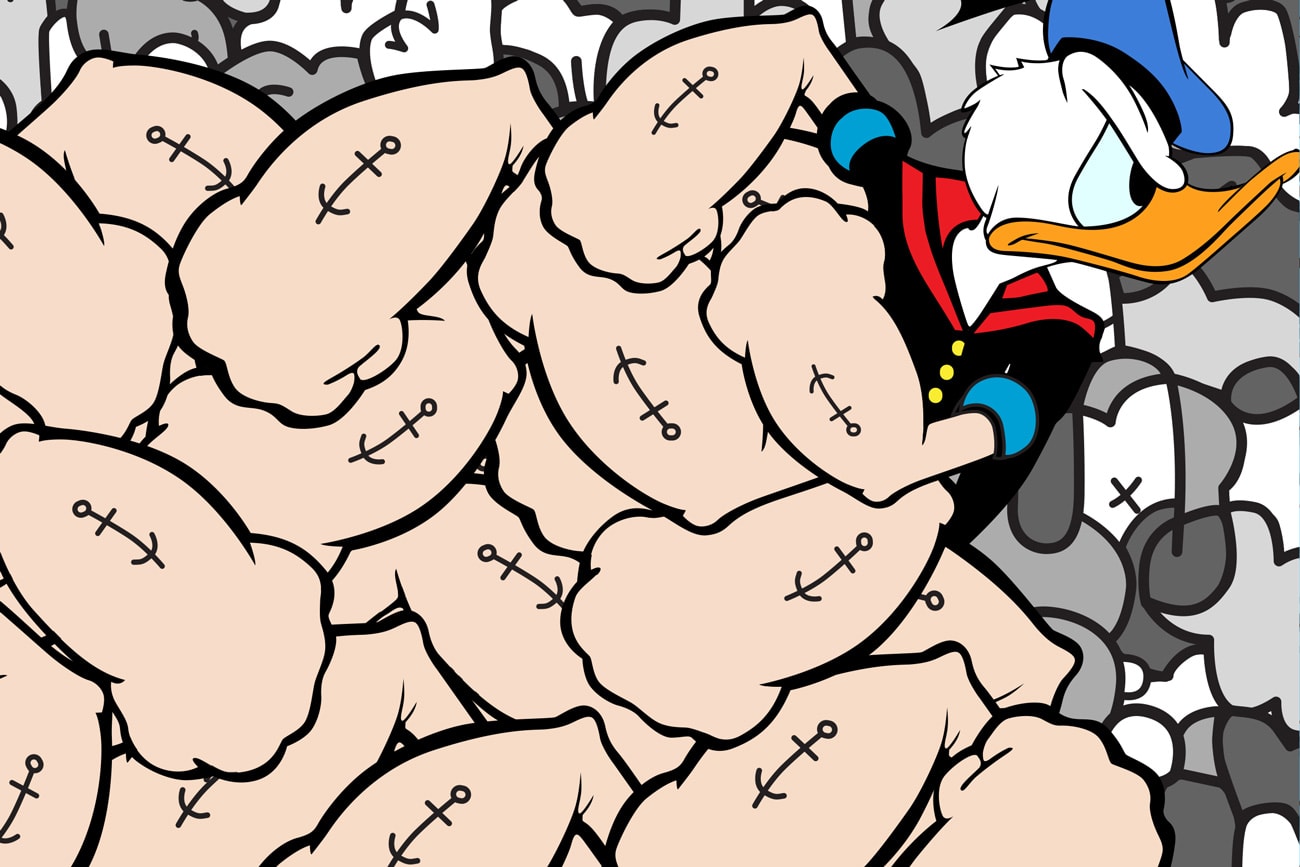 2 of 11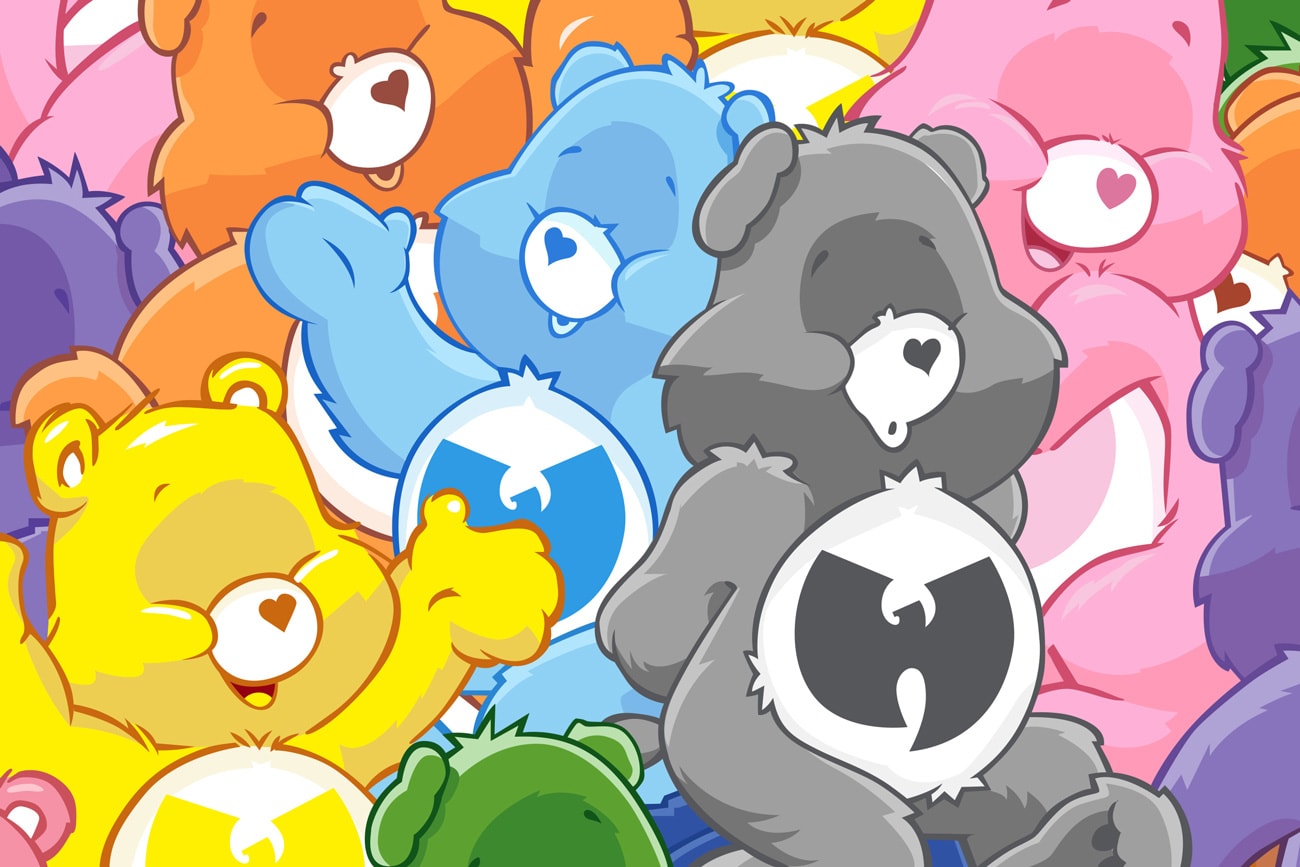 3 of 11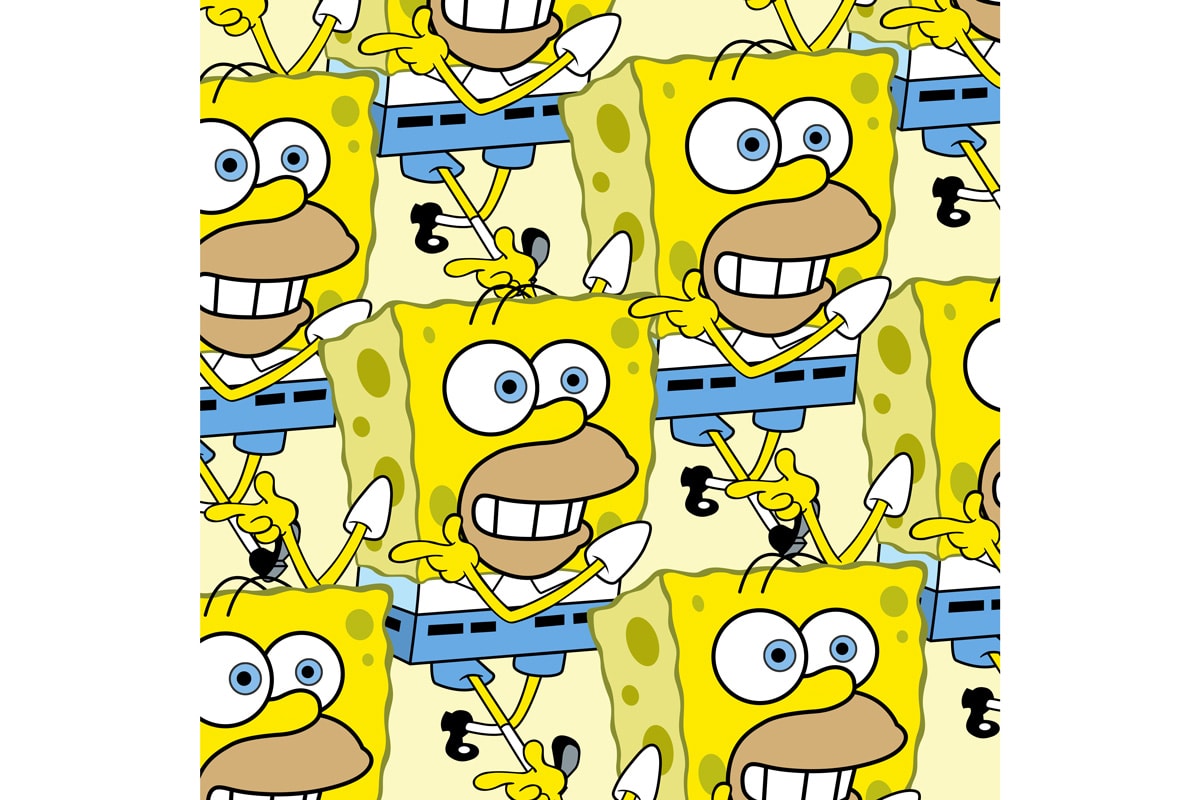 4 of 11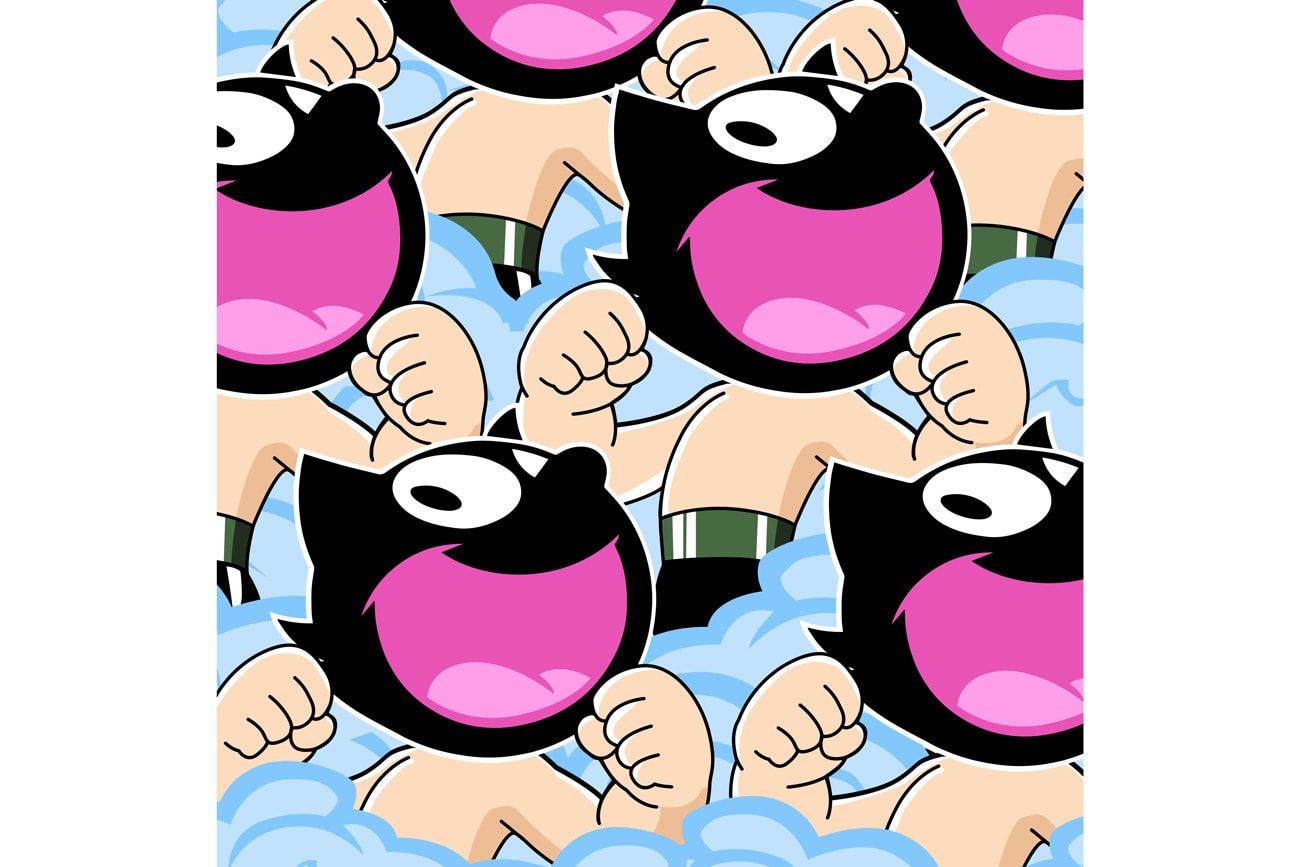 5 of 11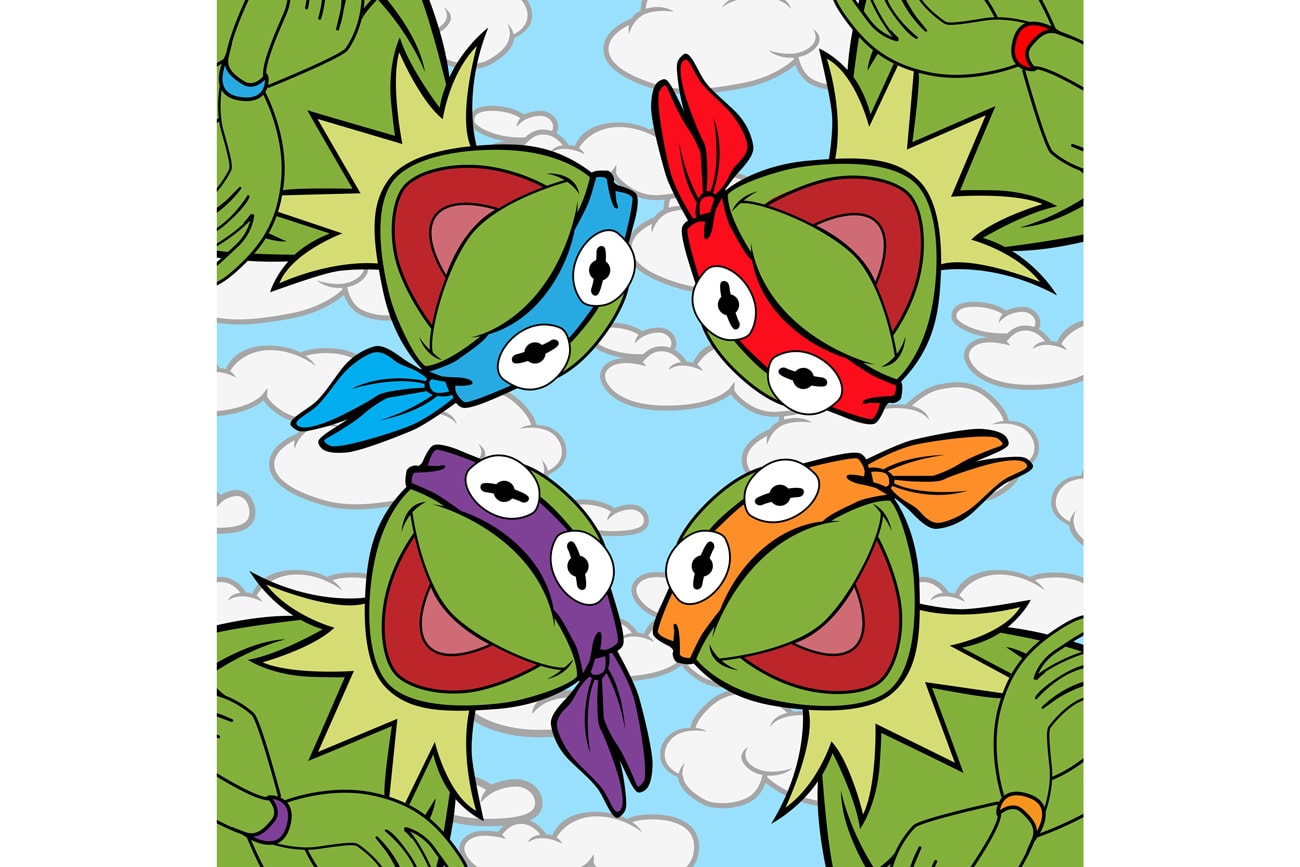 6 of 11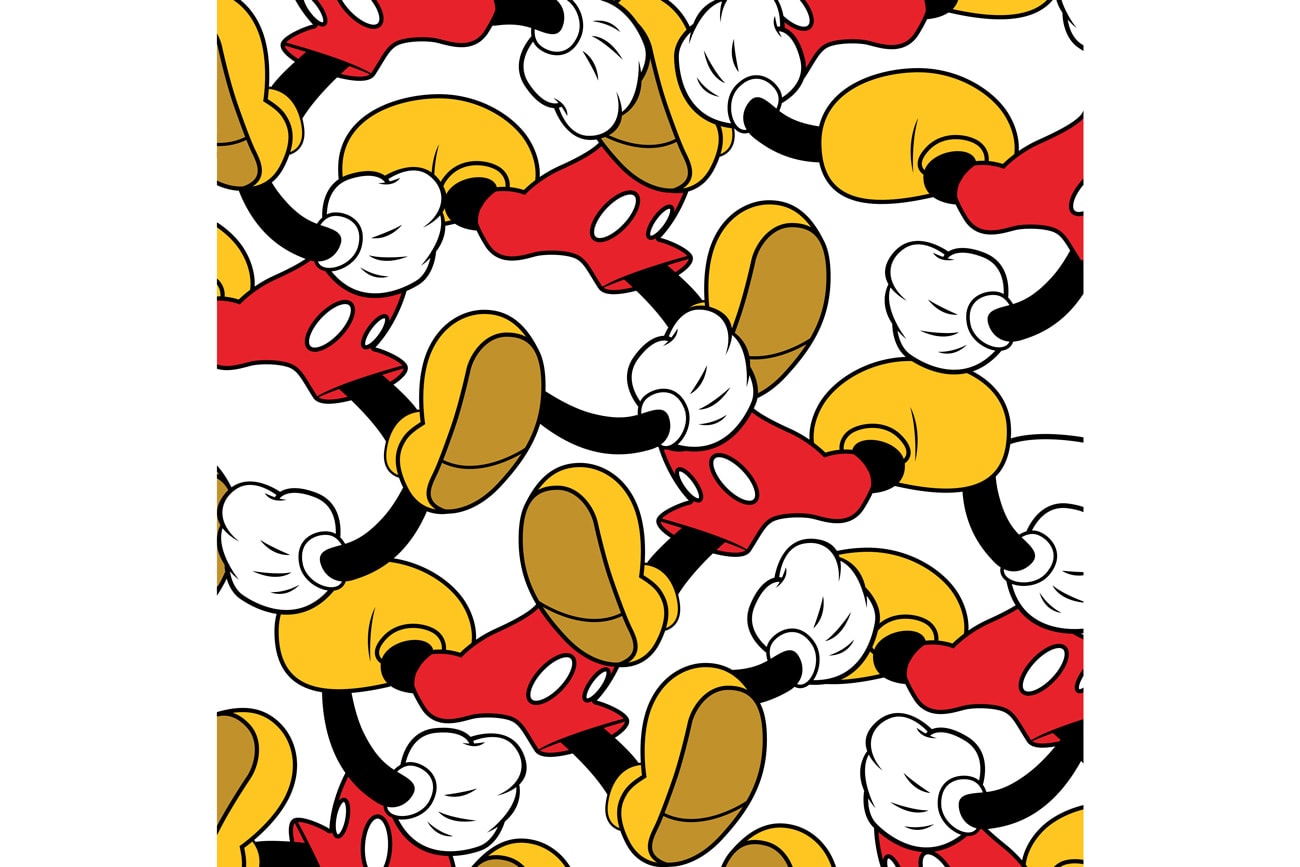 7 of 11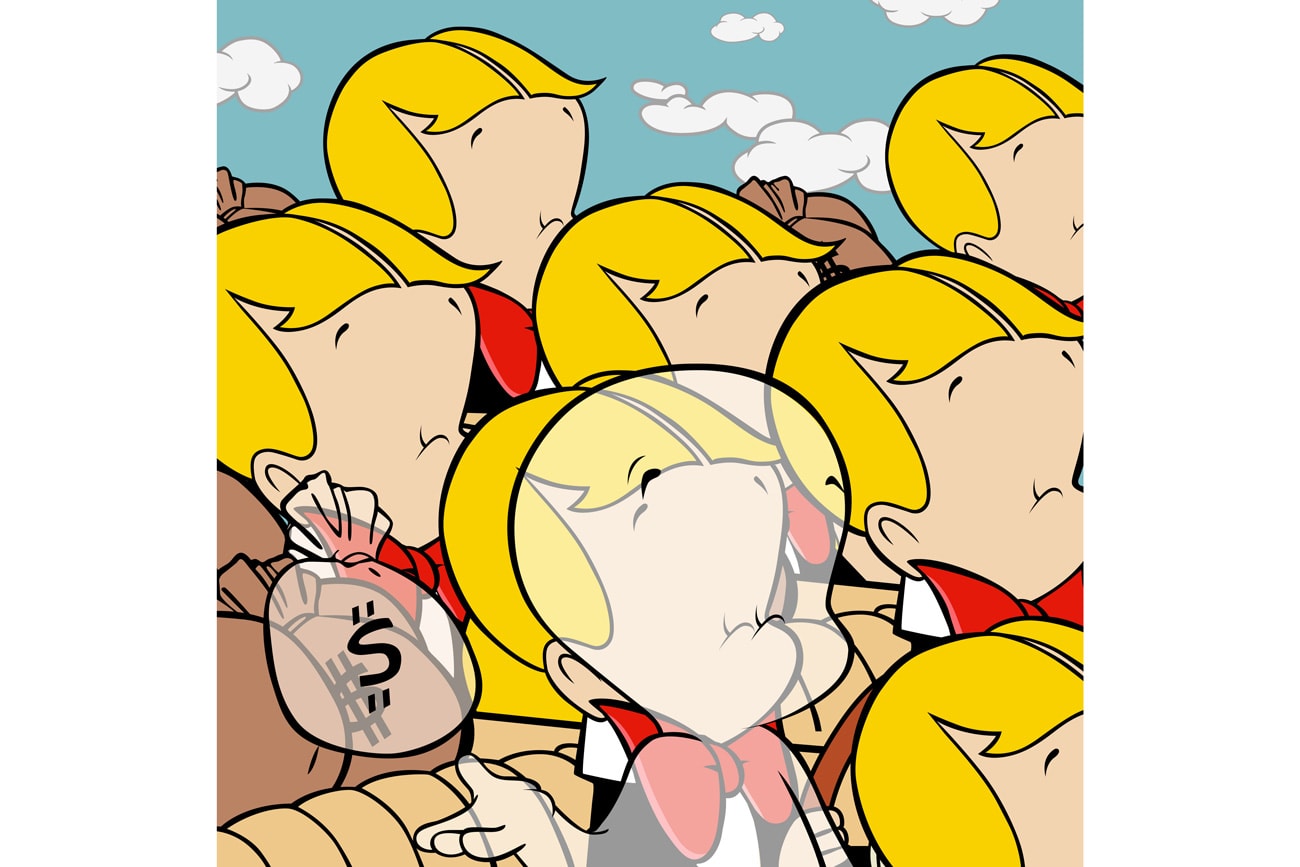 8 of 11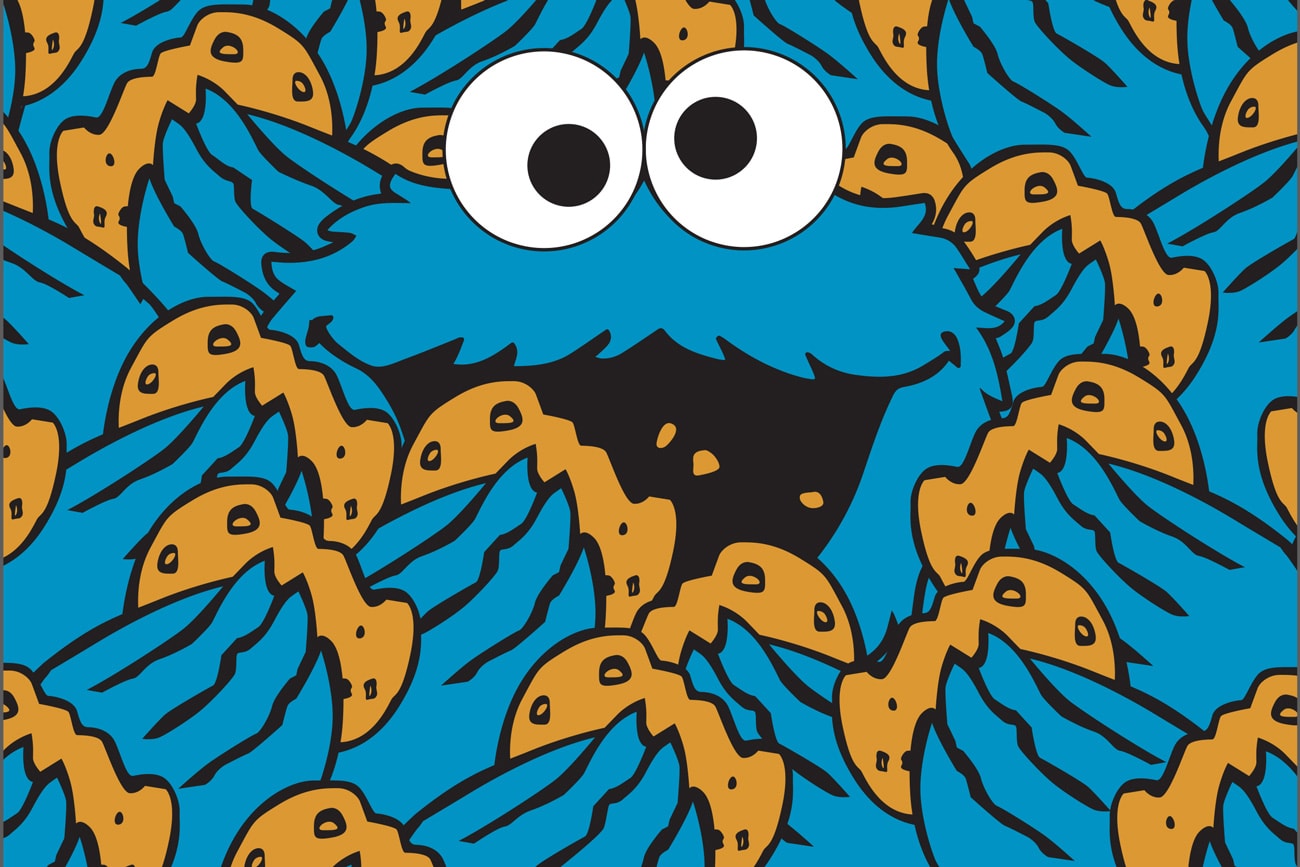 9 of 11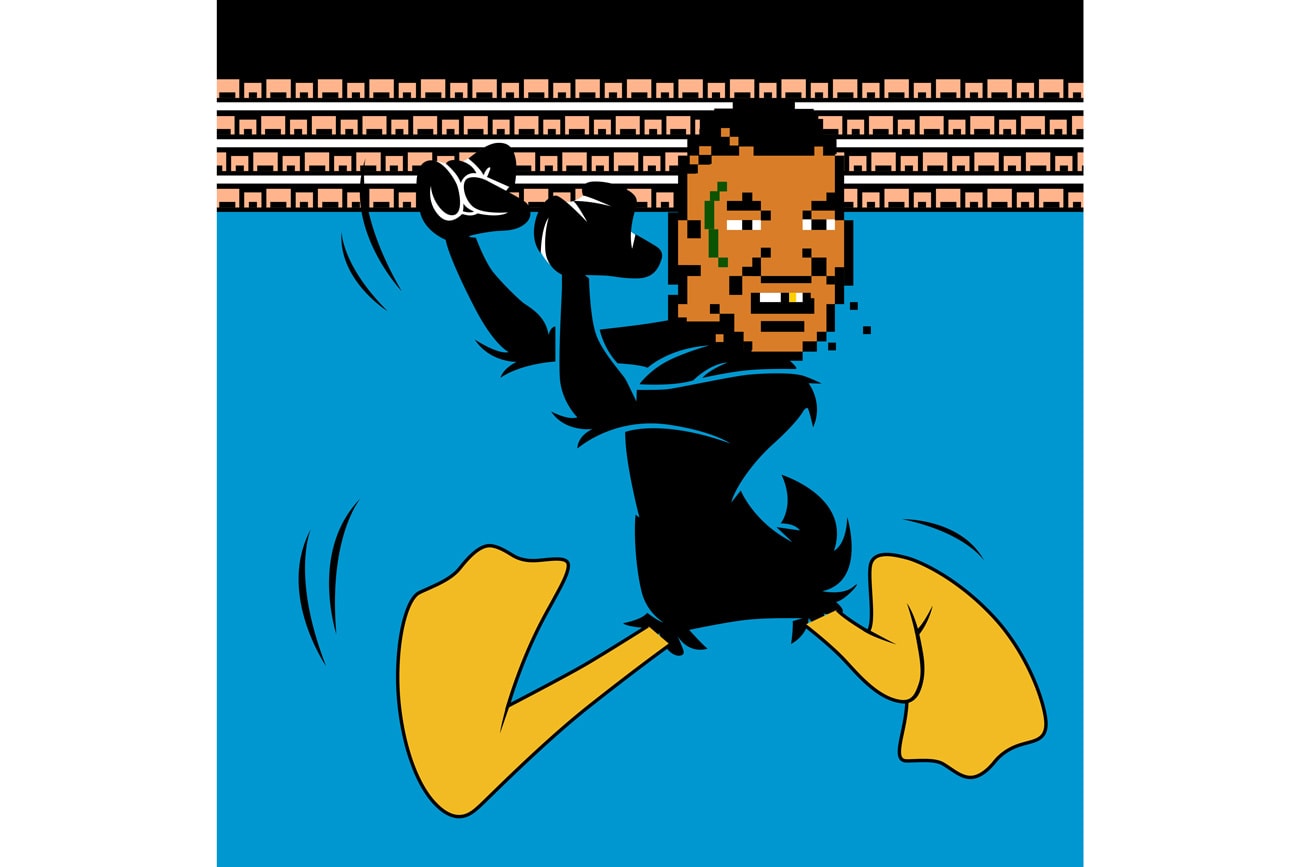 10 of 11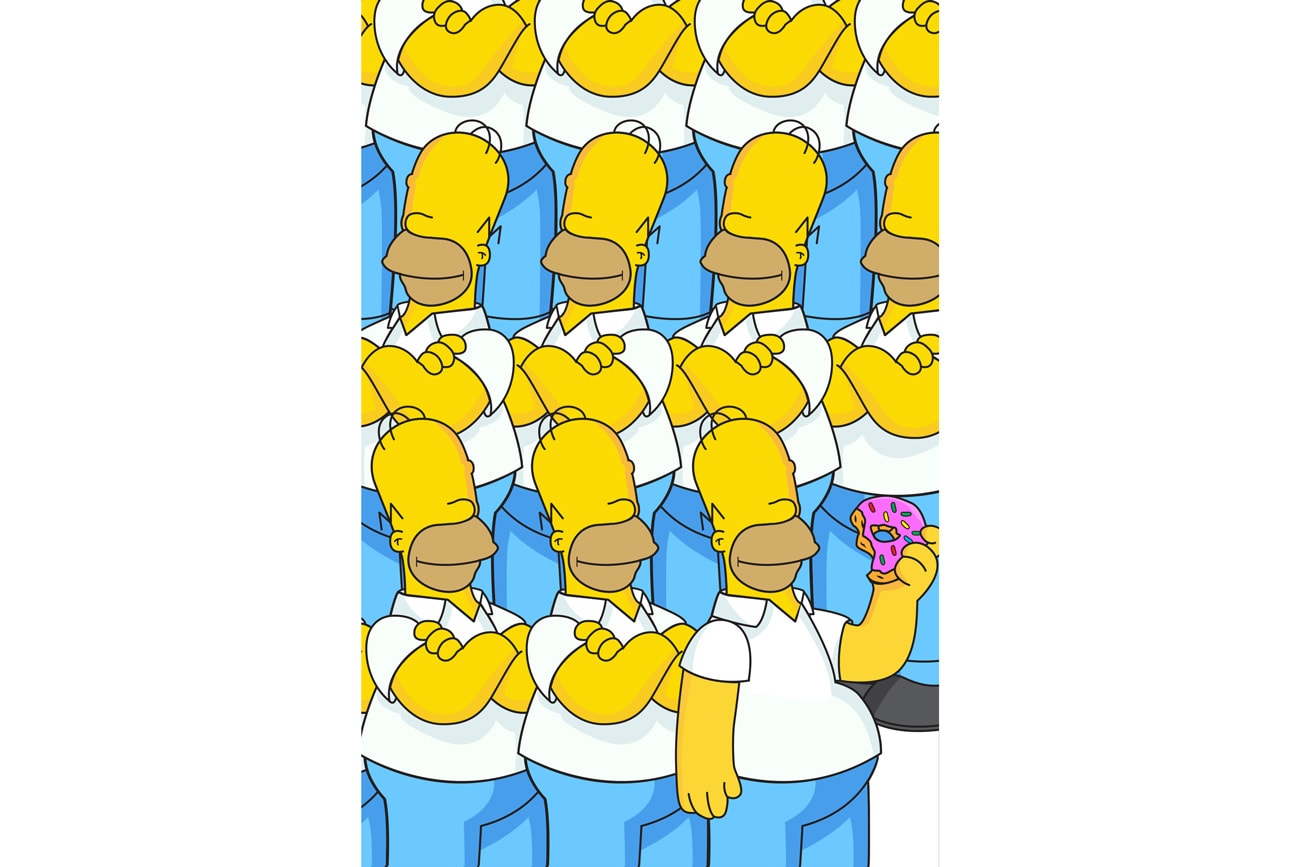 11 of 11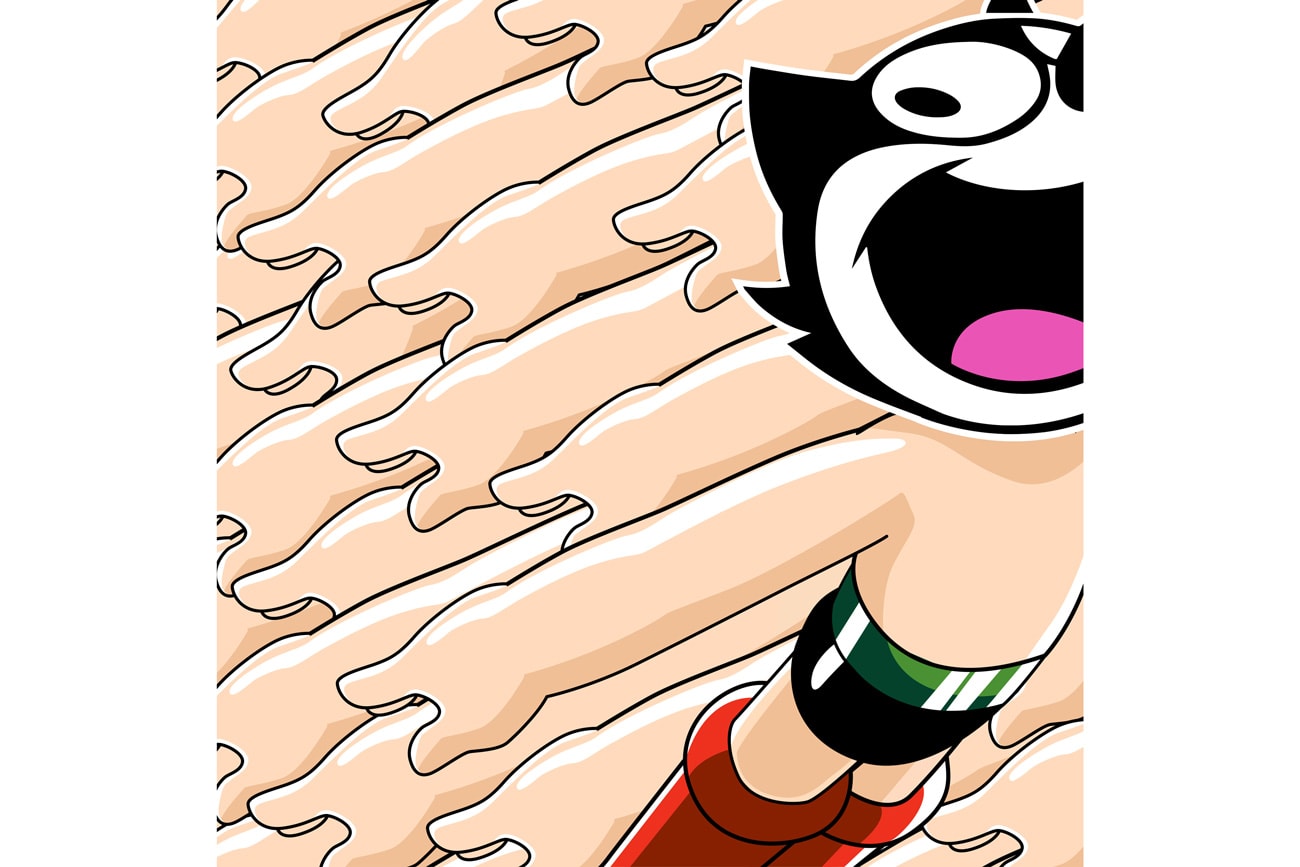 How did the idea for "Saturday Morning" come about?
It just felt right. Everyone remembers Saturday morning, lounging around in your PJs, eating cereal and watching cartoons. I think Saturday morning is the ultimate symbol of cartoon nostalgia.
What were your top five favorite cartoons to watch growing up?
On television it was: 1.Teenage Mutant Ninja Turtles 2. Looney Tunes 3. G.I. Joe 4. Transformers 5. The Adventures of Tin Tin
Of all the pop culture cartoon characters you've painted, which one is your favorite and why?
I'd have to say Calvin and Hobbes. I loved reading that comic growing up, so much that I named my dog Hobbes. The characters have a great dynamic. There are great shapes and colors that make for enjoyable compositions.
You've described that a lot of the themes in your art reflect your childhood. Could you tell us a little bit about what it was like growing up? How vital was art in your life early on?
Almost all my compositions reflect something that relates to my childhood. If I can't relate to it, the creative process isn't enjoyable and the work suffers. So I don't do it. For as long back as I can remember, I've loved drawing. As a kid I would come home from school and draw at the kitchen table over going outside to play with my friends. It was always an obsession. Growing up in New York City in the '80s and '90s was such a well-rounded experience for me. It's almost impossible to be shielded from the realities of life, the streets — harsh or pleasant. This made me appreciate having something that can't be touched by any of it — my great escape. This has been important throughout my life.
For as long back as I can remember, I've loved drawing. As a kid I would come home from school and draw at the kitchen table over going outside to play with my friends. It was always an obsession.
How much of being a New Yorker has influenced your art?
In this city the competition is endless. If you're not pushing yourself 100% of the time, you're not going to make it. Growing up here, the reality of the competition is something you're aware of from a young age. You don't know any other way but to be aggressive to be heard.
You often depict your versions of popular characters without eyes. Any meaning behind this?
The biggest reason is face perception. People automatically focus and relate to a face and its perceived emotion. By removing the facial features, the viewer is able to focus on the more subtle effects of the colors and shapes.
1 of 8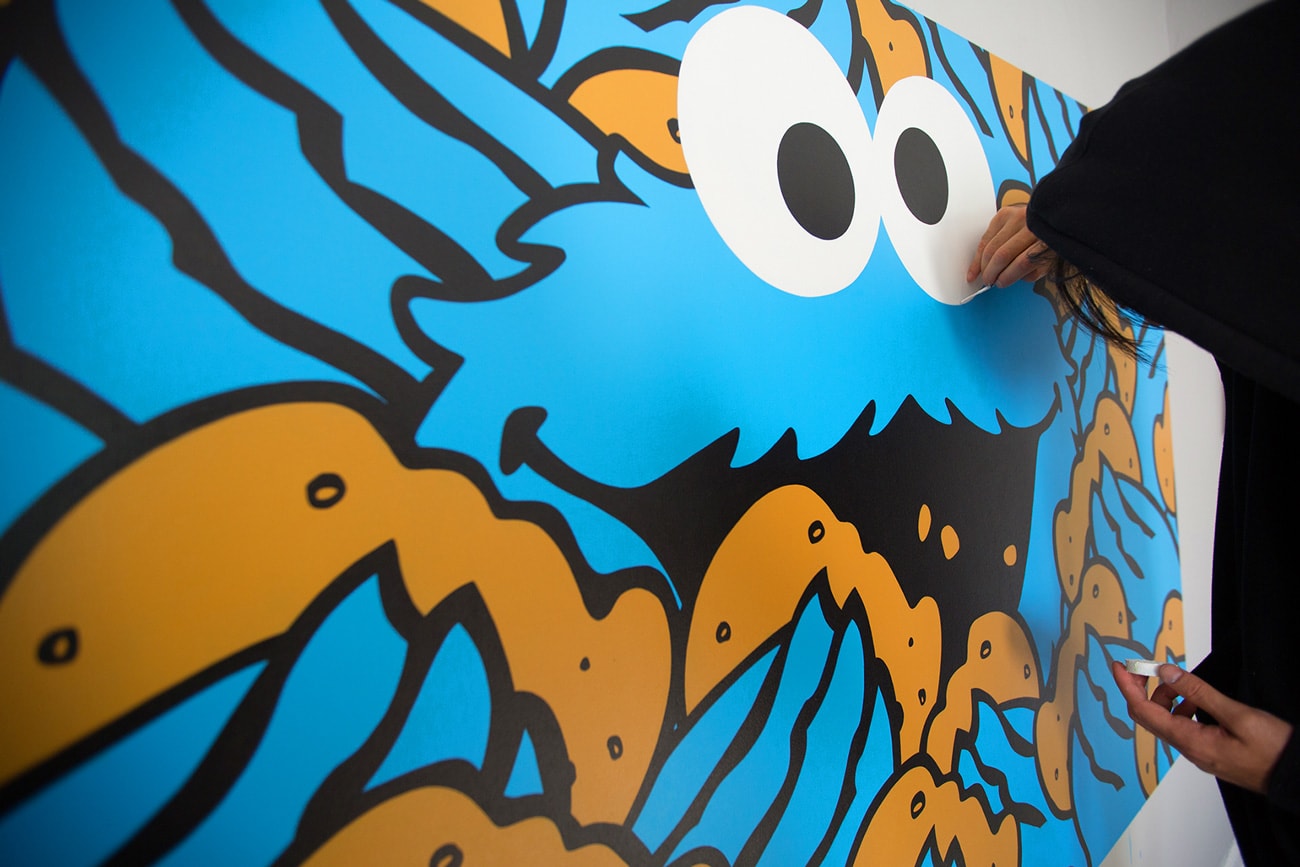 2 of 8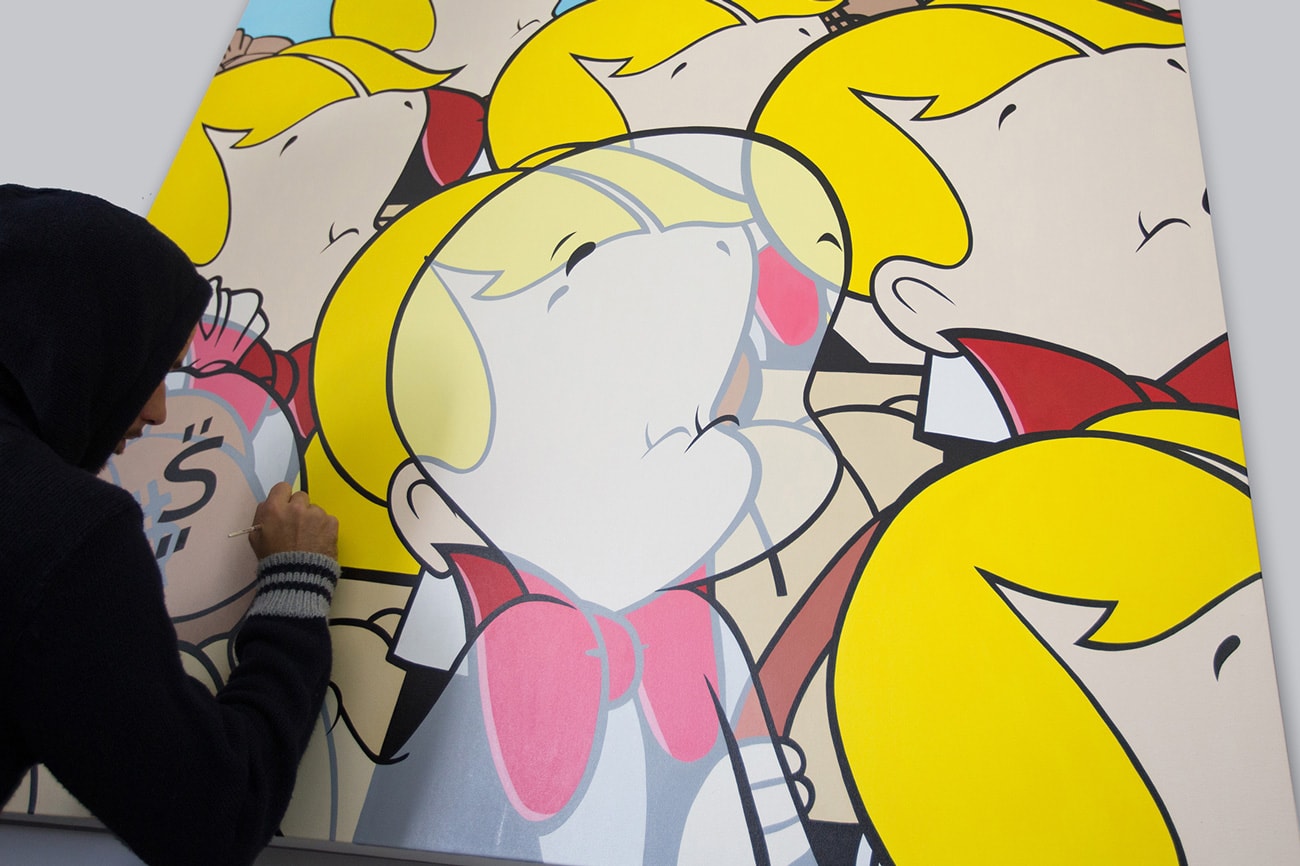 3 of 8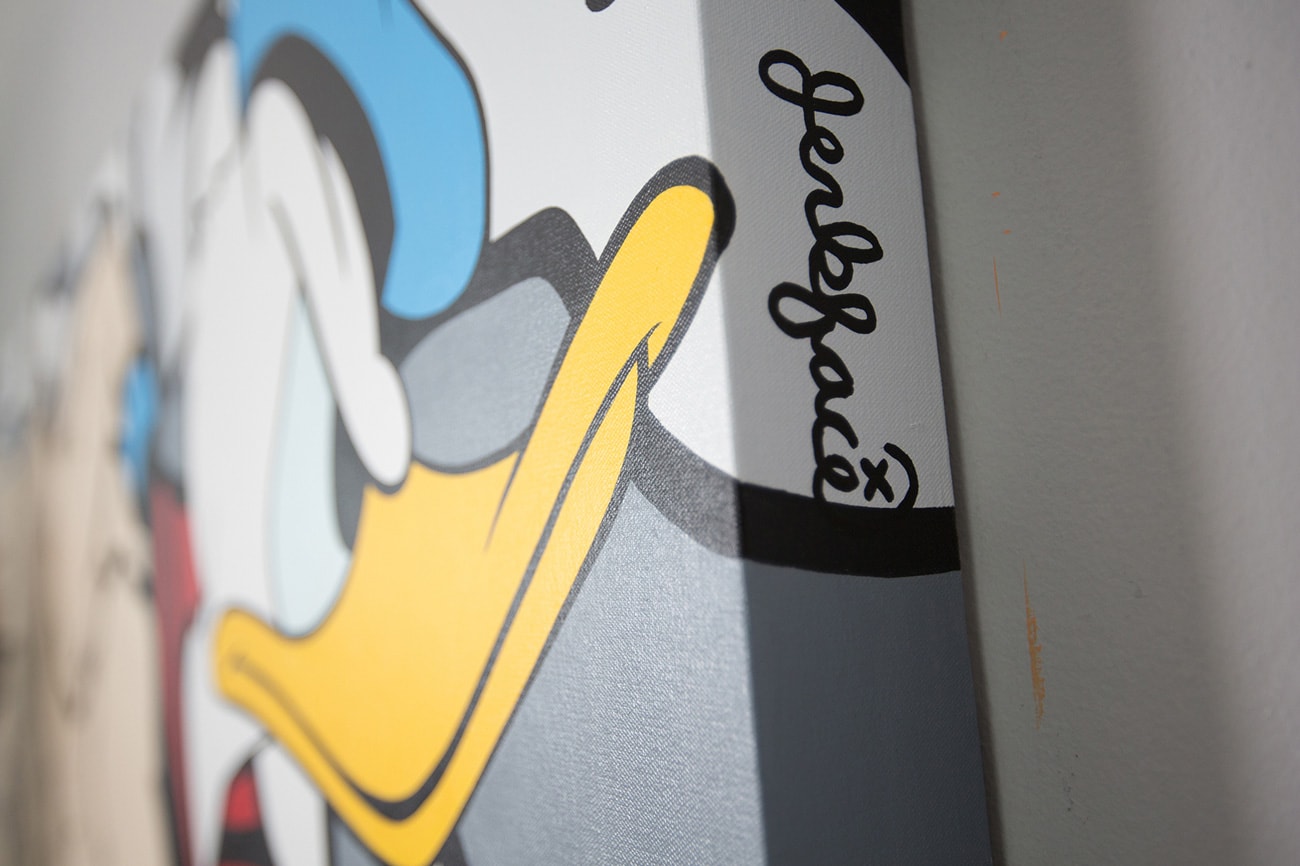 4 of 8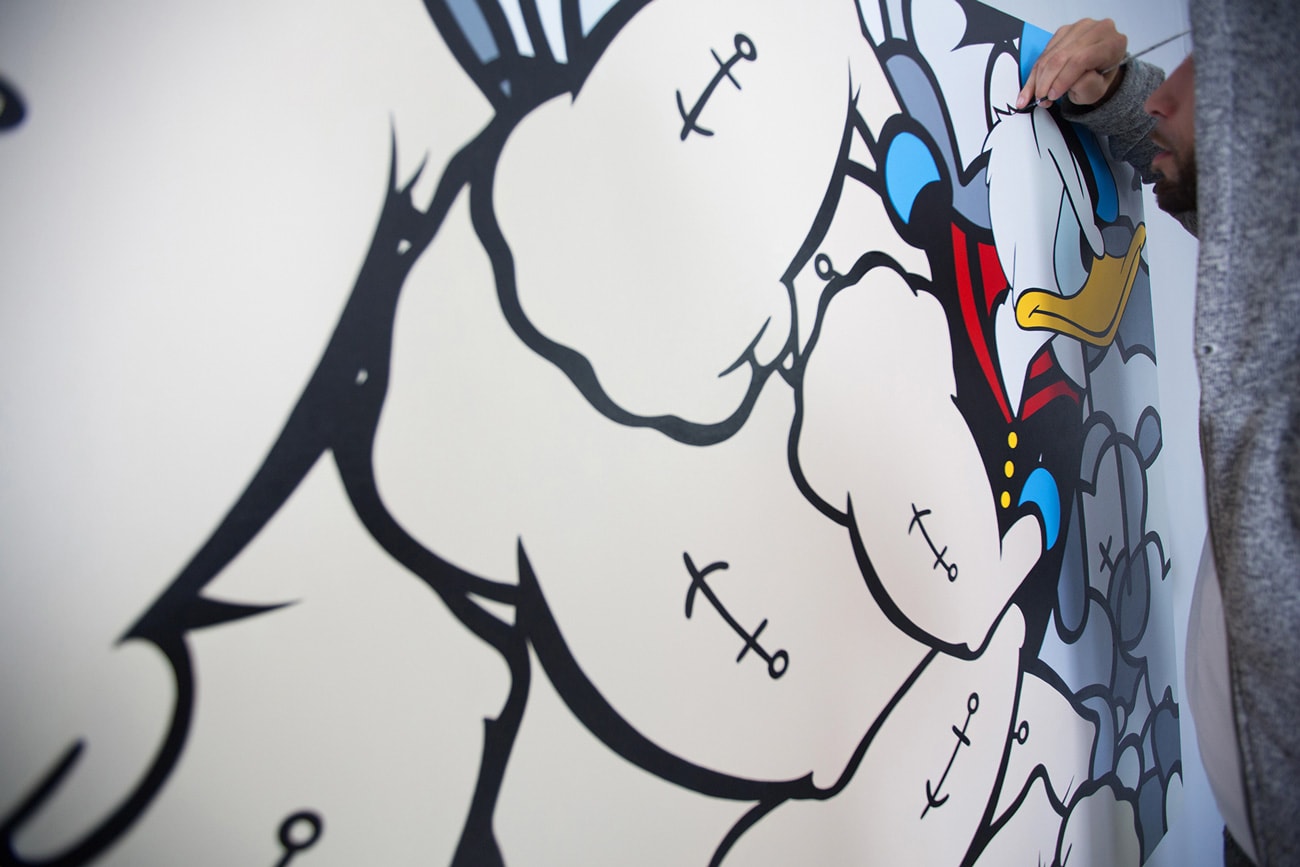 5 of 8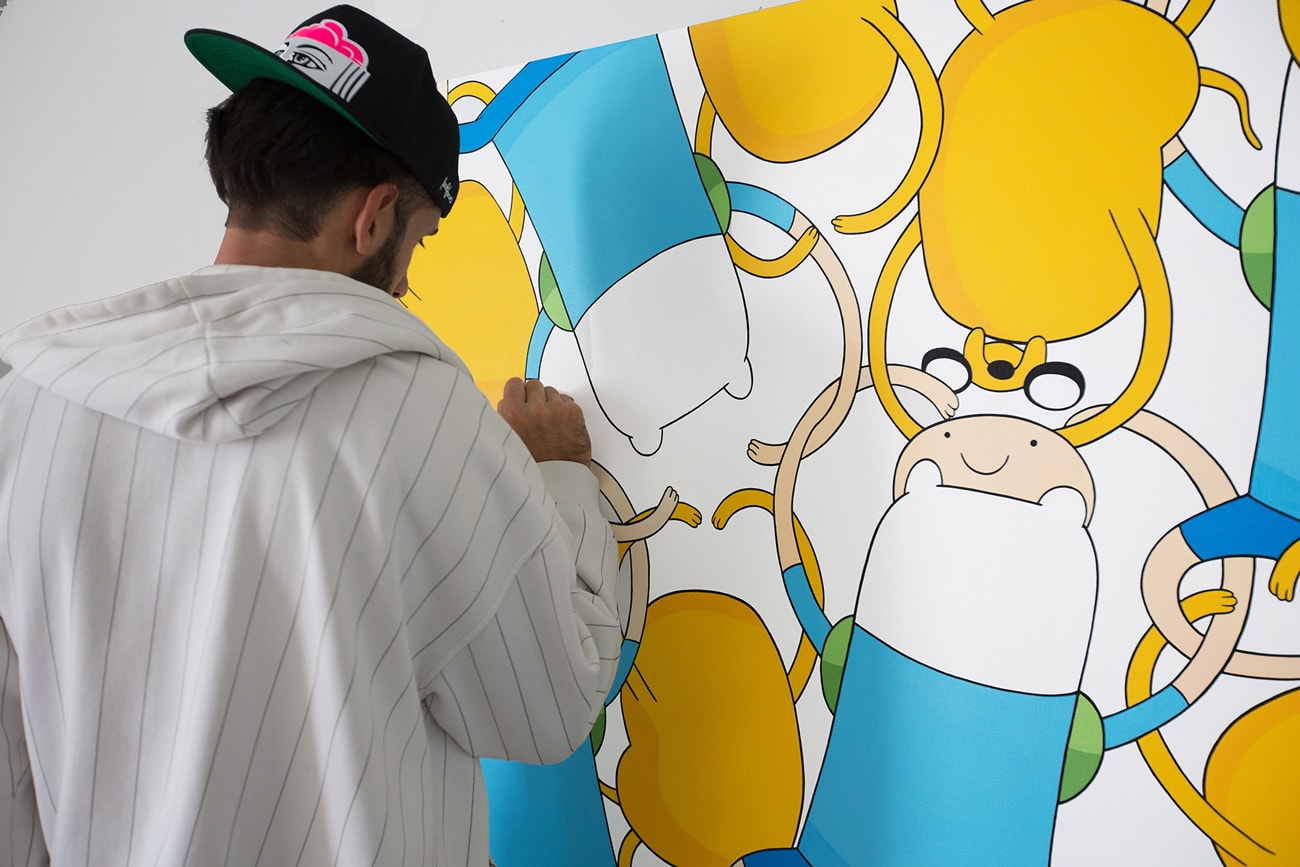 6 of 8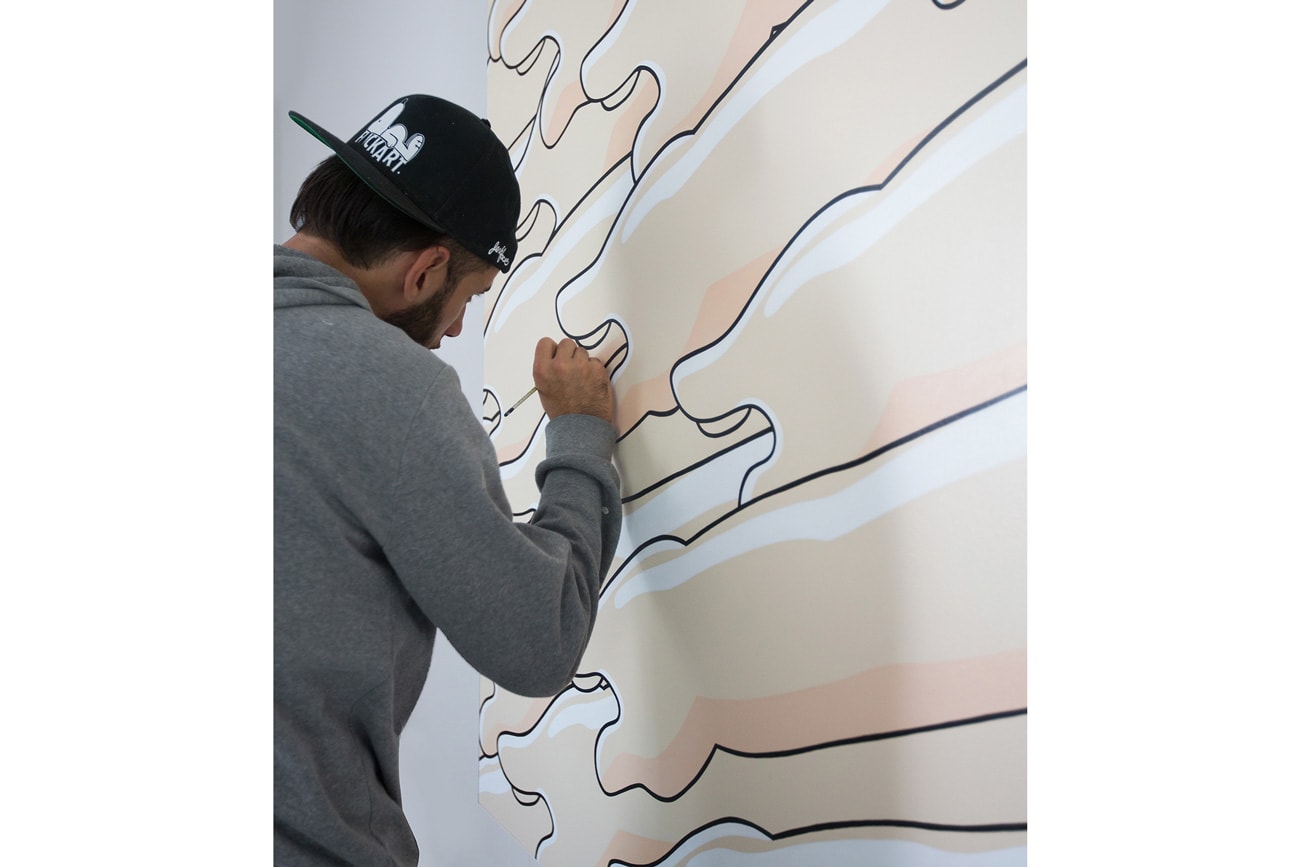 7 of 8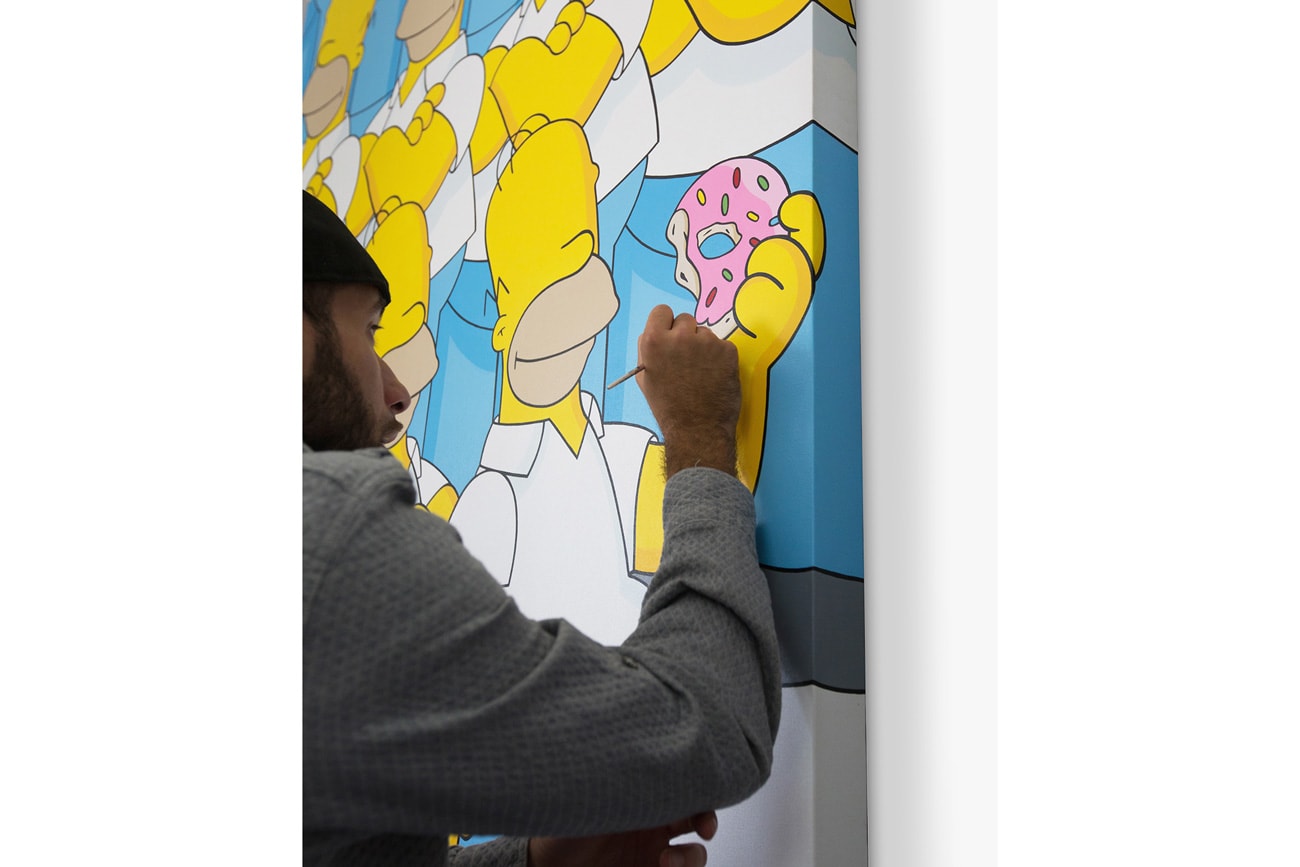 8 of 8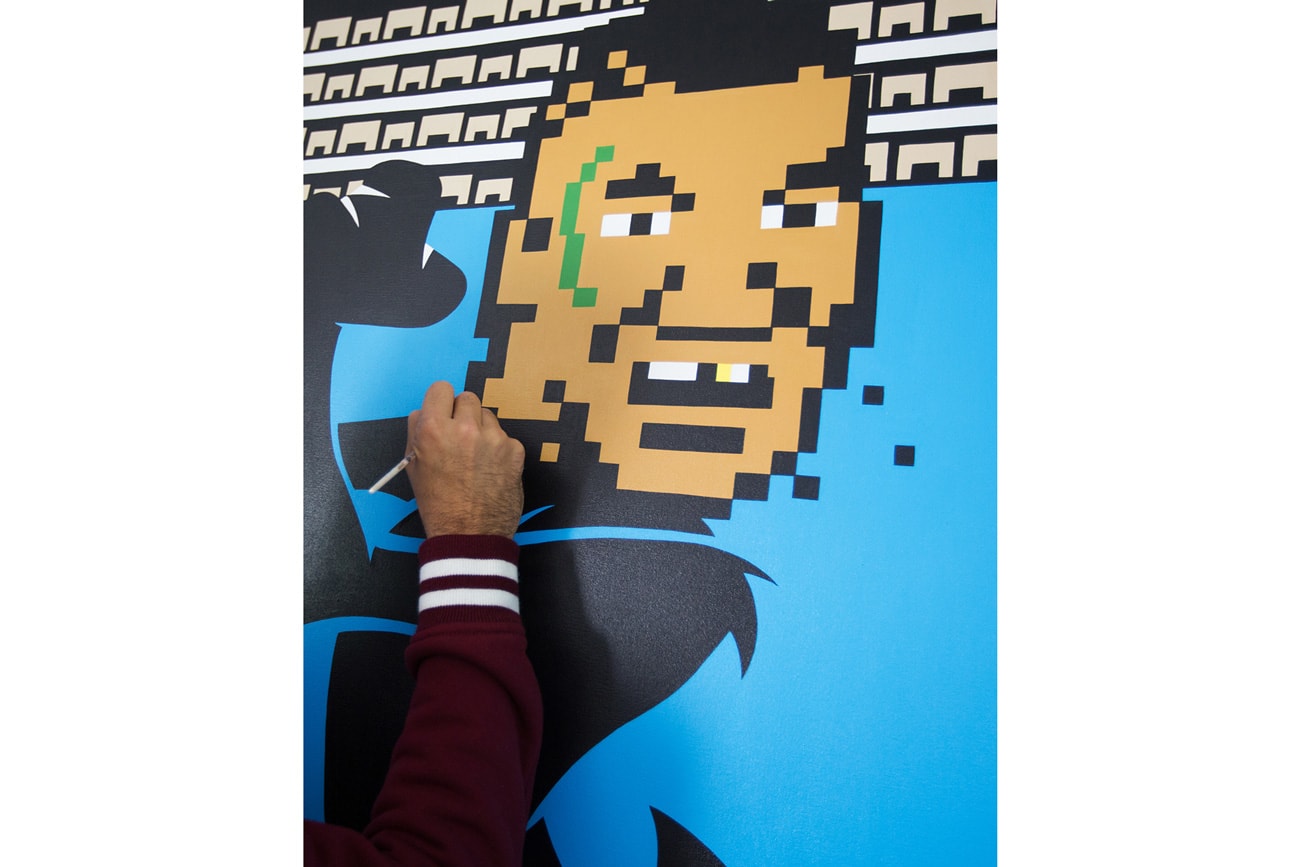 Can you describe to us the process that goes on behind preparing for a solo exhibition like this?
A lot of work. I am very hands-on with everything so it can be overwhelming at times. I spent the entire summer painting and preparing for the current show.
Why Hong Kong for the exhibit? Is there something about the city that draws you? 
Having a show in Asia is something I've always wanted. I know the culture has a big appreciation for pop culture, specifically cartoons and animation, like I do. Hong Kong has so many different elements going on and it resembles New York in a lot of ways. I felt like it was the perfect match.
What's the most difficult painting/mural you've ever created?
That would be Jerkface Grand, a five-story mural in New York's East Village. I had only been painting walls for nine months. It was intimidating because I had never done anything half that size and I only had four days to paint it. In my head it was just a theory. I wasn't sure if I could even pull it off.
Who are some of the artists that inspire you today? Would you consider working with them or other artists?
Two of my favorite artists today are Piet Parra and Cleon Peterson. It's because their work is based on attention to composition. They both pay close attention to the color placement and the flow of the composition through the canvas. We play the same game. I'm very content doing things by myself. If the right idea or the right situation came along, anything's possible.
What really inspires me is the regularity of artists painting massive buildings. Art on such a big stage is so overwhelming, so grand. It becomes larger than life.
What are some of the most memorable responses you've received in regards to your artwork?
A year or two ago on an Instagram post that was getting some attention, someone wrote, "Make love to me Jerkface!" It still makes me laugh to this day. Someone recently told me they had one of my prints hanging outside their daughter's room. The girl kept telling her mom, she didn't know why but the image would make her extremely happy whenever she'd see it coming out of her room. Hearing things like this make my day.
What do you think are some of the most inspiring things happening in street art today?
Everything happening right now is inspiring. Art is being embraced on such a massive scale by our society. The biggest reason why — there is so much art in the street, causing the general public to interact with and appreciate art on a much larger scale. What really inspires me is the regularity of artists painting massive buildings. Art on such a big stage is so overwhelming, so grand. It becomes larger than life.
You're releasing a book soon. What's it called and what do you hope to accomplish with its release?
Yes, the book is the same name as my solo exhibit, "Saturday Morning." It was definitely time to release it. I've built up a fairly large body of work in a just a few years and I wanted to give something to my fans they could have in their homes. It covers a lot of canvas and public work and also includes an interview.
You're also releasing a small edition of sculptures. What's the reason behind them and did you consider vinyl toys first?
Yes, a series of eight variations of Homerbob. A lot of the hybrid characters I do make for great sculptures. It's been something I've wanted to do for some time. I have taken vinyl toys into consideration. Being an artist has so much history and tradition. Any decisions I make I always consider what being an artist consisted of in the past. I think it's a better standard to go by than some of the things artists are doing today. Doing smaller and higher quality releases feels more respectable to me.
You've also mentioned a documentary in the works, any more developments on that front and what the narrative is about?
I've been working on a documentary for the last year and a half. The main premise is the story of what got me into pursuing my passion and once I did, what it took to make it this far. So much time and effort goes into a project like this. Wrapping up filming and moving onto editing should be happening in the very near future.
Where do you see the future of your art going? Where do you see the future of street art in general?
Evolving one's style isn't always easy to predict. Things usually change by chance discoveries that slowly develop and alter the style over time. I have a lot of things I still want to experiment with/introduce into the existing style. The only thing that I say somewhat assuredly is it will have to do with cartoons. Painting in public is an addiction, most street artist will do this for the rest of their lives. The majority of street art has nothing to do with money, so any fluctuations in social conditions shouldn't have any bearing on its future. The movement itself is so big and so visible. This is a good indication that street art's future is looking bright.
If you're in the area, you can check out "Saturday Morning" in Hong Kong until December 10 at:
Over The Influence Gallery
No. 159-163 Hollywood Road Central 1F
Hong Kong