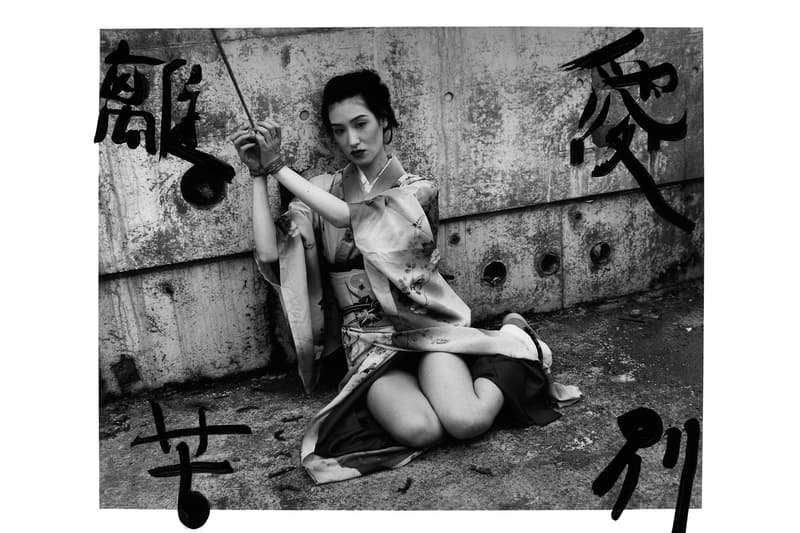 8 Facts You Need to Know About Nobuyoshi Araki
Brush up on the iconic Japanese photographer and Supreme's latest collaborator.
---
Within the realm of photography, there are few figures as monolithic as Nobuyoshi Araki. The Japanese photographer has arguably created an artistic genre of his own — even if you don't know his name, you've probably seen his trademark kinbaku series, which portrays naked women bound using an elaborate traditional Japanese bondage technique. Never one to shy away from controversial partnerships, Supreme has released a collaborative collection with the maestro himself, highlighting Araki's seemingly innocuous photographic studies of flowers — although in his hands, they become suggestive of something altogether more profane.
As the creator of a vast body of complex work, the 76-year-old has led a colorful life of emotional peaks and troughs that continues to influence the compositions he creates to this day. Read on for a quick primer of the artistic great before diving into his Supreme collaboration here.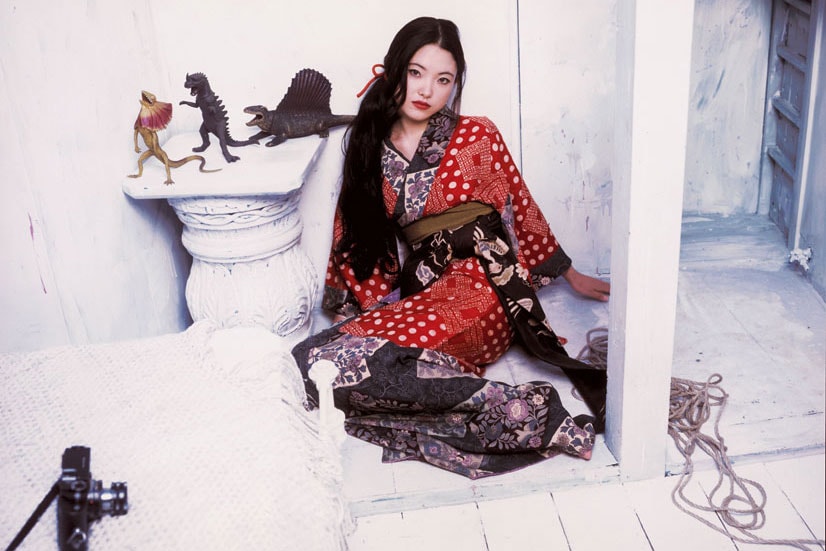 He Was Born in the Midst of War
Born in 1940, Araki spent his formative years in wartime and postwar Japan, which was devastated by dual atomic bomb explosions. This has had an enduring effect on his work — in 1995's Shukei (Last Scenery) and 2003's ABCD photo books, Araki developed the photos at extremely high temperatures, making them seem like they had been exposed to intense radiation. Radiation became even more of a personal theme when Araki was diagnosed with prostate cancer in 2008 — he addressed this connection in 2009 photo book Tokyo Zenritsusen-gan, saying, "I am making a connection between the atomic bombing of Hiroshima and Nagasaki and my own radiation treatment for cancer." The next year, the photos in his Tokyo Hōshasen (Tokyo Radiation) series were altered to show dates between August 6 — 15, a period in 1945 that began with the first atomic bombing at Hiroshima and ended with the surrender of Japan.
He Began His Career in Corporate Japan
After studying photography and filmmaking at Tokyo's Chiba University, Araki first entered the workforce as a commercial photographer for advertising giant Dentsu, where he worked until 1972. This gig turned out to be pivotal for Araki: not only did the mundanity of his day job birth his disgust for the current state of photography, thus inspiring him to become more radical and experimental with the medium; but Araki also met his future wife Yōko in 1968 while working there.
He Has Created a Prolific Body of Work
A tour-de-force throughout the span of his decades-long career, Araki has amassed an encyclopedic wealth of work. To date, he has published over 450 photo books and taken part in 280 solo exhibitions. He has also shot for the likes of Vogue, Dazed, The New York Times Magazine, and Playboy.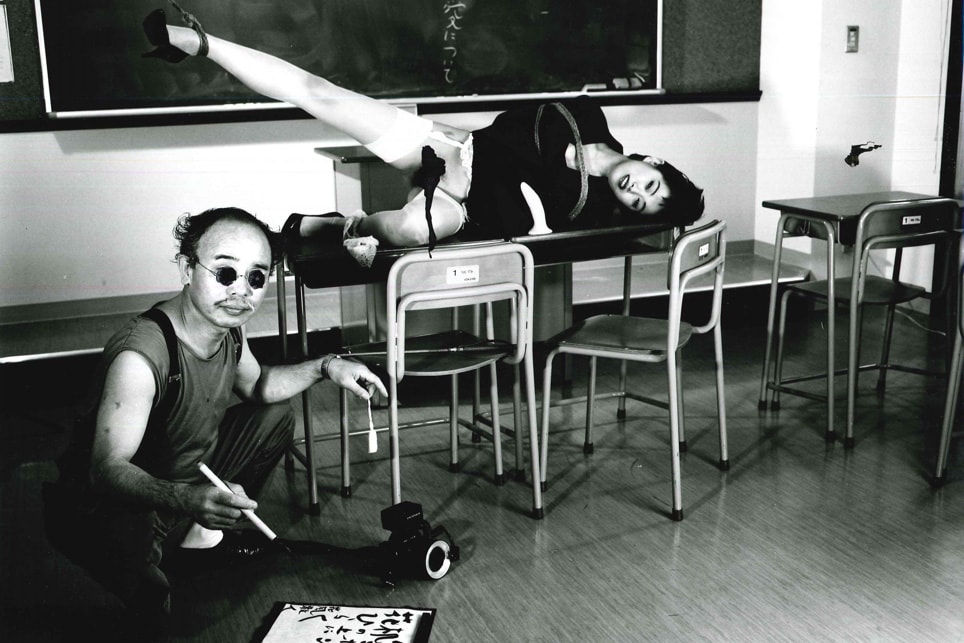 He Uses Photography as His Personal Diary
The main reason for Araki's never-ending output of photography boils down to the philosophy of shi-shōsetsu. Literally translated as "I-novel," this was a genre of early 20th-century Japanese literature where the author narrated the plot from a first-person perspective. Araki has adopted the same modus operandi for his photography where he obsessively documents his life, thus creating a diary of sorts. This concept is ingrained into his work, with many of his photo books featuring nikki, the Japanese word for diary, in their titles.
His Wife Yōko Was His Greatest Muse
As his partner, Araki's wife Yōko also found her own life captured on a daily basis, becoming his muse in the process. In their relationship, nothing was out-of-bounds and Araki recorded every minute detail of their everyday lives, from Yōko in the midst of an orgasm, to Yōko on her deathbed, and later, in her coffin after she died of ovarian cancer in 1990. Her passing marked a turning point in Araki's style, which changed its focus from hedonism and sexual ecstasy to more shocking and explicit compositions. Recently, morose and melancholy undertones have become pervasive in his work as his style has mellowed with old age. Araki now signs every photo with their wedding date as a constant reminder of her deeply-felt absence.
His Photography Is Hugely Controversial
Pretty much a self-evident truth, Araki's photography has garnered equal amounts of praise and criticism over the years for treading the thin line between photography and pornography, conceptual genius and misogyny. His photography has featured women bound and gagged, with legs splayed and penetrated with vibrators. To this end, Araki has explained that "I only tie up a woman's body because I know I cannot tie up her heart. Only her physical parts can be tied up. Tying up a woman becomes an embrace." This sensual theme has translated to his still lifes of flowers, which become symbols of female genitalia in his hands. Araki also nurtures a more-than-healthy obsession with vaginas, so much so that he calls his camera a "vagin-eye" for its ability to "enter" a subject. His repeated forays into the taboo have gotten him arrested on at least one occasion for breaching Japan's obscenity laws.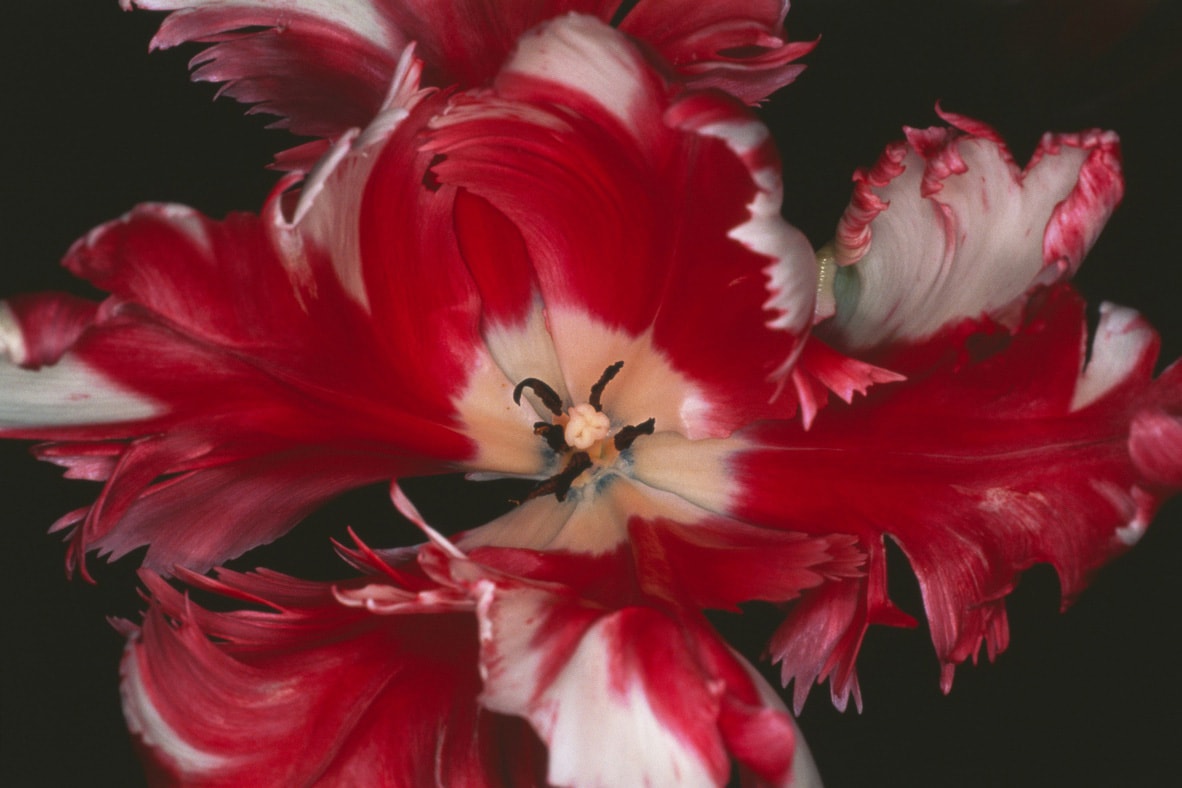 His Cat Was the Other Love of His Life
Another of Araki's favorite subjects was his cat, Chiro, who he adopted in March 1988. Their bond deepened after Yōko's death and Chiro became Araki's most treasured companion, with Araki dedicating numerous photo books to Chiro's image. Like Yōko, he would also document Chiro's entire life with his camera, beginning with 1990's Itoshi no Chiro (Chiro My Love) up to Chiro's death in 2010 in Chiro Ai-Shi (Chiro Love-Death).
He Only Has Vision in One Eye
After recovering from prostate cancer, Araki had another health setback in October 2013, when a retinal artery obstruction led to the loss of sight in his right eye. However, he took this development in stride, subsequently putting out a photo book and exhibition in 2014 titled Love on the Left Eye. In this series, Araki shot his usual repertoire of nudes and flowers, only to cover the right half of each photo with black marker to reproduce the current state of his vision. The title also represents Araki coming full circle as it is an homage to 1954 publication Love on the Left Bank by Dutch photographer Ed van der Elsken — a work that Araki was inspired by at the beginning of his photography career.