A French Soccer Team Is Demanding M.I.A. to Pull Down Her Video for "Borders"
It goes deeper than just a soccer jersey.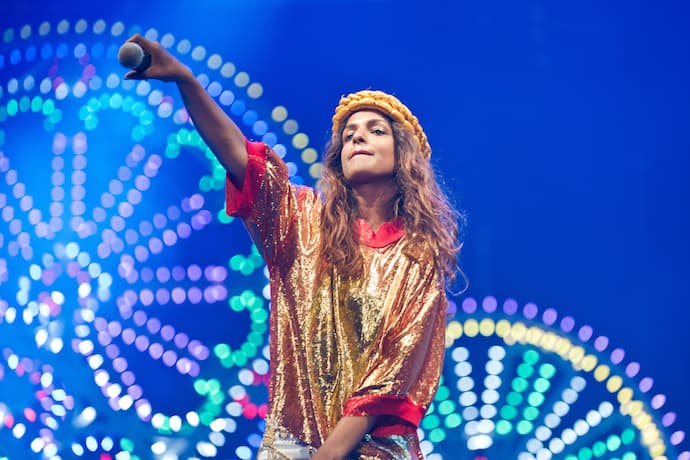 French soccer team Paris Saint-Germain (PSG) has just demanded M.I.A. to take down the music video for her song "Borders" – all because it features her wearing a modified version of the team's jersey. In a letter dated back on December 14, the deputy CEO of the Paris Saint-Germain (PSG) soccer team, Jean Claude Blanc, accused the musician of smearing the club's image with a jersey that read "Fly Pirates," a spin-off from its sponsor, Fly Emirates. The letter, which M.I.A. posted on Twitter earlier this morning, requests her to remove the video within 24 hours of receiving the letter, and requests "compensation for the harm we have suffered."
— M.I.A (@MIAuniverse) January 11, 2016
As of today, the video is still active. The song's lyrics speak on the response of Western governments to the refugee crisis, and its video depicts the often deadly voyages that refugees take when fleeing war-torn countries in the Middle East. M.I.A. was rocking the Fly Pirates jersey twice in the clip, with the slogan placed alongside the logos of PSG, Nike and Qatar National Bank (QNB). Via Instagram today below, M.I.A. claims she purchased the jersey in Qatar on her way to shoot the video.
So there's the case MIA vs PSG – discuss – ting

— M.I.A (@MIAuniverse) January 11, 2016
Me and sports – it's a love hate thing

— M.I.A (@MIAuniverse) January 11, 2016
Don't they know about me and NFL? #PSGvsMIA #BORDERSvideo.

— M.I.A (@MIAuniverse) January 11, 2016
When I make videos I end up on hit lists not end of year lists whyyyyyyy? MIAvsPSG BORDERSvideo

— M.I.A (@MIAuniverse) January 11, 2016
BORDERS came out the day of Paris Memorial Day ceremony for victims of Paris attack. Having an Eiffel Tower on my tee was support I thought

— M.I.A (@MIAuniverse) January 11, 2016