Ronnie Fieg & Daniel Arsham of Snarkitecture on the Power of Creative Partnership
Two great minds provide insights on the essentials of a culture-shifting partnership.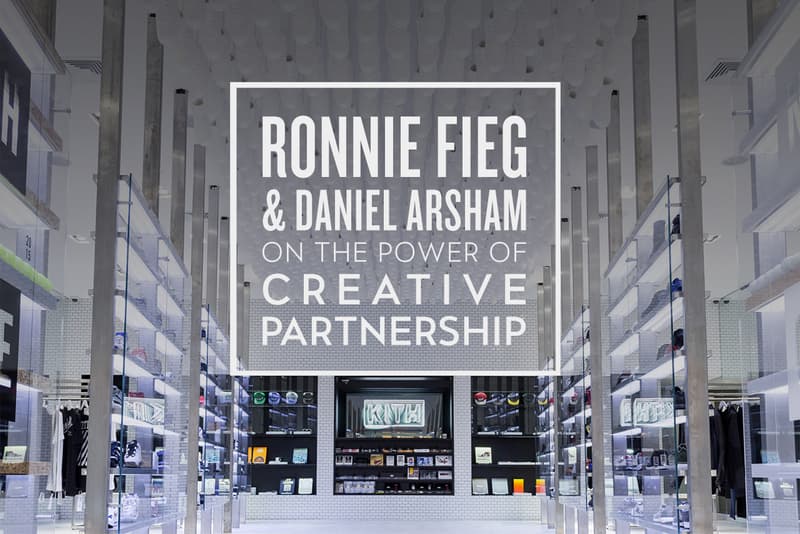 It is no stretch of the imagination to say that partnerships form the bedrock of HYPEBEAST culture, in everything from the innumerable sneaker collaborations we see on a weekly, even daily basis, to the co-founded brands that have graced our pages, both between friends or family. Rarer, but none the less valuable are partnerships that straddle two spheres of culture but give rise to something that adds inherent value to both — as the newest fruit to bear from Ronnie Fieg and Daniel Arsham's partnership so amply does. The pair first collaborated on the KITH flagship store in Manhattan, whose novel hanging display of cast Air Jordan I sneakers deftly combined sneaker culture with conceptual art and interior design in a way that had never been seen before, thereby establishing a new design language.
With every reason to continue their unique form of creative interplay, Fieg and Arsham have surpassed themselves with the second KITH store in Brooklyn, which represents a maturation of their relationship both professionally and artistically. Here, we sat the two down for a discussion of the store's inspirations and design, and the facets and components that make a culture-shifting partnership.
---
What's it like opening up shop in the neighborhood of Prospect Heights? How does this area differ from the Manhattan outpost?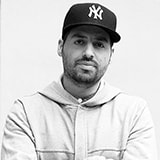 Ronnie Fieg
We initially moved into the Brooklyn store about one year before the Barclays Center opened, which is when that area really began to boom. We've watched that neighborhood develop first-hand, and it's been amazing to see. I really believe it's going to grow into its own district in the near future. I wanted to help lead that area towards its impending prominence, and that requires taking risks. Right now the store doesn't even really feel like it belongs on that block, but in a few years I'm hoping to see it be right at home and surrounded by likeminded ambitious businesses. Prospect Heights is still developing, and its one of those areas that's growing so quickly that you literally see the change week by week. SoHo, where I opened our Manhattan flagship, is one of the shopping capitals of the world. Comparing the two is difficult, both in terms of audience and geography.
What are your intentions in terms of the customer's experience when walking into the newly designed store?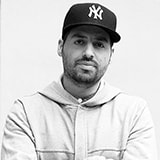 Ronnie Fieg
My goal was really two-pronged – to deliver a retail experience unlike any other, and to offer fans of this culture a second-home in Brooklyn. I want people to be able to come, listen to good music, talk to our knowledgable personnel, have an amazing dessert at KITH Treats, and let the product become secondary to the experience. It's a lifestyle. What we do is a lifestyle. Visitors should be able to come and absorb that. The food was a missing component that I was really excited to add.
---
How did the two of you meet, and what spurred this project's initial discussion?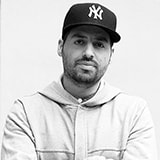 Ronnie Fieg
We first met at a dinner in Paris a long time ago. Ever since that night we've been friends, both personally and professionally. Our first real venture was my Manhattan store, and as we worked hand-in-hand it became evident that we have a very complementary relationship. In terms of collaborative partners, it truly is a situation where each of us brings something different and special to the process. The SoHo space ended being a perfect indication of what we can do. After seeing that, we knew we wanted to work on game-changing, culture-shifting projects going forward. We had more creative ideas than one project could endure. So it was important for us to continue letting those ideas percolate, and execute them. The Brooklyn store became a perfect opportunity for this.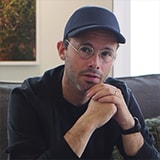 Daniel Arsham
Snarkitecture has worked with Ronnie and KITH since just after his first project opened, and he is someone who understands design, who thinks about how people engage with a space. For that reason, Snarkitecture has been an ideal architect for his space. We designed the first KITH location on Broadway and Bleecker thinking about people's experience.
Would you be able to highlight how the interior is designed to complement the product within it?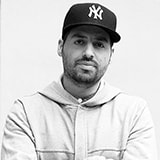 Ronnie Fieg
The palette is very clean and monotone due to the marble, stainless steel, and glass structures. This allows the product to become the visual focal point. The entryway was designed in a very multi-dimensional way. Walking in, stainless steel corridors plated with glass expand gradually form the starting point to the back of the store. The glass is on the inside of the walkway so that it mimics a gallery, as you walk in and look through the glass at the displayed footwear. Then, it becomes an interactive experience when customers have to go on the other side of the glass, because the footwear is cross-merchandised with apparel. However, a comfortable shopping experience was our basis for everything. Traffic flow and visual stimuli were crucial to create an easily maneuverable space.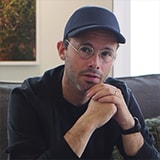 Daniel Arsham
Ronnie comes from sneaker culture, so we began this project with hundreds of cast Jordan II sneakers, cast from the original 1986 model. The rest of the experience in the store is really about material — there's a lot of focus on how things feel, what the light is like in the space, and trying to create a unique experience. The new store in Brooklyn is different from the location in Manhattan in that we were able to start totally from scratch. The original location had things like the marble walls that we really couldn't change. So we started out with the idea of reduction. The new location is all white, and we created an installation with the Jordan II with a glass partition when you walk in, that there's actually nothing to shop inside. It's an empty space. For Ronnie, to create an experience like that, it's not something that you often find, that product is not all over the place. That idea of reduction and materiality is something that was important. The one other thing that we focused on was to create an experience that felt like something unique, but wasn't overwhelming — it didn't go beyond his own products and the things he was trying to convey.
---
Is there anything that Snarkitecture did for the new KITH store that's different its usual style?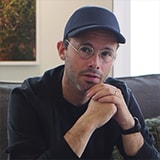 Daniel Arsham
Every project that we approach is completely different from the last one. We created a very unique floor for this that uses Carrera marble in a herringbone pattern which is an idea that we've wanted to do for quite some time, and this was the right location for it. But every project that we approach, both with Ronnie and anyone else that we work with, is starting from a blank state.
What do you like about Snarkitecture and Daniel's work?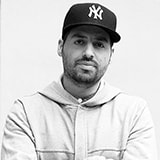 Ronnie Fieg
Daniel and Alex of Snarkitecture are two of the most genuine and intellectual people I've ever met. I feel as if I leave conversations with Daniel and Alex smarter than how I entered them. We fill each others' voids in terms of what we do and don't know, which is a rarity for partnerships. I've learned a lot from them throughout this process. Same goes for their entire team, such as Steven. I respect what they all do. That's a team that has a very bright future ahead of them because they're willing to take design risks and think outside the box in order to inject some newness into a market that really needs it.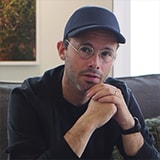 Daniel Arsham
It's certainly a learning experience working with Ronnie. He's willing to go very far. I push him often — he and I will often get into very heated discussions in his office about the direction of the space. I'm often pushing up against what's possible physically. I always want to dream up things that go beyond what people have experienced before, and he's usually willing to take that ride with me.
---
Why the white Jordan IIs?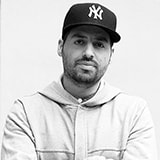 Ronnie Fieg
Because we're going in numerical order. Our Manhattan location features Jordan I casts, and after rebuilding the Brooklyn store as our second flagship, it prompted Jordan IIs.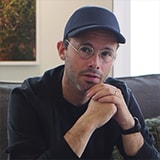 Daniel Arsham
If we reference anything, it's back to other projects that we've done with Ronnie. Obviously, the continuation of the sneaker ceiling is something that we intended to do from the beginning, and it really creates both a moment for people when they enter the space, but also something to look forward to when they enter [future KITH stores].
Can you introduce the various sections in KITH's new store?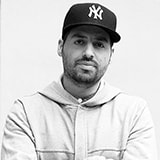 Ronnie Fieg
The Archive Room is meant to tell a story that will be synonymous throughout our retail spaces. These displays will interchange every 4-6 weeks with a new concept that we'll be telling. The VIP Room will be accessible to my friends and family to come have a meeting, share a drink, or substitute as a temporary office. Most importantly, it was made for those who want to have a private shopping experience. KITH Treats is a childhood dream of mine. It's a space where we're able to relive our youth over again. Nostalgic cereals are mixed with amazing packaging concepts by tying in limited edition mini-cereal boxes/bowls. Our cereal confection vanilla swirl ice cream has also become rather popular at the moment. It's something I've been premeditating on and seeking to accomplish for so many years. I'm extremely proud of how it turned out.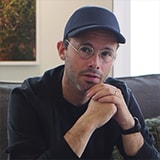 Daniel Arsham
The cereal bar was an interesting experiment for us on how to design something that uses something that we all remember from childhood and brings it into a contemporary space.
---
For KITH Treats, would you consider expanding from cereal to other kinds of "treats"? Certain athletes and artists have contributed, why have these guys been selected?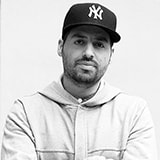 Ronnie Fieg
I've always believed that the footwear/apparel/retail business would act as a stepping stone for me. I'm looking for KITH Treats to evolve into many things in the future. Our Specials menu is comprised of artists and athletes that are personally close to me  because I honestly just wanted to know their favorite cereal – because that's how I judge people (laughs). That's even the very first question I asked my girlfriend when I met her!
What kind of milk do you have with your cereal?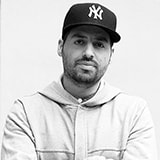 Ronnie Fieg
Personally, I only use whole milk or chocolate milk with my cereal. I think using any other milk is a bootlegged way of eating cereal. However, since I want to offer the gamut for consumers, we offer Whole Milk, Skim Milk, Chocolate Milk, Almond Milk, and Hemp Milk.