POLLS: Did "What A Time To Be Alive" Live up to Your Expectations?
"Walked inside the booth and came out in a Learjet."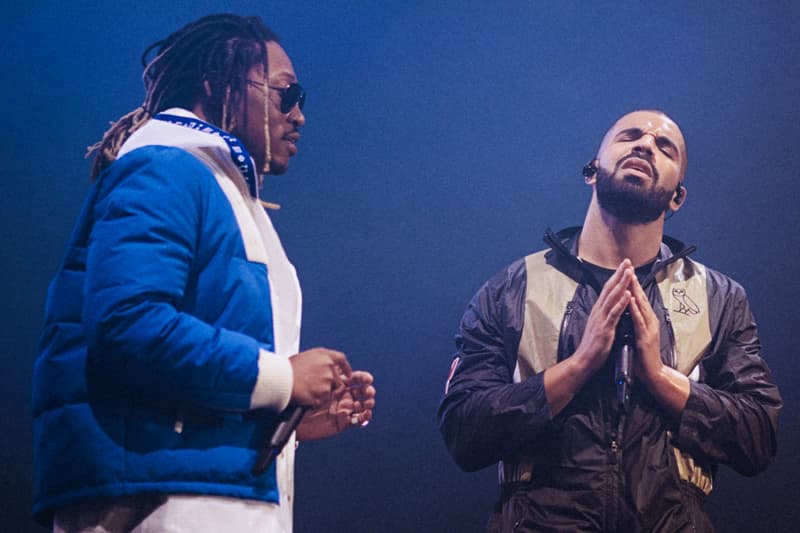 When whispers of a possible collaborative Drake and Future mixtape hit the rumor mill a few weeks ago, the Internet went into an absolute frenzy: fake cover art and tracklists circulated, and the two rappers played into the hype by including each other in Instagram posts and tweets with the hashtag #FBGOVO.  The excitement was for perfectly good reason: either could easily lay claim to the rap game's current top spot, and 2015 has been very good to both of them.
Drake dropped If You're Reading This It's Too Late by semi-surprise back in February, and it's become the biggest album of the year — in fact, it's currently 2015's best-selling digital body of work and has sold over 1 million copies. In between headlining Coachella and hitting the road (with support from Future, of course) on his Jungle tour, he found himself embroiled in one of the most exciting hip-hop beefs in recent memory when Meek Mill decided to call him out for using ghostwriters to pen his lyrics. If the endless onslaught of Meek-maiming memes didn't convince you that Drake was the undisputed winner of the battle, one only need to look at the music Drake released during the spat: "Charged Up" and "Back to Back" brought the battle back to mainstream rap with the latter being one of the funnest exercises in braggadocio and boast we've seen in years, and "Hotline Bling" became an instant future karaoke classic and the unofficial song of the summer's tail end.
Future has been having a Monster year himself, and is the only rapper who could even come close to Drake's level of dominance this year. While the Atlanta MC may have first been noted for his affiliation with the Dungeon Family collective, his individual notoriety has been on a steady build over the last five years, and especially since the release of his much-loved 2012 debut Pluto. He dropped a mixtape back in March, 56 Nights, which charmed both fans and critics, and his subsequent album DS2 (released in July) hit #1 on the charts.
When considering the year that these two have been having, the project's title is all the more fitting: What A Time To Be Alive — a sentiment shared by many excited fans the day of the drop.Drake's Apple deal meant that it would be premiering exclusively on his OVO Sound show on Beats 1 Radio. The 6 God himself graced the airwaves to introduce the project, talk about the people behind it, share where it got its name, and describe how it all came together over the course of a six-day stretch in Atlanta. The release and reactions were a perfect illustration of the shift in music and media consumption over the past few years: it was akin to a mass online listening party, and Twitter was ablaze with activity as people live-tweeted the radio show like a sporting event or awards show. What a time to be alive, indeed.
Since the initial excitement has worn off and the digital dust settled, reactions to the tape have been mixed.  It's undoubtedly a hit from a numbers perspective, expected to debut at #1 on Billboard's Top 200 chart and estimated to sell as many as 500,000 units its first week. The social media activity has been relentless, and you can expect to see lyrics from the album tweeted and borrowed for Instagram captions for weeks and months to come.
Almost everyone has noted the fact this sounds like a Future feat. Drake project: Future's right hand Metro Boomin serves as executive producer, meaning that the tape plays out in his signature sonic playground, but he also has the best verses, the most noteworthy punchlines and almost double the time on the mic that Drake does. Even some of the content and themes are disjointed: It seems doubtful that Drake would ever release a song called "Live from the Gutter" on his own accord. Owing to all this, the tape lacks a cohesiveness and chemistry that one might expect with both artists in attendance during the creative process, something that is a bit of a rarity in the digital age where long-distance collaboration is both easier, and more common.
That six-day stretch is something to keep in mind when considering the final product. The impulsiveness is a defining factor of WATTBA, and Billboard said it best with their assertion that this tape is a "perfectly timed victory lap." It might be missing the tightness and executional excellence of a collaborative album like Watch the Throne, but it wasn't even attempting it. WTT was a grand statement months in the making, positioned as a magnum opus of sorts from both JAY Z and Kanye West in its production style, lyrical content, album art and ensuing tour. Alternatively, WATTBA has always been positioned as a mixtape (made in six days remember), not an album, making it a low risk and high reward venture for both of these artists. Perhaps the lack of pressure or urgency also contributed to what, for some, is a lackluster project.
But when you're the best, your lackluster is still brighter and better than everyone else, and The Boy and Super Future still offer up some seriously shiny moments on WATTBA. "Digital Dash" and "Jumpman" are good, clean, turnt up fun; and "Diamonds Dancing" brings out the very best in both artists. Coincidentally enough, some of the strongest songs on the project are those that aren't collaborative — Future on "Jersey" and Drake on "30 for 30 Freestyle."
With so many angles to debate, and endless differing opinions floating around out there, we're interested to hear what you thought about What A Time To Be Alive.
Poll
Did "What A Time To Be Alive" live up to your expectations?