HYPEBEAST LIVE BLOG: @ The Apple Special Event 2015
The live event has finished. Check here for minutes from the event.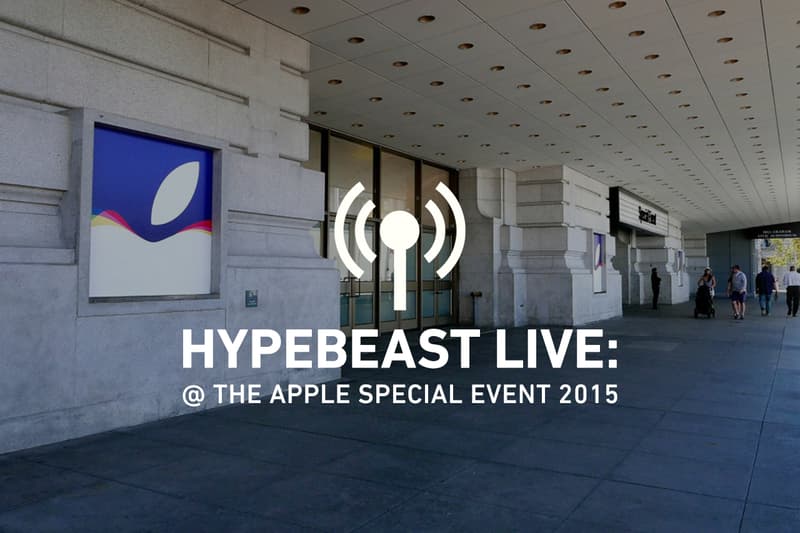 It's finally here. Apple's special event at San Francisco starts in one hour, and with it the announcement of glorious new products from the Cupertino tech giant. Rumors are exploding about a newer, larger iPad Pro, a Siri-enabled Apple TV set top box with gaming in mind and, of course, an update to the beloved iPhone 6 family of smartphones.
The presentation has finished. Stay tuned for more details on the new Apple products.
—–
[12:20:13] It's a wrap. Thanks for following!
[12:15:55] Another One Republic song. Apparently they were booked at the last minute. Interesting…
[12:10:11] Another One Republic song.
[12:06:04] One Republic comes on stage to perform.
[12:05:01] Tim Cook wrapping up. Thanking his staff.
[12:02:32] Cue iPhone 6S video.
[12:00:07] iCloud storage option upgrade. 50GB for $0.99 a month.
[11:59:47] iOS 9 September 16.
[11:59:10] Pre-order September 12. Available September 25.
[11:58:30] "iPhone upgrade program." Gives you a new iPhone every year through installments.
[11:57:11] Two-Year Contract.
iPhone 6S from $199. iPhone 6S Plus from $299.

[11:56:30] New charging dock!
[11:56:03] Android to iPhone migration app.
[11:55:25] Improved LTE bands. 2x faster Wi-Fi.
[11:54:43] Automatically turned on. The capture is a few frames before and after you take the photo, to make them all live.
[11:53:12] "Live Photos" using 3D touch and it takes a "scene."
[11:52:07] Retina flash, 3x brighter flash ability.
[11:51:29] 4K video. 8 MP every frame. 5 MP front-facing camera.
[11:50:02] Panorama. 63 MP picture.
[11:47:20] Showcasing photos by actual photographers. Pictures are unedited. Looks great. Accurate exposure.
[11:46:33] "Deep Trench Isolation." Basically adds a barrier between pixels so the colors are more accurate.
[11:45:40] Auto-focus even faster.
[11:44:32] New iSight Camera, 12 mp. Still protruding from the back.
[11:44:05] 2nd generation touch ID sensor. 2x faster touch sensor.
[11:43:20] The zooming shoot actually looks kind of annoying…
[11:42:40] Warhammer game demo now. 3D touch used to zoom when shooting. Game is running really smoothly.
[11:41:25] A9 chip. 70% faster than A8. GPU 90% faster.
[11:40:53] 3D Touch demo finished. Hmmm… that was fast.
[11:39:20] Update status or check-in on Facebook right from your home screen.
[11:38:56] Looks like the task changer has a new angled look.
[11:37:12] Peek into details like flight times. Useful.
[11:36:06] Peek into your email. Another easier way to ignore messages.
[11:34:10] Craig comes up to give us a demo of 3D Touch.
[11:32:45] Capacitive sensors built into the backlight to measure changes in distance between the glass and backlight.
[11:31:54] Peek into apps like Mail, Maps, etc.
[11:30:56] Contextual menus anywhere. Like right-clicking on your iPhone.
[11:30:00] 3D Touch.
[11:28:58] Rose Gold Aluminum. Aerospace specification. Original three colors still available.
[11:27:34] iPhone 6S and iPhone 6S Plus.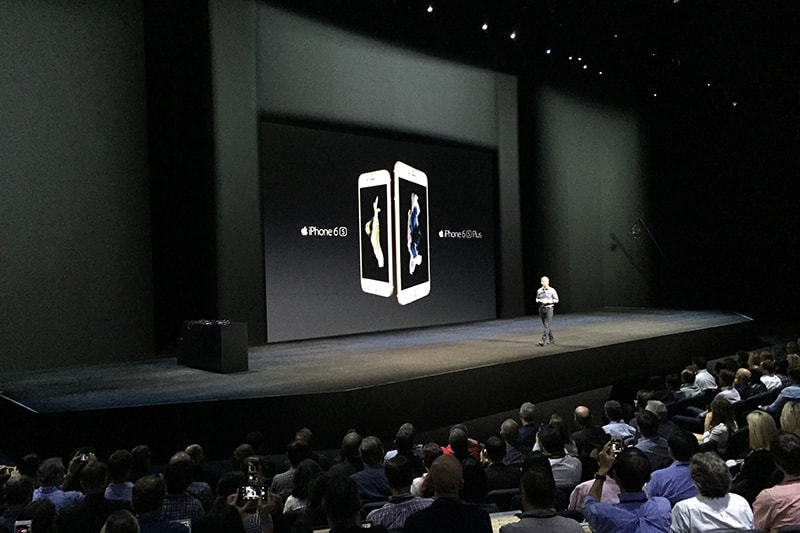 [11:26:47] Cue video.
[11:26:01] 75% Growth in China for iPhone while the rest of the industry declines.
[11:24:30] Now, iPhone. ("woooooooo")
[11:23:40] 32GB $149, 64GB $199. Late October. Old Apple TV still $69.
[11:22:59] 64-bit A8 chip. Bluetooth remote. TV-Volume control.
[11:21:30] Split-screen baseball games.
[11:21:08] All the stats and details you'll ever want while watching your team.
[11:20:02] MLB.com on Apple TV.
[11:18:34] Buying a John Varvatos jacket has never been easier.
[11:16:49] Shopping from your couch. Basically "Home Shopping Network meets Amazon" in fancy 1080p.
[11:14:00] Beat Sports. Wii-style baseball game that's based on music.
[11:12:25] Multiplayer Crossy Road, exclusively on Apple TV. Competitive pecking too!
[11:11:21] Crossy Road in your living room. Swipe left and right, click to move forward. Still a hard game though.
[11:10:11] Guitar Hero for Apple TV.
[11:08:02] tvOS. iOS for the Apple TV. Developers accessible.
[11:06:55] Siri is fully enabled and won't interrupt your feature.
[11:05:10] "What did she say?" Siri will jump back 15 seconds, and bring up captions for you, temporarily. Nice touch.
[11:04:10] Search episodes with details. "Modern Family episode with Edward Norton." Impressive.
[11:03:12] You can play around with the title of movies with your thumb! Fun!
[11:02:33] Pretty screen savers.
[11:01:23] Siri will search across all apps. No more "Is ________ on Netflix?" Just ask Siri. Searches across iTunes, Netflix, hulu, HBO, Showtime.
[10:59:00] Eddy Cue. Box looks the same, but the remote is shorter with a voice and glass touch surface.
[10:58:10] Touch remote, used to scrub rewind. Hold it sideways and play Wii-style games.
[10:57:32] "Siri, show me something… new." Siri-enabled.
[10:56:43] App store on Apple TV.
[10:55:09] "The future of TV is apps."
[10:54:15] "Golden age of television." Uhhh, kinda late with that Tim.
[10:53:30] Now, Apple TV.
[10:53:14] iPad Mini 4 = smaller iPad Air 2. Nice!
[10:52:11] Carbon fiber-capped speaker output.
[10:50:00] Cue introduction video and Mr. Ive voice.
[10:48:01]
Silver, Gold, Space Gray
32gb $799
128gb $949
128gb w/ LTE $1079
Apple Pencil $99
Smart Keyboard $199
Available in November
[10:46:00] Showing bones and muscle animation. This looks familiar to what the predecessor iPads could do… only faster and smoother.
[10:45:10] More medical integration with the iPad Pro.
[10:43:56] Photoshop sketch. Non destructive. Scrub back all of your errors.
[10:42:40] Facial recognition, "smile" editor. Impressive.
[10:41:21] Photoshop Fix for iPad Pro.
[10:40:32] Director of design Eric Snowden. (No relation)
[10:40:04] Adobe is on stage now.
[10:38:59] Powerpoint converts using shape recognition, either from the Pencil or touch.
[10:37:11] Side by side office apps is a great idea. Copy/paste across apps.
[10:35:02] Demo time. Microsoft corporate VP Kirk Koenigsbauer. Microsoft Office.
[10:34:11] Software allows draw-and-send to clients.
[10:33:32] The pencil is recharged by the iPad Pro. Plug it in like a lightning cable. Convenient.
[10:31:29] "Apple Pencil." (laughs in audience). Cue video. (Ahhhh, Jony Ive voice.)
[10:30:11] Tactile keyboard, pretty thin. Works like a smart cover. Connects through a new "smart connector."
[10:29:10]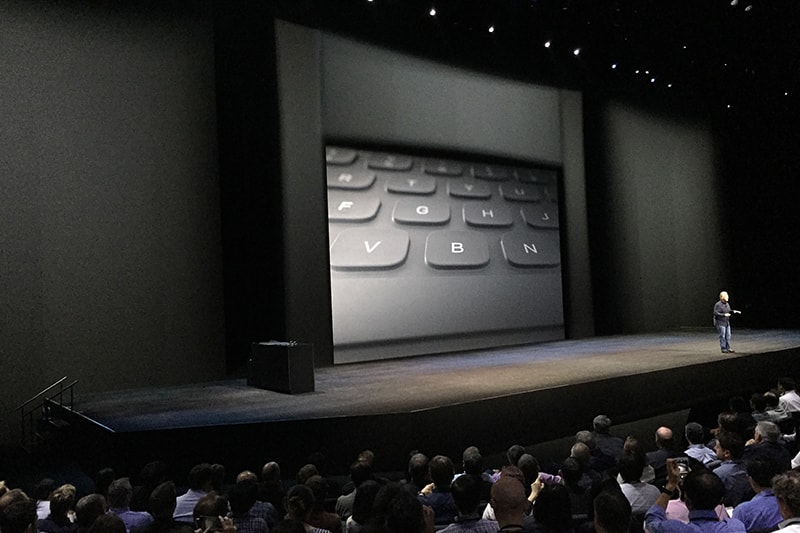 [10:28:00] Smart keyboard announced.
[10:27:11] 4 stereo speakers. Only 6.9 mm thin. Weighs 1.57 lbs.
[10:25:10] Faster than 80% portable PCs. Graphic performance faster than 90% than portable PCs.
[10:23:23] A9x chip. Wonder how it compares to desktop CPU speed… plus variable refresh rate, slows stuff down to save energy.
[10:22:41] 5.6 million pixels. Double whoa.
[10:22:15] 12.9 inches. Whoa.
[10:21:34] "Most capable and most powerful we've ever created!" It's pretty big actually.
[10:21:01] iPad Pro.
[10:19:41] "The biggest news in iPad, since iPad." Cue video.
[10:18:10] Next up, iPad.
[10:17:30] Watch OS II, September 16.
[10:16:55] Space Gray. Product (RED). Shipping today.
[10:15:45] Introduction video to new models. Your standard Apple white background floating video.
[10:15:03] Hermes watch band announced. Leather strap that wraps twice. Single wrap version as well.
[10:13:45] Hear a baby's heartbeat right off the watch.
[10:09:01] Airstrip can connect doctors and patients. Monitor pregnant women at home using Apple Watch.
[10:07:31] Showcasing new Watch apps. iTranslate. Speak into the watch and have it translated. Very Inspector Gadget.
[10:05:18] Apple Watch testimonials. Satisfaction at 97%.
[10:04:03] No time for updates, so let's jump right into the Apple Watch.
[10:02:00] Tim Cook is on stage.
[09:58:00] "We ask that all electronics be switched to silent. Thank you." Here we go.
[09:49:10] Apparently there's 6000 people in attendance.
[09:45:29] Not too bad of a view.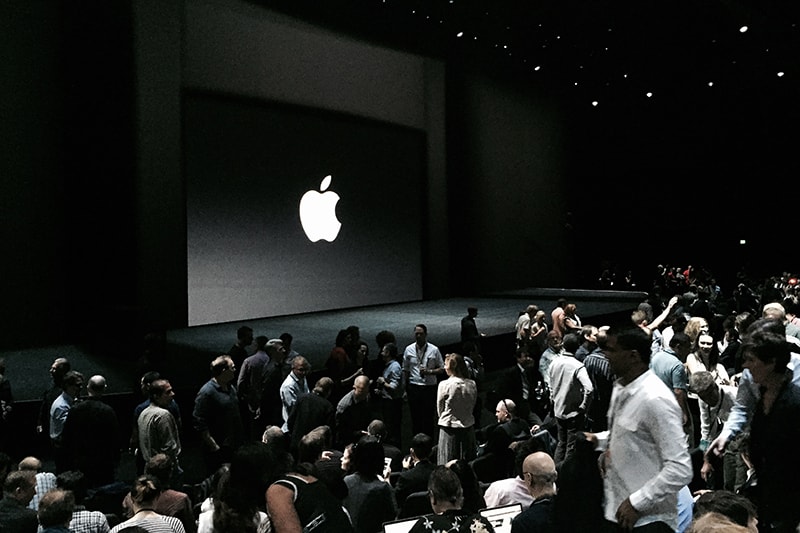 [09:16:12]

[09:08:42] Awesome lunch offerings.

[10:08:00] People are lining up to get in. Tons of people.