Life In Indigo: 5 Reasons for visvim's Staying Power in Streetwear
Learn about why the Japanese label still inspires the same fervor now as it did 15 years ago.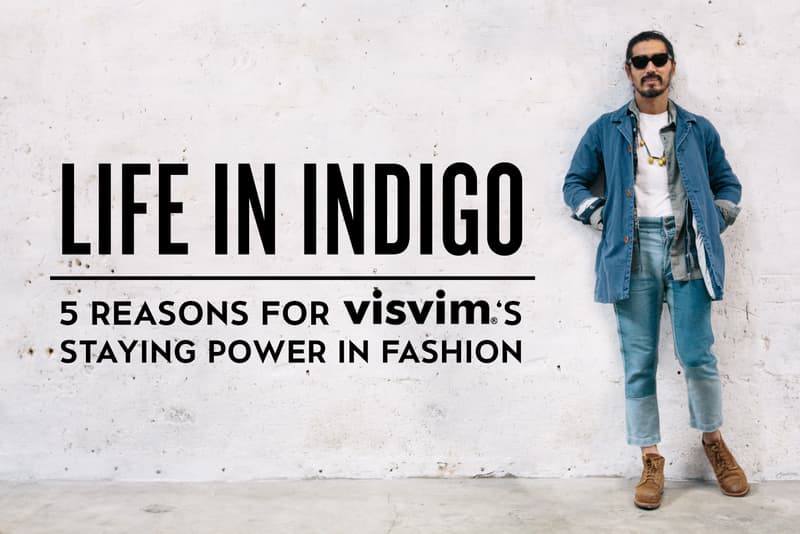 In the ever-growing panoply of the streetwear world, few names hold as much reverence and respect as visvim. Founded by Hiroki Nakamura in 2000 with the release of the seminal FBT hybrid moccasin, the brand was conceived on the premise of Japanese Americana workwear created using the finest materials and artisanal techniques without compromise. This labor-intensive approach struck a special chord with streetwear audiences first in Japan, and then equally, if not more fervently received in the U.S., establishing a reputation for obsessive handmade quality that has not but once waned during the brand's close to 15 years in operation. With the likes of Kanye West, Pharrell Williams, John Mayer and Eric Clapton having all declared their allegiance, what makes visvim in particular such a beloved brand not just within the narrow field of Americana-inspired workwear, but throughout the entire rank-and-file of the streetwear world? Here we look at five factors which just might explain the unique phenomenon that is visvim.
---
visvim FBT Moccasin
It is no easy feat to create one product so powerful in design and execution that it garners its own cult following, a feat whose difficulty is only multiplied by the fact that it was a fledgling brand that debuts said product as its first release. Such was the case with visvim's FBT moccasin, which broke new ground in 2001 for its combination of a Native American silhouette with a modern Vibram sole unit, thus deftly mixing the old and the new. This stroke of innovation was inspired by the utility of the traditional Native American moccasin — Nakamura was particularly impressed by how the ankle flap could be flipped up and wrapped around the ankle for warmth, as well as the addition of hard leather as a primitive outsole for desert-dwelling tribes. Using only the finest materials such as pigment-free, naturally-tanned Horween shell cordovan and elk leather, the shoes also feature a natural cork footbed which mold to the wearer's foot over time for unparalleled comfort. A polyurethane midsole and custom-made Vibram outsole add the shock-absorbing capabilities of a sneaker sole.
As a first sign of what was to come from visvim, the FBT's instant success set the tone for the rest of the brand's products that would follow, thus raising the bar for the brand and creating a whole footwear movement that would follow the same formula of mixing traditional and modern elements — some examples include Cole Haan's LunarGrand and adidas' various moccasin-inspired renditions of the Tubular, the SL Loop, and the Brussels.
---
Imperfect craftsmanship
With the tone set for the growth of his brand, Nakamura found it only natural to branch from footwear into a fully-fledged clothing line. For this, Nakamura again re-appropriated the aesthetic of traditional Native American garments as well as the workwear of the American frontiersman — he is particularly interested in the interplay of cultures during that era that would transform, for example, a rivet on the jewelry box of a European settler into an Indian's concho belt, which would then evolve over decades into a mid-century cowboy belt. As such, Nakamura endeavors to create garments that are pregnant with the same depth of backstory, and by association, meaning.
In the same vein of logic, visvim's garments reach back deep into the past for manufacturing processes that were borne during a time before the planned obsolescence and disposable, one-use products. Because products of that time were made to solve a need, rather than to be sold, to Nakamura these objects "are so much more powerful because they were designed for a purpose. They have so much more power and that speaks to me." It follows that Nakamura has since made the preservation of traditional production methods the crux of visvim, applying them to the construction of garments from the inside out.
Starting from the yarn up, all of visvim's designs use fabric exclusively woven for the brand by mills personally selected by Nakamura, which are then hand-dyed for the variation and imperfection in the final product that Nakamura seeks — the indigo dying process is a favorite of the designer's for a natural vibrancy that can't be found otherwise. Furthermore, he is not afraid to experiment with novel fabric treatments, on occasion using everything from mud and bugs to dye his garments. The final step sees a range of hand finishes, such as the application of beading, mother-of-pearl buttons, hand-painted graphics and hand-stitched accents, making the products truly a labor of love by the artisans involved.
---
Product exclusivity
Naturally, with the sky-high quality of handmade construction for everything under the visvim name, owning one of the brand's products does not come cheap. At this level of craftsmanship, a typical FBT silhouette will go for $700 USD, while a coyote fur-lined GORE-TEX down jacket may set you back an eye-watering $2,350 USD. Add to this the very limited runs of each item (again, stemming from the costly materials and production methods used), and the effect is a certain aura surrounding the brand's products, given their very small supply. As such, visvim has been compared to the likes of Raf Simons and Rick Owens for its exclusivity, albeit catering to a very different, more rugged aesthetic. "Visvim represents a different kind of luxury," said Complex editor Jian DeLeon to Business of Fashion. "The prices are steep, so you almost have to buy into the club, and the people that know, they know." Driven in part by the fact that visvim's products cannot be identified from afar as luxury items — their status is often revealed only upon closer inspection — to be able to identify a visvim piece therefore puts you in a rarefied breed; to own a piece, even more so.
---
Cult following
Apart from its price, visvim's hallowed reputation was solidified in its early days by an ardent online following. Having caught onto the brand early, clothing enthusiasts on online streetwear forums such as Superfuture discussed visvim's newest releases with a hushed fervor and treated their knowledge of the brand as something akin to valuable insider knowledge. Testament to this, some forum users and visvim devotees have gone so far as to create entire sizing compendiums documenting every sizing idiosyncrasy of a number of popular visvim items, while a three-year-old Superfuture forum thread for reselling the brand's products has run on to over 100 pages, while remaining very active. Although the Japanese workwear movement began in the 1990s, visvim is now regarded as one of the premier heavyweights of the category, its products having been featured across a range of fashion and streetwear publications such as Inventory, Complex, Selectism and, of course, our very own platform. visvim's continued relevance can therefore be attributed to an online legion of fans that remain very much attuned to the brand's latest releases, discussing them in detail after the fact.
---
The face of visvim
Last but not least, nobody knows the value of presenting a public face for a brand better than Hiroki himself. Both conceived and founded by Nakamura, it is no stretch to say that visvim is a direct representation of his own tastes and influences — from his early fascination with the vintage items passed down to him from his parents and older sister, to a stint during his teenage years spent in Alaska, to Nakamura's continuing habit of travelling with empty suitcases to fill with flea market finds during his vacations. The designer regularly conducts interviews with the likes of MR PORTER, Interview magazine, GQ and i-D, as well as having appeared in these pages on occasion, channeling his passion for authentic Americana while maintaining his ever-benevolent demeanor. Nakamura also aims for transparency in his philosophy and the process of designing and creating, communicating to his fans by way of short essays, or "dissertations," posted on the visvim website with the release of every new collection. Through these, he provides an insight into the process from start to finish, as well as shedding light on his current mood and inspirations. While the designer is supported by a fully-fledged team, the brand is still very much synonymous and interchangeable with Nakamura himself, thus humanizing visvim for the masses.