Errolson Hugh on the Design Process ​Behind the ACRONYM x NikeLab Lunar Force 1 SP
"Despite the radical things we've done to it, the model is still instantly recognizable as an Air Force 1."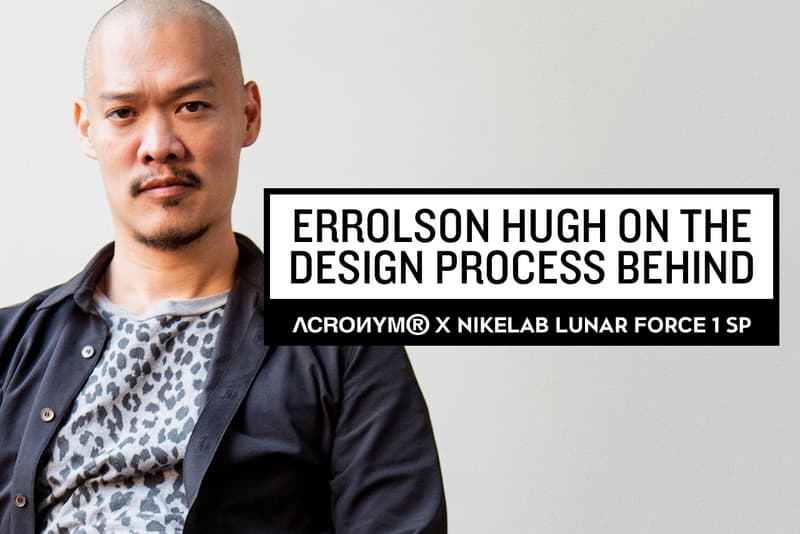 By classifying ACRONYM as merely a clothing label would be undermining Errolson Hugh's cogent design philosophy. Taking apparel technologies and ideas from military, sportswear and industrial gear, and applying them to everyday life, ACRONYM has gone against the grain, shrugging off critics that condemn its ideas as "too difficult to execute." Finding a middle ground between style and mechanics, the brand doesn't let conventional industry formulas constrain its ideas. It doesn't work off mood boards, nor does it have seasonal themes. While the brand may portray a scientific and stealth-like operation, it engineers as it goes along with the aim of solving a certain problem or archiving a particular movement in each of its undertakings.
Hailing from Munich, there's no doubt that the city's varying climate serves as inspiration in much of ACRONYM's outputs. This paired with Hugh's training as an architect and karate fighter, not to mention his interests in Tokyo's Harajuku scene, results in an avant-garde label appealing to the modern urbannite. A single pair of pants can undergo a three to four month production process, prototyping twenty models before Hugh is confident with the result. The attention to detail and intensive investigation that goes into each of its designs gives performance wear a new benchmark. Hugh's precision has garnered admiration from Portland sporting giant Nike, especially its ACG division, who collaborated with ACRONYM on a full-fledged apparel range in 2014.
The collection consists of outerwear, portable storage, but most prominently, ACRONYM's footwear debut with the unveiling of the ACRONYM x NikeLab ACG Flyknit trainer Chukka SFB. Following suit from the success of its first release, this season Hugh teams up with Nikelab again, rendering the Lunar Force 1 SP in three mock-ups. Extending its foray further into sneaker design, we caught up with Hugh to learn more about how he parlays his expertise in apparel design onto footwear, how he feels about updating the iconic Air Force 1,  and what his favorite Nike sneakers are.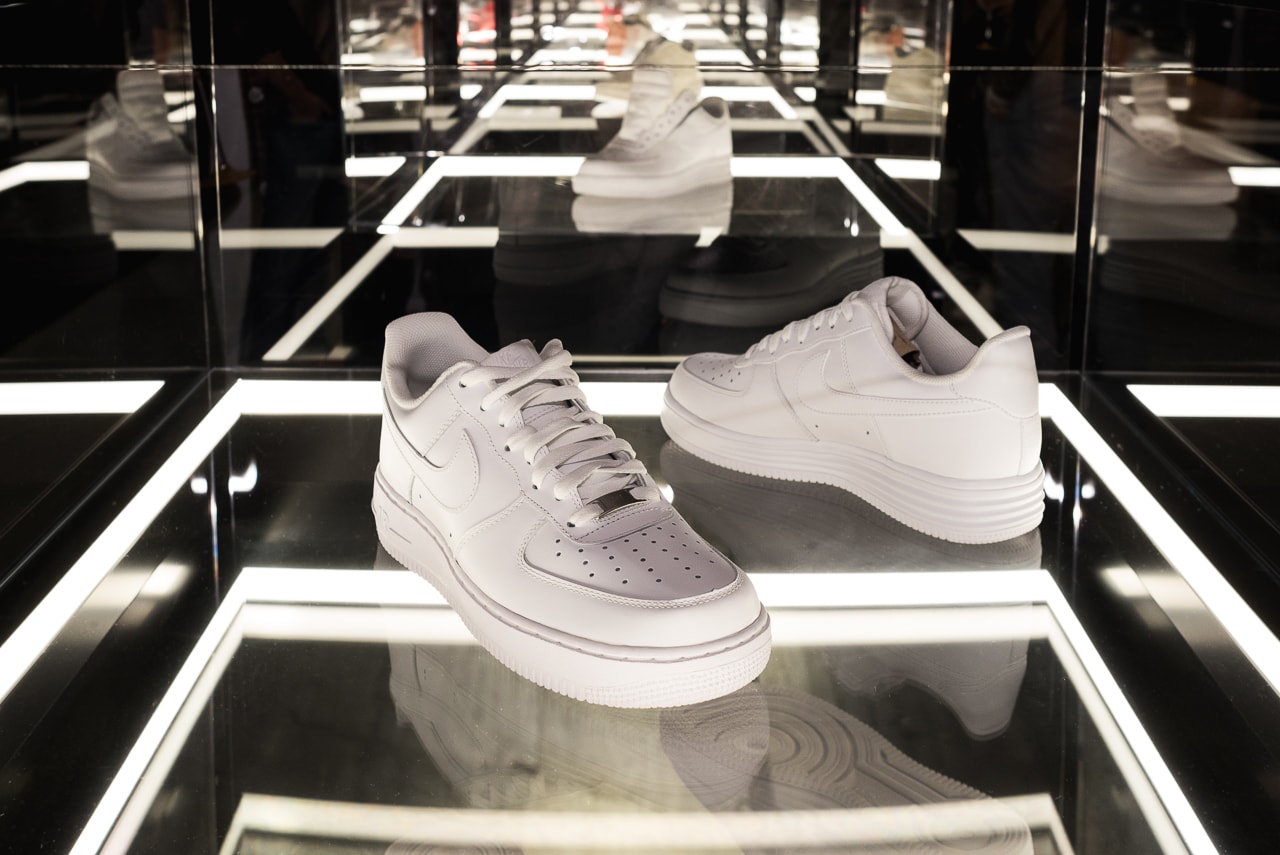 How do you view the direction of style and fashion as it pertains to technical apparel and footwear?
Technicality in fashion is something that, when we began ACRONYM years ago, was a completely foreign idea. Nobody was really pursuing that or understood the need for it. At least not on a practical physical level. There were plenty of things that 'looked technical,' but nothing that we thought really worked. Now, in the past few years, the industry is coming around and there's much more of an understanding of it.
I think the interesting thing about this is that anything that's high-tech now will be everyday later. I heard a definition once that high-tech is just what you didn't grow up with. For us at ACRONYM, we always view technology as a function of quality. High-tech for its own sake is basically decoration. It only makes sense to use the technology if you're actually creating a tangible benefit.
How does designing footwear differ from designing apparel?
Footwear is interesting for us because, obviously, it's newer. At the beginning, when we first were approached by Nike to look at the Air Force 1, the first thing we asked ourselves was, "Why should we do this? What could we possibly bring to the table that Nike doesn't already know how to do?"
In the end, we decided to approach it the same way we approach apparel design, which means look at a problem, or look at an aspect of the functionality, and see if there's a way to improve it. We took ideas that we'd developed for apparel and applied them to the footwear.
It's definitely not the conventional design approach, and I think the final product is unorthodox as well, but hopefully it's compelling and interesting in its own way.
What was your relationship with the Air Force 1 and Lunar Force 1 prior to this?
Interestingly enough, no one in our studio had a personal connection to the Air Force 1. Obviously, in regards to culture, we all knew what the shoe meant and where it was from. But I had actually never worn a pair of Air Force 1's before. The advantage of that turned out to be that we could proceed in a radical way, because it wasn't a sacred object to us.
If it would have been a shoe that I'd grown up with, or was wearing every day for the last 20 years of my life, I would probably have been afraid to do some of the things that we did. I have to say, it was also quite open-minded of Nike to allow us to proceed as we did. Hopefully everybody understands that this intervention into this classic design is meant in the best possible way. It's a sign of the strength of the original design that, despite the radical things we've done to it, it's still instantly recognizable as an Air Force 1.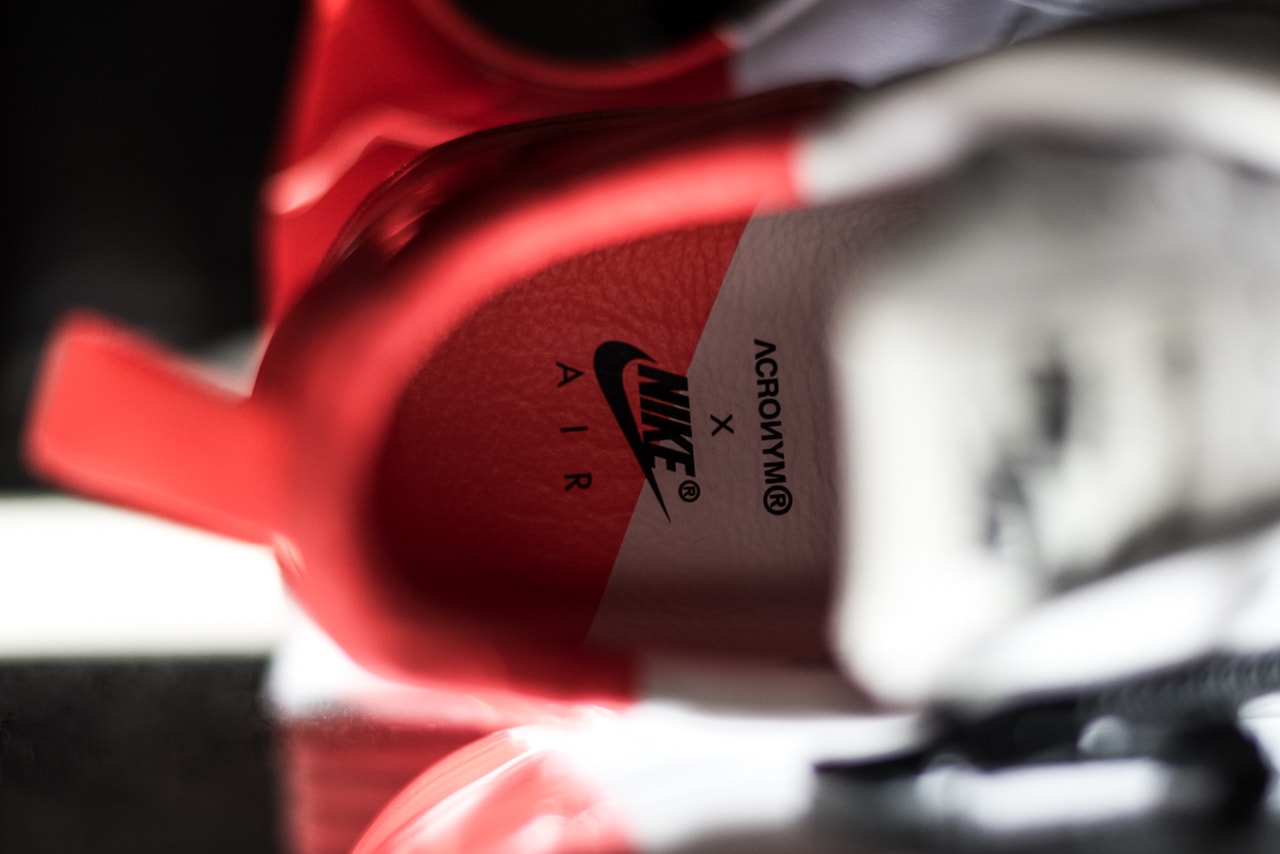 How does it feel to be one of the few people to ever update the Air Force 1 design?
It's a big responsibility. It's the same thing as when we were asked to do ACG. There's a lot riding on it and it's not something you can mess up. If you don't bring your "A" game and deliver, you'll never live it down.
How does this Lunar Force 1 differ from any Lunar Force 1 or Air Force 1 Low before it?
The donning and doffing allowed by the zipper is super simple. You can tie the laces once with the tension you want, and then you never have to deal with the laces again. You just zip in and out.
Also, the way the zipper is inserted into the shoe makes an extremely graphic impression. I don't think that sort of visual language has really been seen before—particularly not in the Air Force 1.
What was the development process like for this shoe?
After we had the idea and knew what we wanted, the next thing was figuring out how to communicate it to the product developers and the factory. Again, we followed our apparel process and built a prototype. We took an existing shoe and used masking tape, markers, scissors and glue, and mocked one up.
And then we drew the prototype and shipped both the technical drawings and this cobbled-together sample, so that the developers could see, physically, "Okay, this is what they're after." Building it life-sized helped us really be sure that, yes, it would work. Your foot would go in and have enough space, nothing conflicted with the function of the shoe, etc. It wasn't just an aesthetic exercise.
How many different prototypes for the Lunar Force 1 did you create?
I don't even know. We probably made three in Berlin, just hacking them together. I'm going to guess there were at least another three or four after the handoff to Nike.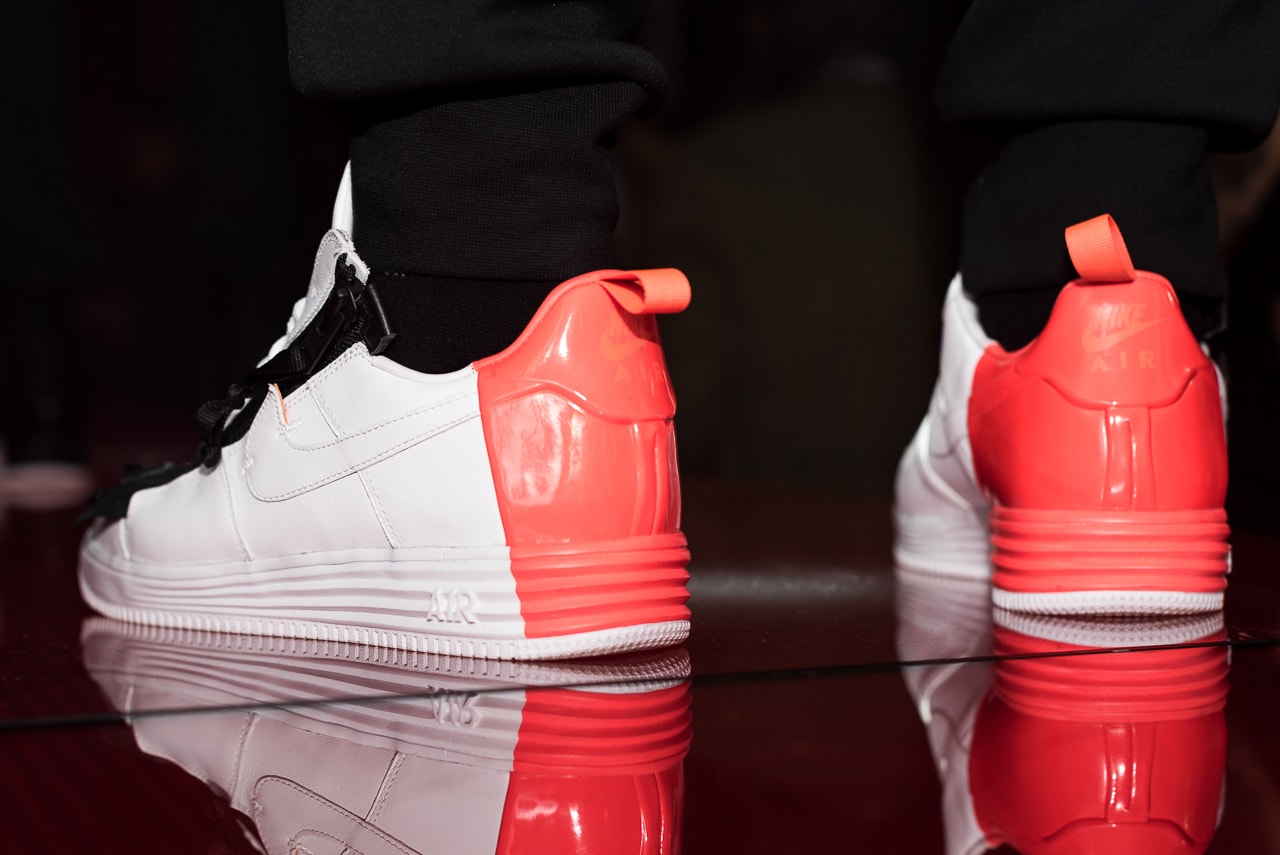 Can you describe each update in the Lunar Force 1? How do the updates impact the wearer's interaction with the shoe?
We treated the Air Force 1 as the ultimate pop culture sneaker. With that in mind, we wanted our changes to be identifiable as changes, so there's not really any kind of blending of our work and the original shoe. The shoe exists as it is, and you can clearly see where we've intervened. This is in three main areas.
The first and most obvious change is the introduction of the zipper, which sits just below the eyestay and allows you to step in and out of the shoe without having to adjust the laces. The tip of the Swoosh actually floats above the zipper, which is one of my favorite details.
To balance out the graphic impression that the zipper makes, we added the Vac Tec heel unit. This emphasizes the forward lean of the shoe and indicates from afar that this is something new.
The third change we made is to the construction of the tongue. It's longer than normal, as is the eyestay. And mechanically we made some minor changes as well, so that it stays in place when step in and out of the shoe using the zipper.
How do you view the different paths into fashion and apparel design today?
I think it's changing rapidly. Today, with the amount of information that's available on design, on fashion, about the way people dress, there are so many more points of view. There are so many more people who wouldn't have paid attention to it before, but who now have it as their focus. What I find really interesting, or what I hope happens, is that we get many more individual approaches to it, because the diversity can only improve the offerings and the inspiration for everyone.
For myself, most of the things that we do now were basically self-taught. I went to design school and learned the basics of pattern making, and art history, and fashion design.
But what ACRONYM is known for, I wouldn't really call fashion design. It functions in a similar space, and it can sit next to it, but the intention of our design is quite different. It's easy to look at ACRONYM and focus on the functionality of it. But it doesn't work if the aesthetic aspect isn't there as well. Achieving that balance–refusing to compromise on either side–that's actually the trick, and that's what separates Acronym from most other clothing that gets made.
And this is also, moving forward, where I think a lot of the focus will be, particularly with the next generation. Because once you realize it's possible, you don't want to go back. And right now I think it's quite difficult, because I'm not sure that it's taught in any kind of formal way by any system, so you pretty much have to go out there and do the investigation yourself.
That means you have to learn two disciplines, basically. You must understand the aesthetics, but then also the engineering: the logic and the physics of the product. Then having the conceptual wherewithal to merge them together in a way that's compelling—when that happens, it's magic.
What are your favorite Nike shoes?
Probably the Sock Racer, just because of when it came out, how crazy it was. At the time, I wasn't into shoes at all, and would rather have been barefoot. So that was a huge thing. It was like, "Ah, this is almost that, but better." Flyknit, absolutely. I pretty much live in Flyknits. Sock Dart, same reason. And, I mean, if I really start thinking about it, I can go on and on. But those are three that come to mind.