The HYPEBEAST Review: Leatherman Tread Bracelet
Leatherman mixes its world-renowned tools into an everyday wearable accessory.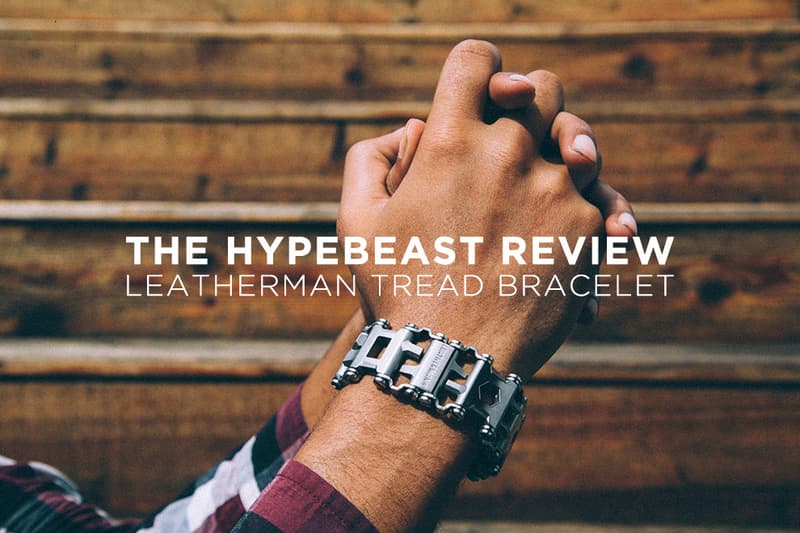 Pros
High quality stainless steel
Wide range of tools
Impressively well engineered
Fully adjustable
Travel friendly
Cons
Heavy
Inelegant design
Niche target audience
Fairly high price point
---
First Impressions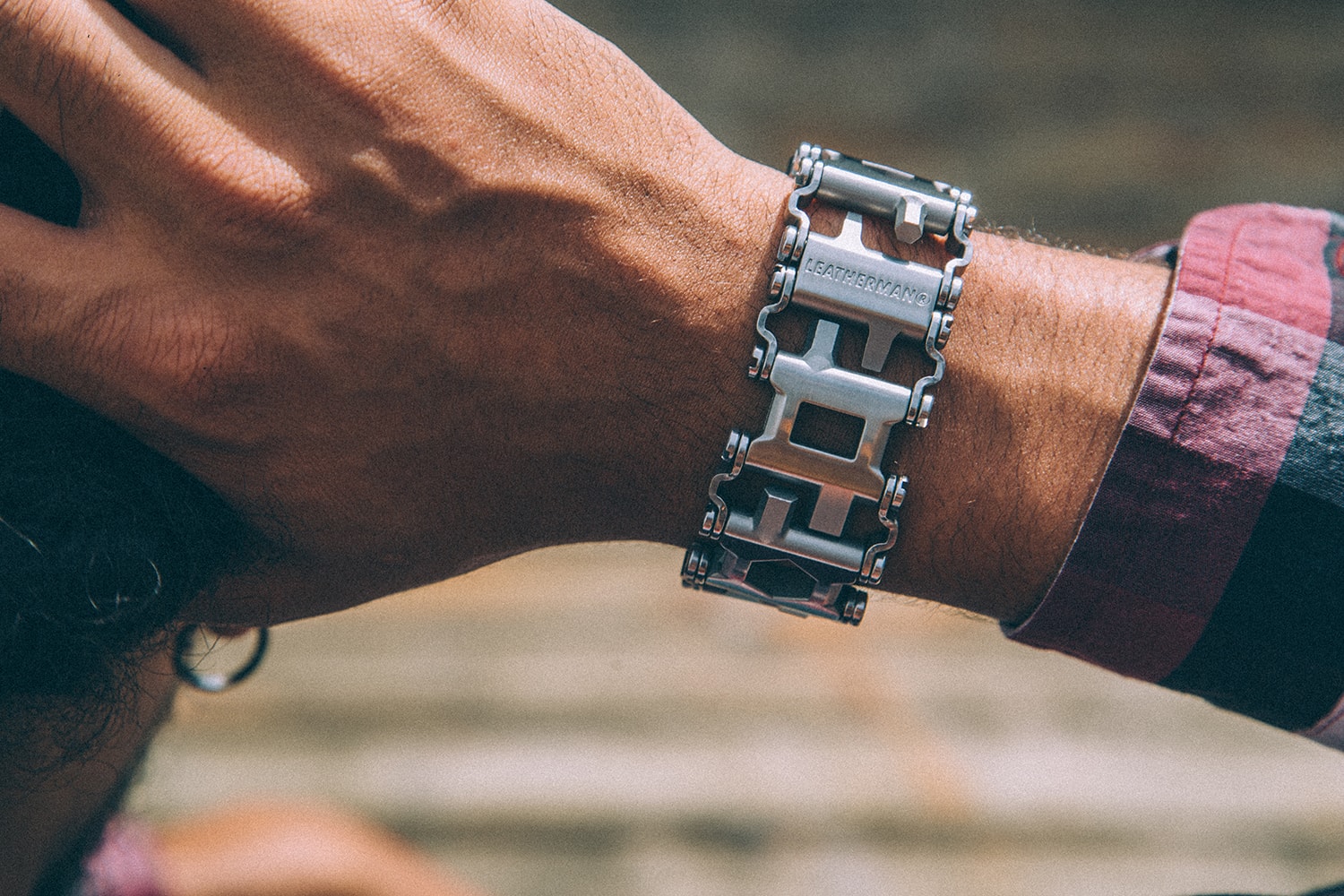 Skateboard or bike need tightening? Drawer at home came loose? Need to access the batteries behind a strangely secured battery compartment? There could be a million reasons to have tools on-hand, so to speak, but also a million reasons why you leave your toolkit behind. Of the things we everyday-carry, tools are rarely on the list. In comes the Leatherman Tread bracelet.
Priced slightly on the high side at $165 USD (there's also an all-black version for $220 USD), the Tread is utilitarian in theory and with convenience in mind. The bracelet is a 30mm wide by 5mm thick close-looped all-stainless steel wrist bracelet, weighing in at just under 6 oz. Each link of the bracelet has various hand tools milled into the metal, with no need for adapters. All links are removable and thus adjustable up to 1/4" to basically fit any size wrist, and a default size that is large enough to accommodate any user.
The mix of utility and design is definitely one of the Tread's defining characteristics, but is one more outstanding than the other? In order to find out, we test-wore the bracelet for 12 hours of a productive day, incorporating everything from every day activities at the office to a short excavation around the city to see how the bracelet fits, functions, helps and hinders.
---
Design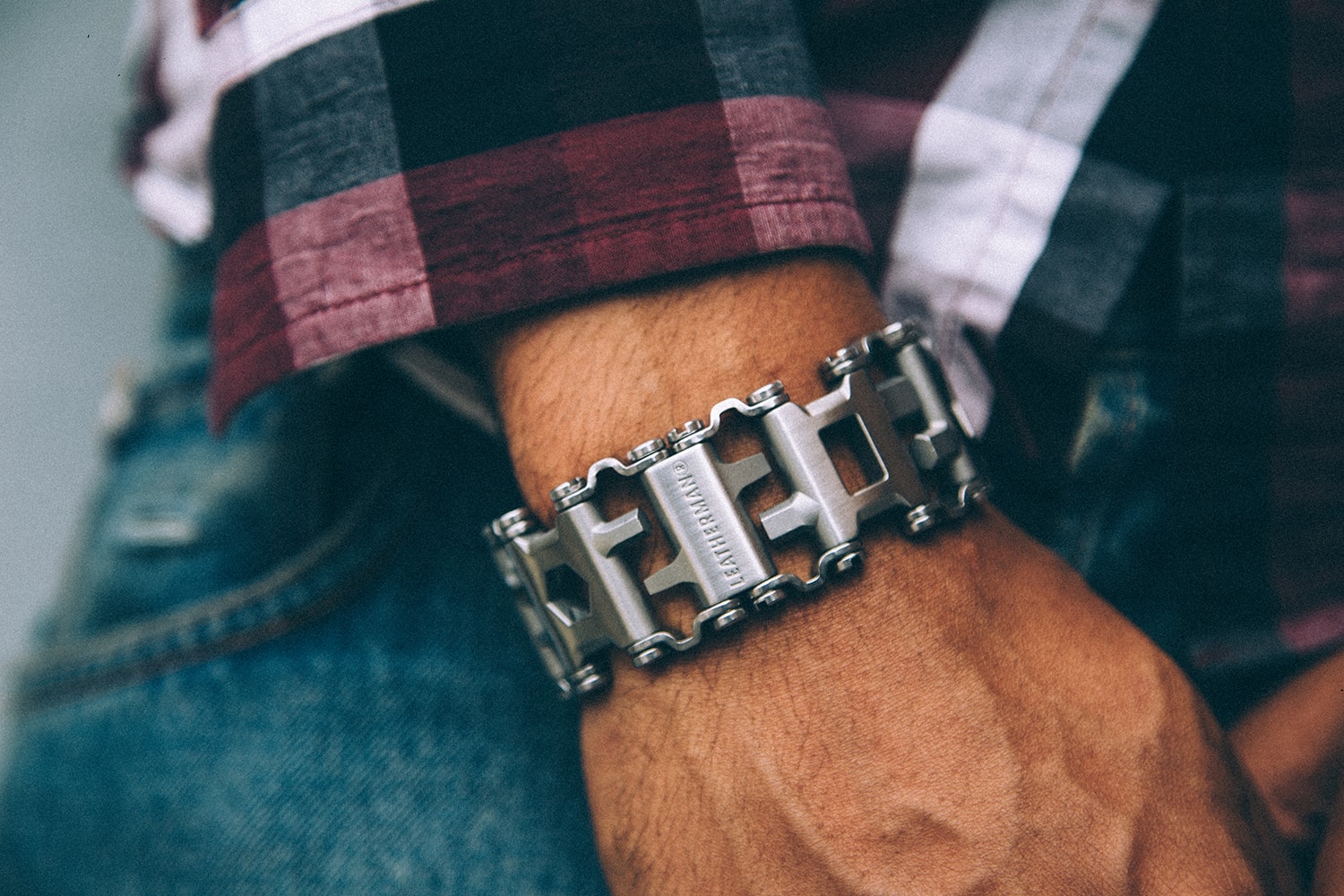 The first thing you'll notice with the Tread is that it is heavy. 6 oz. (168 grams) may not seem like much, but it is a considerable amount; the iPhone 6 Plus, Apple's largest and heaviest of the Cupertino smartphones available on the market right now weighs just slightly more at 171 grams. If you take that into consideration, and if you actually happen to own an iPhone 6 Plus, you'll be holding more than three-quarters of a pound up to your ear, not to mention the weight of any more accessories you may be wearing at the time. Compared to your average G-Shock, Rolex, or even an Apple Watch, the Tread trumps them all.
Once we wore the Tread however, it started to make much more sense. Taking the bracelet out of the box and examining it is vastly different from actually wearing it, and once it's attached to your arm it tends to fit fairly well (once you adjust it to your wrist size, of course). Surprisingly there are no sharp edges, so you'll never have to worry about a specific flathead screwdriver jabbing you in the wrist, or your skin getting caught between the end links. Hairy arms however take note – the adjustable screws can tug a little, but in Leatherman's defense, a metallic band watch can also do this at times, so it's forgivable.
The clasp is easy to buckle but strong, and blends right into the bracelet — you may even have a tough time finding it. Because of its construction however, it coming loose while swinging as you walk or vigorously flailing is not a concern you'll have.
Speaking of construction, the bracelet is made of 100% stainless steel. This translates to two different advantages – one is of durability and the other is of appearance. The former will be discussed in the accessory's functionality later on, but the latter is quite interesting. Leatherman chose to utilize three separate finishes for the Tread — the exterior texture is polished, the tools themselves and the clasp are raw steel, and the connecting arms and screws holding them together are chromed. While this may seem like overkill, it does tend to give the bracelet a bit of refinement. The chrome may seem tacky to most, but since it's just around the outer edges, it's not as noticeable. The polished stainless steel was our least favorite, while the raw steel elements are the most eye catching and, for lack of a better word, raw. This translates well with the ethos that this is, in essence, a set of raw steel tools and thus must remind the user of such. An added bonus is, as time goes by, the polished parts will scuff and wear to the point where it will start to resemble the raw steel, ultimately making the Tread just that much more "genuine."
The design however is not without fault. During our review period, the bracelet never really caught anyone's eye — subway straphangers apparently easily dismissed it as just another watch band or "punk"-inspired bracelet, and coworkers in the office had no idea it was being worn and reviewed, but once taken off, it caused quite a stir. A long-sleeve shirt would cover it all with wrists turned up, but shyly peeks out when arms are positioned at the waist. This can both be a positive and a negative, depending on how much attention you'd really want from the Tread. While the attention-grabbing mentality is more fun, we agreed and applauded that it's more of a plus for the bracelet to not stand out.
A hindsight of the bracelet was revealed once we sat down at our laptops — the Tread is quite wide, and because of this characteristic the bracelet made constant contact with our laptops' left palm rest. Again, this is a steel bracelet watch problem as well, but the fact that the Tread has slightly protruding corners and edges from its tools, the chances of major damage to your shiny unibody laptops is almost a certainty. While we tried to rationalize that it's mostly in our minds and that the damage would not be severe, we couldn't help but shake the thought, especially given the weight and thickness of the links.
Lastly, at times the clasp can flip over backwards when off-wrist, thus causing the bracelet to lock up and require an almost Mensa member's puzzle-solving skills to unlock. It was rare, but when it happened it took a good amount of effort and time to fix.
---
Performance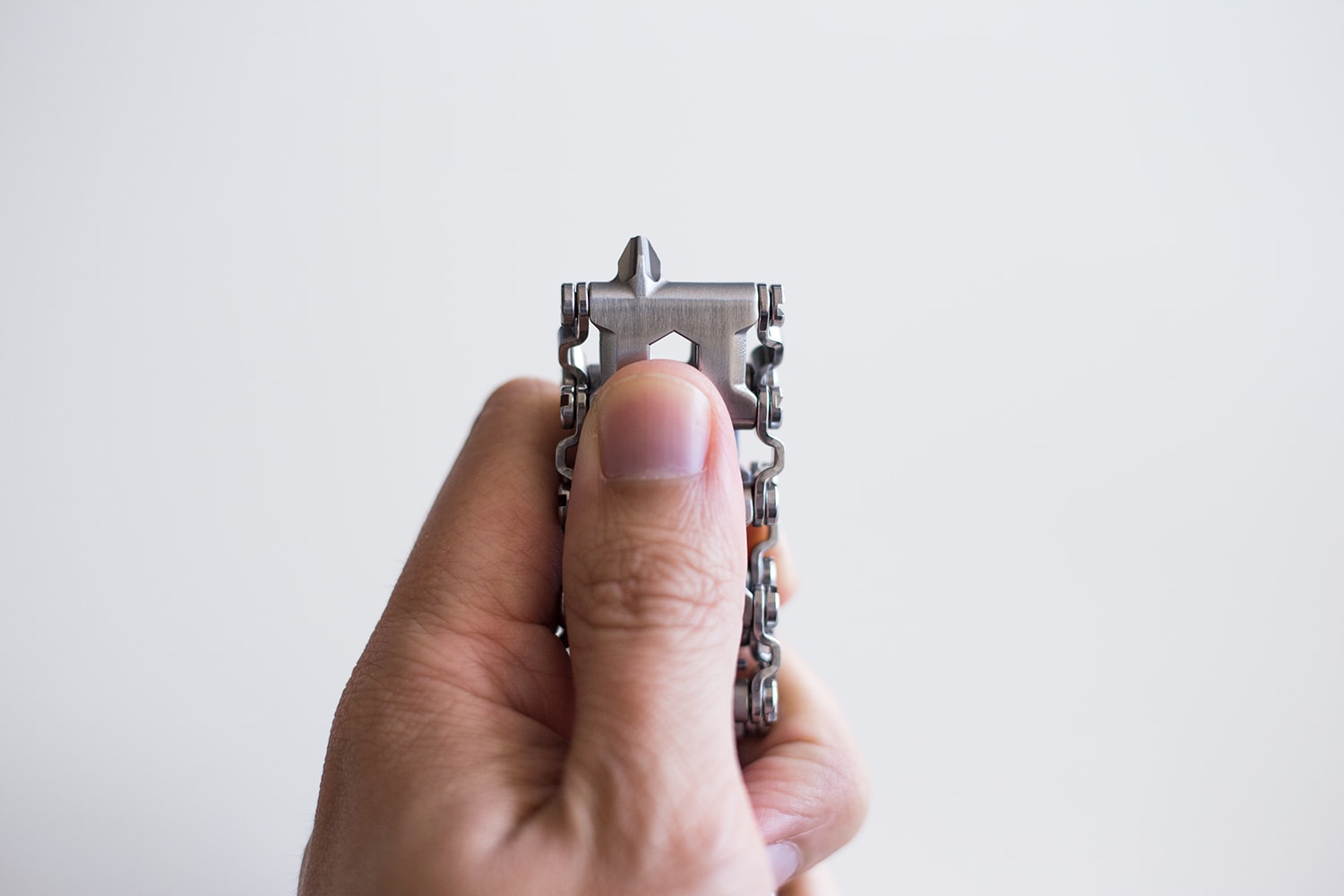 At the end of the day, Leatherman wanted to create a device of utility, not design. As we took that into mind, the Tread clicked in our minds when we focused on its functions and gave design a backseat. The sheer amount of bits and abilities this bracelet affords its user is quite mind boggling, with tools that are downright necessities, to obscure ones that question when you'll ever need to use it (thus, a no-brainer to remove when adjusting to fit, of course).
One of the necessity tools is the bottle opener. If Leatherman had failed to include this simple "curve" the Tread would have been an immediate flop, but alas it is present. Fixed into the clasp, the bottle opener works just as it should, and fits your standard bottle cap nice and snug, so as long as you align it correctly. One downside of the opener however is that it does require you to remove the bracelet — a small caveat if it accomplishes the job but thus requires some futzing. Your standard Phillips head screwdrivers are also included to solve most screws for appliances and fixtures, but none for your slim eyeglasses or accessories. Same goes for the Allen keys and socket wrenches. The latter are cleverly cut into the exteriors, while the former are excellent for bikes and skateboard maintenance. One small detail is that the larger Allen keys like the 6mm and 1/4" are slightly shaved at the top and bottom to accommodate the overall thickness of the bracelet. This loses grip, but still gets the job done.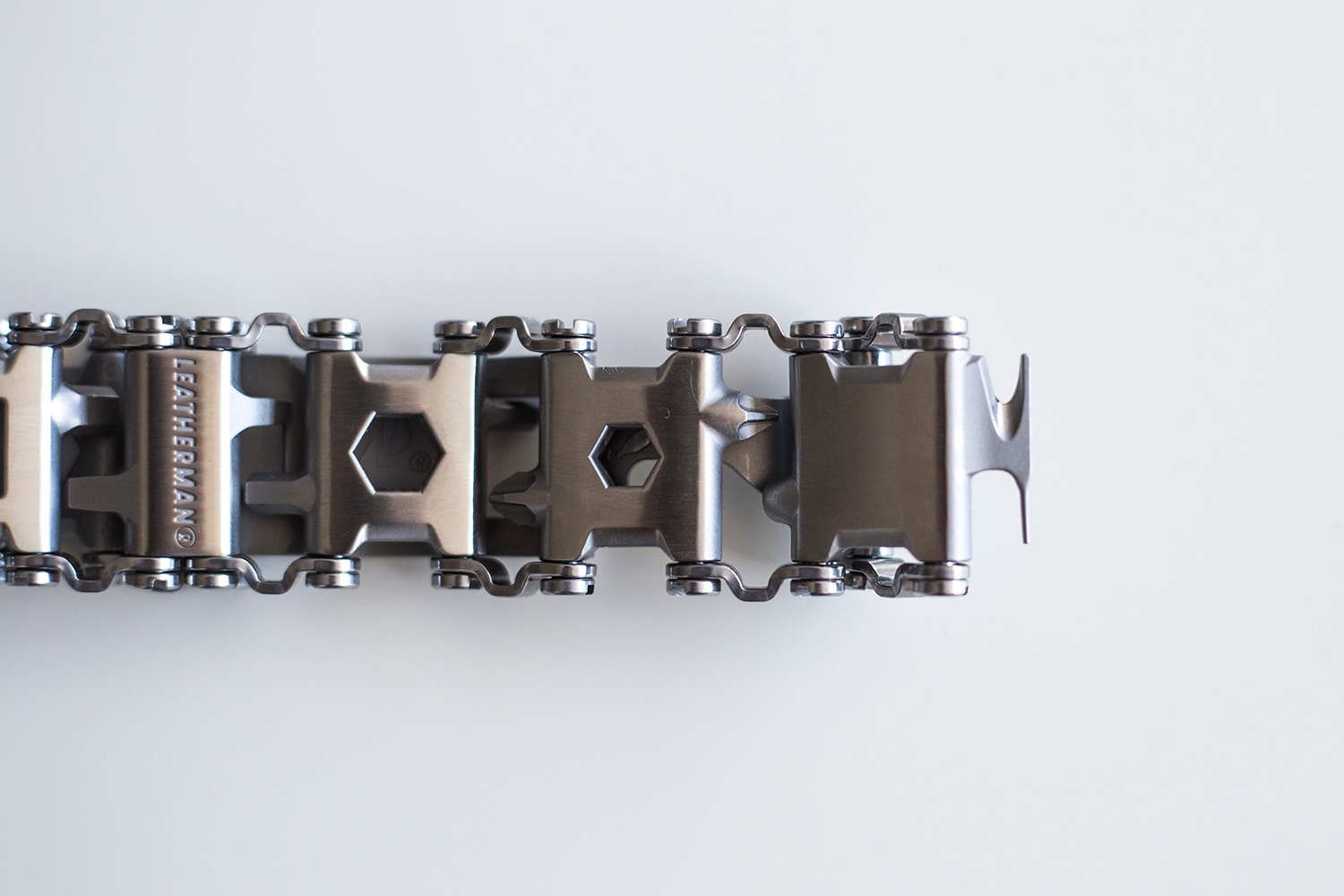 One of the more interesting tools is the sim card ejector. Most can admit to needing a sim card key when traveling, desperately needing to swap cards to text your loved ones right when the plane lands, or to extend your data usage with prepaid cards when overseas. The ultra narrow pin fits perfectly and does so with confidence that made us try it out first before all other tools. Equally interesting is the cutting hook, found adjacent to the sim key. What is basically a sharpened curve, this tool allows you to slice right through a fairly thin piece of rope or a loose thread — perfect to tidy up a broken-in shirt before a date, or to remove price tags off new ones. It could perhaps even be used to cut a seat belt, should you require such an emergency.
Some of the more obscure tools however began to question the niche target audience that the Leatherman Tread is meant to cater to, for instance the oxygen tank wrench. Used commonly in ambulances and for EMT purposes, one would perhaps trust a proprietary tool on-hand for these occasions, and not need to resort to a "fashionable" accessory that happens to have one. The inclusion is a nice touch, but surely it was never meant to be a priority. Another example is the glass breaker tool. While this may be the most Mission: Impossible/Inspector Gadget tool of them all, our brows furled to think when this would be useful, when perhaps one of the other 26 tools could also do the job simply because it's tough and made of stainless steel — or, basically what's essential when you need to break glass in a pinch.
Nevertheless, the tools all function, and function well. Leatherman advises removing the bracelet, holding it with a firm grip downward and isolating the tool so that it feels natural, much like your everyday screwdriver. This was helpful, but with some finesse the Tread could also be L-shaped, to gain more torque should you need it. Most tools accommodated both positions easily, even with the clasp in the way. And should you require a little assistance in figuring out which tool to use, thankfully all tools are labeled accordingly on the underside of the bracelet links, using metric system measurements.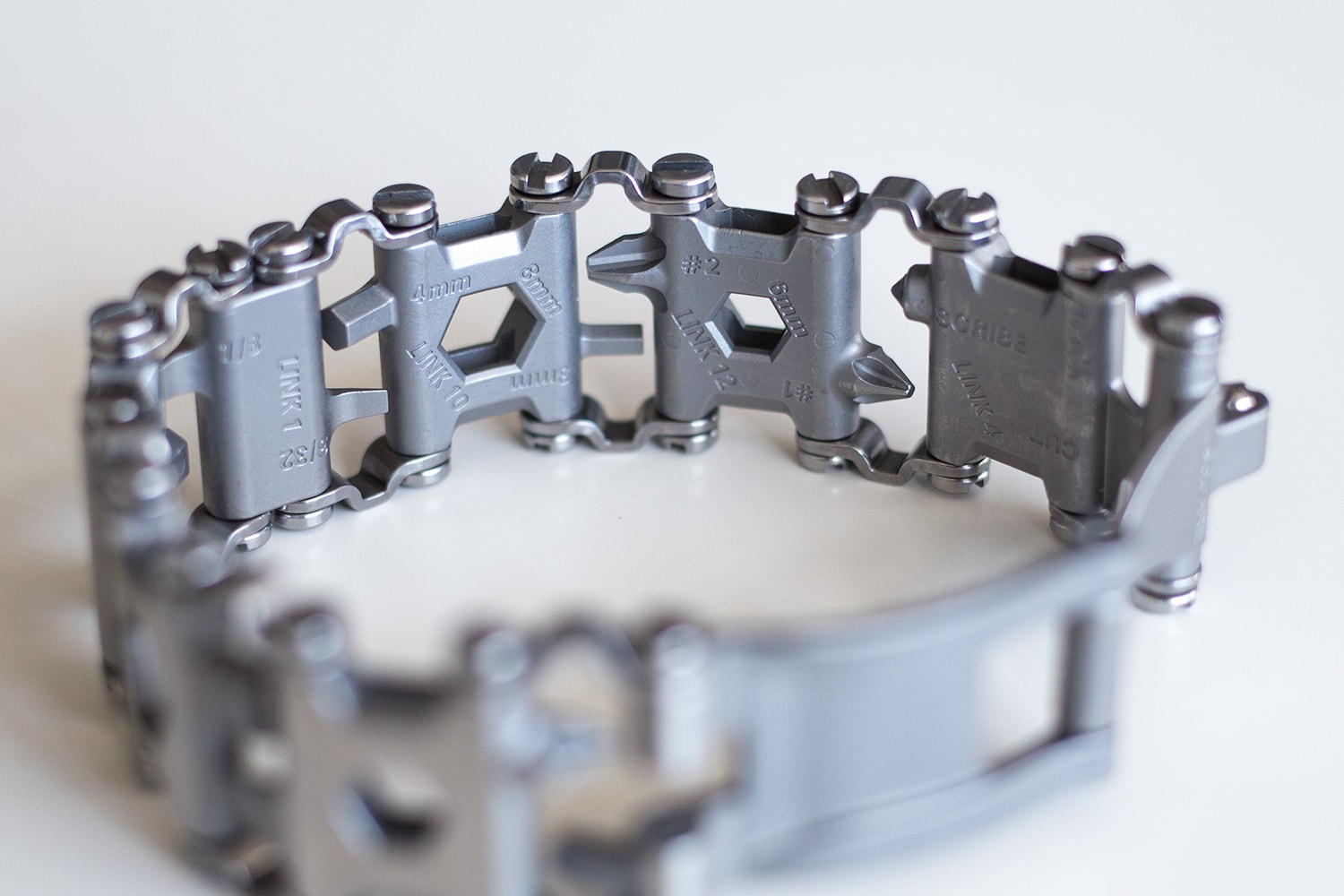 Once removed from the bracelet however, the tools are infinitely more difficult to grasp and use, due to their small stature. Our tester removed the largest flathead screwdriver's link, as well as the smallest Allen wrenches, hoping we would have no use for these. Hours later we ran across the need for the very Allen wrenches we removed, and while we still had them on-person, the wrench was impossible to undo a non-rusted, free-turning bolt found on a simple bike brake. We also forced ourselves to find a situation to use the largest flathead screw bit, which thankfully worked a little better. Customizers take note – choose which links to remove wisely, otherwise a random bolt thus rendered inaccessible will defeat you.
Still, the Tread is quite impressive as a tool. The bits are well-constructed, don't seem to strip easily, and are machined to laser-like accuracy of their measurements. Since they don't protrude too far, none are ever a threat to you or anyone else's well-being, which is another highlight Leatherman touts — the Tread is travel-friendly. Don't expect TSA to not ask you about it once you remove it and enter the metal detector, but your chances of it passing are imaginable higher as compared to your standard Swiss Army knife. And should anything were to go awry with the tools or the bracelet besides confiscation, Leatherman backs its product with a respectable 25-year limited warranty.
---
Conclusion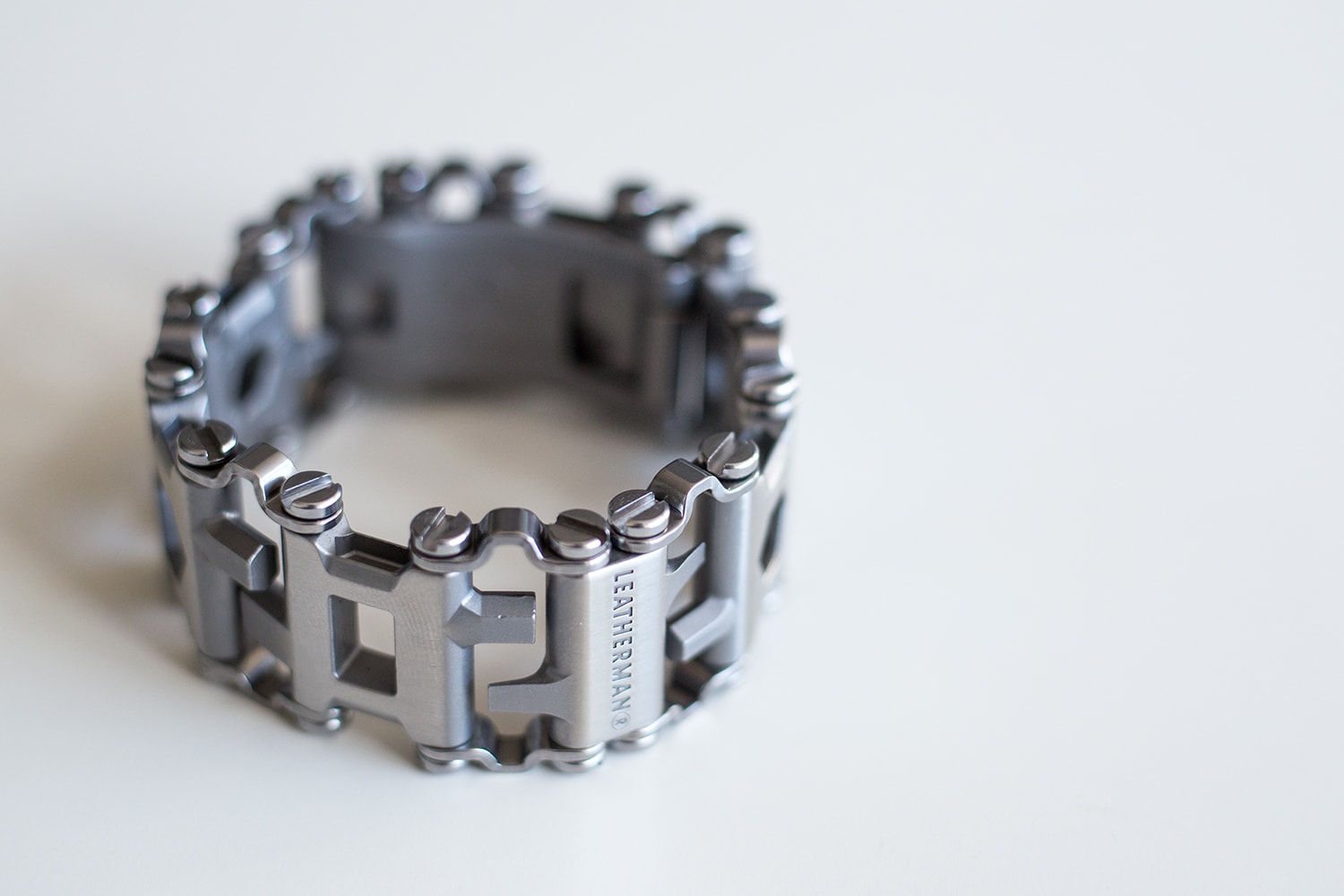 Leatherman has had an extensive history with amazingly crafted utility knives and multi-tools for over 30 years. It's understandable for a company with such heritage to start thinking towards innovation, and that's what the Tread is – a new way of solving the same problems faced by consumers who thus turn to Leatherman. But who is the Tread really aimed towards? Is it the fashionable individual who knows their way around a torque wrench? Is it the carpenter who wants to dip into the world of accessories? That's the tricky part with the Tread bracelet. The adage "jack of all trades, master of none" doesn't even apply here, as the Tread feels it was really never meant to penetrate either fashion or utility markets.
A consumer who would be interested in the Tread however, would be one who is daring enough to try new things; the person who has their eye towards something that makes others double-take, as little or as much as that actually happened during the review. This person would proudly wear the Tread as a bracelet, but know that it's not the answer to all their accessory needs. This person would also never rely on the Tread – it's simply a "oh wait, check this out" kind of supply that will dazzle his audience for those few seconds when he pops your beer for you. It's not for one group of person, it's for a person who has no group. It's a hybrid of two categories that are worlds apart. Whether you want this middle-ground piece of equipment will depend on which group you do or, for that matter, don't belong to.
Pick up yours today over at Leatherman's official online store, available now.