Rick Owens Talks About Punching Protesting Model in Paris
All the drama from Paris Fashion Week, explained by the man himself.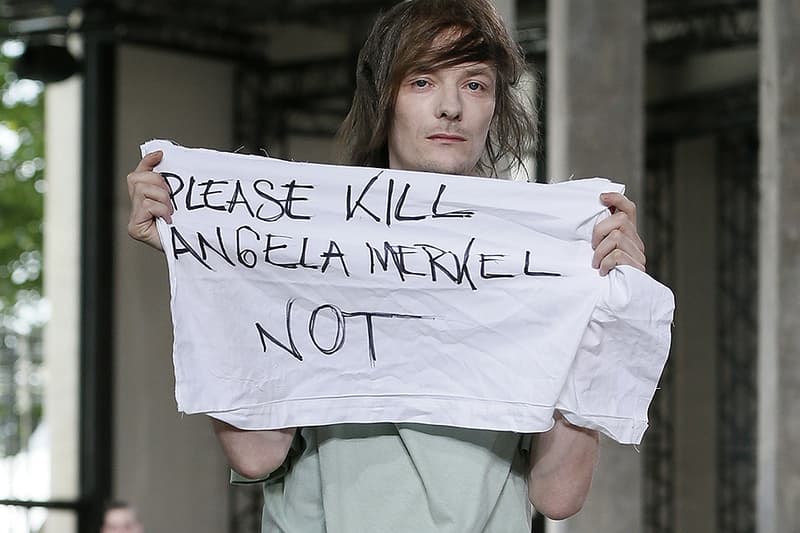 Rick Owens has opened up about attacking his former model and muse, Jera Diarc, earlier this year in Paris. Owens had reacted violently after Diarc used the designer's Paris show as an opportunity for a political protest, pictured above. "I was pissed at that moment. I thought, 'Hey, this is my spotlight, and you fucked it up,'" Owens explained to Surface. "The whole reason I hit the guy was I knew if I didn't react very strongly it might get out that this was some stunt that I had planned. Everybody had to know how strongly I disagreed with this." Speaking candidly about one of the few models that he used on a regular basis. Check out the excerpt below and head to Surface to read the full interview.
Have you spoken to the model who held the sign?

No, and I won't. I wonder if he has dementia or something. He's always been a heavy drinker, and a little erratic, which was adorable. But what he did was just so illogical. He was very accepted here and embraced by a community of people who were very affectionate toward him—a group that now feels more hostility toward him than I do because they feel protective of me. It was really a self-destructive gesture.

This protest was obviously different from some of the other provocations at your runway shows because it had nothing to do with your vision.

That was my biggest problem—that it was a negative gesture. Whenever I do provocation, I'm always doing something that I feel is based on warmth and kindness and love.

Even when you send out models wearing tunics exposing their penises?

Even when I do the penises. That was really about: Let's consider a world where there's no shame. Why did your parents teach you that your penis is ugly? All the most conservative or vehement reactions were: "How disgusting! Why would anyone want to show a shriveled up nutsack like that?" And: "Why was it so small?" It was amazing that the second thing was why was it so small? Like, Who taught you as a child that it was supposed to be bigger? And that it was ugly?