Richard Mille RM 69 Erotic Tourbillon
Revealing your most secret intentions.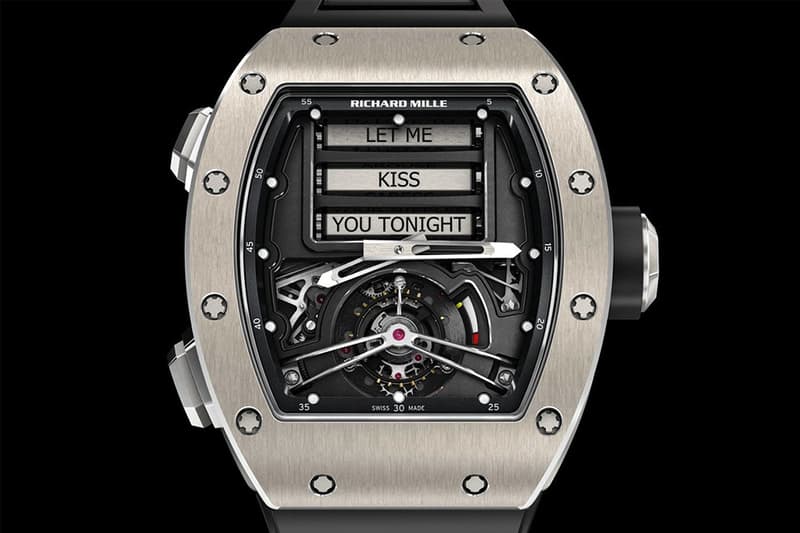 If, for whatever reason, you've ever wished your timepiece could display your secret intentions, Richard Mille has just the thing for you: the aptly — and interestingly — dubbed RM 69 Erotic Tourbillon. Billed by Mille as "a clear affirmation of the creative longing to reveal our most secret intentions in all their glory," the RM 69 Erotic Tourbillon is marked by the use of three titanium rollers that are engraved to showcase messages like "Let me kiss you tonight," "I want to caress you madly" or even "I long to arouse your nipples." Apart from the eye-popping messages, the Swiss-made design boasts the likes of Duoplan architecture — created in collaboration with Audemars Piguet Renaud & Papi — a 50mm case, rotating bezel, 69-hour power reserve, anti-glare-treated sapphire crystal and more. Says Mille of the history behind the piece:
Erotic timepieces are a part of watchmaking history. Designers of yore played the theme of libertinism by mechanically recreating suggestive scenes. Because they broke with conservative moral, religious and political customs, these objects were often banned and confiscated. But like all forbidden love, their pleasure is enjoyed away from prying eyes. Thus by concealing the complications at the heart of watches in question, certain models have survived to this day.
Limited to just 30 pieces, the RM 69 Erotic Tourbillon is available now exclusively at Richard Mille boutiques.