Paris Hilton Promotes Dismaland in This Newest Mural by Banksy
Whether she'll make an appearance at the dystopian theme park is another matter.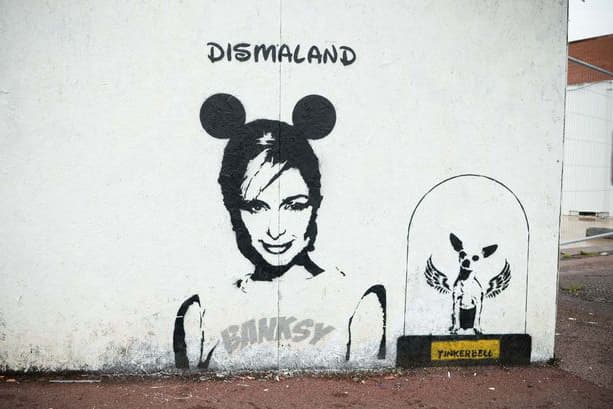 A graffiti piece has appeared overnight which is believed to have been painted by elusive street artist Banksy. Located in the English town of Kidderminster, approximately 95 miles north of the artist's ongoing Dismaland theme park installment, the piece features reality TV star Paris Hilton in Mickey Mouse ears and a tee emblazoned with "Banksy" while mention of the dystopian theme park hovers above her head. Hilton's pet chihuahua Tinkerbell, who died last year, is also depicted.
Store owner Rob Bishop, whose store is opposite the painted wall, told Mirror that "there were about five or six people there who sprayed the wall white first and then each one did an individual bit. It looked like they were painting from a picture as someone was holding a piece of paper up that they were looking at." Hilton has previously been the subject of Banksy's art, with the artist leaving altered versions of her debut album Paris in record stores around the UK.