Donning Many Hats: Don C on Fashion, Sportswear & Jordan Brand
Kanye West's right-hand man speaks up about design, sportswear and the Just Don imprint.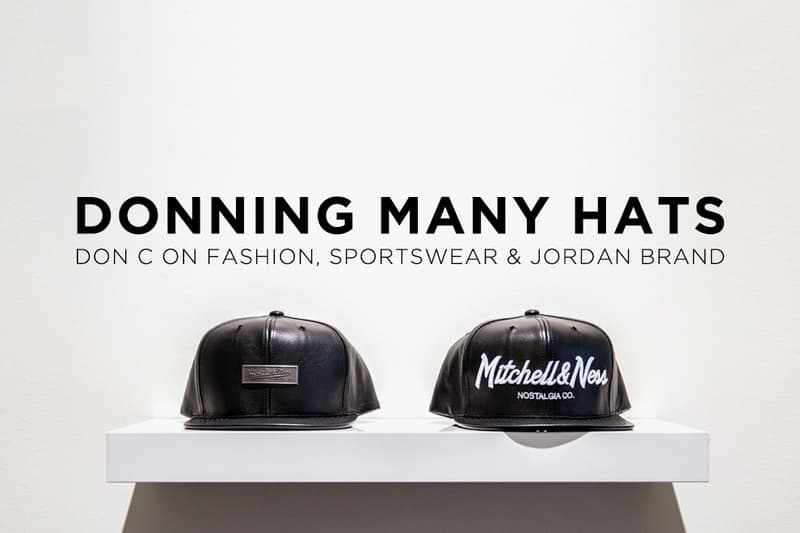 Don Crawley, more commonly known as Don C, is one person who can truly claim the title of jack-of-all-trades. While some struggle to rise to the top in the extremely competitive industry of music or fashion, Don has managed to navigate the intersecting worlds with seeming ease, excelling in a variety of roles that require utmost business and creative acumen. From his days as Kanye's DJ and road manager, to becoming a G.O.O.D. music label manager, co-owner of Chicago streetwear boutique RSVP Gallery, and eventually as the head of his own label Just Don, he has surpassed just being known as part of Mr. West's innermost circle to becoming one of his most trusted confidants. He's now regarded and widely respected as a tastemaker in his own right — a preservationist of iconic sports and streetwear; a champion of functionality and quality in design; and an overall connoisseur of style.
The luxury sportswear trend has all but exploded in recent years, with many high-end fashion houses presenting street-inspired silhouettes boasting lavish fabrics and high-end detailing. While such a trend has become ubiquitous, Don was ahead of the curve when he founded Just Don back in 2011. The rand filled a niche in the headwear market for a high-end update to a classic sportswear item: the baseball cap. Partnering with legendary athleticwear purveyors Mitchell & Ness, Don added premium python to the brim, strap and tab, and finished the hats off with a gold buckle. The caps were actually inspired by the "buck fifty" hats that were customized with faux snakeskin, sold at convenience stores and a known favorite of Chicago's drug dealers in the 1980s. "I'm from an era where sportswear was streetwear," Don says. "I always try to innovate and put a new spin on pieces I've been drawn to." Over the past few years, the lids have appeared on the heads of everyone from JAY Z to Big Sean, Carmelo Anthony to Rihanna and, of course, his buddy Kanye, who showed love for his old friend in Yeezus' "I Am A God" where he raps "Nobody had swag man, we the Rat Pack/Virgil: Pyrex, Don C: snapback."
He had the chance to customize another celebrated streetwear silhouette when Jordan Brand approached him a few years ago. In typical Don C fashion, he went against the grain, choosing to work with the Jordan 2, a silhouette that rarely receives attention at all (and especially not for retros, reissues or reworks). Through his influence he has been able to introduce a new generation to the style: "Kids have come back to me and said 'I wasn't into the Jordan 2s but now I'm into them,'" shares Don. "I like that reaction; the element of surprise." Some even credit him with popularizing retro Jordans altogether, including Kanye: "Don C was ordering them vintage Jordans when the 4s used to break apart at the sole. We were wearing them with the Louis Vuitton backpacks with the Polos. Jordan looked at us and said, 'oh man, we've got to start retroing them,'" West said in his now-infamous 2013 Sway in the Morning interview.
There's currently no confirmed date to when the next Just Don x Jordan collaboration will drop, although they're slated for a 2015 fall release. In the meantime, the Chicago native continues his partnership with Mitchell & Ness, a brand that Don praises for its heritage and commitment to sportswear. "They're a timeless brand that have been committed to quality, an element which I adhere to in my design work," says Don. "After a few seasons they asked if I wanted to collab again and the kids seem to like what we're doing, so I though why not." The upcoming collection of shorts follows a similar design philosophy to the hats, offering Don's version of "what swag on court should be with functionality you need off the court." The shorts are crafted from a comfortable, functional mesh with luxurious updates in the form of high-end gold zippers similar to those found on designer bags — yet another perfectly balanced representation of the quintessential Just Don blend of high and low.
While his line is already carried in some high-profile shops around the world including Wish ATL, colette and even Barney's, Don C has plans to continue to grow Just Don into a globally-recognized brand. He recently traveled to Paris for his first-ever Fashion Week showing where he set up pop-up shops, hosted meet-and-greets with attendees and fans, as well as sold exclusive T-shirts and hats produced in conjunction with Mitchell & Ness — including one emblazoned with the "fleur-de-lis," a classic symbol of French royalty and culture.
One need only to look at his track record to hypothesize that as he moves forward in his ever-changing and evolving career, Don C is likely to sustain the level of success he's already been able to achieve while wearing any one of his figurative and literal hats. From the streets of Chicago to the shelves at Barney's, from label manager to store owner to designer — his impeccable taste and intuition, enduring appreciation for quality, and undying hustle have served him well, and will continue to do so no matter what he decides to do next.