Pass~Port's Trent Evans on Collaborating with Nike SB and Australia's Skate Scene
Balancing workwear and skateboarding motifs in its design, here's the Sydney-based imprint's latest release.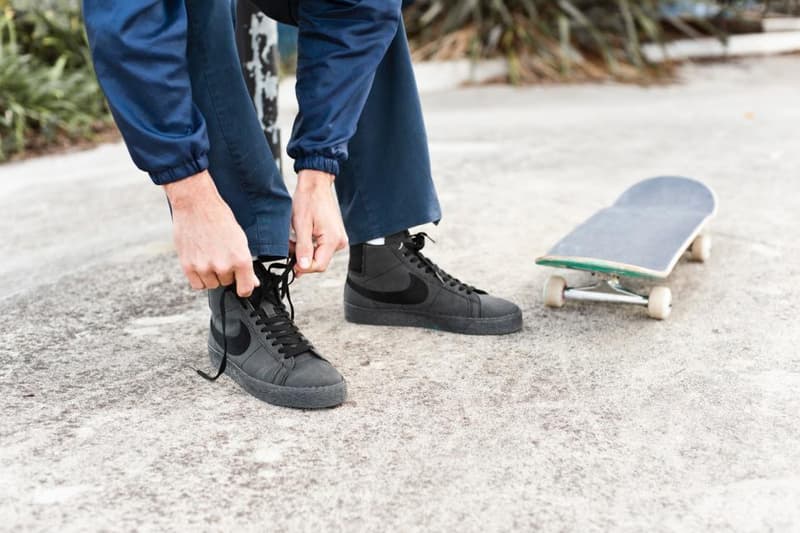 1 of 6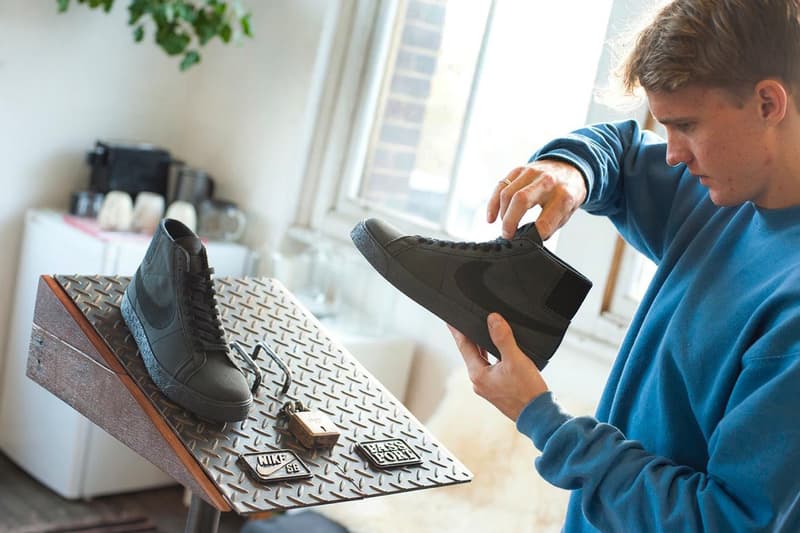 2 of 6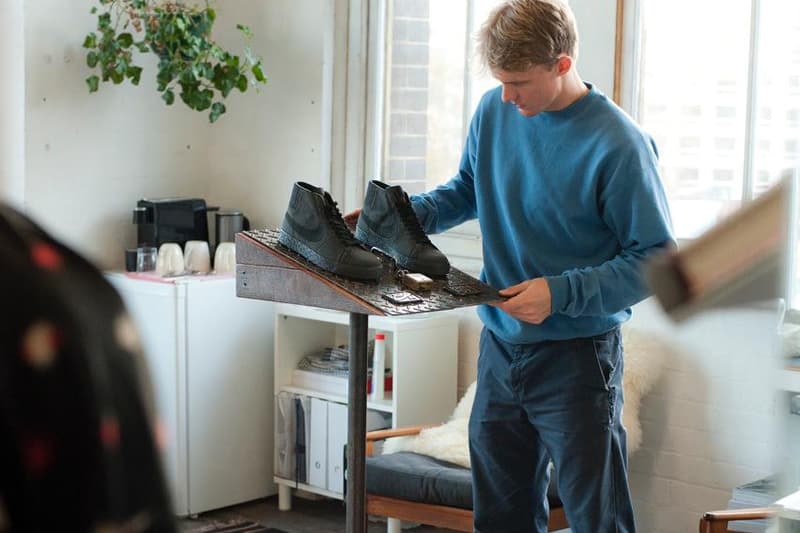 3 of 6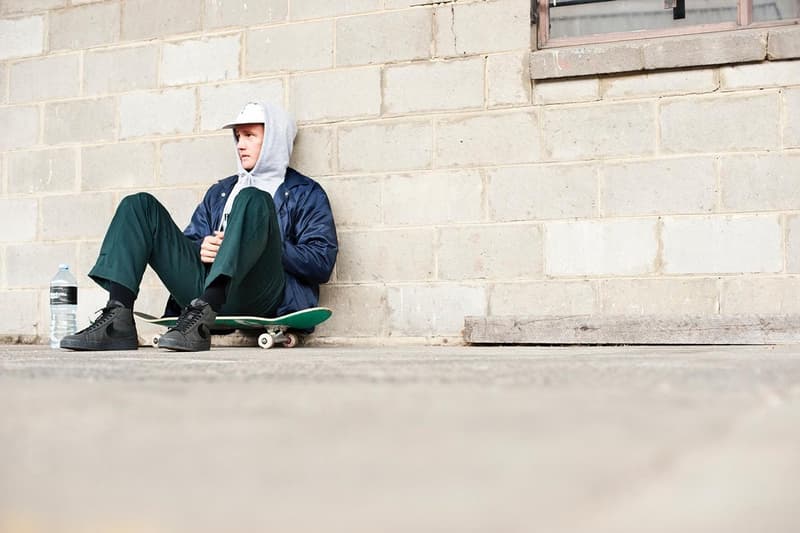 4 of 6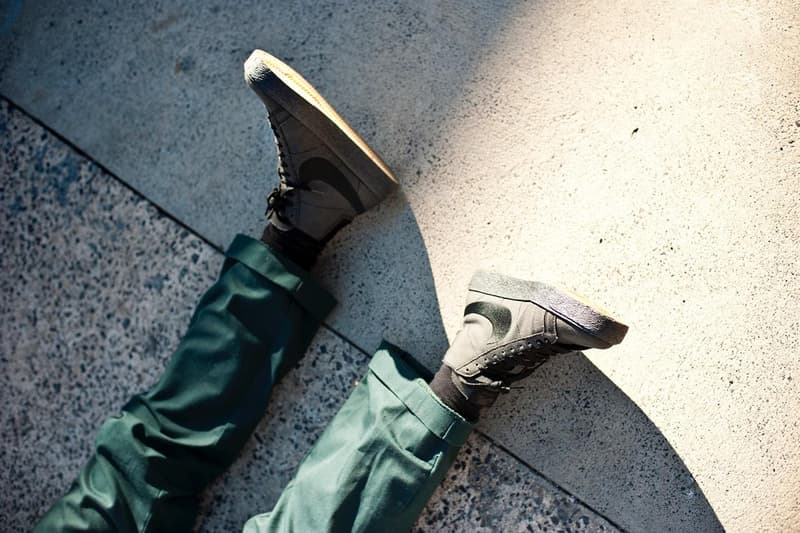 5 of 6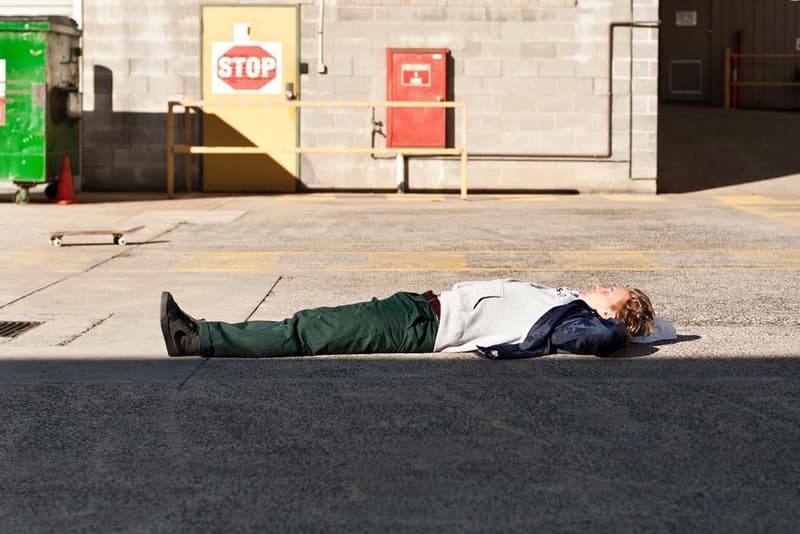 6 of 6
For a skateboarder, to have your own signature sneaker is like receiving a custom record plaque for a musician. The offering acts as a salute, or a firm pat on the back if you will, from your community and peers. One of the latest signature shoes to surface is Josh Pall's Pass~Port x Nike SB Blazer. Collaborating with the Portland-based sporting heavyweight for the first time, Pass~Port — an independent skateboarding imprint founded by Sydney-via-Brisbane skater Trent Evans — has developed a loyal following since its inception in 2009.
Known for its provocative stance is skateboarding, Pass~Port often riffs on symbology, propaganda-inspired illustrations, and '60s pin-up girls in its artwork. Raised on a diet of Anti Hero and Black Flag, bold and satirical themes are prevalent in Evans' work for Pass~Port. Such motifs are often found sprawled across skate decks and graphic tees, and while the latest Nike SB Blazer rids of any loud prints, there's no denying that the waxed canvas and all black semblance does its share in relaying the brand's subversive ethos. With a tight knit group of promising riders from Sydney, London and Los Angeles — such as Josh Pall, Callum Paul, Geoff Campbell, Glenn Wignall, and Bernie Foo – the independent label is definitely on the rise. Here, we catch up with Trent to learn more about how the brand has allowed him to truly express his creativity, Australia's unique skate scene, and why him and Pall chose to rework the SB Blazers as opposed to the SB Dunks.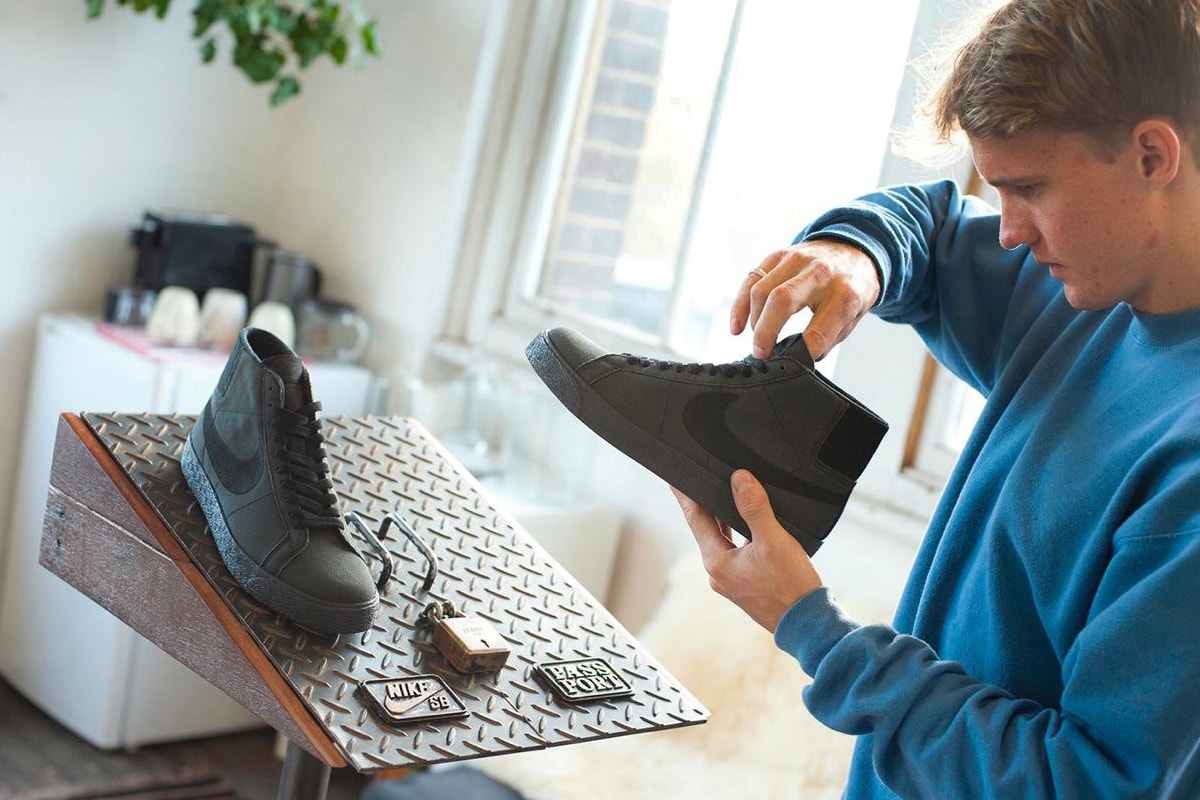 What is Pass~Port? Tell us a bit about the brand:
I started Pass~Port back in 2009 and to be honest there wasn't a whole lot that excited me about skateboard companies around that time. Not only in Australia but overseas as well, everything was lacking a bit of soul, so to say. To this day I still run the company like I did when I first started – progressing, fucking up and searching for things that excite me. I want Pass~Port to always act like a vessel for skateboarders & creative types, where each person can truly express what their interpretation of "soul" is.
What do you think are the biggest challenges of building an independent skate brands in today's hight competitive market?
It's very lucky to have the internet these days, it's such a key tool and can put any independent brand in front of a global audience. In saying that there are a lot of terrible brands emerging for all the wrong reasons. It seems skateboarding is reaching its capacity with smaller companies and I think the next few years will be decisive in working out who's going to be around for the long haul.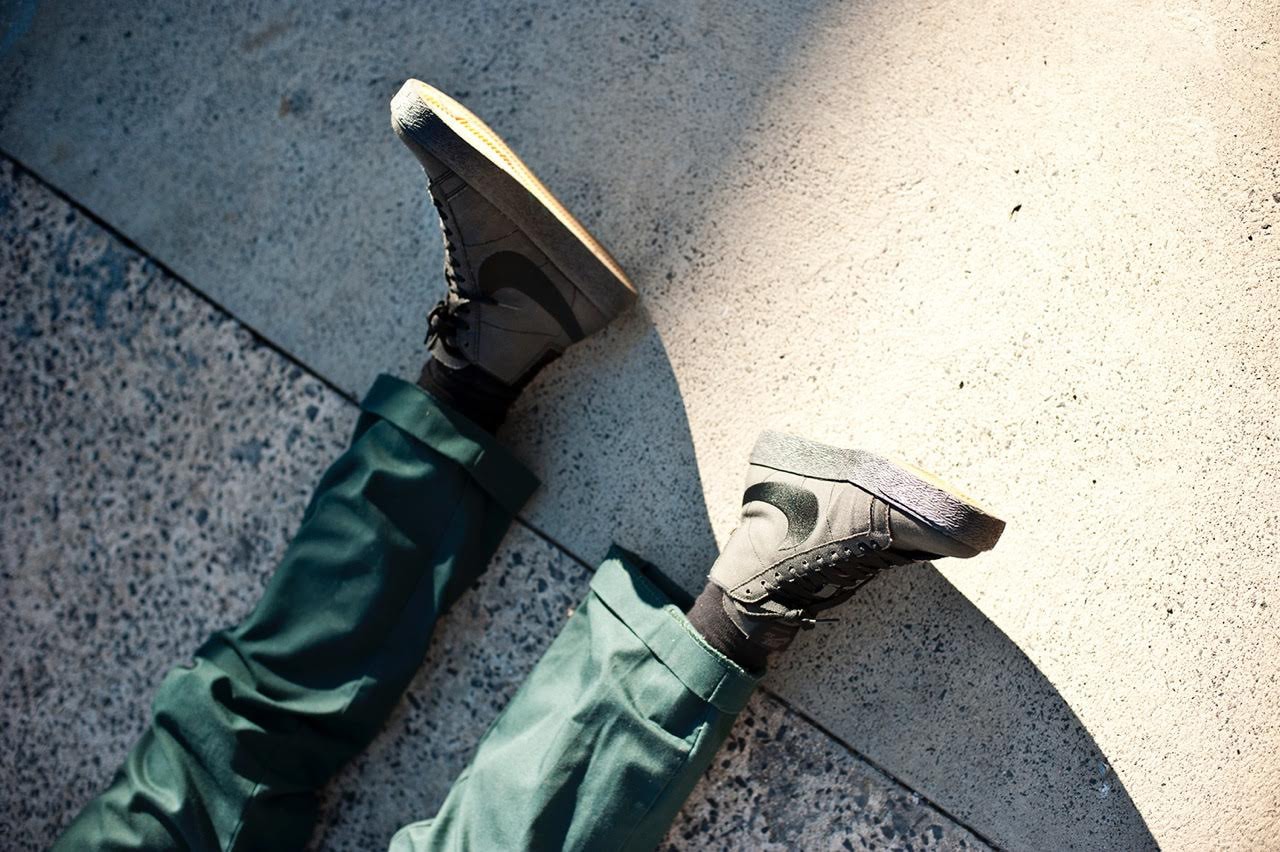 "I still get stoked on the imperfections of everyday things, like some shitty old sign in a pub. "
Can you shine some light on Australia's skate scene? What sets you guys apart from prominent cities like New York and London?
The scene here is nice and thick at the moment, lots of different crews doing plenty of interesting things. Out homies have videos coming out left, right and centre. A lot of people of course are influenced by such cities as you've mentioned, but I think Australia has taken its own path and that road keeps getting more defined, I like where we are heading. Multiculturalism is such a huge part of what Australia is about and I think that is reflected in the skateboarding scene as well.
Can you tell us a bit about Pass~Port's brand aesthetic? How has this been represented in this sneaker release?
I am pretty heavily influenced by my surroundings and I think that's shown through our brand direction. I still get stoked on the imperfections of everyday things, like some shitty old sign in a pub. It's all interesting to me. We had Josh's pro board graphic, the digger man digging himself into a hole, screen printed on the innersole as he is a serious work horse on and off the board. To cap it off, the shoe has several different tones of black, from the embroidered Swoosh and the charcoal sole to the jet black ankle collar; although all are black the different shades make each feature defined.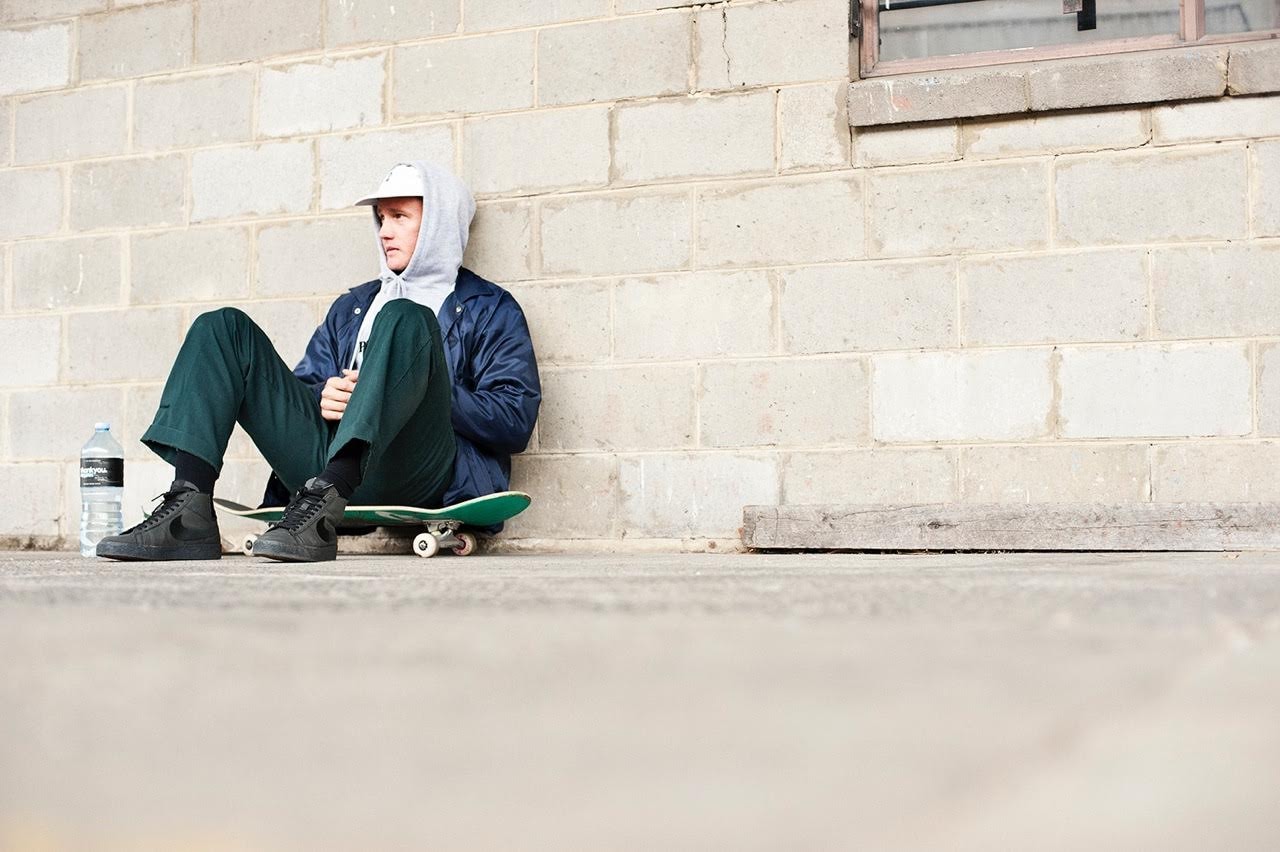 What were the materials you went with for the Nike Blazer SBs and why?
Josh and I decided to go with a lightly waxed canvas, reflecting that classic workwear look and feel. Anything I can get embroidered I will, so to have the entire Swoosh tightly embroidered came up like a charm. A cushioned ankle collar for comfort when lurking around which also assists with skateboarding functionality.
Why did you choose to design on the Blazer mid as opposed to the SB Dunk?
Blazers to me are just a very classic and timeless looking shoe, plus there is a little extra room to play with when creating your very own. Josh has skated in Blazers a lot since he joined Nike so it made a lot of sense to work with it and create one that is ideal for his skateboarding.