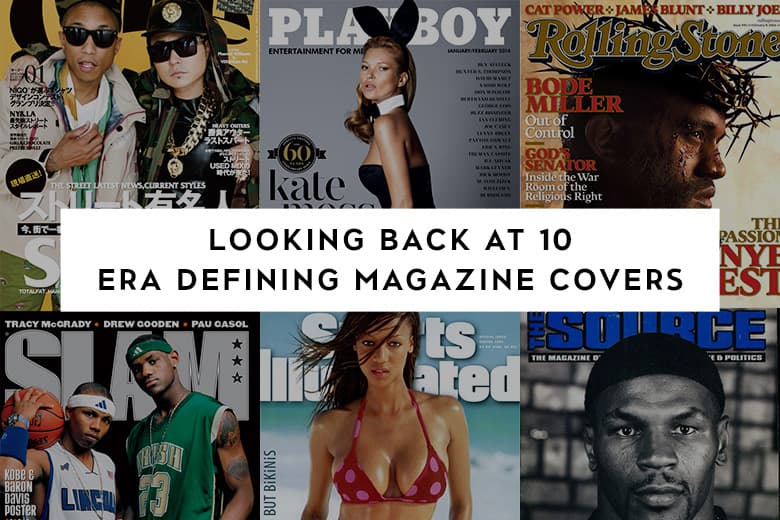 Looking Back at 10 Era Defining Magazine Covers
From Obama to Tyson and Pharrell to Kate Moss; 10 covers that defined a moment.
---
A few weeks ago Caitlyn Jenner introduced herself to the world on a Vanity Fair cover that had reached iconic status before the issue had even hit newsstands. The cover image, lensed by the legendary Annie Liebowitz, signified a new level of visibility for transgender people and a plight that TIME has called "America's next civil rights frontier."
The release of the image and the subsequent reaction proves that even in the digital world in which we live, the magazine cover still has the ability to grip and move its audience in a way that is unique from any other form of media. Covers — and the stars, politicians, athletes, and other influential figures that grace them — have the distinct ability to memorialize a moment, idea or issue in a very concrete way, offering a visual representation of culturally significant events across the worlds of fashion, technology, sports and society. Unlike other, more fleeting forms of digital media, magazine covers often have the ability to stand the test of time and become iconic pieces in their own right.
Here we've gathered a collection of covers we feel are iconic to our culture, that represent key moments in fashion, arts and entertainment over the past 20 years.
---
Pharrell Williams – The Face (January 2004)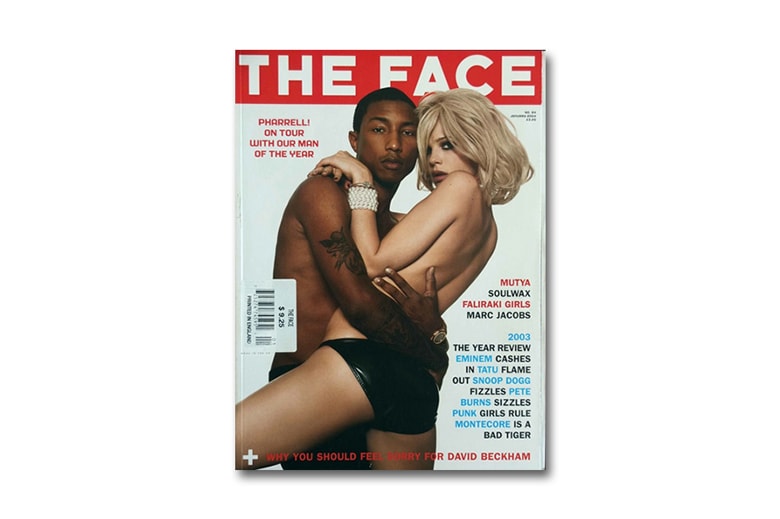 The turn of the century represented a turning point for Pharrell Williams. Though he had been active in the music industry for years — since co-producing Wreckx-N-Effect's 1992 hit "Rump Shaker," in fact — it wasn't until the early '00s that he started gaining worldwide attention. 2003 was a good year for Pharrell: he and partner Chad Hugo had just released their first album under their Neptunes moniker, The Neptunes Present… Clones; and they also had a string of number one hits under their belt thanks to producing credits on smashes like "I'm a Slave 4 U," "Hot in Herre," and "Grindin'." In between working on music and a burgeoning partnership with NIGO and BAPE, Pharrell found time to pose with British model Susan Eldridge — who is notorious for her relationship with controversial photographer Terry Richardson — for the now-defunct British culture magazine The Face.
---
Barack Obama – TIME (Dec. 29, 2004 – Jan. 5, 2009)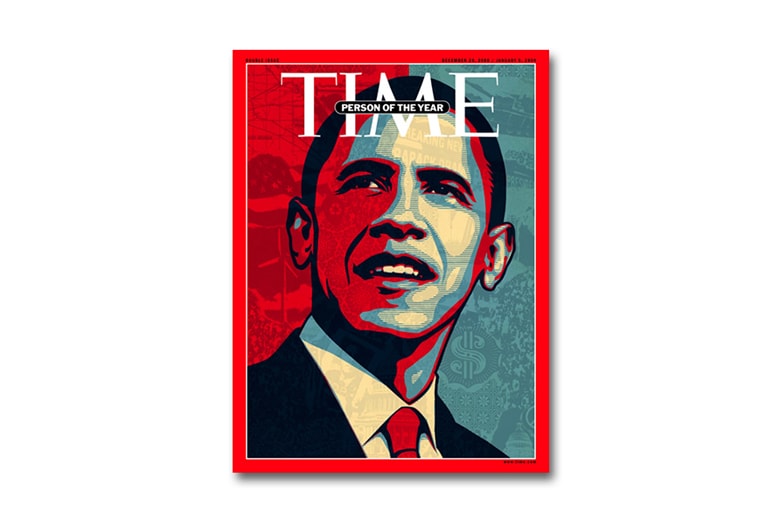 In 2008, Barack Hussein Obama made history when he was elected the 44th president of the United States. It was a moment that represented the crossing of the last racial barrier in American politics, as he was convincingly crowned the country's first black chief executive. TIME named Obama it's "Person of the Year" for 2008 and commissioned noted street artist Shepard Fairey to design a cover for the issue. The cover image was a similar style to Fairey's "Hope" poster which had previously gone viral and had come to represent the presidential campaign.
---
Tyra Banks – Sports Illustrated Swimsuit Issue (Winter 1997)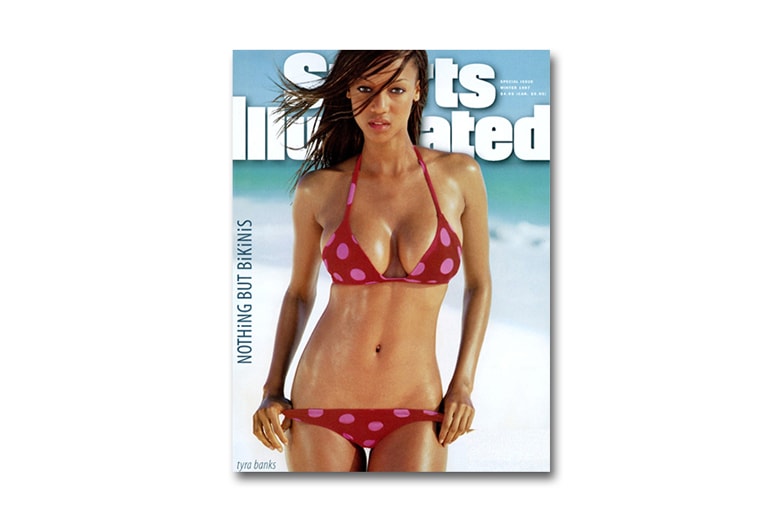 Since its inception in 1964, the Sports Illustrated Swimsuit Issue has grown from being a short photo spread designed to fill pages at a time of year with limited sports news to an iconic marketing franchise that encompasses a dedicated issue, merchandise and a huge amount of advertising spend. Being the subject of the Sports Illustrated magazine cover has come to measure the subjects' fame and status in the modelling world, with some of the world's most celebrated supermodels gracing the cover over the years including Christie Brinkley, Elle Macpherson, Kathy Ireland and Heidi Klum. In 1996, Tyra Banks made headlines as the first African-American to appear on the cover alongside Valeria Mazza, and the following year got to enjoy the honour solo. 1997 was also the year that the Swimsuit Issue had a dedicated, special edition.
---
Mike Tyson - The Source (September 1995)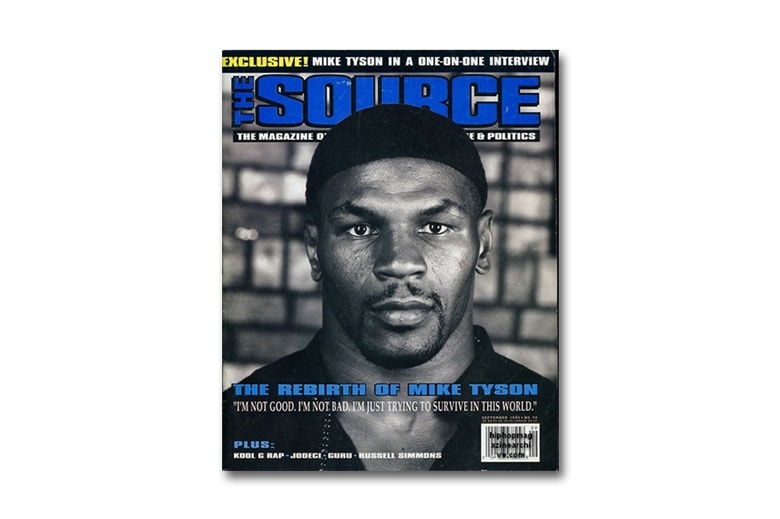 Mike Tyson is known to be one of the most controversial figures in sports history, and the September 1995 cover story of The Source came at a pivotal moment in his tumultuous personal and professional career. Tyson had just been released from prison that March after serving a three-year stint for the 1991 rape of an 18-year-old, and The Source cover represented his reintroduction  — or "rebirth" as the cover stated — to the spotlight and the court of public opinion. Prior to the cover, Tyson had a notoriously hostile and defensive public persona, so the honest and self-reflective nature of the cover image and accompanying story were monumental.
---
Kanye West - Rolling Stone (February 2006)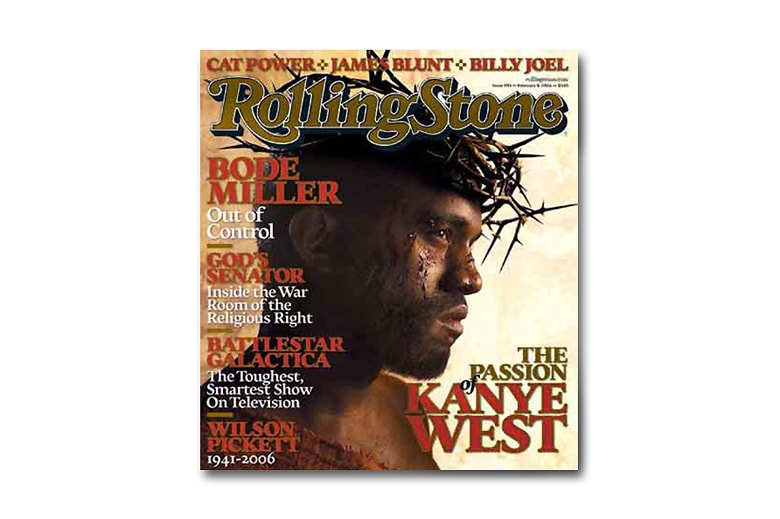 Long before Yeezus, Kanye West showed his flair for all that is sacrilegious with this Rolling Stone cover from 2006. At this point in his career he was beginning to establish himself as one of the most polarizing figures in popular culture. For instance, it was mere months after he had told the world that "George Bush doesn't care about black people" during a live, televised Hurricane Katrina fundraiser in September; but he also had eight Grammy nominations for his second album, Late Registration. Photographer David LaChapelle, known for his own penchant for the controversial, said he wanted the image to look exactly like the DVD cover of The Passion of the Christ, right down to the thorns. The cover sparked outrage, and thousands of letters to Rolling Stone about its blasphemous nature.
---
Kate Moss - PLAYBOY (January 2014)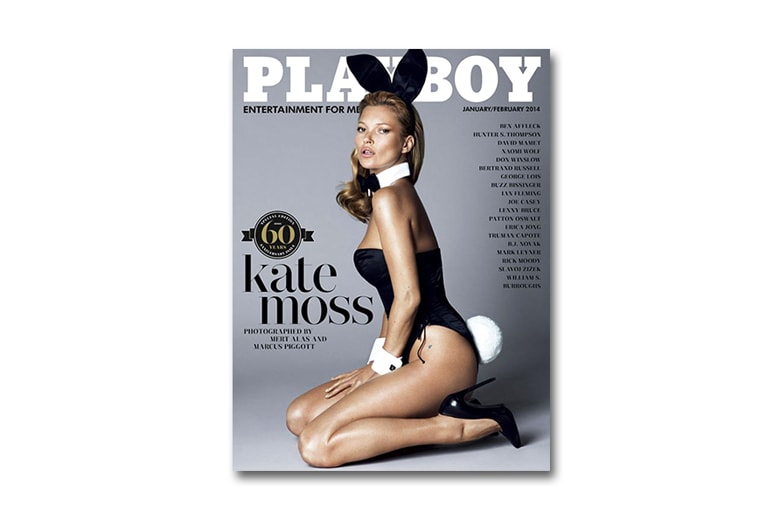 There are few publications as iconic as PLAYBOY and few supermodels as iconic as Kate Moss, so when these two giants linked up for the 60th Anniversary issue we knew we were in for something special. The cover and accompanying editorial were shot by famed photographed duo Mert & Marcus, and showed that even at 40 years old, Kate still has all that and then some as she posed coyly in a classic black strapless leotard, with the signature Playboy bunny tail, ears and Saint Laurent pumps. The cover was accompanied with an unprecedented 18-page interior spread, which channeled the magazine's history in a series of images, beginning with Kate in the classic costume and continuing to her in further states of dress and undress. Kate's longtime friend Marc Jacobs decided to print one of the iconic images on a limited edition T-shirt and series of posters of which the proceeds went to charity — and which quickly sold out, of course.
---
Hiroshi Fujiwara and Nigo – EYESCREAM (May 2009)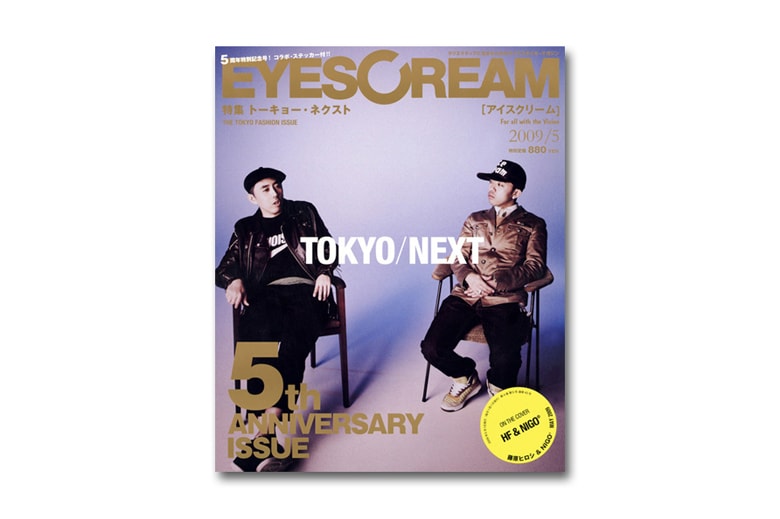 While Japanese magazine EYESCREAM might not have as big a readership as some of the other publications on this list, this is as iconic a cover as any for fans of Japanese fashion and streetwear as a whole. Here the "Godfather of Harajuku," Hiroshi Fujiwara joins his former apprentice Nigo for an epic cover shot. Fujiwara is known as an OG of all that is sophisticated, street and cool, and Nigo's own nickname  — which means number two in Japanese — is supposedly rooted in his self-perceived secondary status compared to Fujiwara. No matter which way you look at it, nobody has influenced Japanese streetwear, and in turn global streetwear, quite like these two. Although there have been a number of rumours about the state of their friendship and their differences, this cover photo will immortalize their relationship —and everything that happened as a result of it — forever.
---
Sebastian Telfair and LeBron James - SLAM (August 2002)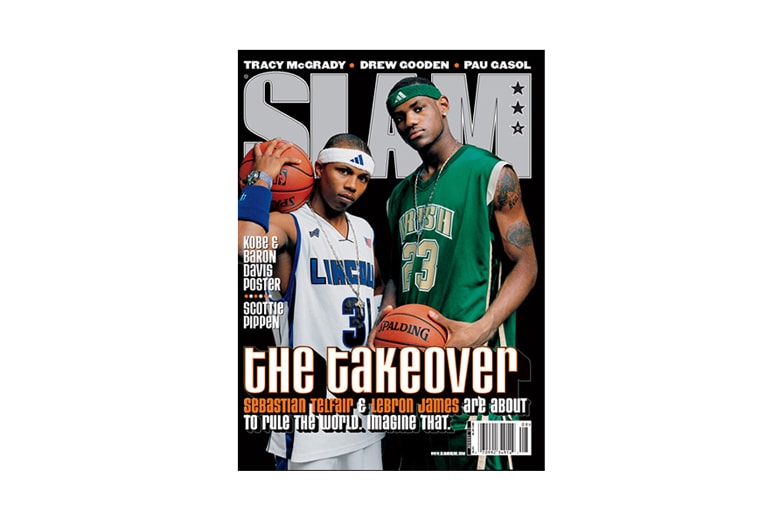 While their careers have taken different trajectories in the 13 years since this SLAM cover, at the time Sebastian Telfair and LeBron James were considered equal in their potential to "rule the world." It was clear that James possessed phenomenal talent and would go on to take the NBA by storm: he was named a first-team All-American by USA Today following his sophomore season — an unheard of feat — and in his junior year was named Player of the Year. The home games of the St. Vincent-St. Mary's varsity team which he played on had to be moved to the University of Akron arena to keep up with ticket demand of those wanting to see him play. Telfair might not have had the same accolades but he had his own buzz going on, and at 6-foot was one of the first smaller players who would make the jump from high school to the NBA, a move normally reserved for the larger-statured athletes. For the August 2002 cover shot, Telfair and James posed in their respective school jerseys, a fitting visual for two athletes about to take on the world who, at the end of the day, were just a couple of high school kids.
---
Pharrell Williams and  Verbal - Ollie (January 2013)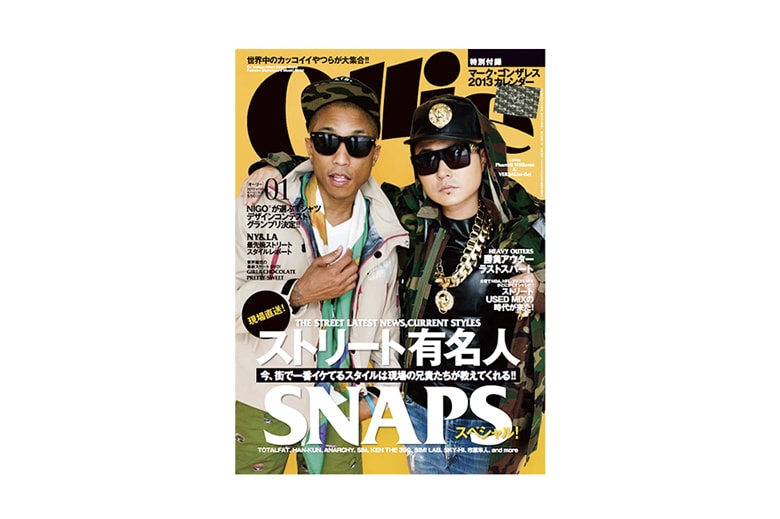 One can draw a number of parallels between the careers of Pharrell Williams and Verbal. They two have collaborated several times over the years, with Pharrell producing and appearing on a number of tracks for Verbal's hip-hop supergroup Teriyaki Boyz, and also being a vocal supporter of his counterpart's jewelry line Ambush. This Ollie cover from January 2013 showcased their individual and unmistakeable styles, and was a fitting tribute to the decade-long personal and professional relationship between the two. When it comes to music and fashion in Asia, North America or anywhere in the world for that matter, the contributions and influence of these two multifaceted creative powerhouses run deep.
---
Janet Jackson – Rolling Stone (September 1993)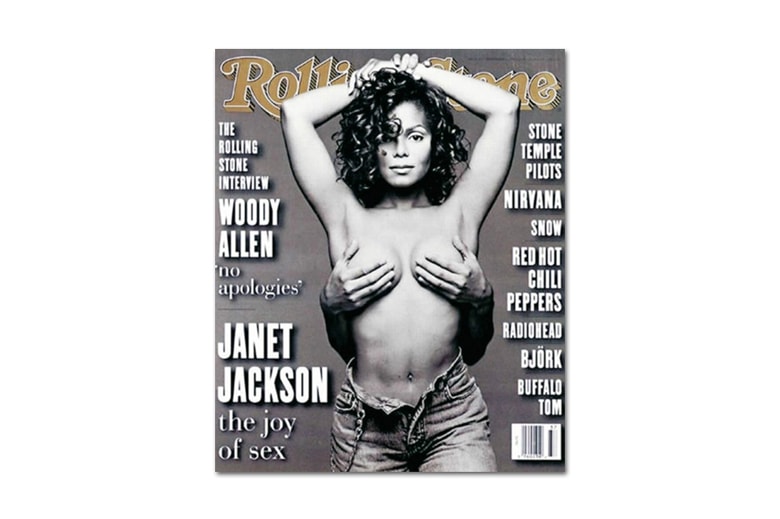 Long before her famous "wardrobe malfunction" during the Super Bowl XXXVIII halftime show, Janet Jackson set tongues wagging about her scandalous September 1993 cover of Rolling Stone. The accompanying cover story was titled "Janet Jackson – The Joy of Sex," and, along with her third studio album Janet, was a symbol of Jackson's sexual maturity, her independence from her famous family and the shedding of her Good Times, good-girl past. Shot by Patrick Demarchelier, the racy black-and-white photo depicts Jackson with her hands resting atop her head and her jeans loosely open, while the hands of her then-husband René Elizondo, Jr. cupped her breasts.