Hiroshi Fujiwara: A Personal Account on Backcountry Snowboarding
To paint a picture of a typical snowboarding trip for someone like Hiroshi Fujiwara – a regular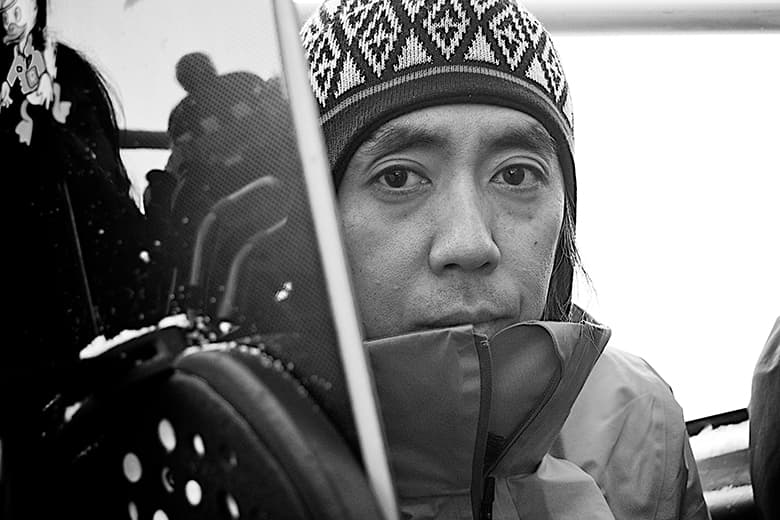 1 of 9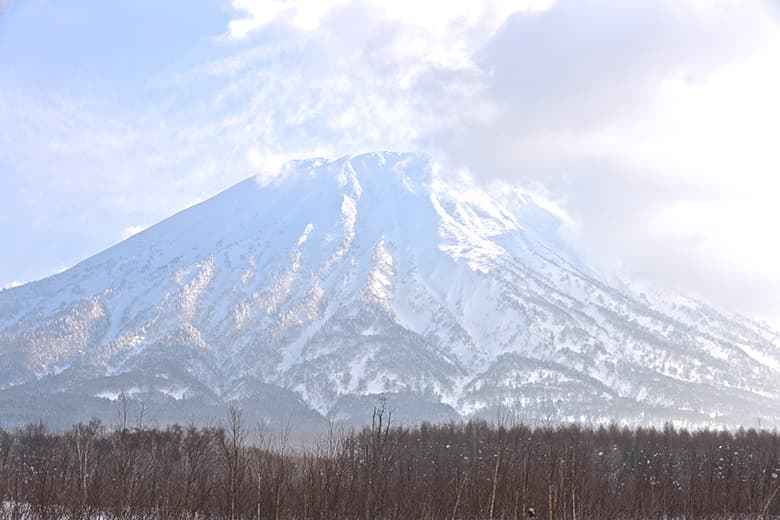 2 of 9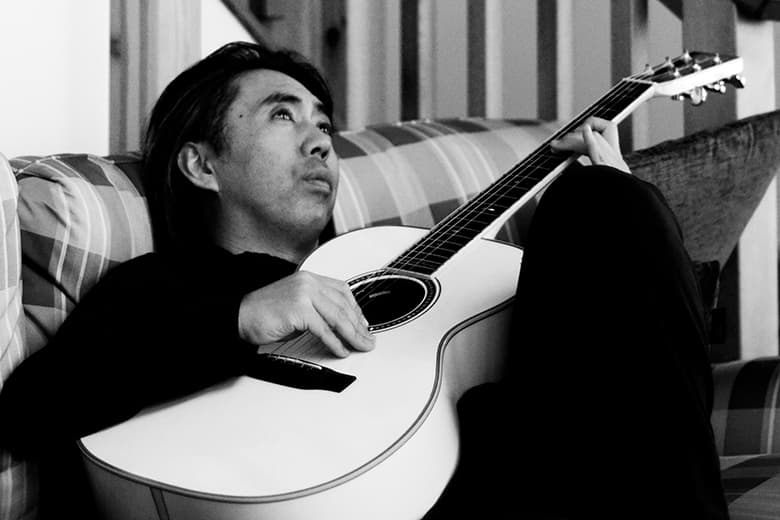 3 of 9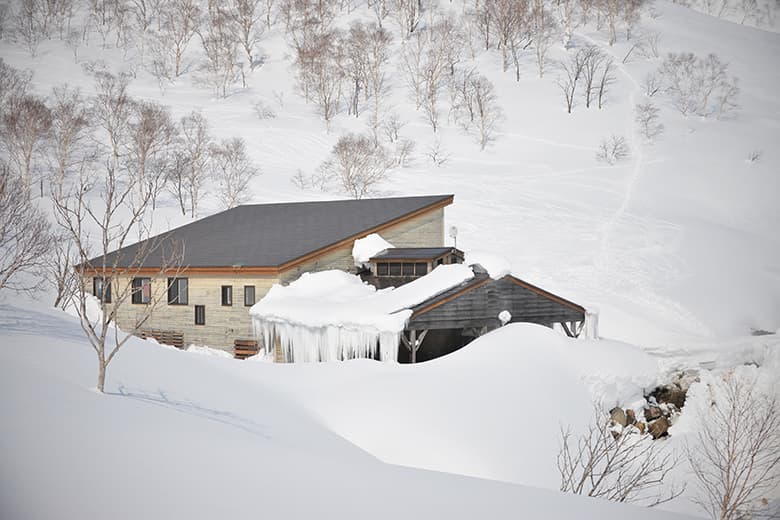 4 of 9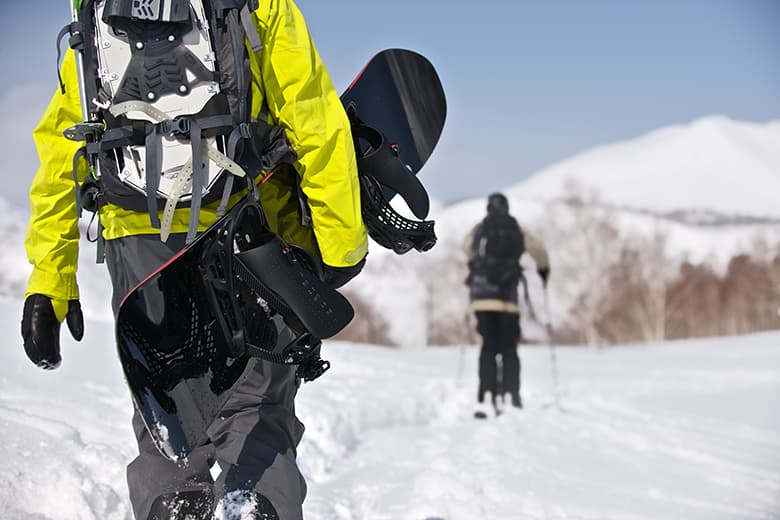 5 of 9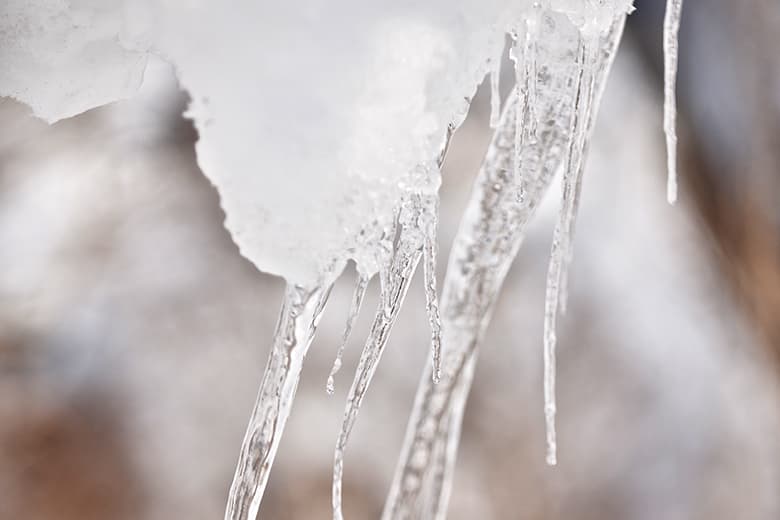 6 of 9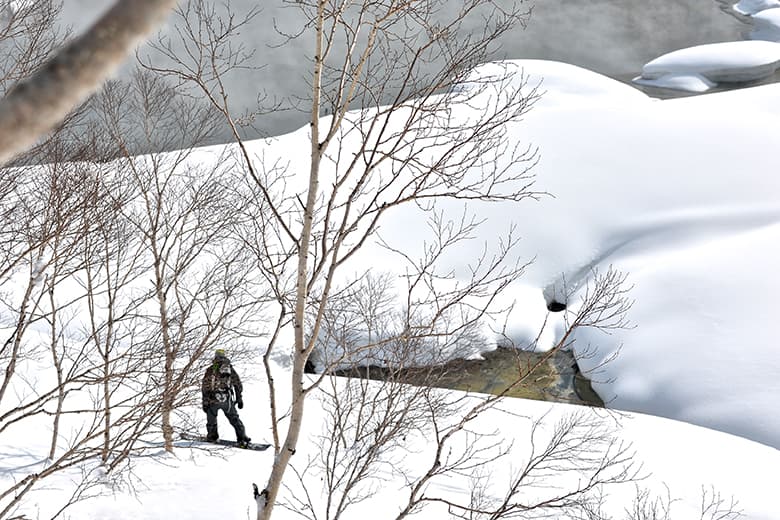 7 of 9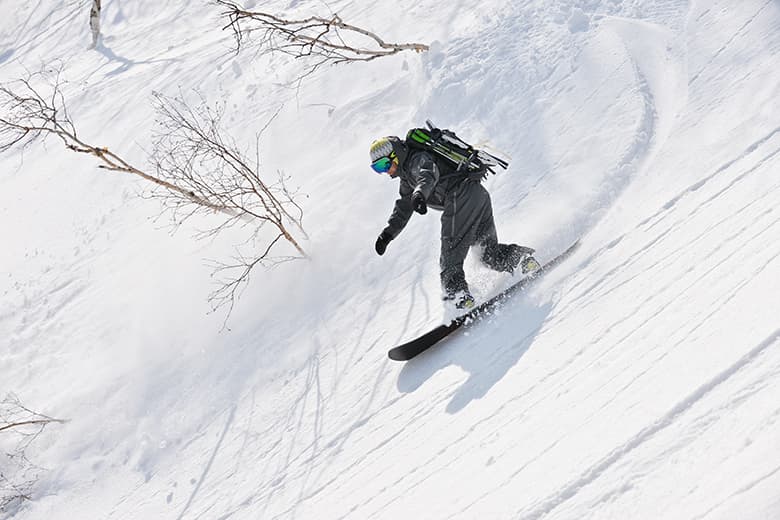 8 of 9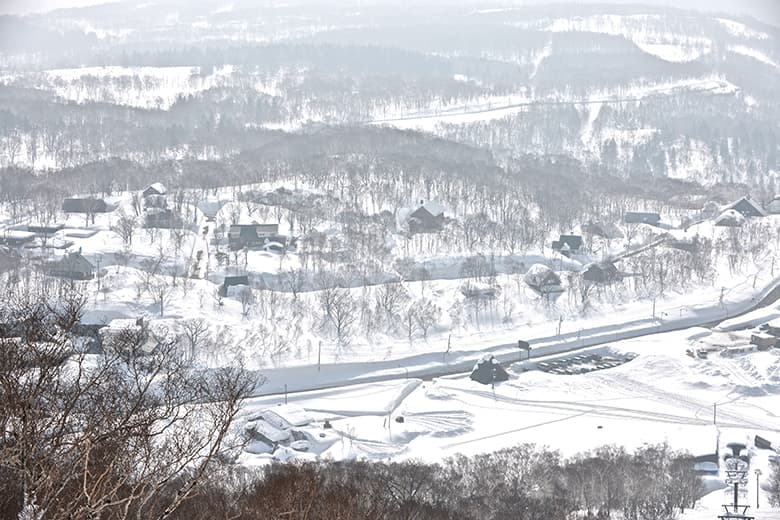 9 of 9
To paint a picture of a typical snowboarding trip for someone like Hiroshi Fujiwara – a regular occurrence during his off-time – imagine him standingat the summit of a high mountain peak. The vast natural landscape is covered in a thick blanket of powdery snow. The sum of the majestic scenery before him, crisp winter air and whistling wind culminates in the feeling of being at one with nature. While he fastens the ankle straps on his snowboard, he gazes over the steep, almost vertical slope ahead. Heart pounding, he takes the leap and gathers speed immediately, bringing on an intense rush of adrenaline. With each turn, the edge of the board bites into the hillside, resulting in a wave of fresh powder to sweep over him. His body begins to take over from his mind and all movement becomes instinctive. As the slope levels out, the run comes to a gradual and steady standstill, leaving behind a undulated meandering line carved into the mountainside.
---
Within our culture, only a handful of individuals have influenced fashion the same way as Hiroshi Fujiwara.
---
During the winter season, snowboarders from all over the world make pilgrimages to snow-capped mountains in search of such exhilarating experiences. For legendary designer, musician and producer Hiroshi Fujiwara, this is a hobby-turned-passion that started over 25 years ago.
Within our culture, only a handful of individuals have influenced fashion the same way as Hiroshi Fujiwara, and fewer still have amassed such success across multiple disciplines. Referred to as the "Godfather of Harajuku" for pioneering street fashion, art and culture in Tokyo, Fujiwara ushered in an entire generation of tastemakers such as NIGO® and UNDERCOVER's Jun Takahashi, to name a few. On top of this are musical endeavors which saw him nurture DJ and hip-hop culture in Japan – ultimately altering the course of that genre. Fujiwara's current agenda consists of his fragment design and uniform experiment projects, the POOL aoyama concept store, retaW lifestyle label, while also dabbling in recording and performing acoustic music. He is the epitome of what is coveted; a man with impeccable taste and an exceptional eye for detail. With countless collaborations under his belt, most recently with Beats by Dre, Jordan Brand and Nike, alongside Nike's HTM (representing the "H" in the three-headed design collective), Supreme, Stussy, visvim and much more, Fujiwara continues to infuse aspirational qualities into limited edition releases for the discerning youth of today. Unsurprisingly, Fujiwara lent his Midas touch to the world of snowboarding, an activity that he holds dear to his heart, teaming up with the market leader, Burton Snowboards.
Spawned through an underlying passion for the brand, Fujiwara's relationship with Burton is a rare sight in today's product-oriented marketplace driven by celebrity endorsements. This passion stemmed from a reliance on the brand's apparel and gear to protect him during his snowboarding adventures through North America, Europe and Asia, all of which have been documented on his blog. While the images and videos that surfaced over the years offer a glimpse at Fujiwara sharing his passion for snowboarding with industry figures and friends, we never saw the social dynamic between members of the group. Therefore, we recognized this as an opportune time to seek out Fujiwara and members from his snowboarding crew to learn more about these famed trips.
---
Regardless of the location, the two most important elements of a successful snowboarding trip for Fujiwara are good powder and the people he rides with.
---
At the age of 50, Fujiwara continues to take time out of his hectic schedule to snowboard three to four times each month during the winter season. While this may sound excessive, he says "it's fun and very chilled out in the countryside, especially with good friends." The physical demands of snowboarding does not seem to bother Fujiwara and when asked about his preparation, he gave a rather nonchalant response, "I do absolutely nothing!" Perhaps the spontaneity of his trips in recent years speaks to this, frequently travelling in small groups to nearby slopes. "I like Japan best for snowboarding, especially Hokkaido, Hakkōda and Nagano," says Fujiwara. Typically, he and his crew will look for locations with a nearby lodge or hotel, as he does not like to waste time travelling back and forth from the mountain. However, there are instances where he will visit Hikarigahara to visit his friend Masanori Takeuchi – AK457's Technical Director – and utilize his backcountry facilities to test the brand's upcoming gear as part of a rigorous product refinement process. Regardless of the location, however, the two most important elements of a successful snowboarding trip for Fujiwara are good powder and the people he rides with. His favourite trips occur two or three times a year, when word of mouth attracts more than 20 people, a motley group of friends, colleagues and industry figures. His crew describe him as a "genuine people person" and someone who is "always having a blast, cracking jokes and playing pranks on his assistants." To keep himself entertained off the slope, he often brings a guitar with him as well as a book of lyrics that he strums to at the lodge while the rest of the crew goes out for dinner.
One to never talk about his own snowboarding ability, we turned to Fujiwara's entourage, namely his photographer Neil Hartmann, who has been documenting Fujiwara's snowboarding trips for the past 15 years. Neil told us all about Fujiwara, the snowboarder. "Hiroshi absolutely loves to snowboard, I knew that the first time I had a chance to ride with him. He likes doing laps via lifts and gondolas, cruising around looking for fun stuff to jump off. He usually rides a freestyle board and his best move is the 'Japan grab' – this is where the front hand grabs the toe edge in-between the bindings, with the rear leg stretched behind one's back – which he can do off pretty much any jump he hits. I've also seen him do wicked surf style turns on banks and wind lips, demonstrating his board control and style." We went on to learn that Fujiwara grew up skateboarding, which explains a lot about his snowboarding flair given the transferable skills in both sports. Neil reaffirms this by saying, "there is definitely a skater style in him and his boards are usually configured for freestyle riding." Fujiwara adds, "I like super light boards with bindings that fit really well."
Neil adds, "he was a solid rider when I met him 15 years ago, and he just keeps getting better. Plus, he rides a lot now that he's helping with the design of snowboarding products."
The longstanding love affair turned partnership with Burton has seen a couple of exclusive apparel lines, namely iDiom and AK457. Before its limited production operation was brought to a halt due to economical reasons, the former label also enlisted visvim's Hiroki Nakamura – who interestingly started his career at Burton, travelling with the team riders – to help blend street fashion subtleties with Burton's utilitarian designs. AK457, on the other hand, focuses more on technical aspects for backcountry enthusiasts – those seeking advanced recreational activity across unmarked and unpatrolled areas – and attempts to redefine traditional approaches to apparel design for extreme weather conditions. With an upcoming AK457 collection for hikers and campers on the horizon, Fujiwara pointed us in the direction of his long-time friend and Burton's Chief Creative Officer, Greg Dacyshyn, who shed light on the brand and its role in the collaborative efforts.
---
"He usually rides a freestyle board and his best move is the 'Japan grab' … There is definitely a skater style in him."
---
How did you meet Hiroshi Fujiwara and what's it like working with a genuine ambassador of Burton?
I met Hiroshi over 15 years ago, and we've been great friends ever since. I started working with him together with Hiroki Nakamura on iDiom, which was a blend of functionality and streetwear style. It was originally exclusive to Japan but eventually rolled out globally on a limited basis. Hiroshi is a great friend to Burton and snowboarding. I admire his creativity and passion for product design. I'm always inspired after we spend time together, he's truly a part of the Burton family.
Can you tell us about AK457 and what differentiates its products from Burton's mainline offering?
Born out of our Japan office in 2010, AK457 is based on the notion that form follows function. Every element is intentional and serves a purpose. It's the ideal outerwear for anyone who appreciates the "less is more" philosophy of design. It's a very minimalist line with a single focus, to create the very best technical gear for exploring the backcountry, specifically cat-boarding, splitboarding and snowshoeing.
How does AK457 market itself?
The AK457 line isn't heavily marketed. Instead, we spread the word through a handful of ambassadors. The collection is very focused with only a few select styles and very limited quantities. Creating AK457 is really a labor of love because it's very niche and not for the mass market at all. It's for people who will not compromise on function, fit, quality and material. The AK457 line truly speaks for itself without a targeted marketing effort.
Can you tell us about Hiroshi Fujiwara's role with AK457? Who are the other key players?
Hiroshi is very involved. He's the creative director of the line, so he drives the overall look, aesthetic, materials and function. Another major player is Masanori Takeuchi, a legend in the backcountry snowboarding world. Masa is the technical director of the AK457 line, so his focus is on fit and function. Both Masa and Hiroshi are dedicated to the backcountry, and together they really bring the line to life.
Talk to us about snowboarding gear trends and how they have changed over time. What's trending right now?
The outdoor look resonates with people these days, both on and off the mountain. It's a function-based, utilitarian style that everyone can relate to. At Burton, our heritage is in the outdoors, so utility, function and quality permeates into everything we do. In terms of trends, I think fit and silhouettes have become more sophisticated because people want a jacket that's a good pick for both a cold day in the city and a day on the hill, something versatile, functional, lightweight, packable and easy to wear.
---
The outdoor look resonates with people these days, both on and off the mountain. It's a function-based, utilitarian style that everyone can relate to.
---
How much does Burton allocate resources to research and development?
We invest way more than our competitors on research and development because we strive to put the best product out there. We have the most advanced snowboard R&D facility in the world right next door to our Vermont headquarters called Craig's – named after the "Godfather of Free Riding," Craig Kelly. We are heavily invested in rapid prototyping so we can literally design and build a rideable binding in 24 hours. We also have a state-of-the-art bags and soft goods development facility called Threadworks.
Our team consists of the best riders in the world who are out there in the field testing everything from our boards to how our bags hold up through weeks of airline travel. Whether it's working with first time riders on making their experiences as fun as possible, to ensuring Shaun White and Mark McMorris have the perfect set-up before the biggest competitions in the world, we are dedicated to giving riders the best gear at every level.
Speaking with Greg offered up a good understanding of Fujiwara's relationship with Burton and why it is his favourite snowboarding brand, "I only wear Burton," says Hiroshi. As brands such as The North Face, Arc'teryx, and 686 transition from baggy, oversized silhouettes to more modern, tailored designs, it becomes all the more apparent that AK457's designs have been at the forefront of winter sport-specific apparel since its inception, hence setting the tone for an entire industry.
As someone who snowboards and traverses through the backcountry, Fujiwara understands the drawbacks of heavy, restrictive gear, both on and off the slope. With each release, AK457 challenges conventional wisdom and pushes boundaries via innovative materials and designs that offer protection against harsh weather conditions, while allowing for dynamic movement during turns, jumps and rotation. Supported by Burton's R&D division, the arduous task of streamlining traditional design and material is expedited by a constant stream of new technology, which Fujiwara has at his disposal. From practical technological applications that keep the rider warm and dry such as GORE-TEX® and DRYRIDE Thermax™, down to functional cord tooling like Cohaesive™, to built-in RECCO® safety features to aid search and rescue in emergency situations, every element of AK457's apparel has a purpose. Furthermore, its modern and clean lines stand out against a pool of indistinguishable snowboarding apparel based on traditional design. Fujiwara recognizes this and says "everyone has their own look on the slopes, same as on the street." Interestingly, AK457 offers an element of versatility that bridges the gap between performance and lifestyle appeal. While this remains to be a relatively niche market, the snowboarding world waits with bated breath for AK457's upcoming collection, evermore intrigued by the element of convenience offered to riders who also take part in activities off the slope.
For us, this whole experience revealed a new side to Hiroshi Fujiwara, adding another dimension to his public persona. As long-time fans, it is encouraging to learn about his dedication to enhancing snowboarding via design and how he has earned the respect of his crew with his unsuspecting snowboarding ability. As many wind down in preparation for winter, Fujiwara is gearing up for yet another snowboarding season that promises to be memorable and a source of inspiration.
---
The above editorial is featured in HYPEBEAST Magazine Issue 9: The Exploration Issue, available at select stockists worldwide.