Ricks Owens and Shayne Oliver Sit Down with 'Purple Magazine'
There is a rhetoric surrounding both Rick Owens and Shayne Oliver's Hood By Air, parallels of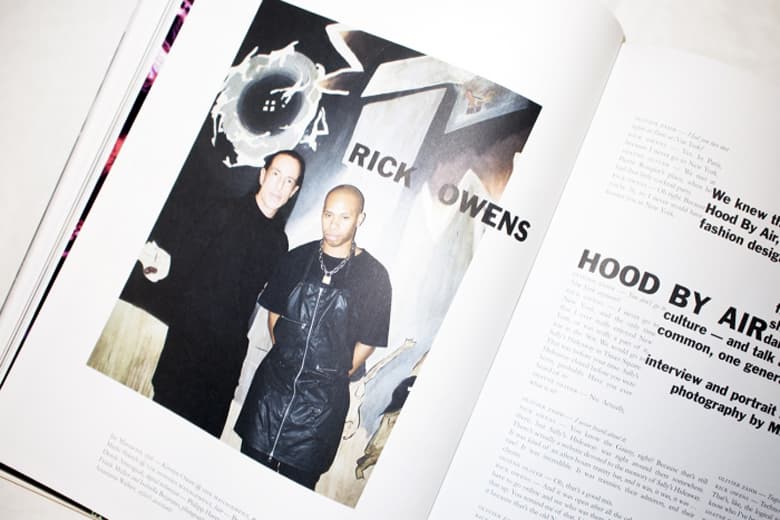 There is a rhetoric surrounding both Rick Owens and Shayne Oliver's Hood By Air, parallels of different eras that have respectively staked a precedence of innovation over their careers. In some ways, Hood By Air's provocative designs echo the striking nature of Owens' work in both quirk and strategy. The powers of media have appropriately sat the two down for an interview, with France's Purple Magazine talking to the two in their latest issue. The conversation, housed in this season's Kim Gordon-adorned release, humanizes both figures in a talk on design process and alt-masculinist culture. The jam-packed issue also features interviews with Jonathan Anderson, George Condo, Harmony Korine, Chloë Sevigny and more. Check out an excerpt from the Owens-Oliver piece below, and head here to purchase the latest issue of Purple Magazine.
Olivier Zahm — What is a death drop?
Rick Owens — It's where you kind of turn around and then fall backward and land with one leg up and the other one back, and then you pick yourself back up. But the thing is, you actually have to take a leap of faith and fall into it. I can't do it.
Shayne Oliver — You know, it's like practicing a new muscle. It's going to hurt.
Rick Owens — Because it's the leg-underneath-you thing.
Shayne Oliver — Yeah, it hurts for the first, like, two weeks, and then you're okay; then you can do anything.
Rick Owens — Okay, imagine a 52-year-old man in a hotel room, watching… s
Shayne Oliver — Did you try it already?
Rick Owens — For like a week, I was working on it! And I was thinking, I'm fit, I can do this. I'm not afraid of a little pain, and I had Feminine Destruction on YouTube. She does it really great, so I was like, "I can just do it really slow, break it down, and figure it out, right?" And I just couldn't do it, because there was this point where there's no logic to it; you just have to throw yourself into it and hope for the best.