10 Visual Artists Making Waves in Fashion
The realms of art and fashion have long existed in parallel. As a vehicle of creative expression,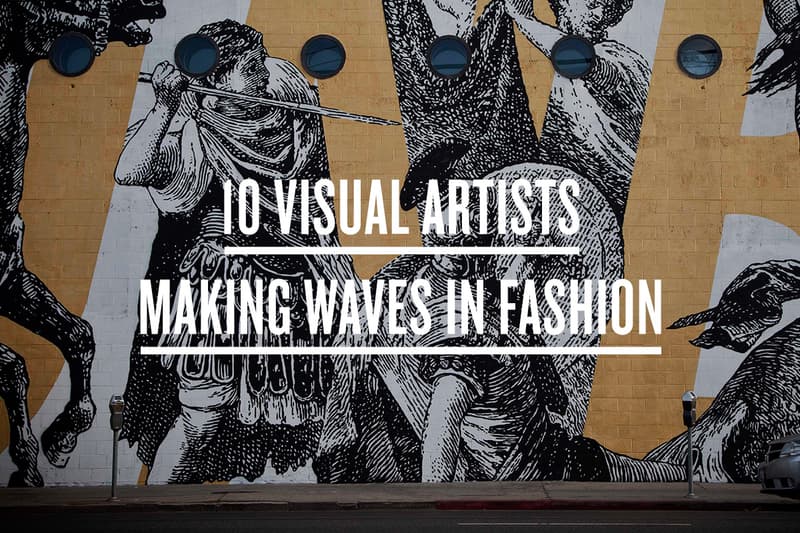 The realms of art and fashion have long existed in parallel. As a vehicle of creative expression, fashion is a powerful art form that often draws from neighboring genres in its designs. Andy Warhol's 1974 portrait of Yves Saint Laurent showed the artist's admiration of the fashion icon — a commemorative gesture that showed the close relationship between art and fashion. Elsewhere, deluxe prints designed by celebrated artists such as Takashi Murakami and Andrew Saravia for Louis Vuitton are examples of great partnerships.
In this segment we highlight 10 visual artists that have created fantastic results in the art-fashion nexus. They include an artist trying his hand at design, and an illustrator whose raw talent has opened doors to high fashion. Check out the list below to see who's making waves.
With stints as a professional skateboarder and construction worker, the young Sterling Ruby may not have expected a career as a successful painter, even less, one who would collaborate with influential menswear designer Raf Simons. Ruby's work is made of a variety of ceramics, collages and videos. Inspired by the ubiquity of graffiti, Ruby's renditions often appear defaced, scratched and erratic – a theme that was interpolated onto the refined garments on Raf Simons' 2014 fall/winter runway show. Paint-splattered coats and quirky block prints overhaul the classic menswear canvases. Refined yet rebellious, the artist's volatile style proves itself in the cross-pollinating art world.
A prominent name in New York's art scene, Harif Guzman, aka Haculla, is best known for his signature "Dark Ages" characters. His style builds on old masters in classical art, and is vibrant and provocative. East Village walls, LES divebars and SoHo studio lofts, rumored to be Andy Warhol's old hangout, have all displayed Haculla tags. Following collaborations with Ralph Lauren, Burton and Del Toro, last year Guzman explored the transition of art onto fashion, launching a new streetwear line under his pseudonym. The comprehensive line features wardrobe staples donned in Haculla script. A quick glance at recent fashion week street snaps will reveal a cohort of models sporting the cryptic pieces.
Los Angeles street art collective CYRCLE. look to their art as a vehicle for social and political commentary. CYRCLE.'s aesthetic is a melding of renaissance iconography and bold typography fonts. Constructed with thick lines and striking colors, the collective has collaborated with Woodkid, JR, Pharrell, Chad Muska, and James Lavelle on large murals and installations. While their 2014 fall/winter line with DC Shoes exhibited the group's trademark motifs across a selection of street-ready apparel, rumor has it that their forthcoming BLACKCYRCLE project will pivot towards a completely different direction. The little that has been revealed via the temporary web page shows a more somber, high-fashion inclination, tinged with enigmatic themes.
No new name to skate art, Todd Francis has been designing board graphics since 1993. Responsible for the iconic Antihero eagle logo, Francis has also worked with New Deal, Spitfire, Real and Stereo, and in 2008 joined Element Skateboards as art director. Blending political and satirical themes in his repertoire, Francis pays homage to the sport's raw energy through narratives littered with underlying messages. Aside from seasonal releases for Element, the Los Angeles native also has an ongoing series with Nike, Vans and Oakley, in addition to collaborating with HUF on a capsule range for 2015 spring. With a style independent of artistic trends, Francis' bold aesthetics continue to inspire the fashion realm.
Fashion designers often borrow motifs from artists, who lend their prints and patterns to cut and sew tailoring. For Ernesto Artillo it is the opposite, as images of models on runways and high fashion lookbooks are the basis of his collages. Blending fashion images with vibrant elements — anything from architectural structures, photographs of family members, to Renaissance art — the Spanish artist has created visual language that integrates the worlds of fashion and art. His beautiful, surrealist renditions have seen him collaborate with fashion imprints Dolce & Gabbana, Pepe Jeans, Harvey Nichols and Swarovski. His latest venture takes him to Hong Kong, teaming up with Izzue to celebrates the brand's 15th anniversary via customized collages featured across a capsule apparel line.
Melding ancient scriptures with calligraphy to present a unique visual language, Aerosyn Lex's work stands in a genre of its own. 2014 saw the New York-based Argentine artist present at MoMA's Armory Arts week. He led the visuals for CFDA Fashion Awards, taking attendees to a dream world of fluid symbolism and ink-based renditions. Collaborations with KENZO, Nike and Rodeart, alongside recent works with Public School and ISAORA x Quicksilver, show Lex's deftness in straddling the worlds of fashion and art.
Hawaiian post-pop artist Aaron Kai is widely recognized for his colorful waves. Hailing from the Big Island, Kai developed his trademark motif through surfing in his childhood, integrated with a healthy diet of hip-hop. His murals have been featured in POW! WOW! Hawaii and Art Basel Miami plus a slew of streetwear stores such as Infinite SF, GRVTY and The Good Company. Kai now furthers his interests in the realm of fashion, collaborating with The Hundreds to paint their headquarters and In4mation on a capsule range, not to mention ongoing designs released under his own label, Lemon. Aaron Kai is currently on a world tour, painting his signature one city at a time.
While Fergus Purcell, or Fergadelic, may not be a name that immediately springs to mind with fashion, the British illustrator and graphic designer has contributed to the genre since the early '90s. With a background in skateboarding, his logos and graphic work for Silas and Palace Skateboards have garnered a cult following. In 2013, Purcell was tapped to create Marc by Marc Jacob's 2015 spring/summer lineup, a BMX-inspired collection with energizing colors and prints. Never far from fashion pursuits, last year Purcell teamed up with Silas founder Sofia Prantera to launch Aries — an androgynous label nostalgic of '90s skatewear. He also contributed graphics to LFT FLD — an exciting collaborative project headed by Slam City Skate's Gareth Skewis and Paul Ruffles of size? and Footpatrol.
As part of Paris's infamous P.A.L. crew, Seb Gorey honed his crafty handstyle through graffiti. Early years in his career saw him color the French capital with inventiveness. Then his shift towards fine art displayed a more perplexed feel, such as that of a post-apocalyptic society finding its feet again through street culture. Currently residing in New York, Gorey joined fashion mainstay JackThreads as graphic designer, before moving onto design and the starting of sophisticated streetwear brand Woolf NYC. Bestowing his illustrative style onto cut & sew pieces, collaborations with rising accessories label druthers and streetwear mainstay HUF (see above for a snippet of the brand's 2014 fall/winter lookbook) are other platforms in which the French artist exercises his talent.
Headed by artist Daniel Arsham and architect Alex Mustonen, Snarkitecture's work enhances the viewer's perception of commonplace objects. From interior design and headphones to chocolate bars, the label's design work extends much further than architecture. Commissioned projects included window displays for Calvin Klein, Winter Wonderland for New York's Dream Hotel, collaborative sneaker designs with Del Toro and a basketball-inspired installation for Art Basel, Miami — all meticulously crafted to synergize with commercial infrastructures. The image above highlights the duo's retail installation for Richard Chai's pop-up store, where visitors enter a glacial cavern handcrafted from a piece of white architectural foam.