EXCLUSIVE: Masamichi Katayama of Wonderwall's Latest Store Features an Inner "Denim Temple"
We spoke with designer Masamichi Katayama on the new DIESEL Flagship in NYC.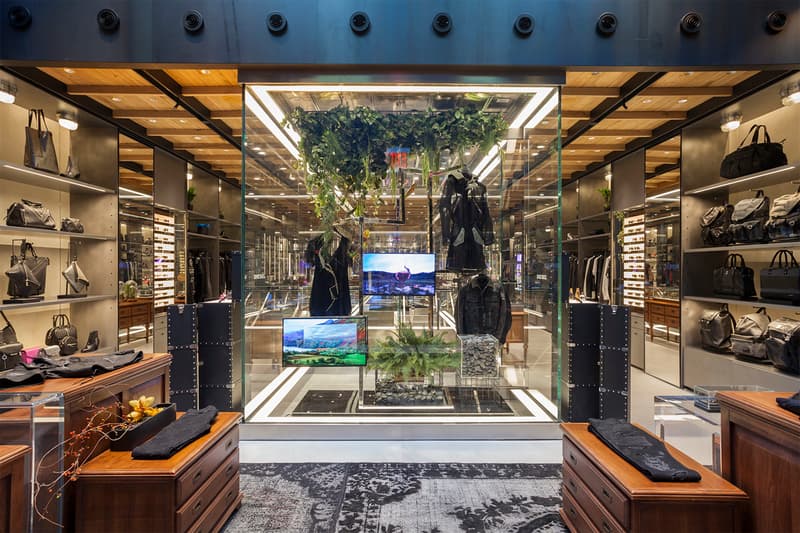 1 of 8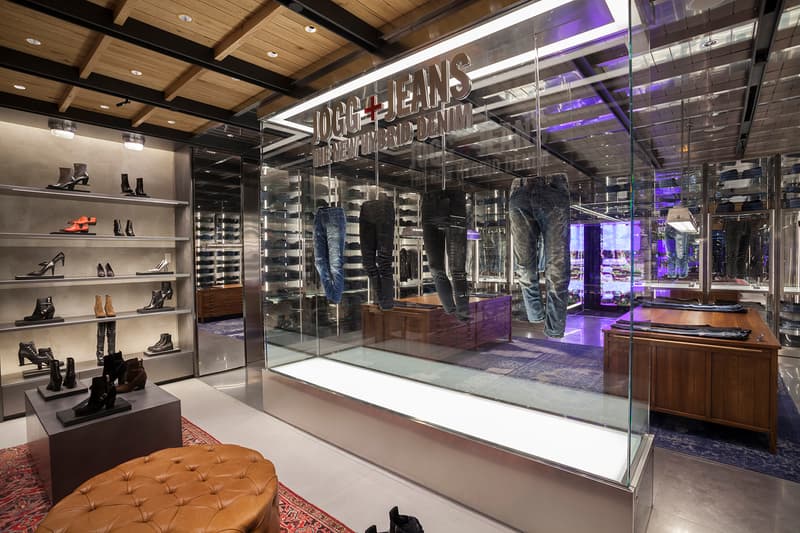 2 of 8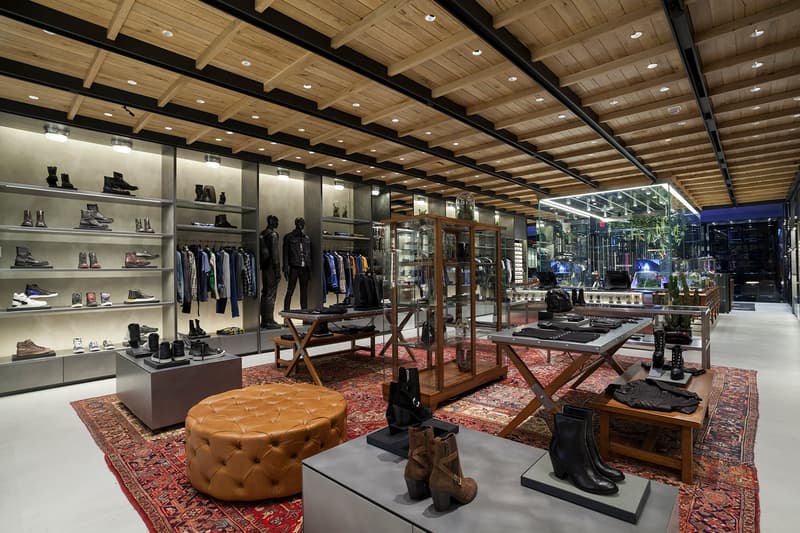 3 of 8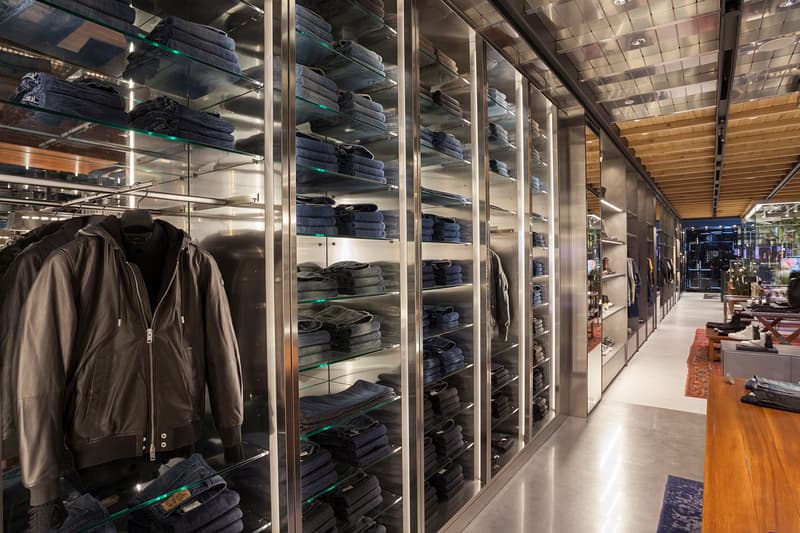 4 of 8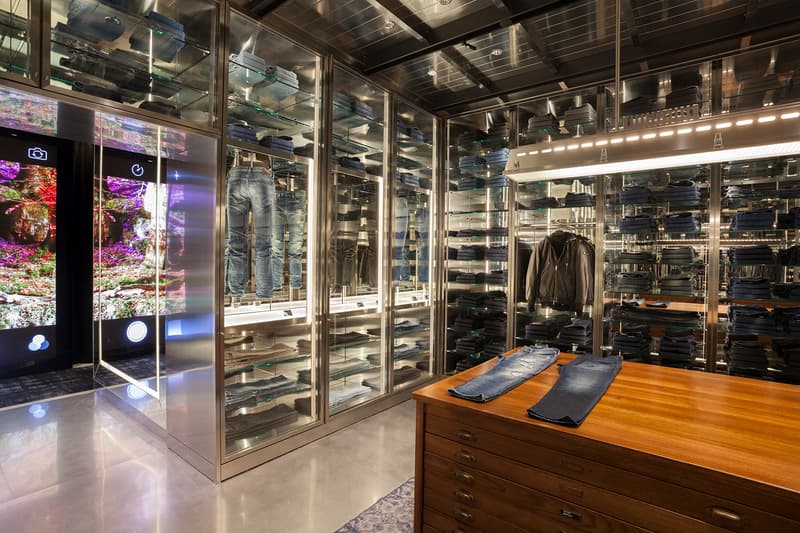 5 of 8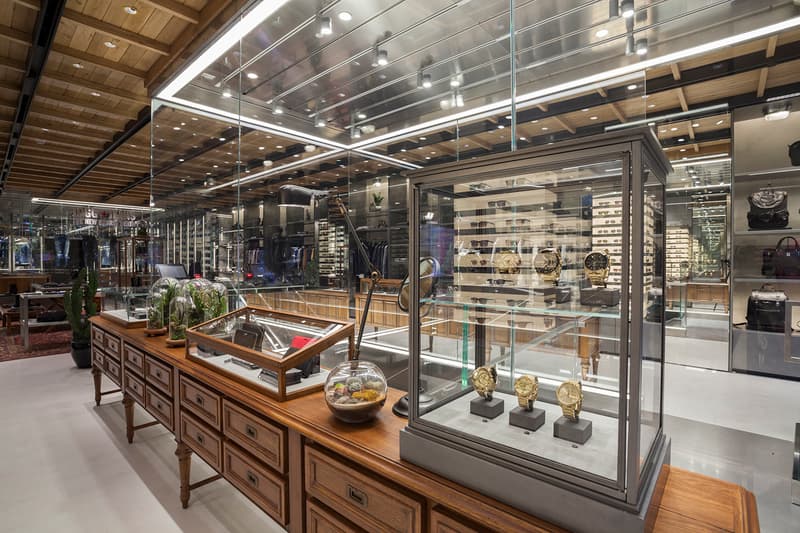 6 of 8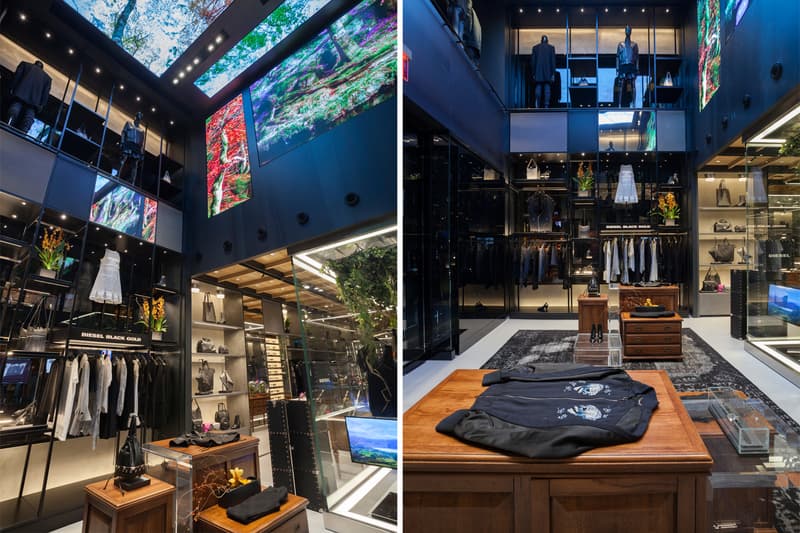 7 of 8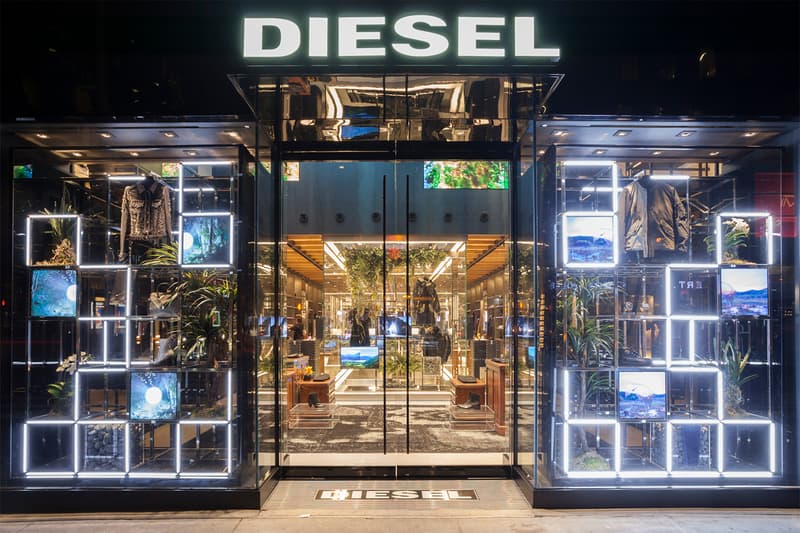 8 of 8
DIESEL recently opened its brand new flagship store in Midtown, NY; a neighborhood surrounded by luxury brands all competing for the thick wallets of travelers and the interested locals. The expansive, yet surprisingly cozy, retail space houses the projects of the DIESEL brand along with its upper echelon label DIESEL BLACK GOLD for a shopping experience that caters to all fans and newcomers. Design-wise, guests are complimented with warm woods that contrast with the clean, sleek metallics, while an odd-at-first-but-thus-familiar use of home interior furniture for chairs and displays gives the shop a welcoming environment. Lastly, antiquated rugs, cleverly-themed fitting rooms and a mind-blowing "Denim Temple" all add to the element of surprise for DIESEL's newest establishment.
To speak more about the newest location, we held a private interview session with interior designer Masamichi Katayama. He and his team Wonderwall, responsible for some of the most elaborate but equally stunning store designs that include the BAPE STORES and Uniqlo stores around the globe, worked tirelessly to design an atmosphere that fits both the brand's ethos and one that caters to the comfort and attitude of the shopper in an "Apartment" themed setting. Katayama reveals why he goes to such great heights for store design, some difficulties faced and also how he equates a brick-and-mortar store to that of a "love letter."
You and your team Wonderwall have created a vast amount of gorgeous retail spaces. How does this one compare with your other creations?
It was such a wonderful experience to work on this project with the DIESEL TEAM, especially with Mr. Renzo Rosso and Mr. Nicola Formichetti. In order to start this project, the first time to work between Wonderwall and DIESEL, it was so fruitful to learn DIESEL's brand history, attitude, and most importantly, the passion when Mr. Rosso started [the brand]. I was so intrigued to know the story on how DIESEL gained popularity. Mr. Rosso's personal vision towards a brand store was quite personal and intimate, and I was drawn by the idea of creating more like a salon than a retail outlet. After listening to all the stories, we decided to design this store based on the keyword "Apartment," while incorporating the very latest DIESEL, its strength and gorgeousness. I wanted to see how it will turn out. Ordinary life and extraordinary life is emerged in here, I wanted people to feel so intimate, comfortable being here, while adding strong identity.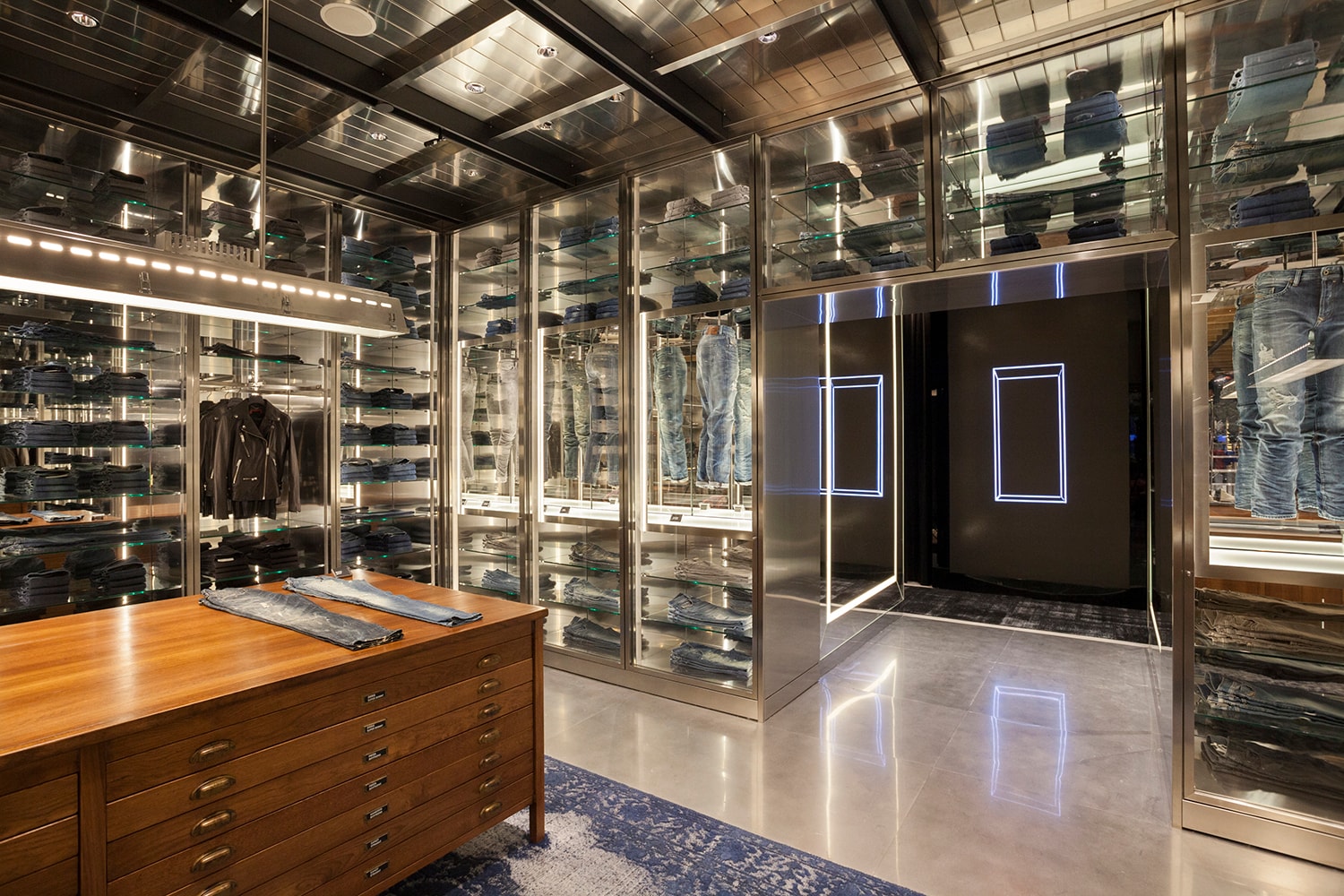 You have an area known as the "Denim Temple." What was the motivation for this naming? Do you feel denim is an item that people worship?
The word Denim Temple was born during a conversation. In the history of DIESEL, denim is a paramount, even DIESEL's soul started from this item, they said. So we wanted to treat denim as a precious item like jewelry, so it needed a jewelry box or wine cellar. During the conversation, DENIM TEMPLE was born. Then the discussion got better and better. I wanted the DENIM TEMPLE to be the magnet of the space. Denim is quite an interesting item, it is casual yet luxurious. I have studied a lot on denim for this project. Denim has a long history as functional wear, however it also has a face of [being a] cutting-edge item. It is such a difficult category. That is why people are so intrigued by it, I guess.
What was the most difficult aspect of this new Diesel flagship store? What took the longest to accomplish? Were there any surprise hiccups?
One of the difficult features for this project was the location of the stairs. At the end, locating it in the center with a fish-tank display became a beautiful solution. This fish-tank display will showcase the current and evolving DIESEL. I want people to be surprised everywhere in the store. 3D patterns used in the façade inspired by the V stitch on the denim back pocket, [the] whole space, use of media, denim temple, and fitting rooms. I believe this store is full of surprises.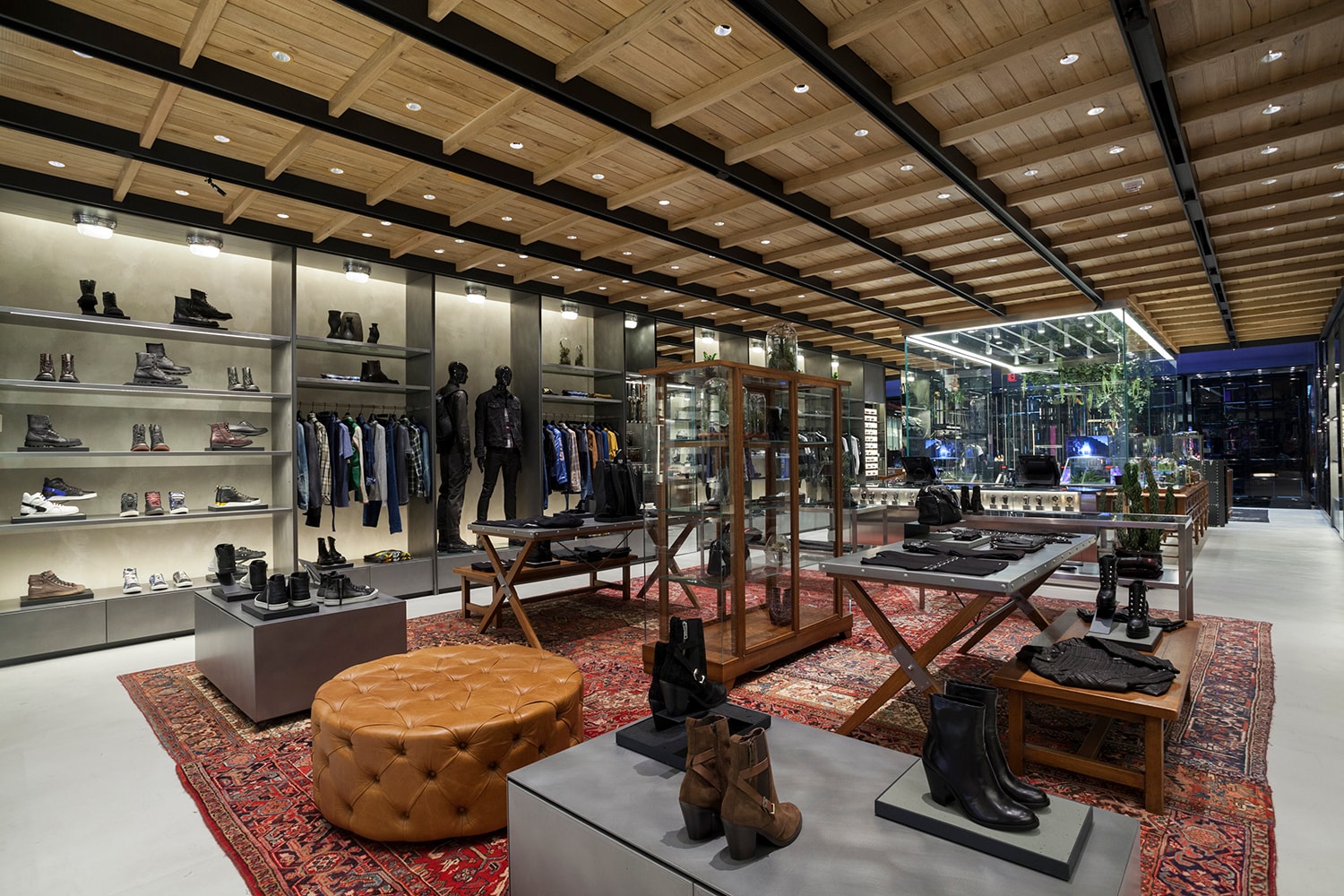 Customers will notice the unique rugs laid out throughout the store. Where did you find them and what made you want to use vintage ones instead of new rugs?
Based on the keyword "Apartment," a rug is the item to enhance the living room feeling. We chose vintage rugs because we were exploring a textured material that matches to the hard mortar material.
In Japan, shoppers are known to buy from retail stores more so than online shopping because they love the experience they have with the staff and of entering well-designed stores. Do you feel American shoppers feel this as well? If not, what will persuade American consumers to enter this new Diesel flagship?
I have designed retail stores all around the world. Despite country or race, shopping behavior is quite similar. It is so convenient to shop online, but I personally like being in the store, choosing an item while feeling the brand experience. A flagship store is like a love letter from the brand to the customer. There are experiences and excitements which cannot be offered from online shopping. In order to persuade customers to enter this shop, I believe it's got to be something emotional. Shopping can be entertainment, but the shop is the first encounter to its brand, and where royalty grows. Online stores cannot provide enough information. When you start falling in love with the brand or item, it often comes with charismatic charm of the item and space. It is such a difficult thing to explain, but I think you will understand when you visit this store.
DIESEL Flagship
625 Madison Avenue
New York, NY 10022