Black Mamba's Last NBA Christmas: Remembering Kobe Bryant's Holiday Footwear
Chronicling the festive kicks from 2008-2015.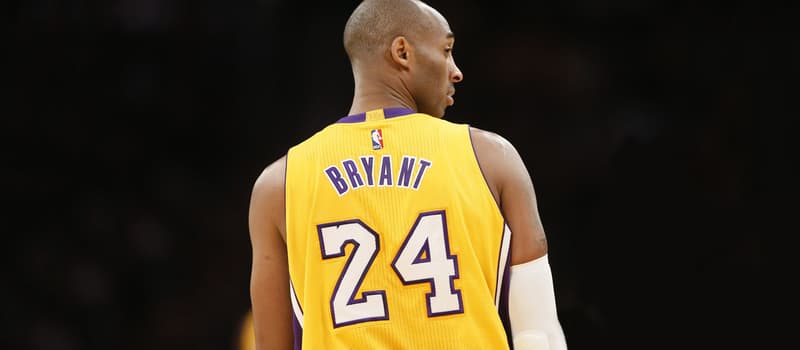 Year after year, the NBA makes the Holiday Season much more interesting due to a heavy lineup of head-to-head games between some of the league's elite competitors. Alongside looking forward to high-flying dunks and killer crossovers, sneaker enthusiasts are also catered to during this time. Thanks to many brands cooking up special holiday-inspired colorways for their star athletes to wear during the Christmas Day games, the exclusivity and creative themes add much more hype to watching your favorite NBA Stars take the hardwood. This year holds a little bit more weight due to it being Kobe Bryant's last Christmas Game of his career. Announcing his retirement in November, you can expect the Staples Center to be jam packed with Kobe Bryant fans ready to witness his last Christmas showcase.
Throughout the years, Nike has outfitted The Black Mamba with special editions of his signature series that manage to turn heads year-after-year, and 2015 will be the last year supporters see Bryant wear these special kicks on court. So here is a retrospect of his past iterations.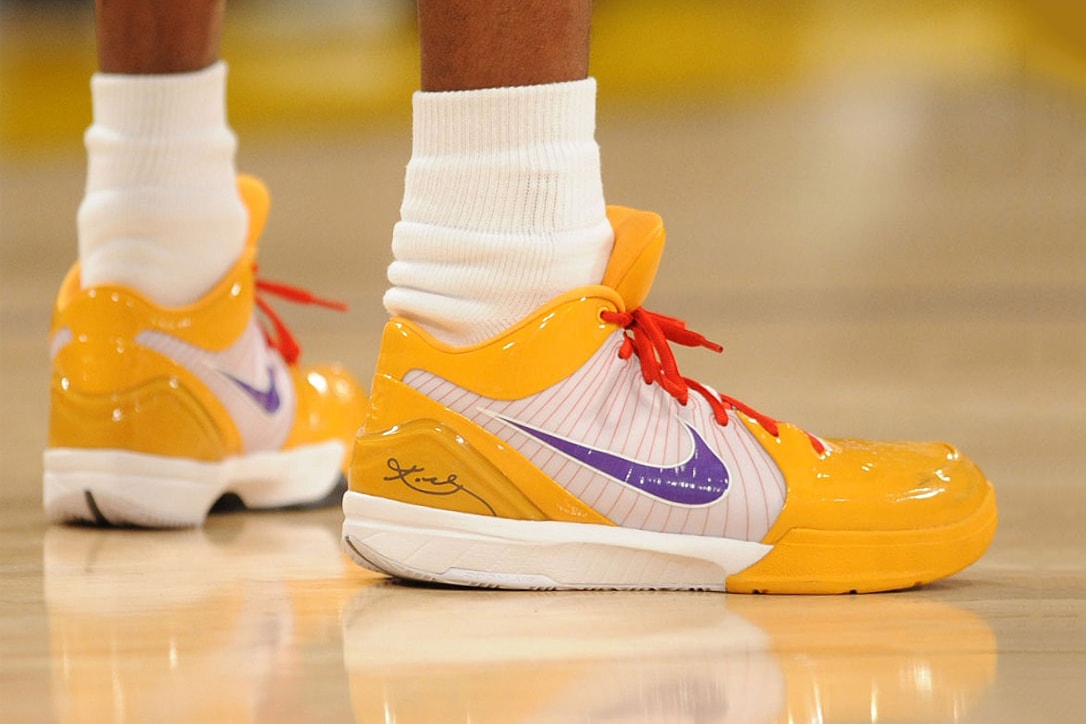 Nike Zoom Kobe IV "Christmas" (2008)
Worn against the Boston Celtics led by their Big Three, Kobe Bryant led the Lakers to a 92-83 win while sporting a special NikeID edition of the Nike Zoom Kobe IV. Dressed in a white base, the shoe complemented the Lakers' home color scheme with yellow detailing along the toe and heel, and purple Flywire. To give it a Christmas touch, the shoe was finished off with red laces as Bryant dropped 27 points to go along with nine rebounds and five assists.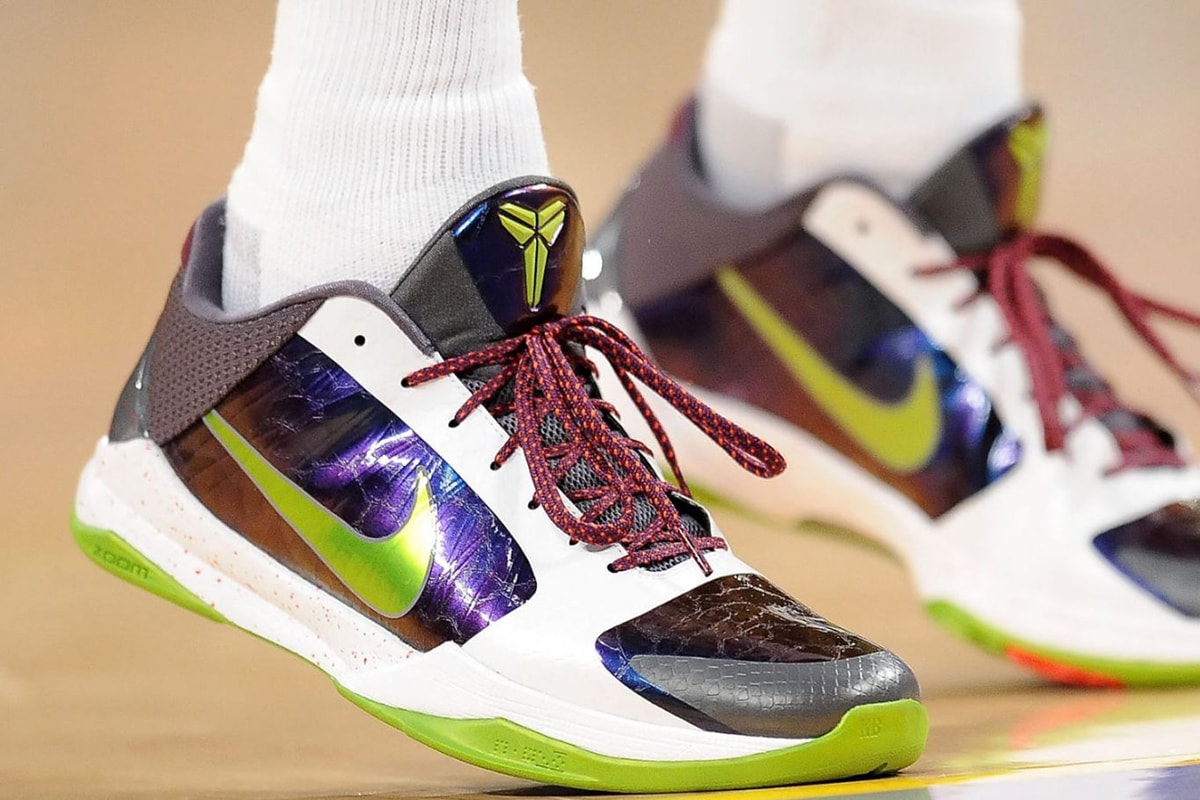 Nike Zoom Kobe V "Chaos" (2009)
In a 102-87 Christmas Day loss against LeBron James and the Cavaliers, Nike outfitted The Black Mamba with a special edition of the Nike Zoom Kobe V dubbed "Chaos." Continuing Bryant's performance footwear innovation, the low cut silhouette rested on top of a green sole which was complemented by an upper that displayed numerous colors such as purple, white, grey and red. Despite being delivered a loss on Christmas Day, Bryant managed to contribute 35 points along with five rebounds and two assists.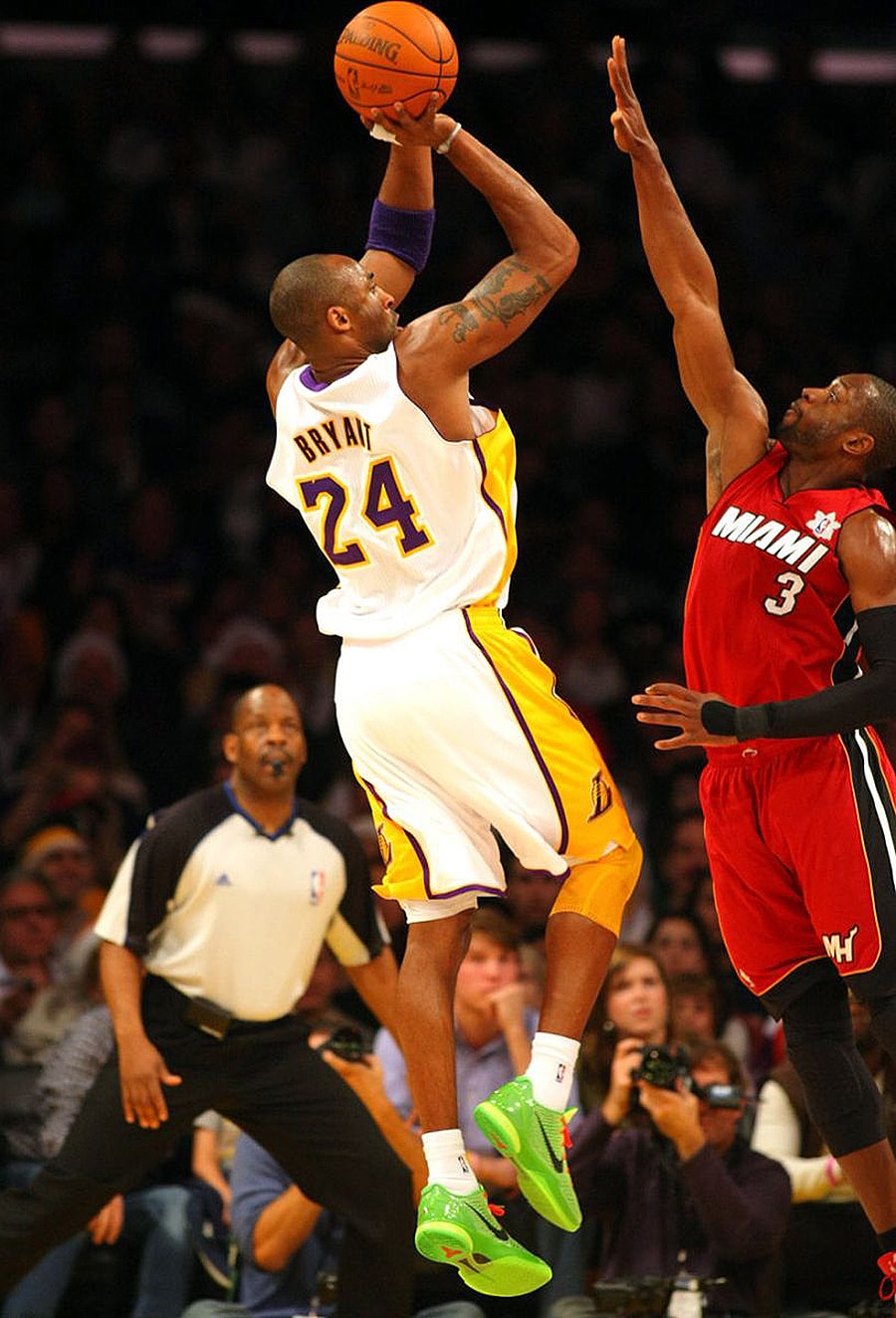 Nike Zoom Kobe VI "Grinch" (2010)
Back in 2010, Kobe Bryant led the Los Angeles Lakers against the newly formed big three down in Miami with LeBron James, Dwyane Wade and Chris Bosh. Underneath the bright lights of the Staples Center, the Lakers were no match for the Heat as they fell to a 96-80 loss. During this bout, Kobe Bryant sported the "Grinch" edition of the Nike Zoom Kobe VI. Catering to the Black Mamba theme, the shoe sported a flexible snake scale-like upper complemented by a sturdy heel counter for support. Coated with a light green-based upper, it was also finished off with red laces similar to that of the Nike Zoom Kobe IV ID previously mentioned. In addition, Bryant notched 17 points, six rebounds and seven assists in the loss.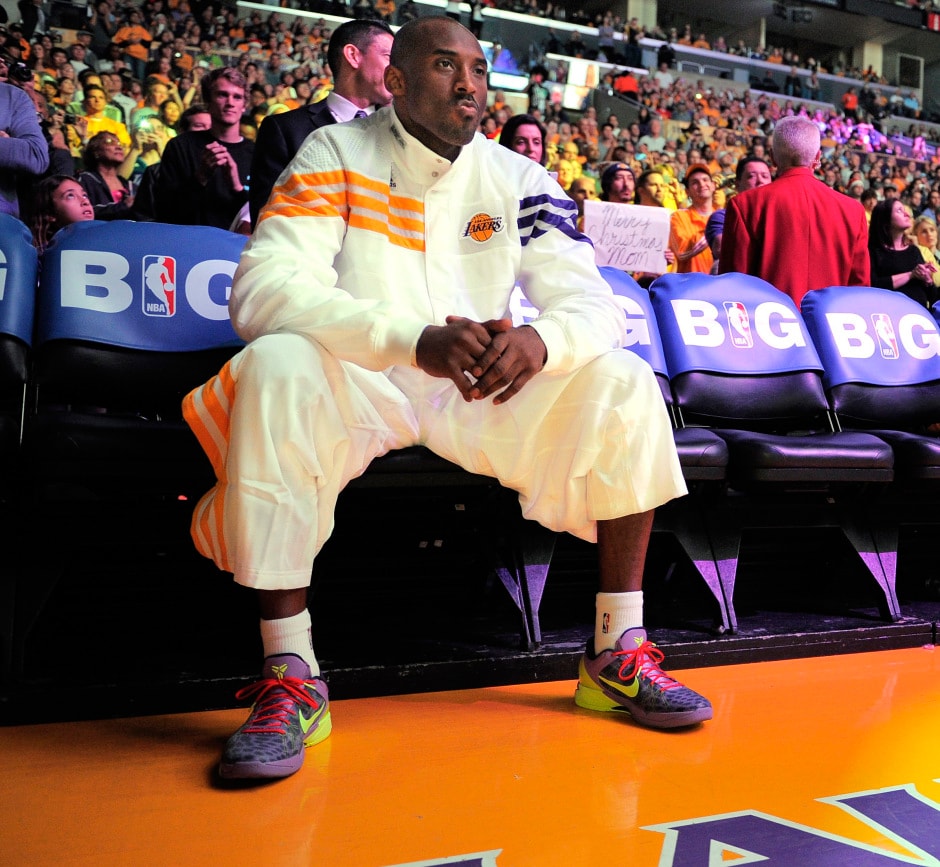 Nike Kobe 7 System "Cheetah" (2011)
Running against the Chicago Bulls on Christmas Day back in 2011, Kobe Bryant sported the highly innovative "Cheetah" edition of the Nike Kobe 7 system. Providing a choice for the wearer, the silhouette came with an alternate sole option for your choice in the support of a high top or the quickness of a low cut shoe. Based with a purple upper supported by cheetah prints throughout, the shoe also displayed details such as Flywire along with lime green hints and red laces. Despite a 88-87 loss, Bryant scored 28 points, seven rebounds and six assists.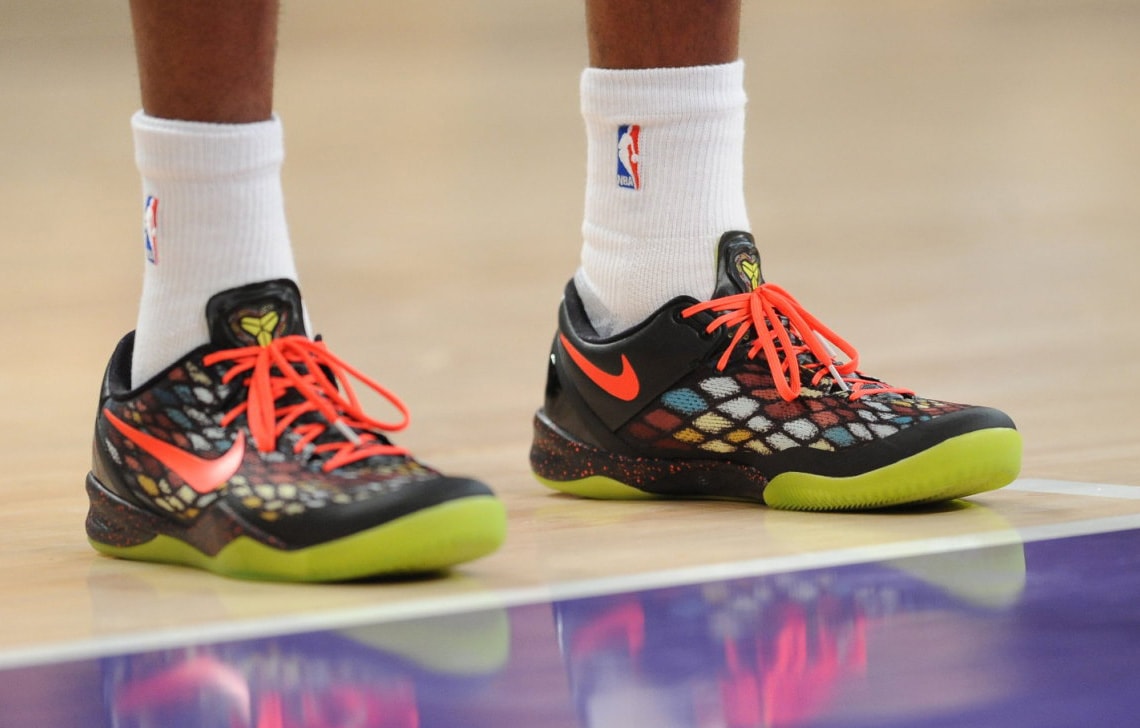 Nike Zoom Kobe 8 "Christmas" (2012)
For Christmas of 2012, the LA Lakers played host to the Carmelo Anthony led New York Knicks. Possibly Bryant's lightest signature shoe to that date, the Nike Zoom Kobe 8 was donned by Bryant and hosted a black upper that featured multicolored spots on its lateral and medial sides. Along with a Crimson Red Swoosh and laces, the shoe sat on top of a Lime Green translucent outsole as it supported Bryant in netting 34 points along with five rebounds and one assist in the Lakers' 100-94 victory.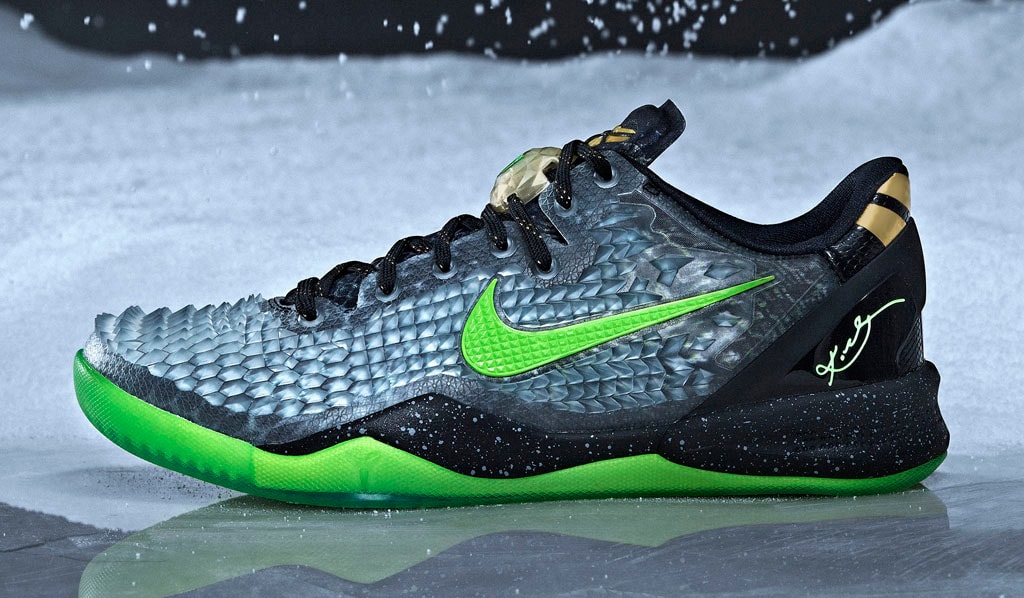 Nike Zoom Kobe 8 SS "Christmas" (2013)
This Christmas Day served an eerie feeling to Kobe Bryant fans. Due to the loss of the iconic Laker via an achilles injury at the end of the previous season against the Golden State Warriors, Nike's Basketball division re-released the Nike Zoom Kobe 8 in a special "SS" (Snakeskin) edition. Donning a special snake-like second skin along the upper, the silhouette was complemented by a lace-lock that doubled as a Christmas ornament. The shoe rested on a translucent green sole while being detailed with black throughout, along with a speckled midsole. The Nike Zoom Kobe 8 SS "Christmas" was topped off by black laces with speckles of gold and was seen on court by some of Bryant's teammates during the Christmas game.

Nike Kobe 9 Elite "Knit Stocking" (2014)
Yet again, the Lakers would miss Kobe Bryant during this Christmas due to soreness in both knees along with tightness in both achilles tendons. Kobe's injury wouldn't halt Nike's plan to unleash a creative "Knit Stocking" edition of the Nike Kobe 9 Elite. Taking on a candy cane colorway, the shoe was dominated by a red upper that mixed in white detailing along with green hits on the bottom of the sole as well as the stitching on the heel. Its Flyknit upper served as the main attraction due to the material being used on Nike Basketball's footwear for the first time.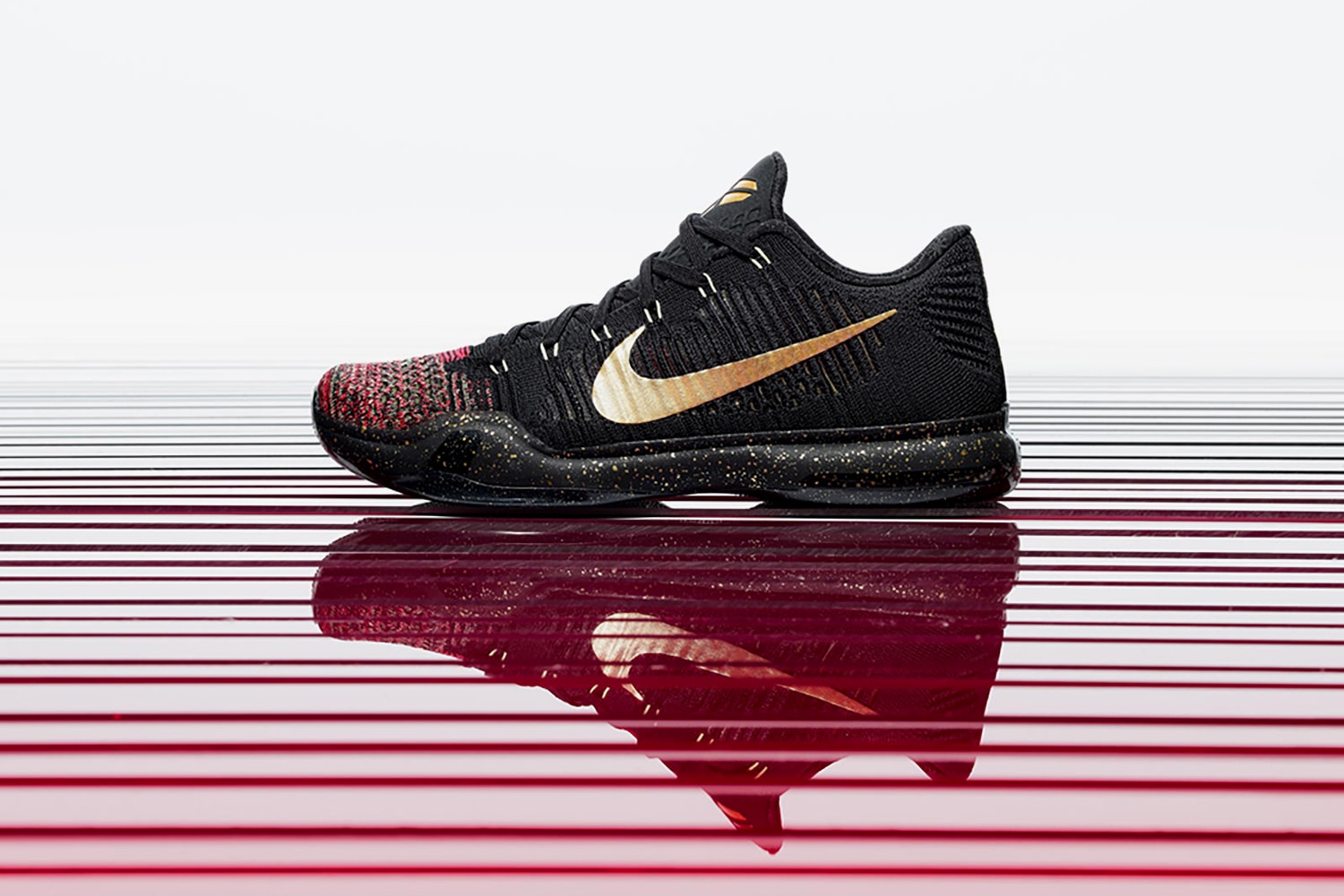 Nike Kobe X "Christmas" (2015)
A part of Bryant's retirement tour, the Nike Kobe X "Christmas" will be the final holiday model that fans see the Black Mamba lace up in for the holidays. This low cut silhouette sports Flywire throughout the asymmetrical upper along with multicolor detailing on the toebox. In addition, five ring symbols are added to the heel as a nod to Bryant's championship career. The Black Mamba will lace these up for his final Christmas Day game as the Lakers host their neighbors in the Los Angeles Clippers.