Soulja Boy Shares His Thoughts On Yoga and Conscious Consumerism
"Why would I want to have 100 okay things when I could have 10 gold things?"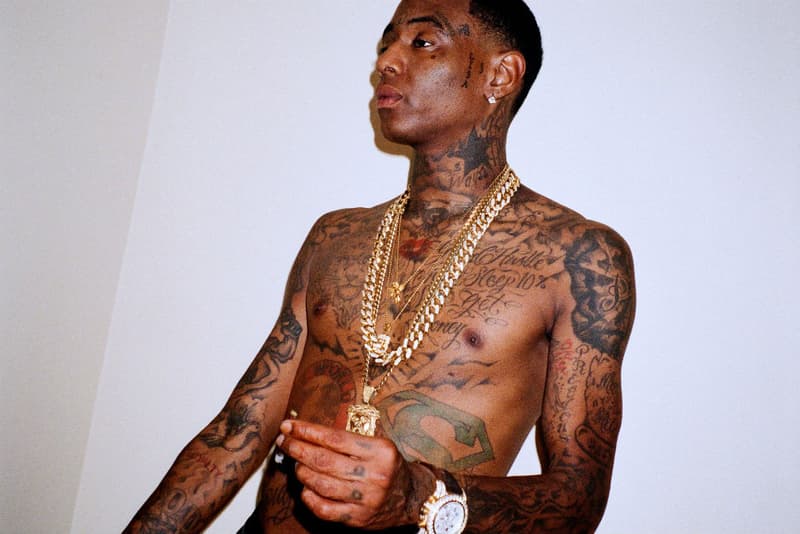 Love him or hate him but you can't hate on Soulja Boy's success in his young career so far. With a million-dollar empire under his wings, the self-proclaimed "king of the internet" sure has come a long way since flipping burgers at Burger King at sixteen. Paving the way for a lot of internet celebreties, his video for the "Crank Dat (Soulja Boy)" and the accompanying instruction visual have both amassed over half a billion views on YouTube to date with the song remaining number one in Billboard's Hot 100 for seven weeks averaging 19,000 downloads and $9,500 per day, making him the youngest solo artist to have written and performed a Billboard No.1 while still being an unsigned artist. In a conversation with i-D's lifestyle channel Amuse, its digital highness opened up about responsible investments and his offline persona. Read excerpts of the conversation below and head over here for the full piece.
You built your career online – is there a difference between your online and offline persona?
It's thanks to YouTube, Myspace and the internet that I'm where I am today. The thing is, the fans love to communicate with me whether it's through Twitter or Facebook or see my photos on Instagram, and I'm reactive to that, I see what people like and what they don't. My fans love when I post photos with my cars and the cash. They don't wanna see me chilling at home playing video games, which is what I actually do.

Do you like art?
In terms of art, I collect anything BAPE or Kaws, but I really love toys, I'm into things I can fuck with.

What toy out of your collection is your most prized?
I love Bearbricks, especially Kaws ones and Kid Robot.

You're on a private jet and you can take one person and one object. Who and what would you take?
I'd take president Obama and an iPhone; I'd interview the president and find out what life is like in The White House. Me and Obama on a jet – swaggin' and chillin'.

What's been your best investment?
Definitely setting up my own business, my clothing line BLVD Supply. Being able to create any clothes I want – that's a real luxury, and it's doing super well.

When you made your first million what was the first thing you ran out and bought?
I think I went out and bought a house first, then all the fun shit.

Wildest party you've ever been to?
Man, me and Kanye had the wildest party in Vegas at the pre-party for the VMA's. We got this crazy penthouse, there was a swimming pool, models, a food fight, popcorn, candy. You name it, we had everything. That's still the wildest night of my life.

What's the biggest luxury to you?
Honestly, travelling the world: being able to fly to Poland then to Paris, to Brazil, Canada and seeing all these different cultures, and be able to absorb so much culture. Playing to thousands of people across the world and even if they don't speak your language, being able to connect with so many people at one time across the world. That's a real luxury to me – to come home with all that knowledge and culture.

How do you unwind?
My house here has an amazing view, I usually just go and sit outside and look at the view. Sit by the fire, read a book. I travel a lot so when I'm flying I like to read all the time. I just read The Secret. That shit's so tight. It's like a totally practical book for life.

Ever tried yoga or meditation?
Oh hell nah. I mean, I'm not against it but it's not for me. Russell Simons is a friend of mine, he's all into that and I was talking to him about it recently and I don't know, it just seems too much for me. I like to hike Runyon but that's about it, I should probably work out more but I'm not about to start balancing on my head and shit.

Luxury isn't about excess anymore, it's about quality over quantity – how do you feel about that?
Totally agree, why would I want to have 100 okay things when I could have 10 gold things? That's real luxury – it's about having the choice.

As you've made huge amounts of money, have you started to be more conscious of the impact that luxury has on the planet?
To be honest, not really. Here in Beverly Hills, you go down to Rodeo Drive; you go to the Gucci store or the Louis Vuitton store, and there's a whole different mind-set there. Different people all over the world are conscious of whatever's in their sphere, and here it's not really something I think about.