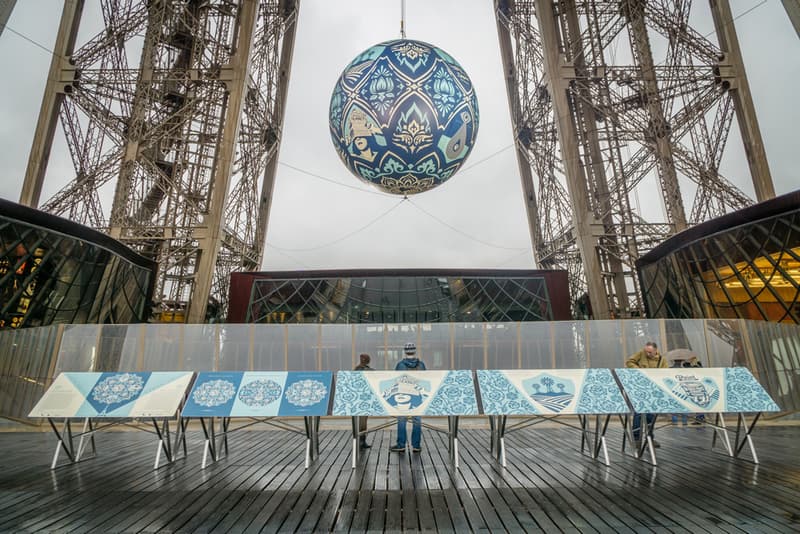 Shepard Fairey Addresses the Global Environmental Crisis With New Eiffel Tower Installation
To coincide with the world conference on climate change, COP21.
---
Yesterday, Shepard Fairey unveiled his latest street art installation, dubbed "Earth Crisis." The large sphere dangling between the first and second floors of the Eiffel Tower in Paris, is meant to draw attention to the global environmental crisis by coinciding with the world conference on climate change, COP21, in the same city.
"My political stance on protecting the planet is driven by my concern for the quality of life for future generations. I'm not an alarmist, but I do think people need to understand that we are facing an earth crisis. I think it is exciting that the globe provides different experiences for the viewer from a distance and up close while living in the heart of the Eiffel Tower. I hope the Earth Crisis Globe appeals visually but also generates a needed conversation about the fate of our planet." – Shepard Fairey
The two-ton sphere features images that symbolize both threats to nature and incitement to respect it, including climate change and environmentally-themed graphics that are positioned to raise awareness and provoke discussions about the Earth's future. The color scheme connects blue and green of air, water and vegetation, all of which allows the Earth to sustain life.
Head over to ObeyGiant.com for more information on the project.