"BEAST ASTRAY," The Mall Artshow: We Speak with Joe Hahn, Saber, Ron English and Bom.K
Best known as DJ and programmer of two-time Grammy Award-winning rock band Linkin Park and having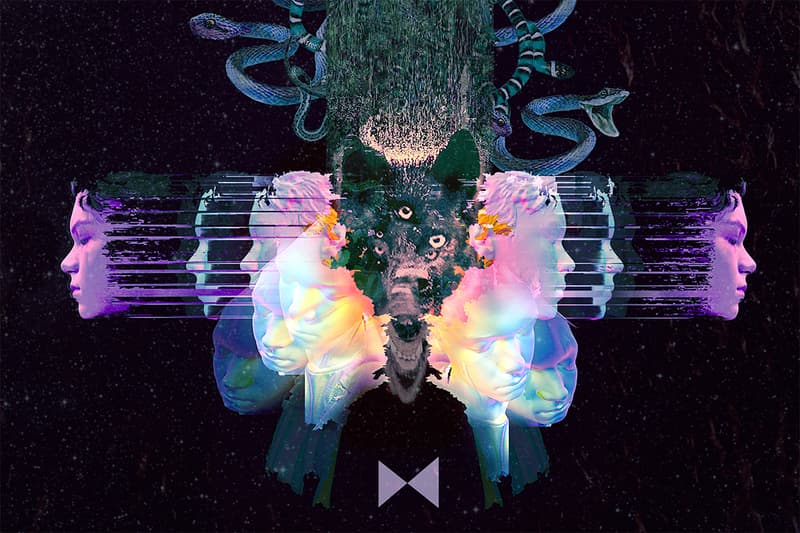 Best known as DJ and programmer of two-time Grammy Award-winning rock band Linkin Park and having directed many of the band's most successful music videos, Joe Hahn is now venturing into feature films with his full directorial debut MALL. A film about a meth addict intending to carry out a mall shooting and the intertwining of the lives of several characters in the events that follow, Hahn intends for MALL to "show how ugly people can be as they hide their inner beasts after cracking their facades." To promote the release of MALL, Joe Hahn, who apart from his involvement with Linkin Park has also established an impressive repertoire as an artist and painter, will curate an art show to be held at KNOWN GALLERY in Los Angeles, bringing together a collection of artists to interpret the themes of the film through their artwork. Before the launch of the show on September 25, HYPEBEAST spoke with Joe Hahn and artists Bom.K, Ron English and Saber in a roundtable-style discussion to talk about the current state of the art world, the role that MALL played in their pieces, and the messages that they intend to convey through art. If you're in the area, head down to KNOWN GALLERY to check out the show starting September 25 with the public opening at 7pm.
KNOWN GALLERY
441 North Fairfax Avenue
Los Angeles, CA 90036
United States
---
What's your take on the art world these days, what inspires you currently?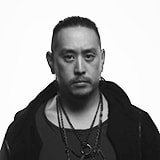 Joe Hahn
The art world has changed dramatically during my lifetime.  When I was a kid getting into art, I loved comics, fantasy and graffiti.  I was constantly told that the Art World doesn't consider any of that stuff to be 'real art.'  In hindsight, the people who said that were closed-minded sheep that shouldn't be allowed to be anywhere near kids.  They are eating those words now.  Nowadays, marketing your work is accessible as long as you have a computer and Internet.  This has allowed people to share and participate in the arts in any way they desire.  I love to follow artists and their progression through their life and career.  It takes a lot of courage to be a career artist.  It requires you to follow your heart and not to hesitate on your instincts.
Bom.K
I do not really have a clear vision about the art world, but only about the graffiti or street art in galleries. I've seen it explode and make a solid step into the galleries and museums in these last 10 years; to finally achieve the recognition it deserves (or close to it). My personal take on this is that there are not enough galleries taking the risk to feature young emerging talents that really deserve the exposure instead of showing the same artists over and over.
Ron English
This is the first time in history that the whole world has been so connected and the new art being created reflects that completely. A lot of prejudices and myopic viewpoints are crumbling fast, and artists are getting to play to an ever-expanding audience.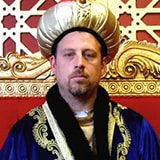 Saber
Keep your friends close and your enemies closer… who poisoned my tea? My current inspiration is to suppress the pounding knot in my stomach and keep my kids laughing.
---
What does your work mean to you, is there a message or commentary to your work?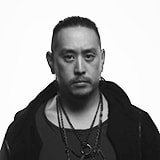 Joe Hahn
I'm fortunate that I get to choose what I want to do everyday.  These days, I'm playing shows with my band mates.  We wrote this incredible album called The Hunting Party, and we're now on the road sharing the music with the world. On days at home, I like to fiddle around with music or come up with visual ideas through painting or film.  My approach to my work is that I am a work in progress.  Whatever I make is a result of who I am at that particular moment in time.  A lot of that is based on a storage of ideas from observation and experiences or practicing skills.  I strive to one day become so skilled that my work becomes automatic and impulsive without hesitation.  For now, I have a lot to learn before I get there.
Bom.K
I consider my work on walls and on canvasses as a need to incentivize the imagination. I love to paint all things that go through my head; lay down an idea without going too deep into the message but rather into the feeling. I do not allow myself any censorship or limits into what I paint. I paint them with total freedom and don't ever consider what the feedback might be. My inspiration is quite random and instant. Sometimes an idea takes days of reflection on paper or sometimes it's only about the theme not the content. Probably one of the things that inspires me the most are the moments of confusion. I'm talking about the overload of images and thoughts in my mind that end up resulting in one single image.
Ron English
My art is about freedom. It's about having a fresh look at everything.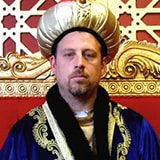 Saber
Goddamn everything… unfortunately. Only way I know how to process the world.
---
How did the film MALL inspire you to create the work you plan to exhibit? What can we expect to see?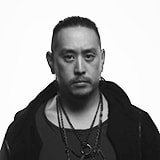 Joe Hahn
When I made this film, I saw Jeff as a guy who has a transcendent experience throughout the course of the day that this film takes place in.  The world around him is tense and wants to hold him down to conform to society.  My piece depicts Jeff getting outside of himself in order to expose his primal self and eventually knowing who he truly is.
Bom.K
I felt close to that scene where Jeff finds himself facing the mirror struggling with the contradiction of being let down by the person he thought to be in love with. His feelings were wide open to her and her deception shows him an image of himself revealing that in the end he's not really that different from others, and that they might actually be worse than him.
I want people to choose for themselves whether they see a good or bad face on Jeff's reflection in the mirror. Consciousness of each one will be responsible for good or bad. Only by looking deep inside us are we able to change what's wrong in us.
Ron English
I saw the movie as a coming of age (on acid) story set against the backdrop of a mass mall shooting, a modern fairy tale where the characters' inner demons play out their own psychodrama in a shrine to conformity and consumerism.  I wanted to create a character that expressed the acid drenched subconscious of the protagonist.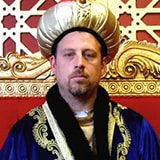 Saber
I'm still working on sitting down to watch it in its entirety; I like what I have seen so far. Pretty hard to watch anything at this point when I'm juggling a toddler and a baby. The artist lineup is no joke so I put in this exhibit what is unique to me, which is my graffiti abstraction. It's my fingerprint.
---
What's next on the horizon for you?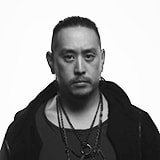 Joe Hahn
I'm on tour a lot this year.  I'd like to find time to do more paintings.  Also, more films to come.  I'm enjoying hanging out with my wife and daughter.  The best art that I've created is my kid with my wife.  It's the best!
Bom.K
Keep working tough on my new solo show and doing walls.
Ron English
I have two books this fall, Status Factory, a comprehensive overview of the last five years of my career, and Death and the Eternal Forever, which focuses on the recurring theme of death in my art.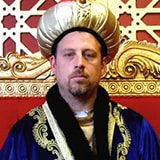 Saber
Whatever comes at me next. Putting my head down and getting to work without losing my head! More art to make, more places to travel.