Is Fashion's Future About Designing Your Own Product? HYPEBEAST Looks At 20 Examples
Fifteen years ago in 1999, Nike effectively turned the footwear industry and product as we know it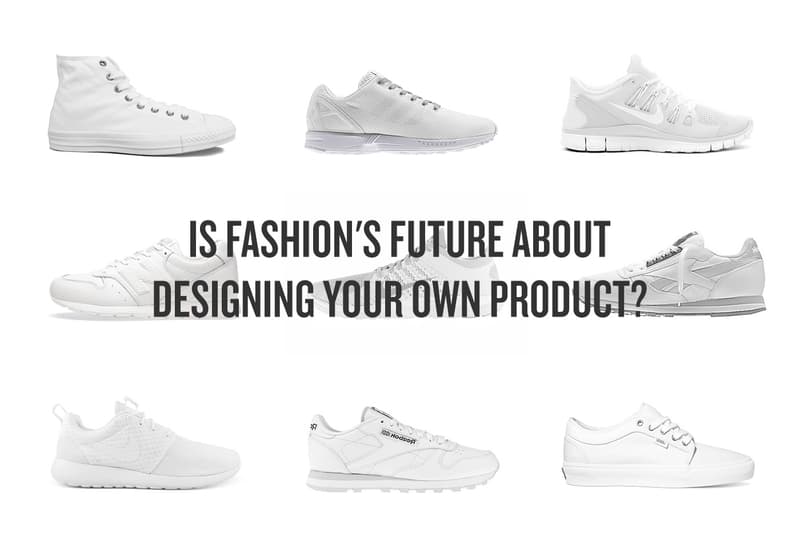 Fifteen years ago in 1999, Nike effectively turned the footwear industry and product as we know it on its head. The launch of NIKEiD suddenly put the power of design and customization in the hands of the consumer to create a product that suited their needs and desires. Nike's foresight made them among the first big brands to fully embrace this idea as many have followed up in Beaverton's footsteps since to capture that same market that desires uniqueness in their product.
A combination of consumer interest and sound business practices are strong indications that customization is the wave of the future. In the latter half of 2013, a Bain & Company survey cited that while less than 10% of shoppers from a survey had actually tried customizing a product, between 25% and 30% were open to doing so. Looking at the online footwear industry alone, if 25% of sales were derived from customization, that would result in $2 billion USD in sales alone.
The growing desire for one's unique fashion sense factors heavily into this movement. Trends will still circulate, but beyond this, following preconceived styles or the methods of dress within a social group are no longer as prevalent as the past. Choice and the way it serves as a form of communication to the outside world has gained a lot of steam as we aim to create a unique vision of one's self from food choices and music, to of course fashion. For those willing to pull the trigger on customized product, an arguably deeper bond is created with the product as the exclusivity and one's involvement in design becomes a personal point of affection.
On the brand side, the desire to explore product customization has obvious benefits. Higher margins charged for custom products are among the benefits while payment received upfront and more stringent return policies associated with custom product mean that brands are better off managing their cash flow and inventory. Products have stood to improve thanks to new developments in technology. While Nike came first with its NIKEiD, adidas's latest #miZXFLUX app allows users to easily upload photographs to be superimposed onto a ZX Flux. In an even greater step towards customization, 3D printing has allowed virtually every industry to rapidly prototype new product from scratch. It's only a matter of time before these become more economically viable and begin to offer even greater customization opportunities that go beyond just aesthetics and potentially into human physiology and relative to the needs of athletes.
The development of many economies since the industrial revolution were founded on the principle of economies of scale and mass-produced items. However, the developments and of course consumer interest are starting to shift the tables. Creating product to order, highly specialized inventory control and IT-driven order fulfillment systems mean that while costs incurred may be higher, they're totally within an acceptable price increase. Consumers gain greater value while manufacturers and brands are able to run a profitable business.
To help further the point, we look at over 20 different mass customization options. One of the notable trends for the current is a focus on mostly large-scale and industry-leading brands who are able to offer the option of customization. Given the developments on the forefront and the general decrease in prizing for customization with improved technology, the hope is for this ability to trickle down and provide opportunity to brands of all sizes.
---
NIKEiD is the originator of mass customization. With a step ahead of the competition, Nike has carved out quite a comprehensive selection of customizable pieces for men and women, extending outwards into accessories. Once involving limited options in the early days, NIKEiD has now extended to also include marquee and hero products not long after the initial market release.
Product Range: Men's & Women's Performance and Lifestyle Footwear, Accessories
Pricing: $100 USD-$315 USD
---
Fresh off the debut of their #miZXFLUX, miadidas has several strong candidates for customization including both high-end performance product as well as basics such as adilette slides. Much like Nike, adidas's options into high-end performance product has been notable, allowing players to take to the field and court with their own renditions of signature products.
Product Range: Men's & Women's Performance and Lifestyle Footwear, Accessories
Pricing: $45 USD-$240 USD
---
Perhaps one of the originators of high-quality artisanal footwear, classic English brand Tricker's has carried on the heritage of bespoke footwear well into the modern day. Through the Shoe Healer, customers are able to choose a wealth of different options for the upper and sole to guarantee a Tricker's fit to their specifications. Given that regular in-line Tricker's are over $600 USD, expect that as a base level for pricing.
Expect to pay over $600 USD.
Product Range: Men's & Women's Goodyear-Welted Footwear
Pricing: Ask for Quotation
---
Jawbone's JAMBOX was undoubtedly pioneering in the realm of small, wireless speakers. Most notably in our realm was probably Supreme's rendition last year which brought an interesting streetwear twist to the world of tech. Now you as well can customize the JAMBOX to your liking through color options. You won't exactly have a lot of customization with only two panels, but nevertheless, there's enough differentiation relative to the off-the-shelf options.
Product Range: Electronics (Speakers)
Pricing: $129 USD-$299 USD
---
Many cities across the world have made it extremely accessible and worthwhile to commute via bike. To break the monotony of bikes that all look the same, Republic offers the opportunity to customize bikes starting first and foremost with the frame.
Product Range: Bicycles
Pricing: $399 USD-$699 USD
---
California's Golden Bear has become a fan favorite up on the West Coast for their ongoing dedication to honoring the varsity jacket. Drawing the interest of the likes of Stussy and Black Scale, several different styles are available for customization.
Product Range: Varsity Jackets
Pricing: Ask for Quotation
---
New Balance's strong domestic production ensures some of the high quality customized footwear offerings amongst any sportswear brand. Despite a smaller selection of customizable options than others, anybody looking for quality won't be disappointed. However, as the footwear is American-made the starting price clocks in higher than other competitors.
Product Range: Men's & Women's Lifestyle Footwear
Pricing: $160 USD-$220 USD
---
While Vans has gone further into performance-minded models in recent times, their custom program still focuses on its core classics. The usual suspects such as the Sk8-His, Authentics, Eras and Slip-Ons are all available for vivid, pattern-heavy customization.
Product Range: Men's & Women's Lifestyle Footwear
Pricing: $65 USD-$85 USD
---
Much like Vans, Converse keeps its core product intact, adding some more fashion-forward variations of the originators such as zippered and slip-on Chuck Taylors. Given the simplicity of the materials, a diverse swatch of patterns make for some visually stimulating options.
Product Range: Men's & Women's Lifestyle Footwear
Pricing: $75 USD-$100 USD
---
One of Reebok's most successful segments of recent has been their CrossFit line. Five different CrossFit models greet customers as they enter the Reebok custom program. Other notables include Reebok Classics and their range of iconic models such as the Pump Fury and Classic Leather.
Product Range: Men's & Women's Performance and Lifestyle Footwear
Pricing: $79 USD-$190 USD
---
Cool Socks Bruh is a fun and playful take on custom socks. Similar in theme to the miZXFLUX concept, images can be super-imposed and subsequently printed onto socks creating an endless array of design opportunities. The site however is not with the same level of user experience that other big brands may have.
Product Range: Socks
Pricing: $30 USD
---
New Era By You puts the concept of design into the hands of the wearer as one's allowed to make their mark on either the classic 59FIFTY Fitted or the 9FIFTY Snapback. With the general construction of a hat featuring heavily in panels, there's a lot of opportunity to customize and take a bolder design stance or simply go the route of following your favorite MLB team's colors.
Product Range: Headwear
Pricing: $57.99
---
The trench coat has become intrinsically connected with British fashion house Burberry. To provide a more unique context to the trench, Burberry provides a small but concise selection of customization options ranging from classic at the lower-end all the way up to ultra luxurious sheraling options.
Product Range: Trench Coats
Pricing: $2,195 USD-$5,000 USD
---
For many years, travelers on trips to Asia would often stock up on custom-made suits due to the attractive pricing. Indochine in some ways captures that essence by providing more affordable made-to-measure options over a handful of suit styles.
Product Range: Suits, Shirts and Accessories
Pricing: $449 USD-$979 USD
---
A critical eye for durability and design has made Chrome Industries a perennial favorite for those on the go. A small selection of both messenger bags and backpacks incorporate the necessary high-abrasion materials for a long-lasting bag for those needing something dependable and often waterproof.
Product Range: Messenger Bags and Backpacks
Pricing: $160 USD-$200 USD
---
Since the early days of world travel, Louis Vuitton has been there every step of the way as the most affluent would seek trunks and luggage for their global jaunts. Carrying on parts of that legacy, several travel-friendly options are available for customers to monogram.
Product Range: Luggage, Wallets and Accessories
Pricing: $490 USD-$5,450 USD
---
Bamford Watch Department has arguably been one of the custom luxury watch world's most recognizable names. Known primarily for their Rolex customizations, they've also been the most active engaging various big names in collaborations including fragment design, Dr. Romanelli, mastermind JAPAN, José Parla, Karl Lagerfeld and more.
Product Range: Accessories (Watches)
Pricing: $14,100 USD-$25,700 USD
---
The rise of EDC (everyday carry) in recent years has made it fashionable and necessary to carry a knife. Many will argue there isn't a need for a knife but you'd be surprised the uses you'll find once you incorporate one into your daily life. While Benchmade has its fair share of solid, dependable knives, their custom option goes the extra step to provide you with a much more customized option where both colors and hardware are open to being modified.
Product Range: Accessories (Knives)
Pricing: $120 USD-$165 USD
---
The eyewear brand best known for its association with the Wayfarer and the Aviator, Ray-Ban provides a solid customizable experience with nine different models up for grabs. Frame colors, lens colors and engravings are all elements that can be created to your spec.
Product Range: Sunglasses
Pricing: $130 USD-$200 USD
---
The long-time leader in action sports eyewear, Oakley doesn't disappoint in the custom category as large array of eyewear, goggles and their lesser known luggage category can be modified to your liking. Most models however are more on the performance category and Oakley's iconic Frogskin is notably absent.
Product Range: Sunglasses
Pricing: $130 USD-$425 USD
Join Our Discussions on Discord
The HYPEBEAST Discord Server is a community where conversations on cultural topics can be taken further.