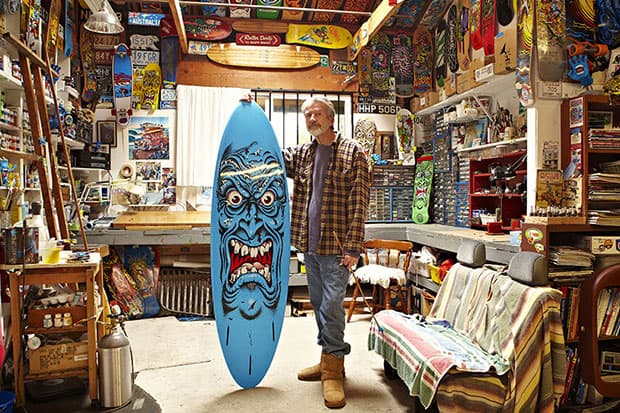 Santa Cruz's Jim Phillips on Keeping Fresh and His Career So Far
Born in San Jose, California in 1944, Jim Phillips has been at the forefront of forging Santa
---
Born in San Jose, California in 1944, Jim Phillips has been at the forefront of forging Santa Cruz's visual identity since he started working there in 1975. Four decades later, Jim has created thousands of skateboard decks, T-shirt designs, stickers, and ads for not just Santa Cruz but other brands as well. The importance of his work is evident in shaping the evolution of American skate and surf culture. designboom recently had the pleasure of sitting down with Jim to talk about his influences growing up and his advice for the young, upcoming artists. Check out a few excerpts from the interview below and head over to designboom for the full read.
What was the thing that initially made you want to become an artist?
I grew up on army bases and we frequently moved. I went to eight different schools by the second grade so it was hard to catch up academically and I basically just gave up. since they give you paper and pencil and require you to be quiet, I spent my class time drawing. during those days, in the 40s, television was not yet available so to pass time at home and entertain myself I drew characters inspired from the newspaper funnies, and it set in motion my style and humor content. my grandfather heard about my drawings and sent me a book from the speedball pen company titled pen tips on cartooning, which showed various cartoons with illustrations of the various pens (pen tips) as if they were drawing each particular line. I bought my first bottle of higgins india ink and became good at drawing cartoons. through my early life it was the only thing I was any good at besides surfing so that later you could say I didn't have many other options available to earn a decent living.

Which project or period of your career have you enjoyed the most so far?
My greatest joy was to have my own studio with a gaggle of studio artists under my training, as I had with phillips studios in the late 80s where we cranked out skateboard art for santa cruz skateboards. as a youth, the artists at walt disney studios such as carl barks and the famous 'nine old men' were some of my earliest inspirations and I loved to look at those old photos of walt standing with his artists in front of his studios, imagining who was who and what must have transpired within those walls.

What do you do to keep your ideas fresh?
King solomon said there is nothing new under the sun. that was three thousand years ago, and it's still true to this day – there is nothing fresh. to make matters worse an artist must compete with every artist who ever lived because their works always remain and continue to be held up to the highest standards. the modern artist's job is simply to fall in line and do the same old stuff, maybe in a new way, maybe with a twist, and hope for the best.