HYPETRAK's Weekly Feature Round-up
As this week comes to a close, we're rounding some of our HYPETRAK highlights, and showcasing the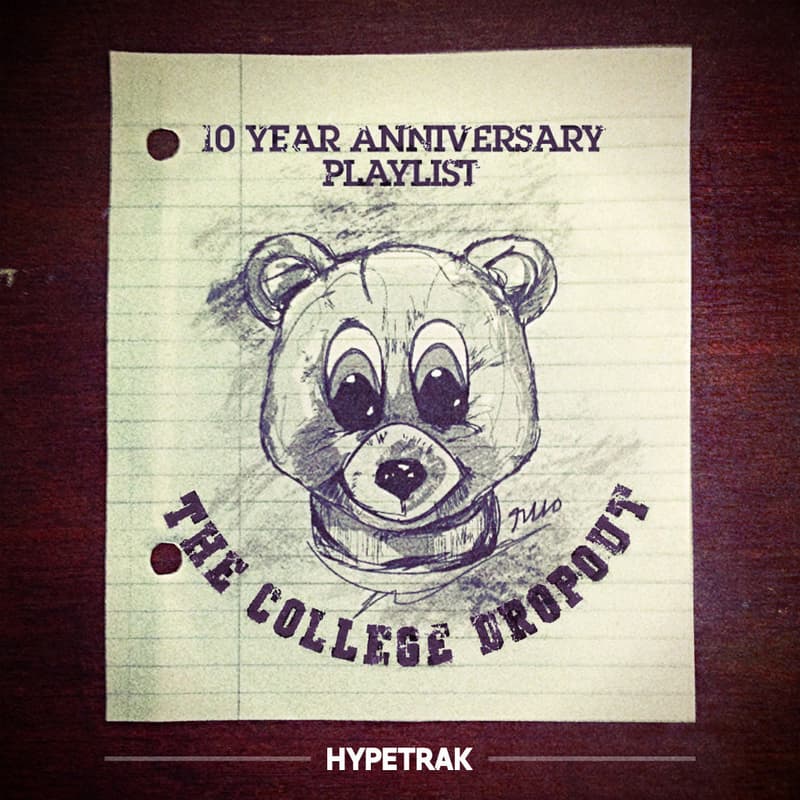 As this week comes to a close, we're rounding some of our HYPETRAK highlights, and showcasing the one-of-a-kind content that is created and curated for you specifically by the HYPETRAK staff. This week's exclusives include our 10 years of Kanye West's The College Dropout tribute playlist, a blend of fashion with music with the HYPETRAK x Street Etiquette mix, a celebration of The Glitch Mob's second album with a look at their essentials, a brand new set of songs from our very own homepage playlist and – last but not least – the announcement of Part III of HYPETRAK x Ta-ku's Drive Slow, Homie series.
HYPETRAK's Kanye West 'College Dropout' 10 Year Anniversary Spotify Playlist
Ten years ago today saw the release Kanye West's debut album College Dropout and flourished his career to becoming one of the most prominent hip-hop artists of our generation. Honoring its tenth anniversary, the HYPETRAK editorial team sat down together and selected our favorite songs from the albums and coupled them with some key samples as well as music from its featured guests.
Read more. 
HYPETRAK Mix: Street Etiquette – Audio Visual 003
Over the past several years, Bronx natives Joshua Kissi and Travis Gumbs have become authoritative figures in the world of men's fashion, culture and art. Needless to say, music plays a big role in all three. In their stride toward finding the artistic meeting point between style and music, Josh has been curating a series of Audio Visual mixes, the third of which we are proud to premiere today.
Read more. 
Music Essentials: The Glitch Mob
Having released their second official album, Love Death Immorality, just yesterday, Los Angeles-based electronic music duo The Glitch Mob has linked up with HYPETRAK as the featured artists for our newest Music Essentials.
Read more. 
HYPETRAK x Ta-ku x POW! WOW! Haraii: 'Drive slow, Homie Pt. III' Release Party
In response to the amazing feedback for part one and two of the "Drive Slow, Homie Pt. III" mix series,Ta-ku and HYPETRAK have joined forces with POW! WOW! Hawaii for the release party of its third installment at Fresh Cafe Downtown.
Read more. 
Homepage Playlist: February 14
Sometimes you don't have time to catch up with what Drake said to who or what Nicki said back – sometimes you want a break from all the music news and instead just want a flow of raw tunes, filled with a dose of hip-hop, electronic, chillwave and more all bundled up into one little personalised packet. Is that too much to ask? Not at all. HYPETRAK's Homepage Playlist is updated on a bi-weekly basis with tunes selected by our HYPETRAK editors, and includes a balance between trending beats as well as the underground and upcoming.
Listen here.