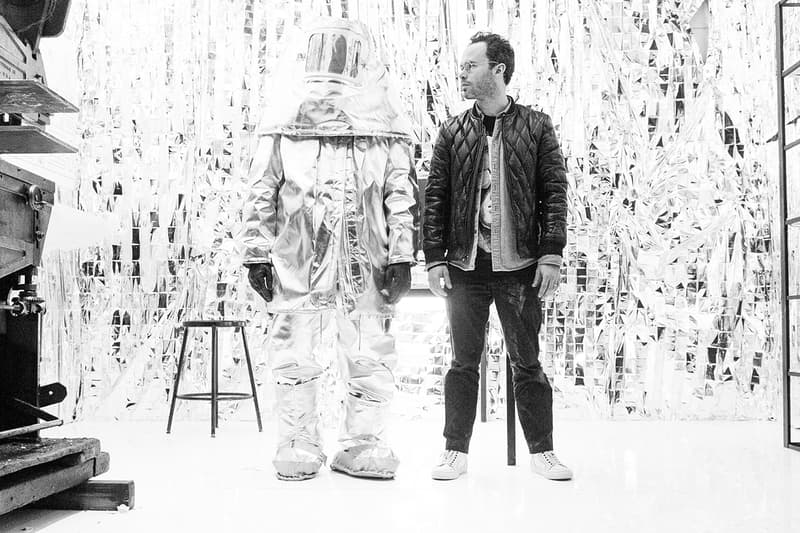 1 of 8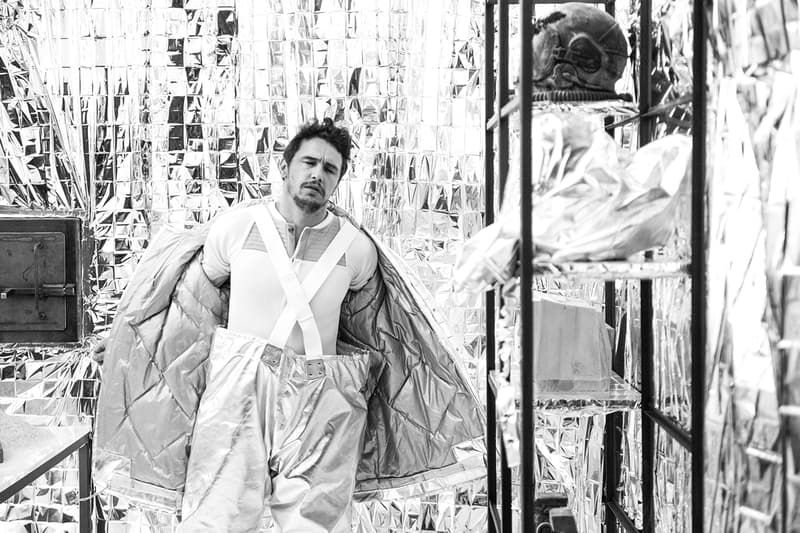 2 of 8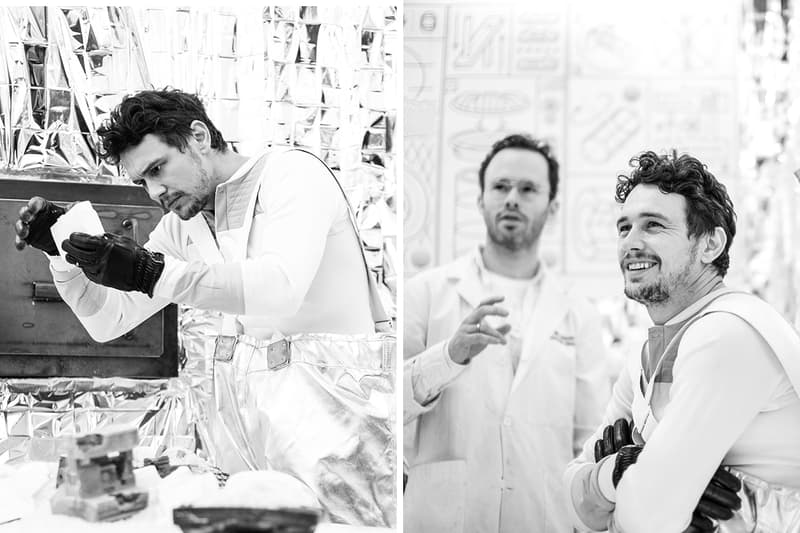 3 of 8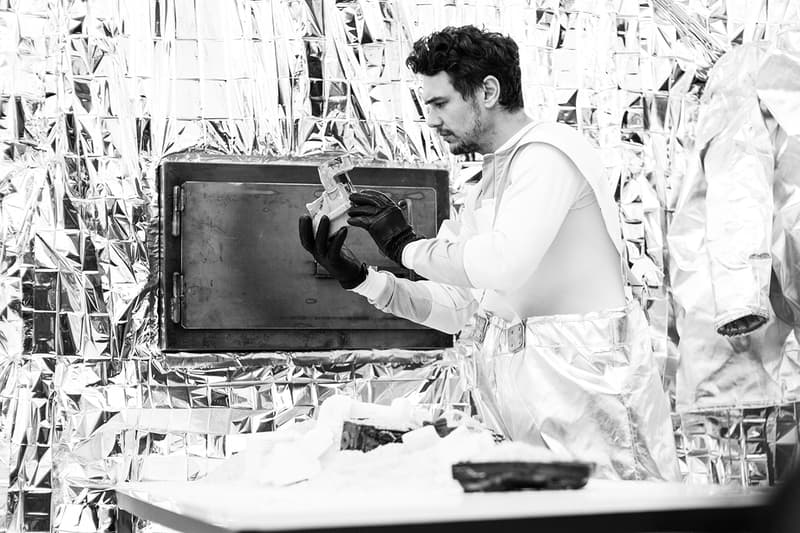 4 of 8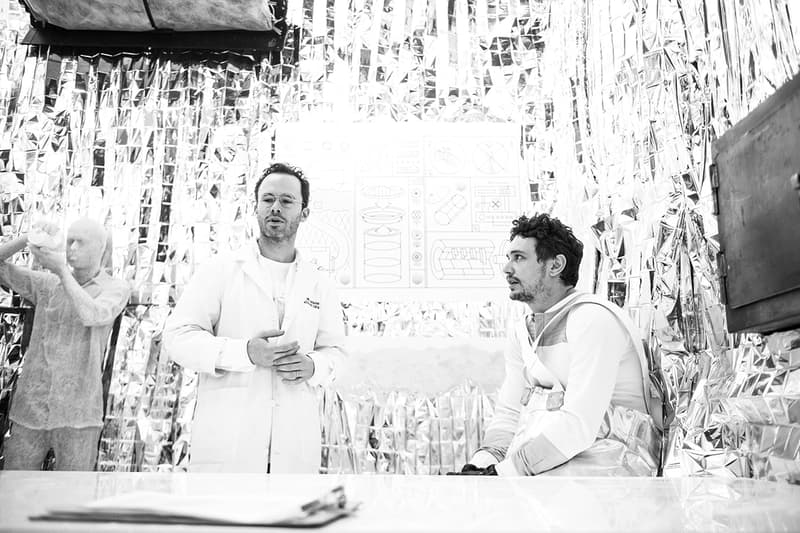 5 of 8
6 of 8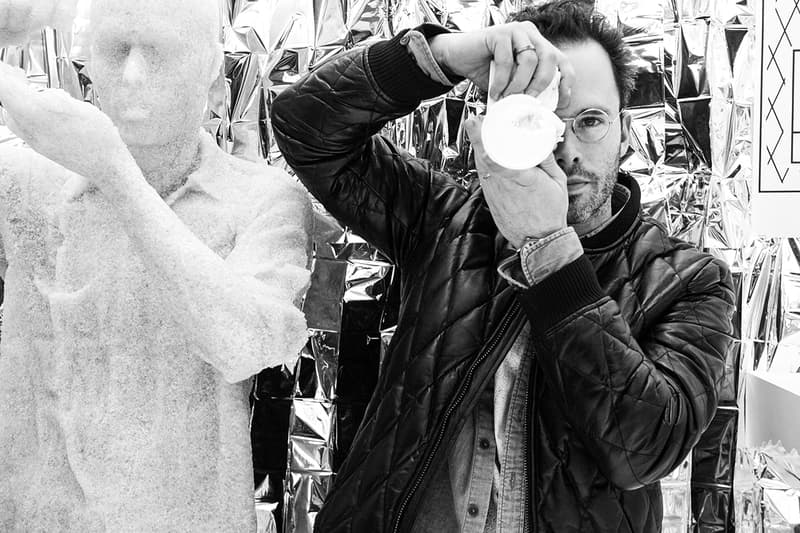 7 of 8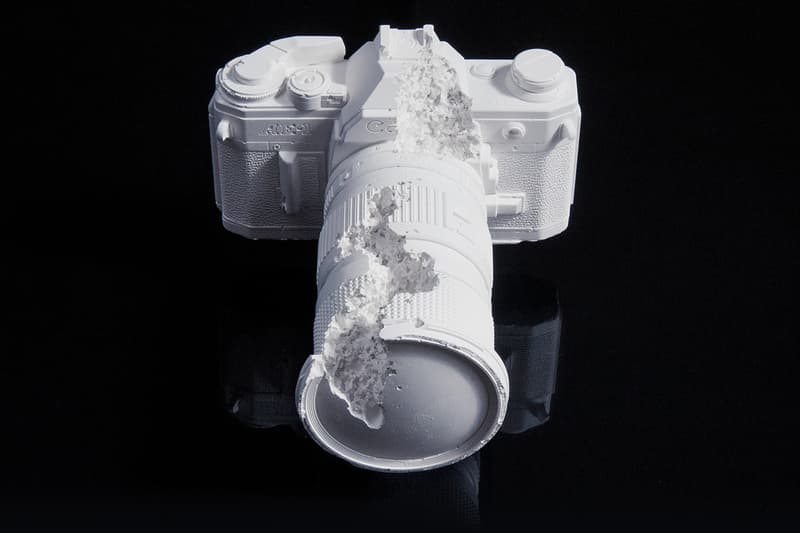 8 of 8
Perspective by Chris Stamp: Inside the Mind of Daniel Arsham and His FUTURE RELIC 02
The concept of working through several different mediums has become a prevalent trend for the
---
The concept of working through several different mediums has become a prevalent trend for the modern day creative. Daniel Arsham, however, is among a select few who have excelled outside the confines of their original field. Sculpting, painting and architecture, filmmaking is but another skill added to Arsham's growing list as he embarks a highly conceptualized series of short films known as FUTURE RELIC. The short films represent a deep and heavily-philosophized theme about the physical world's interaction and place in both the present and the future. The creation of each film is further paired with a prop that will be made available for purchase that in reduced quantities for each passing release, until the final film's release will only encompass 100 available pieces. The meaning coincides with the idea that only 100 such people in the world will have the opportunity to even own a particular piece of history as a set. Ahead of the FUTURE RELIC 02 "CAMERA" release on Friday, November 28 at OHWOW in Los Angeles, I spoke with Daniel about the notion behind FUTURE RELIC.
The short film "FUTURE RELIC 02" featuring James Franco can be seen here.
---
"Viewers to the show were imagining the future in which these objects exist … I figured that I could invent a story that would build this world and fill it out with other elements of my work."
---
With a background in sculpture and painting and architecture, is the FUTURE RELIC film series your first project within this medium?
I've been making these pieces that are like future archaeology – things that are from our everyday life, things that we know, things that we may have owned. Usually the process involves taking technological items, like cameras and phones and remaking them in these geological materials like ash and crystal; obsidian. Every time I've shown these works in Hong Kong, Singapore, in the States, journalists are often asking me 'what is the future in which these objects exist?' And to them, they invent whatever they think the future is. My feeling was that I could direct and invent this narrative; so I wrote a treatment for his film.
Had you been thinking about the narrative of the film, prior to making the pieces? Or was it more 'I want to make a piece that kind of based on what I see an object like this being in the future?'
The first object in the series that I made was after I returned from Easter Island, this tiny little island in the South Pacific with these giant stone statues. There were archaeologists there that were uncovering a statue that had been excavated 100 years ago, and in the area around it they found some items that the archaeologists from 100 years ago had left behind. So there was a weird confusion of time and when I got back, I started thinking about that. The first piece that I made was a camera that I casted in ash from that island. The idea for the film came to me about a year or so after I first began to exhibit the words. This came mostly out of the notion that viewers to the show were imagining the future in which these objects exist, and as I said, I figured that I could invent a story that would build this world and fill it out with other elements of my work. If you watch the film, you'll see it brings in other pieces like a glass figure for instance. When certain pieces were made such as the glass figure and paintings of the moon (and the excavated holes), I didn't think these were going to be part of this film. In the end everything that is part of my artistic output has been co-opted by the film.
So getting into the films you've kind of taken your background as an artist and brought it into directing. How would you say your aesthetic as an artist and as a director differs, and what are the similarities as well?
I'm used to jumping around, if I'm working in my own practice there are different forms such as painting and sculpture but with my work with architecture, even the project that I did with you, I'm not a designer, but I've done a lot of stage designs so jumping into film was foreign in some ways. But it was also something that I felt I could figure out. I had an amazing team around me.
---
"James Franco, he really pulled it together for this one. He doesn't have a single spoken line in that entire film, yet he can convey all of this story and the emotion behind it through all of his gestures."
---
Looking at your latest film and noticing each frame, it looks like you're very precise when it comes to framing out the shot. This is something a little bit beyond just being a director, it's more of an art director position, a director of photography. I can kind of see your aesthetic come through not only on the direction of what the film is about, but it seems that you're very detail-oriented top to bottom with the project.
Yeah with the shots, I would say my aesthetic is obvious even though I'm working with amazing talent. James Franco, he really pulled it together for this one. He doesn't have a single spoken line in that entire film, yet he can convey all of this story and the emotion behind it through all of his gestures. But in addition to the talent in the actors, the props play a huge role in developing and building the language of this world. The future is something that is present in a lot of my work, the idea of the future and trying to project into it, but nothing necessarily looks futuristic – it looks like a slightly different version of the world we already live in. This I feel like is a much more believable scenario than many science fiction films which have a kind of a completely foreign future. And this is the area I want to reside within, which in some way has a lot to do with all of the other things that I build, which take things that people already know and alter them in subtle ways: the figures on the wall, altering the surface of the wall, even the future relic objects themselves.
It's like taking iconic pieces and showing them not necessarily three to five thousand years from now, but it could be a few hundred. All of those things would evolve.
When I'm directing a film, I am conscious of every single thing that's present within the frame of the camera, which is a much more broad world than my work in the gallery. Everything from the lighting to the costume and sound has become something I never would have thought about before and it's just a super critical way to build a world.
How has working with some of your friends within the fashion world – the Public Schools guys, Richard Chai, myself – played a role into how you've been creating the wardrobe in your films and detailing the way the actors are dressed?
For all the films, I have asked different designers to bring their version of the future to the film through the costuming. In some cases with things I was able to find, like your practice for instance, the white Stampd flag is present in "Future Relic 01." As this sort of a premonition, it's a moment where the actor sees the flag and then disappears after a second. So it's this quick moment. I think that the way we can often tell when we look at the image of a person, what period that's in, what they're wearing, the way their hair is cut — all of these subtle cues on the meaning. The design of the costuming is super critical to articulating this world and it's worked differently for different people. For Public School, I gave them the brief of what the story was about, and they read the script. I gave them some direction in the idea of what I wanted it to appear as. So James's costume is a worker's costume; almost looks like a futuristic long underwear type of thing.
---
"If you know an actor has this thing that they can do, it becomes something that you want to draw out of them."
---
So each of the films up until this point, it seems as if you're pretty particular as far as how you choose the cast and even moving forward about film three and film four; you're pretty detailed when it comes to the person who you want to play the role. Did you have these people in mind when you were storyboarding out what you're doing?
I wrote the entire script with Timothy Stanley, but the cast is really specific. So when we started doing the filming with James, I already knew he was going to be this character because we had agreed on it much before that. So there were alterations to the script based on the things that I wanted to bring out from him. This is something that's normal of any director; if you know an actor has this thing that they can do, it becomes something that you want to draw out of them. This will be true for the actress in the next film as well; she has a very specific sort of emotional quality.
With wardrobe playing a pretty important role in each of the films, I'm sure this is something that comes full circle back to your personal style. How would you define your personal style and how it relates to what the people in the film are wearing?
I would describe my personal style as super plain, very generic – it's a condition of the environment I work in. I'm usually wearing white, so I don't get stuff from the studio all over me. And I think that all the costuming in the film is very simplified, the aesthetic is something that translates across the board for the entire film. What I had initially done is for each of the nine films, so there are nine Future Relic films that come together to form future length, the first half of which will be shown at Tribeca Film Festival in 2015, and the full feature film will do the entire festival circuit in 2016. Each of those nine films takes place in a different period in the future, and the coloration is different. I mean you noticed the difference between 1 and 2, very different worlds. There is a palette that's very specific; it's hard to describe if you're not describing it in cinematic terms, but there is a particular focus. I feel like number one is a much softer and foggy focus, while number two is crisp and harsh light – very angular things. For each of the films, I've tried to feel like some version of the future, and some period. Those things are defined by costuming, lighting, and by tonality (color).
---
"I have been a fan of film for my entire life, and the language of props in a film was something I always dreamed about."
---
As an artist I think aesthetics. Your general qualities of what you want to see in your work will stay pretty constant but I think as you evolve and continue to do each film, each film is like six months to a year apart, you're growing and evolving both within your personal style and your aesthetic and that's probably going to be seen as we see each one the films progress. Within the series, each film pertains to a special edition of the work. What are you trying to achieve with each edition and can you describe what you did for the second film?
I have been a fan of film for my entire life, and the language of props in a film was something I always dreamed about. I always thought it would be amazing to own a piece or prop of a film. Imagine if you could have a piece from Back to the Future, the idea behind these editions is to have an element that the audience sees as a major player and a narrative component of the film. By allowing them to actually purchase that and own it, it can become part of their lives. So for each film there is a prop that is pulled out, and there is an edition that is made of that. In this film with James Franco, it's this camera that he finds. He's this sort of futuristic worker, archaeologist who is looking through all these devices, and he finds this camera, and he knows what it is but he's not sure. There is this revelation that he has with the camera, and the idea of releasing that into the world is to fulfill this childhood fantasy of being able to own a piece of the film.
How many pieces of the edition are being released?
So for the nine films, there will be one edition. For the first one we did an edition of 500, the second film will be an edition of 450, and they'll drop each film in increments of 50. By the time we get to the feature length film, which is all nine, there will only be 100 of the last one. So there will be 100 people out there who will be able to get the full set of nine.
When are they being released?
They are being released the day after Thanksgiving at www.oh-wow.com.
Awesome, thanks Daniel.