Hood By Air 2014 Spring/Summer Collection Details
A disorienting soundtrack. A barrage of flashing lights and dark music. A leather-clad audience,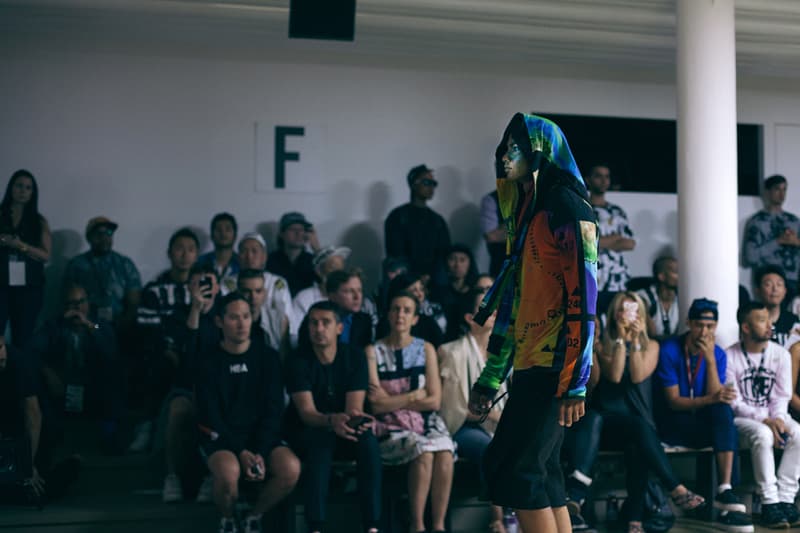 1 of 7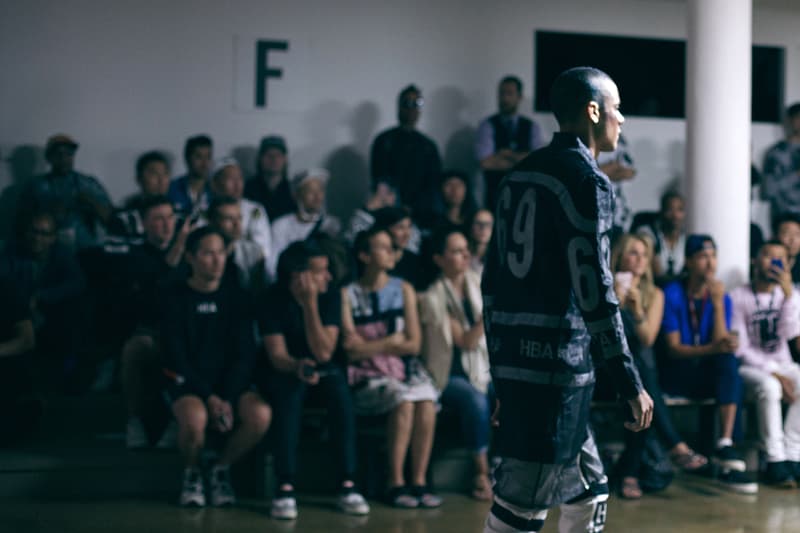 2 of 7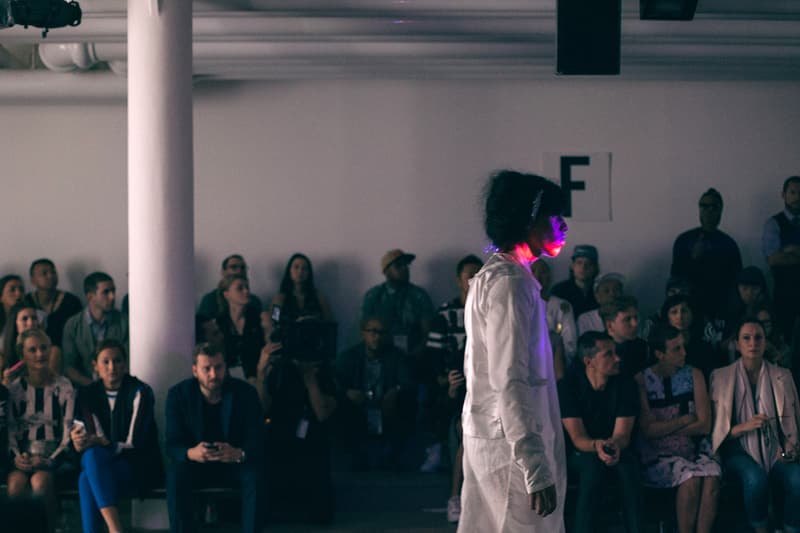 3 of 7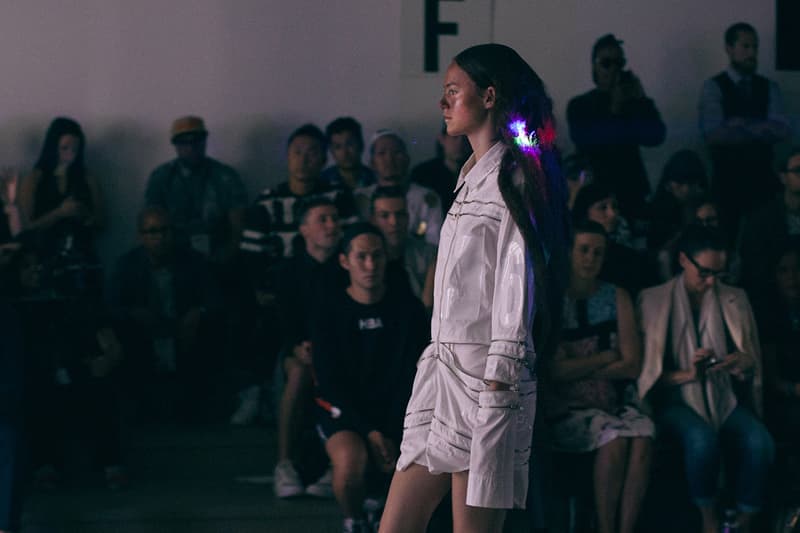 4 of 7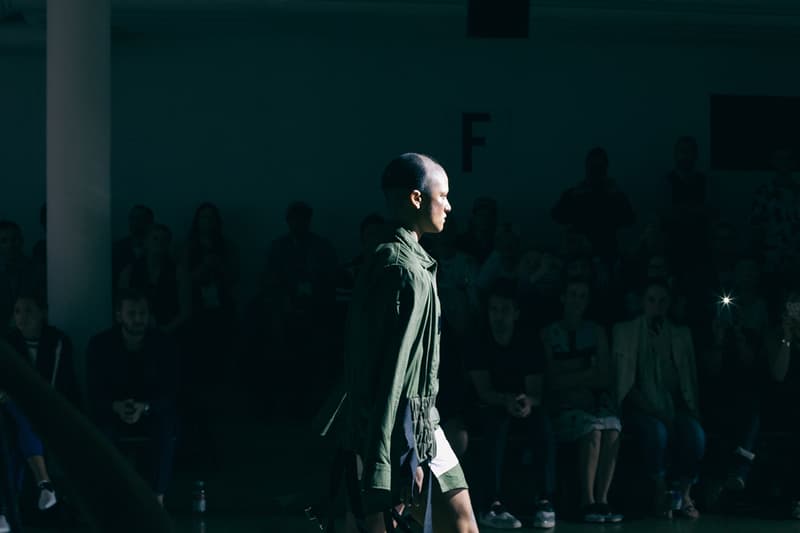 5 of 7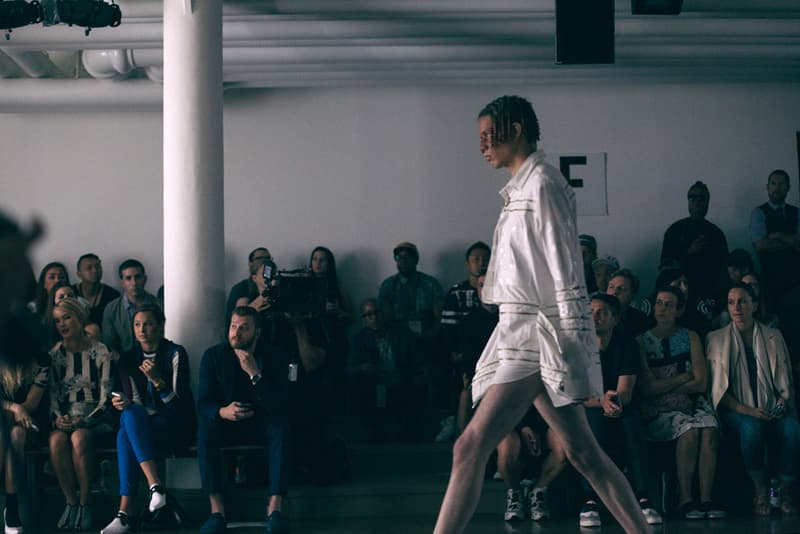 6 of 7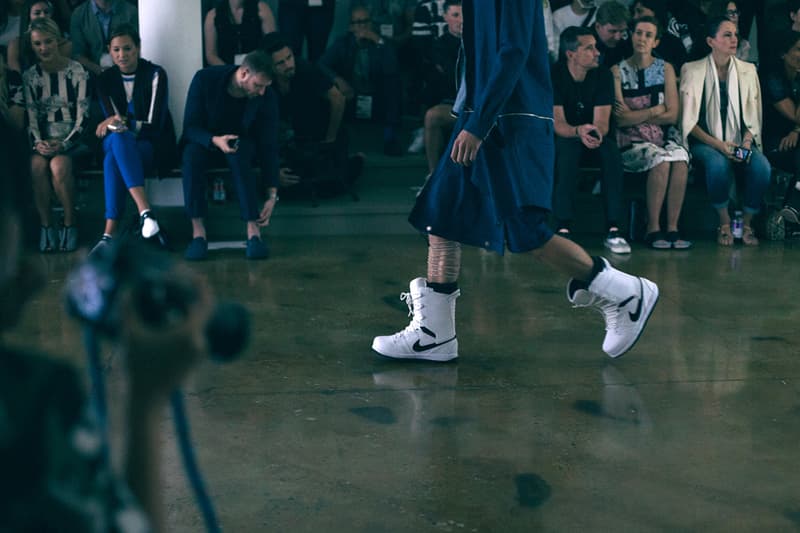 7 of 7
A disorienting soundtrack. A barrage of flashing lights and dark music. A leather-clad audience, notably including Kanye West. It was everything you might expect from Hood By Air's latest Fashion Week appearance, which only seem to grow in terms of spectacle with every year that passes. This year, Shayne Oliver decided to develop some of the themes seen throughout last year, staying true to the same motifs that have carried the brand from its inception.
The show set the precedent by darkening the lights, projecting a rainbow ring on the far wall of the runway. From there, a full range of apparel was shown, delivered in a color palette that combines red, sky blue, white, or a unique tie-dye blend. Zippers were a common motif within the collection, lending individual pieces the capacity to surpass itself, as well as a sense of continuity. Per its usual aesthetic, Hood By Air explored the juxtaposition of sportswear and contemporary grab, using racing stripes, team-style numbering and henley sleeves styles across draping silhouettes. Enjoy a full look at the Hood By Air Spring/Summer 2014 collection with Shayne Oliver's interview below.
So in a recent conversation in Vogue, you talked about the intersection of powerful yet flowing womenswear and menswear. Are new seasons from Hood By Air increasing influenced by these flowing silhouettes or do they channel a different kind of power?
I think the person embodies is both and there's a feeling of not being afraid of either/or. It has less to do with the sex of the person and more to do with the energy and balance of it, so continues with that same vein for this season.
Hood By Air is such a conceptual brand, but it always seems to come back to this almost neo-gothic aesthetic. How much of that is intentional and is that understanding how you would like the brand to be perceived?
I think's not it's not really based off of not gothic at all, but just more of an urban sensibility and maybe that comes off a little bit harsh or dark. Being from Brooklyn, it's embedded in me to have a dark outlook on things.
So what are some of the major focuses in this coming season?
It's sort of like America as a concept as opposed to as a reference and figuring how to move forward from the stereotypes that have been pushed upon us fashion-wise. It's building new standards for ourselves which hold true to our heritage but don't pigeonhole us.
Every virgin brand has hopes for the future, what in your opinion is your secret strategy to longevity?
It's creating your own market. No one can set up a business plan for you. You know your business more than anyone else, and I think it's a lot of trusting yourself more than anyone else.
Just continuing to take risks and..?
Yea. Even if you feel like you should like you shouldn't take a risk, it's more about understanding what you actually what out of it. So, instead of being like "oh, I have to accommodate this season and strategize in this way," it's more like "if this is in my way, then remove it." You don't have to adapt to anyone's rules in that way. It's not about being rebellious, but more about your point being the most important thing because people are buying into what you have to offer.
Who is your ideal consumer? Do you see yourself as taking specific inspirations from certain niches or trying to take a departure from contemporary fashion?
I tend to view the brand now on an international level. With the new way people engulf fashion and the new markets that are opening up, it's a totally global. I think that the niche is more of like a creative thing and less of a market thing now. I mean, anyone can buy something and no stores are hidden and secret anymore. So, I choose to take on a global attitude with respects to that.
Any specific markets?
No, not really. I'm still figuring out myself as well, just listening to my own voice. I think that's the only kind of market I understand.