10 Years Strong: A Reflection on the 10th Anniversary of Vans Vault
This year, Vans Vault celebrates its 10th anniversary as a timeless collection inspired by street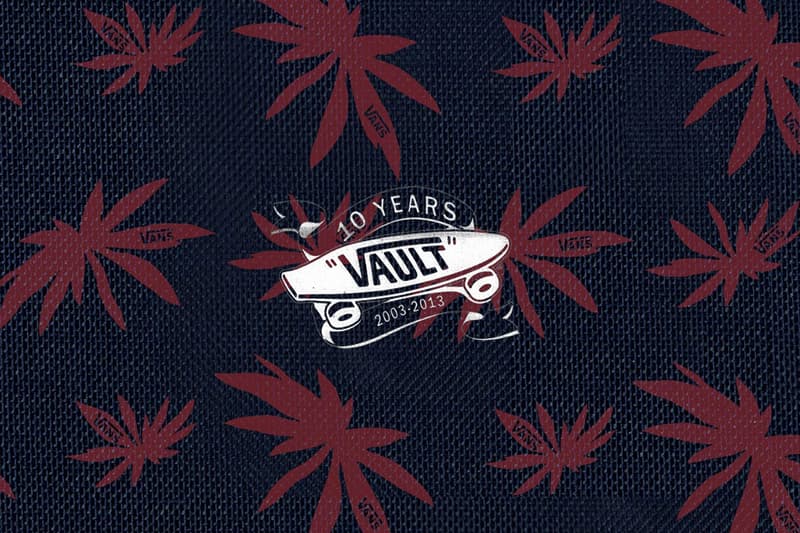 This year, Vans Vault celebrates its 10th anniversary as a timeless collection inspired by street fashion, art, music and Vans' forty-plus years of skateboarding heritage. A premium line based on Vans' archival designs, but updated with modern, skate-ready twists, Vault has has also managed to compile an impressive list of collaborations with designers, artists and labels — partners such as Disney, Diemme, Saint Alfred, Pendleton, WTAPS, Taka Hayashi, BLENDS and DQM among others that, in their own way, have influenced street culture as we know it. One of the greatest aspects of Vault has been its ability to traverse high and low, and provide a platform of discourse, education and creativity for both lesser known entities as well as the industry heavyweights. Vans Vault's agenda of respect and creativity has yielded some interesting highlights along the way from both the brand and material side, notably leading the way and setting the tone for a high-fashion penetration into sneakers dating back to the original Marc Jacobs project.
To commemorate Vans Vault's 10 years in existence, we're taking a look back with some of the line's most notable partners in crime — from TET of WTAPS to Bows and Arrows' Jerry Harris, and DQM's Chris Keeffe — for a series of reflections on the Vans brand, their favorite collaborations, and Vans Vault's impact on today's street and skateboarding scene.
---
1 of 7
TET (WTAPS)
How long have you been a fan of the Vans brand? I have been wearing them for over 20 years! How did you first become associated with Vans?
I was able to meet the Syndicate team through a friend of mine that lived in LA since he knew I was a WAFFLE LOVER.
With past WTAPS projects under the Vans Syndicate label, what was your approach to your first Vault by Vans capsule?
Syndicate up to now has been that way also but I feel the approach taken with this Vault collection is more natural and authentic. The looks are just like that from before with no awkwardness and the details are in the geek zone.
You're not onto your latest capsule with Vans Syndicate, what were your design inspirations for this assortment?
This time it is a collection including three models. The first are the Chukkas which are inspired by West Coast California shoes and are super simple. The second was inspired from the U.S. Navy N1 jacket with old school details. The third is a Slip-On – another one with old school details and old school carnival colors.
What has been your favorite Vault collaboration?
I was surprised by the Marc Jacobs collection. It was totally unexpected.
How do you think the perception of Vans has changed in Japan over the years?
I think that Vans has grown a lot in the mass market but has also managed to keep the core fans happy. It has been a very balanced growth.
What to you is a classic and how do Vans fit in this description?
Classic is something that never changes even though everything around it is. Something that keeps its standards.
What does Vans mean to you?
It is my footprint, my history. It's where I came from and it helps me not forget who I am.
What was your concept for your recent Vault line?
The Sk8-Hi was inspired by a U.S. Navy Deck Jacket, the Chukka is inspired by custom culture, and the Slip On is inspired by Californian BMX culture. I incorporated many small details that were inspired by the '80s in this collection. The Slip On is my favorite model. I particularly like the length of the upper and the changeable size of the sole. I added some details on an otaku level (geek) that not everyone will notice but I wanted to do.
2 of 7
Tak Kato, Blends (Los Angeles, Orange County & San Diego, CA)
How has the street fashion scene and/or sneaker world changed in the past 10 years?
The sneaker culture has changed dramatically in the past 10 years due to digital and social media. These forces have driven fashion and sneaker culture closer together and has blended them into a unique subculture where fashion-wise the sneaker has become the most important item in the look.
What is your favorite Vault project?
For us it's the OG pack. Vans has changed the mold of their classics over the years and it's great to see the shapes that I grew up wearing. I have a lot of deadstock "Made in USA" Vans and it's great to see them pay attention to the details. I also really like the Taka Project as it's always so consistent and strong and it adds a lot of fashion influence to the line each season.Where do you see Vans Vault in the next decade?
I would like to see the Vans Vault line to continue to grow while staying true to the heritage that makes Vans so great. It is exciting to think of the future and I am hopeful a whole new generation can be influenced by Vans vault the way my generation was influenced by Vans growing up.How does Vans fit in with the philosophy and style of Blends?
From the beginning Blends was about blending different cultures and trends. We always felt that fashion and sneaker culture could become more directly correlated to one another and for this reason our stores have always been a mix of fashion and sneaker culture. We believe Vans fits into this idea very well as many of the same things we wanted to blend are being melded together by Vans and more specifically, Vault's fashion-centric offerings.
3 of 7
Jerry Harris, Bows & Arrows (Berkeley, CA)
How would you define the changes in fashion and sneakers over the last 10 years?
The most obvious change that comes to mind is just the impact the internet has had. Anything is accessible to anyone; everyone can be "in the know" by spending a few days lurking out on some forum. Overall I think the broad customer access to information has increased the market for more thoughtful, quality product, design and story, both in the sneaker and fashion world. The increased demand pushes brands and manufacturers to be innovative, to work hard to develop a story people are interested in. The more knowledgeable consumers become the harder brands have to work to keep us on our toes. All that contributes to a really vibrant, eclectic market that I'm proud to be a part of. Every season I'm excited to see what my favorite major brands and my favorite up-and-coming indie brands/designers have up their sleeves.
The little guys that push boundaries, buttons, and make noise are always greatly appreciated and their contributions to the fashion and sneaker worlds are priceless. Vans Vault has opened so much for Vans as a brand. In my opinion it's given them a really solid outlet to show what they can do outside of the skate world, or at least what happens when outside design influences are combined with the foundation of a strongly rooted skate brand.
What is your favorite Vault project?
The Vault Diemme lineup has been so well-executed. Seeing two of my favorite Vans silhouettes complimented with top of the line leathers and Italian construction was pretty exciting. The risk the crew over at Vault took introducing a product at that price point was well worth the payoff of seeing what happens when Vans designers aren't prohibited or held back by pricing concern.
Where do you see Vans Vault in the next decade?
I don't know man, 10 years is forever in this world. I guess some sort of disposable shoe I can print from my 3D printer when I'm in a pinch and my slip-ons are too grimy to wear to dinner?
Do local influences dictate the product that you carry?
I try to focus more on outside influences than local. I like trying to bring something new to the table, and looking outside of what's currently popular in our area is sort of a key element to that. Of course I can't deny the impact the Bay Area, Oakland and Berkeley particularly, have on my own personal sense of style, and I'm sure that inadvertently affects my choices and what I'm drawn to. Vault's an opportunity for Vans to do things they normally wouldn't do, look outside of what's mass-marketable, and take risks, which is exactly what we want to provide our customers from every vendor we carry.
4 of 7
Chris Kam, KICKS/HI (Hawaii/Guam)
How would you define the changes in fashion and sneakers over the last 10 years?
Fashion trends are cyclical. Music and art heavily influence fashion and vice versa. I feel like Vans Vault is rooted in music and art and therefore has been able to influence and stay ahead of the trends, and Vans, itself being a part of youth culture since the '60s, only adds to its mystique.
What is your favorite Vault project?
That's like asking me what my favorite hip-hop track from the '90s is! Impossible! I can list you some of my favorites that Vault has done (to name a few): Disney collection, Taka Hayashi x Pendleton 2010, Billy Kirk and Brooks.
What has been your favorite Vault collaboration?
It's been a real honor to have a hand in the design concept of pretty much every shoe KICKS/HI has done with Vault – either directly associated with the shop or with our trifecta collaborative effort with HUF & DQM called "3 Feet High." Thus, every single shoe we have produced has a very special meaning to me: from our 3 Feet High Chukka LX to our 3 Feet High Half Cab (dream come true – next to designing a board graphic) to our "Paniolo" Authentic LX, and most recently our "Mauka/Makai" Era LX & Chukka LX we created with Sig Zane.
Where do you see Vans Vault in the next decade?
I would like to see Vault build more with its select retailers by utilizing each shop's position globally to their advantage, which could be something like a Vault shoe for each shop in a small size run that only other Vault accounts could order from… a true limited edition network.
Do local influences dictate the product that you carry?
Being on an island, Hawaii and Guam, dictates our shops in general because island lifestyle is unique from any other type of environment. Being in a tropical climate pretty much 24/7/365 makes for not much need for dressing for seasons. This almost year-round summer calls for lots of shorts and shoes (like Eras with no socks).
5 of 7
Chris Keeffe, The Vans DQM General (New York, NY)
How would you define the changes in fashion and sneakers over the last 10 years?
It has changed a lot. On the surface, fashion is fashion, things come and go: trends, how tight your pants are and what you wear on your feet are obviously cyclical. When it comes to Vans, the word 'transcend' comes to mind, because they've been the best at what they do for such a long time now that the brand not only transcends fashion trends, but it's begun to transcend whole generations.
What Vans Vault has done is really push the boundaries of not only what classic Vans are, but what skate and sneakers mean to people – it has expanded the aesthetic environment of Vans, and sneakers in general, and in doing so has allowed us punk skater kids to grow up.
What has been your favorite Vault collaboration?
A recent ones that come to mind is the Filson collab. Being a fan of Filson clothing and their attention to quality and detail, I really appreciated how their fabrics and aesthetic just seamlessly melded so well together with Vault.
What has Vault meant to your store and those who shop there?
Vault has meant a great deal to both DQM and now The General stores because it sets a standard, from quality of materials and construction to how it is presented and the story that it tells. Vault is also a very special product and it's been something that our fashion or design-conscious customer really appreciates being available. I think Vault also gives a point of difference, not only to other Vans shoes but to other footwear brands we carry, because it introduces our customers quite directly to some of the companies that manufacture the materials that are used for shoes, for example, Filson, Knoll and Horween which have been used in collaboration.
Do local influences dictate the product that you carry?
New York is a fashion-centric city, and local trends do inform (but I wouldn't say dictate) the Vault styles that I buy. Having said that, I do feel lucky as a buyer in New York, because New Yorkers will take some pretty big risks – my customers will be down to rock the more interesting or fashion-forward styles that maybe some people in other cities wouldn't, which is always cool to see.
6 of 7
Matt Halfhill, Nice Kicks (Austin, TX)
How would you define the changes in fashion and sneakers over the last 10 years?
Both scenes have evolved significantly with the internet and social media. We have greater access to information and we're also exposed to a wider range of influences from many different people, places, cultures and contexts. As a result, street fashion is somewhat more universal and not limited by regional constraints. There are three things I look for as a consumer, personally: quality, comfort and versatility. Vans Vault brings the finest quality in materials and construction month after month without fail.
What is your favorite Vault project?
My favorite Vault project without question is the Diemme x Vans Vault collection. This project brought Italian leather and construction to a genuine Vans Vault shoe. No shots, but the luxury brands have gotten away with knocking off Vans for WAAAY too long.
What has been your favorite Vault collaboration?
I am a biased as "The Duel" collection is my favorite Vault collaboration from the concept to the execution. It was great to draw inspiration from my childhood experiences and I thought both the Era and Sk8-Hi turned out great.
Where do you see Vans Vault in the next decade?
Whether in-house or with an outside collaborator, I would like to see Vault continue to push the design envelope. The Taka Hayashi collections are an excellent example of Vault designs that rigorously test the limits. It could be a total revamp or a subtle material change, but he takes classic silhouettes and converts them into great modern interpretations.
Do local influences dictate the product that you carry?
The biggest "local" influence is probably the weather. It's super hot during the summer and mild during the fall and winter, so we usually carry styles that are suitable for the climate. For instance, we don't really carry too many boot-inspired models because many of our customers are used to wearing traditional sneakers silhouettes year-round.
How does Vans fit in with the philosophy and style of Nice Kicks?
Vans is a household name in sneakers, so it's definitely important for us to incorporate it into our product offering. Especially being in a city like Austin, which has a big live music scene and many creative individuals, Vans caters to many of our customers who don't necessarily need a shoe that is big on athletic performance, but comfort and style.
7 of 7
Joerg Haas & André Storvoll, FIRMAMENT (Berlin, Germany)
How would you define the changes in fashion and sneakers over the last 10 years?
Joerg: During the past 10 years we've seen one full cycle in the street fashion and sneaker scene. From a very strong street era in the early 2000s (A Bathing Ape, Maharishi, Project Dragon, Stüssy, etc.) to the more preppy look towards the end of the decade (think "Ivy") back to 'street' again with graphic T-shirts, sweatshirts, caps & sneakers. The designs by Taka Hayashi, Vault definitely had an influence in regards to the 'crafted' concept that has been very popular during recent years.
André:
The most noticeable changes in the street fashion are probably its influences to other fashion genres, adding typical "street" elements to everything from traditional or classic fashion to sportswear and high fashion. A natural reason is probably the loyalty to the brands and styles growing up as a kid. So if the typical street fashion might mostly be worn by younger people in the past, you will now see the same people mixing these clothes and sneakers with other styles as they grow older. The Vault models has definitely extended the possibilities of combining styles in general.
What has been your favorite Vault collaboration?
Joerg:
The Cobra Snake x colette x Vans Vault Era and the new WTAPS Chukka Boots.
André:
The new WTAPS x Vans Vault collaboration.
Where do you see Vans Vault in the next decade?
Joerg: Discovering new talents to develop new and exciting projects with and also digging into the archive and bringing back some of the gems from the past, whether it'd be styles but also patterns and prints.
André: The classic silhouettes are still the most requested models, so I would also like to see these in new color and fabric combinations.
How does Vans fit in with the philosophy of FIRMAMENT?
Joerg: For us, Vans Vault bridges the gap between a 800 EUR pair of moccasins and a 80 EUR pair of sneakers. You get great quality, interesting design concepts from a well-established brand that has a great history at a reasonable price. We do like having 'extremes' at the shop as for us the relevance of a product always plays the most important role. If we find something that offers the best of both worlds it's great.