The Talks: Raf Simons
Raf Simons' name may perpetually be on the tip of fashion's tongue, but the designer will humbly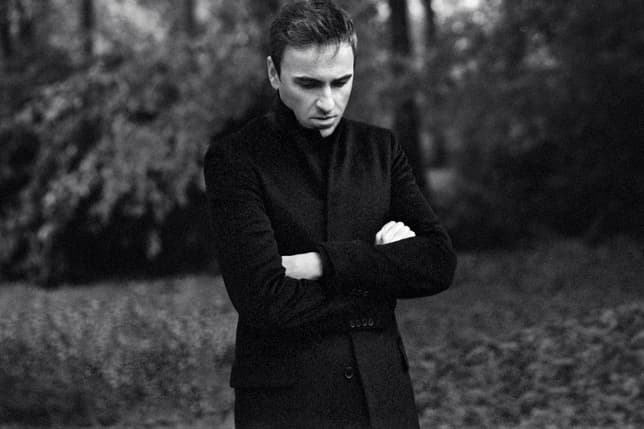 Raf Simons' name may perpetually be on the tip of fashion's tongue, but the designer will humbly admit that he didn't know much about the fashion world early on. Growing up in a small Belgian town, Christian Dior's presiding creative director had little exposure to runways and presentations, finding his path organically as he went through school. These and more topics are candidly explored in a new interview with The Talks, which sat Simons down to talk about his beginnings, being disinterested in stardom, and the influence of the arts in his work. Choice excerpts can be found below, while the full interview can (and really should) be read on The Talks' website.
Mr. Simons, would you consider yourself someone that lives and breathes fashion?

How can I put this without being too critical? I don't have so many things in the fashion world that interest me. It's probably because I am so deeply into it. Often when you go very deep into something, you also discover what it's about and you understand it better. With the art world I still have a lot of curiosity. There are a lot of things that I feel attracted to and I don't necessarily understand them and that's what fascinates me. In the fashion world I know a lot of the brands and the designers and you start to be more critical and you start to have a very specific point of view.

But isn't fashion such a significant part of your life?

The fashion thing is something I do, and yes it is definitely also becoming a part of myself and my personality. It also doesn't really feel like a job either: it's a dream or a passion or something. I think there are things that I relate to more than fashion though, personal, private things. Like my environment, my family, my friends, you know.

I've read that the first fashion show you ever went to was Maison Martin Margiela. You said it was so beautiful that half the audience cried and it had a huge influence on you. Why?

Because that was the day that I understood that fashion could also be conceptual and intellectual, that it could be linked to a certain kind of social, psychological thing. That Martin Margiela show was in a really trashy area in Paris and it wasn't in a building, it was in a playground from a black neighborhood. The parents had agreed to do the show for the Margiela company only if their children could come and see it. Everybody was expecting the children to just stay on the side and sit with the audience, but they didn't.