032c Takes an Inside Look at Nike HTM
Since its inception in 2002, Nike's unique "HTM" division – a three-headed monster helmed by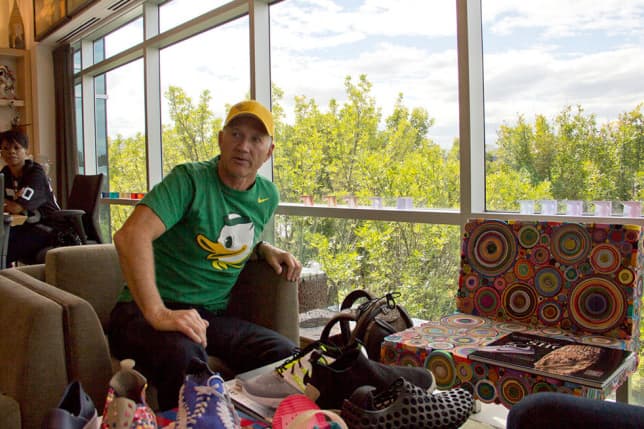 1 of 2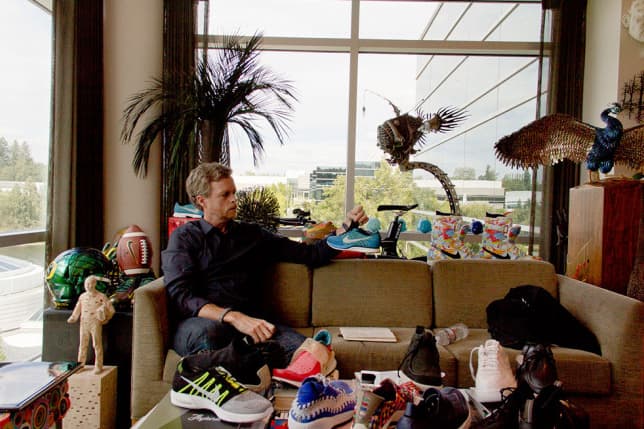 2 of 2
Since its inception in 2002, Nike's unique "HTM" division – a three-headed monster helmed by streetwear godfather Hiroshi Fujiwara, design icon Tinker Hatfield and Nike CEO Mark Parker – has been responsible for some of the most unique footwear releases on the market, whether it be special editions of the Air Woven, Footscape, Air Force 1 and Flyknit Trainer, or more experimental designs like the Macropus LC and SolarSoft Sandal. Recently, Jonathan Olivares and Gary Warnett had the opportunity to take an inside look at the unique collaboration for 032c Magazine. Focusing on what is essentially Nike's core R&D team, the piece showcases its methods, designs, impact and distinctive – and unparalleled – place atop the pinnacle of a multinational sportswear giant that preaches innovation. While an excerpt appears below, the piece can be read in-depth over at The Business of Fashion and appears in its entirety in the Rihanna-covered Winter 2013 Issue #25 of 032c.
How does Nike avoid being the victim of its own success? The answer is HTM, a three-person design collaboration between chief executive Mark Parker, designer Tinker Hatfield, and cultural consultant Hiroshi Fujiwara.

Nike Inc. is a multinational corporation based in Beaverton, Oregon, that employs more than 44,000 individuals in more than 160 countries. Newsweek once said Nike had incited a "new religion of brand consciousness," while The Los Angeles Times claimed that the company was "so much part of everyday culture in so many countries it's frightening." Since Mark Parker became CEO in 2006, Nike's annual revenue is up 60 percent, profits have increased 57 percent, and its market cap has more than doubled. Yet Parker is anything but complacent: "One of my fears is being this big, slow, constipated, bureaucratic company that's happy with its success," he explained.

So how does Nike avoid this, and continue to scale its extreme relevance? The answer is HTM, a three-person design collaboration between designer Tinker Hatfield, creative consultant Hiroshi Fujiwara, and Parker himself, that functions as Nike's core R&D team. HTM takes its initials from the first names of its members, and was formed in 2002 under the broad mission "to amplify new innovations, reinterpret existing designs, and explore concepts that take the brand to new places." To date the trio has launched 17 widely varied limited-edition shoes. HTM is an unusual collaboration: it resides within a $26-billion dollar company yet it operates without deadlines or budget constraints and is guided solely by the interests of its three members.

Parker describes HTM as the company's enema, and he believes it has the potential to change everything. On a pristine day in late August I had traveled to Nike's headquarters to discuss this unique collaboration, its methods, designs, and impact on the company and footwear design.