The Reigning Champs: Doug Barber and Kenta Goto of Reigning Champ Talk About a Canadian Staple
Developing original fabrics and handcrafting durable, high quality garments; this is what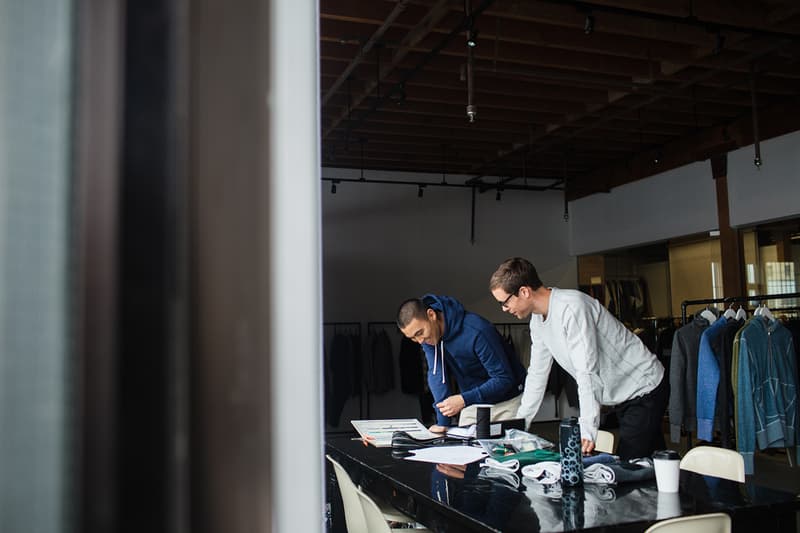 1 of 7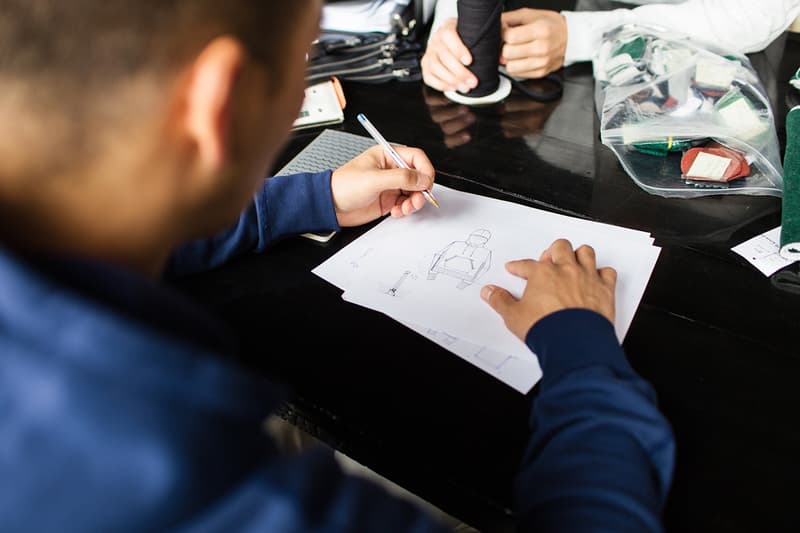 2 of 7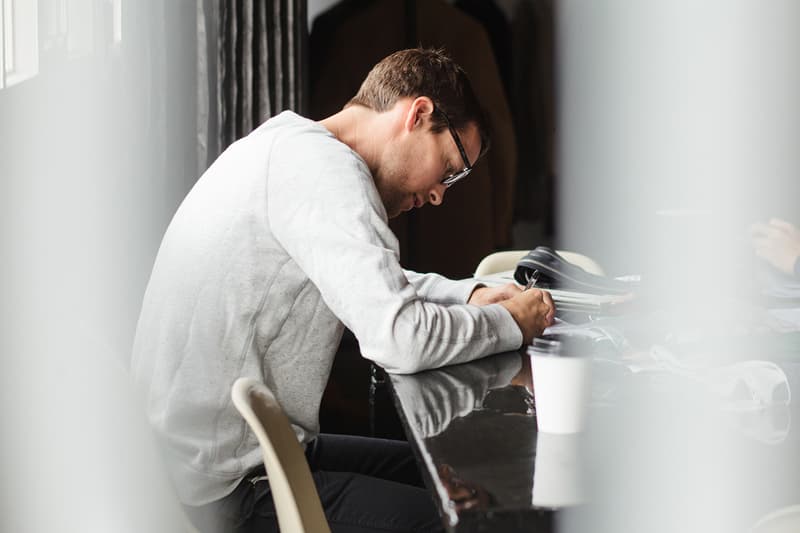 3 of 7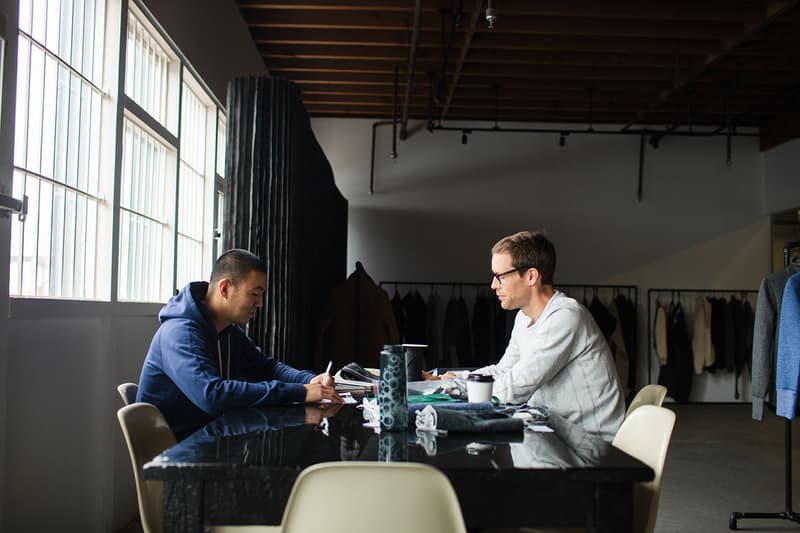 4 of 7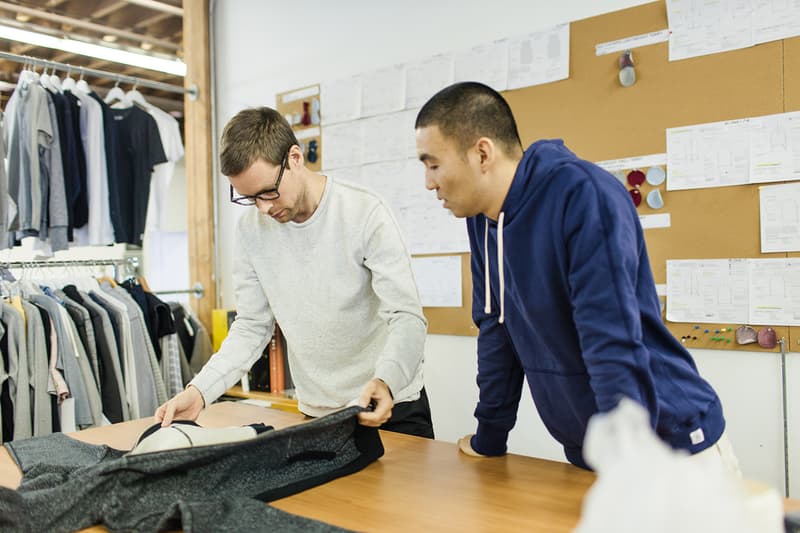 5 of 7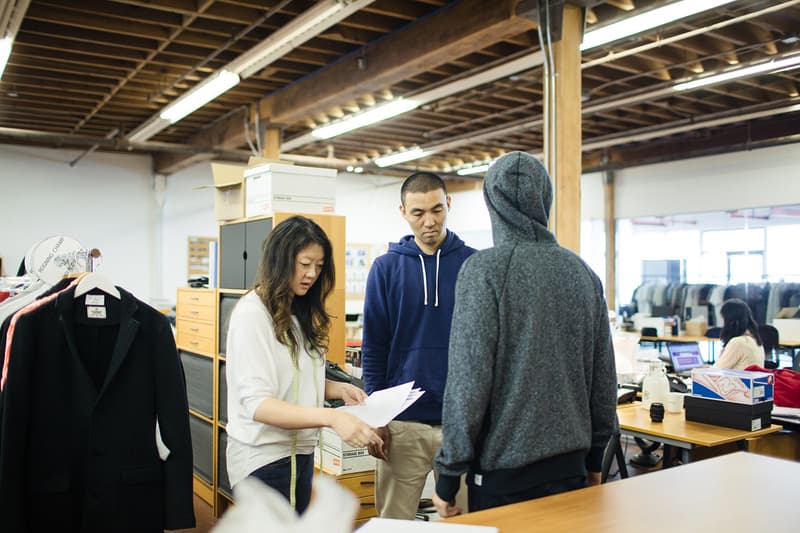 6 of 7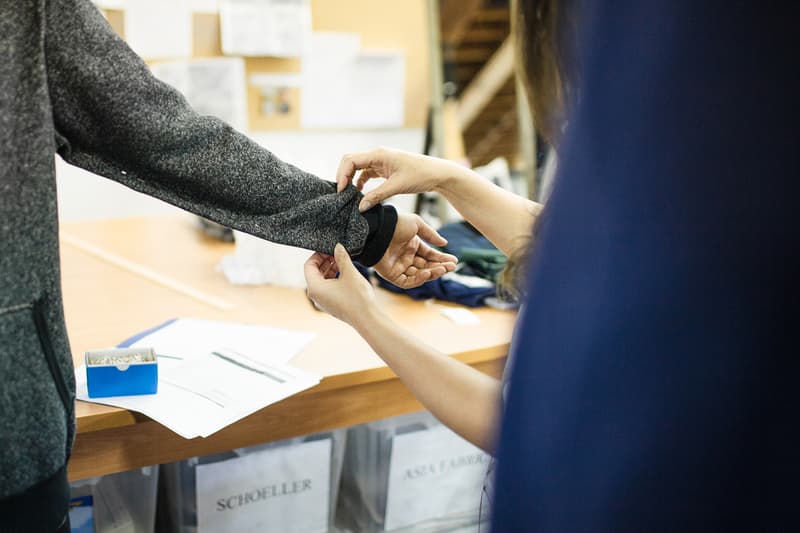 7 of 7
Developing original fabrics and handcrafting durable, high quality garments; this is what Vancouver-based Reigning Champ is all about. This clear, simple and unequivocal approach to their product offering has propelled them to the forefront of successful Canadian labels. Proud of their British Columbian roots, the apparel maker's design and manufacturing process takes place locally and the local community proves to be a great source of inspiration for the Reigning Champ design team. Doug Barber and Kenta Goto of Reigning Champ were kind enough to sit down and talk about the evolution of the brand, which can be found in the interview below.
---
Reigning Champ Basics
Can you introduce yourself and your respective roles?
Kenta: My name is Kenta Goto and I'm the lead designer at Reigning Champ.
Doug: And I'm Doug Barber, the director of sales and marketing at Reigning Champ.
How does your relationship work?
K: I initiate the process of conceptualizing to designing the product line. Then I overlook the development and sampling. When we have an actual product in hand, Doug takes over and manages the sales and marketing aspect.
What is fundamental to having a productive relationship when it comes to creating fashion?
D: Understanding and respecting each other's role is important. Clear communication is also something we try to focus on.
Where does Reigning Champ sit on the fashion spectrum? Is the design process difficult at CYC, with respect to being in close proximity to the wings+horns' design team?
K: Reigning Champ straddles the line between fashionable and practical clothing, which I refer to as progressive and classic sportswear. We try not to consider fashion trends and focus on designing timeless clothing for the most part. Then we will inject seasonal colors and patterns to keep things fresh. wings+horns is clearly more fashion-driven and focuses on building collections, while Reigning Champ is product-oriented and focuses more on consistency and reliability. We work in the same space as wings+horns but we have separate design, development, and marketing and sales teams. I share or bounce around ideas with wings+horns designer Davidson Manaloto at times to get a different perspective.
Are the lines between Reigning Champ and wings+horns clear cut and drawn out? Or is there some permissible overlap? Is this overlap good or bad?
K: We try to draw a clear line between Reigning Champ and wings+horns, with regard to brand and design direction. But we are like-minded and do share similar ideals so this does result in some permissive overlaps. We work as two completely different brands and if there are some overlaps it's usually in our construction details. This is a result of both brands utilizing the best techniques to yield the best results.
"Reigning Champ straddles the line between fashionable and practical clothing, which I refer to as progressive and classic sportswear."
Kenta Goto explains where Reigning Champ sits on the fashion spectrum
---
Local Manufacturing and Innovative Fabrics
More and more companies are turning to domestic manufacturing because it makes more sense from a cost and marketing standpoint. How does this approach benefit Reigning Champ and the local community around you?
D: Domestic manufacturing has been part of our DNA since the beginning. Our product is heavily influenced by the Vancouver area and lifestyle so it makes sense for us to manufacture locally and support the community we draw inspiration from.
What are the benefits of having your own factory in the same local area?
K: Having our own factory allows us to overlook development, testing of fabrics, sampling and production. Any one of our development team or anyone in our design office can walk over to the factory and check on progress. We are able to cut out a lot of back and forth in the development stage and we don't have to hire additional QC personnel. We are also able to make changes to designs on the fly.
Technically speaking, what differentiates fleece from Reigning Champ vs. the average fashion offering?
K: CYC Design Corp. has over 15 years of experience in working with fleece, terry and other knits. For years, we have worked with domestic and overseas mills in developing new knits. Some of our signature fabrics were created with a specific look, hand or combination of yarns in mind. Although, luck has also played a hand in the creation of some of these fabrics. The Midweight Twill for example was developed to have a very soft hand on the face. The back terry loops have doubled up yarns and line up in a nice diagonal twill pattern. The Tiger Fleece, on the other hand, is a byproduct of another fabric that we were working with in the past. Interestingly, we loved the result from the Tiger Fleece and have stuck with it. Our Signature Heavyweight has a unique dry hand and is woven tightly. As a result, the fabric has little to no stretch. Many companies have attempted to duplicate our Heavyweight fabric, however they have not achieved this.
Reigning Champ appears to be focusing more on the technical side of fabrics, which reflects a shift to a performance lifestyle-driven market. In your opinion, is this simply a trend or an actual shift in what fashion and clothing can achieve?
D: Innovative fabrics are being used more than ever in our industry. We've been exploring fabrics that compliment our core fleece and we're excited to further explore the combination of fleece and new fabrics.
"Our product is heavily influenced by the Vancouver area and lifestyle so it makes sense for us to manufacture locally and support the community we draw inspiration from."
Doug Barber on the decision to have local factories
---
Canadian Fashion
With Vancouver as your backyard and with an ocean and mountains in close proximity, how does this influence your lifestyle and source for inspiration?
D: We spend the majority of our time outdoors. The Vancouver area and lifestyle play a substantial role in both the design direction and identity of Reigning Champ. You'll see outdoor-inspired design elements and fabrics frequently worked into our product.
How would you describe both British Columbian and Canadian fashion? Do you think that this region can provide emerging brands on a global scale? 
D: There are some great Canadian brands on the market today. Each has a commitment to innovation and outstanding craftsmanship. Canadian brands that are leading the way have all created an exceptional product with global appeal. We're certain that these brands will continue to push the limits in innovation and design.
"Canadian brands that are leading the way have all created an exceptional product with global appeal."
Doug Barber speaks about emerging Canadian brands