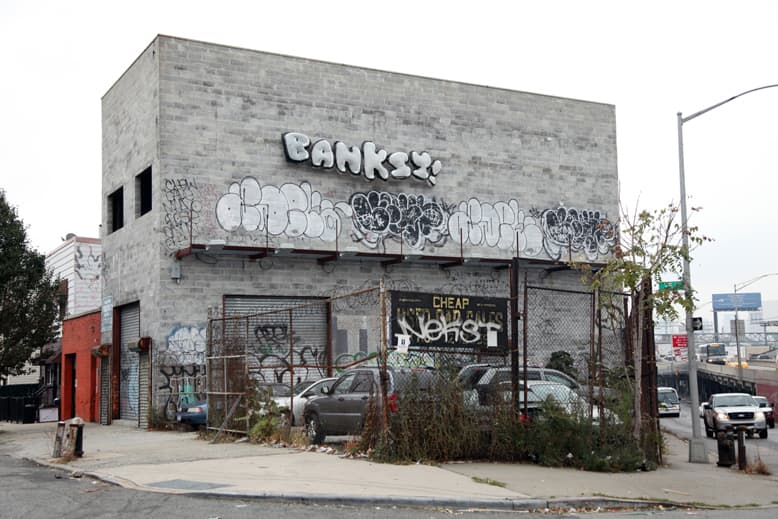 1 of 2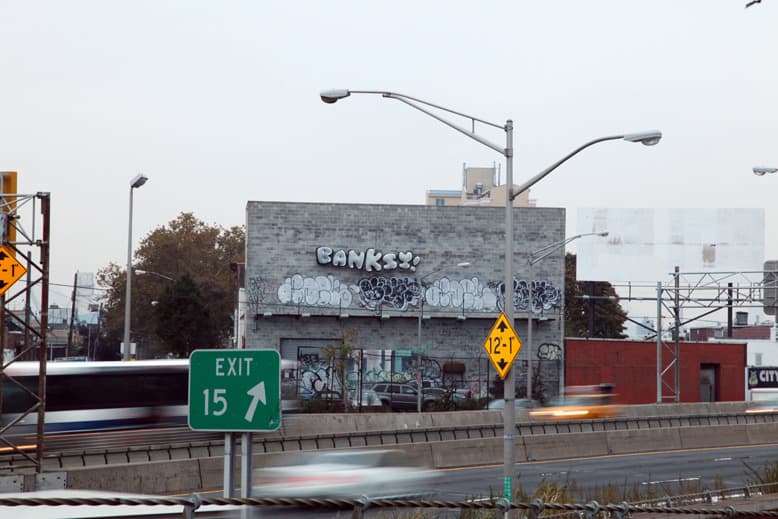 2 of 2
Banksy's "Better Out Than In" Comes to an End on the Long Island Expressway
After featuring the likes of the artist's prototypical stencils, street-set sculptures, truck bed
---
After featuring the likes of the artist's prototypical stencils, street-set sculptures, truck bed installations and witty wordplay, and tackling subjects like the American military, September 11 and even McDonald's, Banksy's "Better Out Than In" comes to an end today with a simplistic finale: an inflatable tag overlooking the Long Island Expressway in Queens. Used sporadically throughout the month-long "street residency," the artist created one final gallery-like audio guide to accompany the work, stating in part:
Well, this is the last day of the show, and I'd like to say we're going out on a high note. And I guess, in a way, we are. This is a sideways take on the ubiquitous spray painted bubble lettering that actually floats. It's an homage of sorts to the most prevalent form of graffiti in the city that invented it for the modern era… or it's another Banksy piece that's full of hot air.
As the guide continues, Banksy goes on to reflect on the past 31 days and the point of the exhibition, reiterating the premise that informed the works in the first place: a quote from French Post-Impressionist painter Paul Cézanne stating that "all pictures painted inside, in the studio, will never be as good as those done outside." Finally, as a fitting conclusion, the elusive Brit offered fans the "official Banksy New York residency souvenir T-shirt": a .jpeg of his take on Milton Glaser's ever-present "I Love NY" graphic – inspired by his own The Healing Balloon – that can be taken to a copy store and emblazoned across the tee of one's choosing. Be sure to head on over to Banksy's site to check out the design and listen to the audio guide in its entirety and feel free to leave your thoughts on the month-long street exhibition below.