A Conversation with Aaron De La Cruz
Following up on our Essentials post earlier this month, we delve into what makes the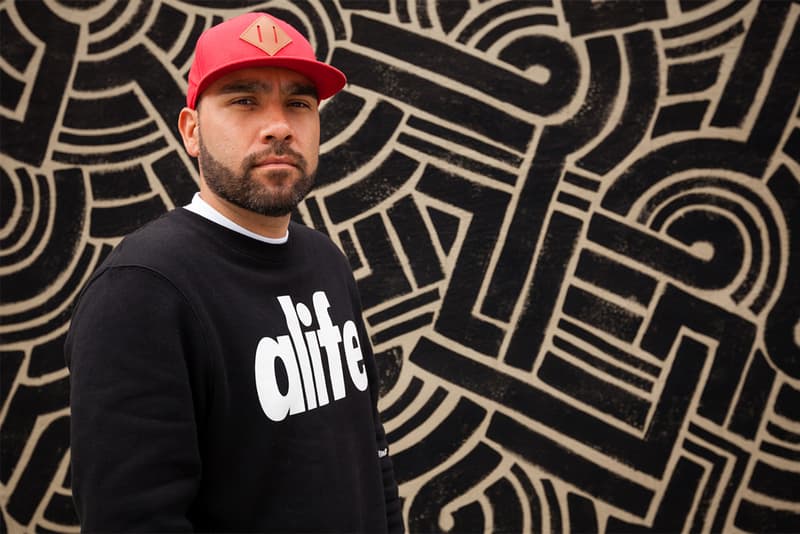 Following up on our Essentials post earlier this month, we delve into what makes the artist, Aaron De La Cruz who he is. We touch upon his love for tequila, his inspirations in life, how he plans to branch out with his work and why he loves the "best little city in the U.S.A" he calls home. Having garnered much fame with his signature motif, these patterns can now be seen skillfully spread on every type of surface; a myriad of exhibition spaces, skate decks, cars, street, shop and house walls (some of which his murals stretch in its entirety creating a formidable impression). Humble yet determined to always progress, Aaron's aptitude and skill may bring him fame, but as we learn in this edition of A Conversation With, it's the reward of family and friends that count the most.
My style… is pretty much a visual representation of what goes on in my head. I feel like I'm always thinking of a thousand different things at a time and changing and rearranging things even in my own home. At first I tried to say it was only my artwork that was meticulous, but reflecting back on what people say about the way I live my life, I think it's just how I deal with everything. One person said to me once, "watching you do your work is like seeing design happen in the moment," and that seems to be fitting for some of the work I do.
I enjoy… friends and family. I have to say that one thing about being able to balance my time for both is hard, but when done right, it's amazing. I never thought that when I was living back in Fresno I would be traveling the world with my art… but actually doing it is amazing. Being able to have friends visit from foreign lands and having them stay at my home is a great feeling too.
Cazadores tequila… is to be handled responsibly (laughing really hard right now). Thanks to Eugene (Kan), people know I drink this, so at my shows people show up with bottles in hand. The first person to give me a bottle was a friend named Sifry in Los Angeles; leave it to another Mexican to share the love of great tequila. At the age of 18 I learned after sharing a bottle with my best friend, then getting into a fight with him, then waking up the next day not knowing what happened, that this stuff is no joke. A few years later my uncle showed me how to master drinking a full cup of tequila without making an ass out of myself. Since then I have been able to hold my own, so now it's usually all I drink, whenever I do. I need to figure out a way to create a custom bottle for them with all this promo talk.
Branching out… is a must in whatever I do, from the people I hang out with, to the foods I eat and the work I create. I still find myself trapped in my comfort zones from time to time (mostly with the music I listen to) but when I need to change the pace of life or shake things up, I usually do something someone else has planned and just tag along for the ride. When it comes to branching out with my work, the toughest part is making sure that there is substance and personal meaning in the body of work I'm creating. When I do my designs on found objects in a public setting the branching out part for me is being able to choose a location that I find visually interesting or challenging.
I'm inspired by… people who don't give up and just make shit for whatever reason. Even if whatever they are making isn't being seen by anyone, to be able to create and say "I made that, and I am the only person on this planet who made that" is a great feeling. My biggest inspirations in life are people who are able to create with the least amount of means. I'm a very optimistic person, so people who dream big are people I gravitate towards.
My progression… has gotten me where I am today. I try my hardest to never sit down while I work and feel that as long as I keep moving it will cause something else to happen. I don't like to look at my own work in print or online but when I do, I see how much my work has changed and that is when I see the progress I have made visually. I never thought that I would be using my designs to create jewelry, but thats the fun part of watching my work progress. "Progress makes perfect, right?"
When I was a kid… I did everything that I hope my kids will never EVER find out about. I honestly feel that the reason why I create such clean work and change my surroundings all the time is because I'm trying to clean up all the messes I have made along the way. Just to give an example, when I was around five years old I was knocking on peoples doors and when they would answer, I would be standing there with my hand on my crotch saying "want some dinner?" You can thank my older brother for that one.
Before I go painting… I grab the brushes I will be using, mix my ink and I find the right song to listen to. I sometimes ask myself why I am even doing it in the first place or think of a messed up situation I once put myself in and then I just go.
Fresno… "Is the best little city in the U.S.A" or so they say. Fres'nalgas as I like to call it is my hometown and those that know me well, know that I always talk about it as if I just moved from there last week. I'm not sure what it is exactly, but Fresno will always have a place in my heart. I am now seeing the connections to references in my work and things that influence what I do. I miss the oranges from my grandma's tree in her back yard, cruising Kings Canyon and Blackstone on the weekends, car shows, BBQs in the park and cheap Mexican food.
Grey Burgers… Is my home away from home when it comes to getting food by my studio. Back when HYPEBEAST used to share a studio space with me, there was a place that I recommended Luis (Ruano) to go and eat at because I liked the food there, especially the lunch special that was served all day (a burger, fries and soda for $5), which was awesome. To make a long story short, Luis will never go back and now it's nick named Grey Burgers. I chose not to give the name of the business because I don't want the business to think I'm putting them down, and I don't want it to be the next hipster spot in my neighborhood either.
Photography: Brandon Shigeta/HYPEBEAST