Mick Boogie x HYPETRAK - Represent The Stripes | Mixtape
As the 2012 Summer Olympic Games are set to get underway in London later this week, HYPETRAK has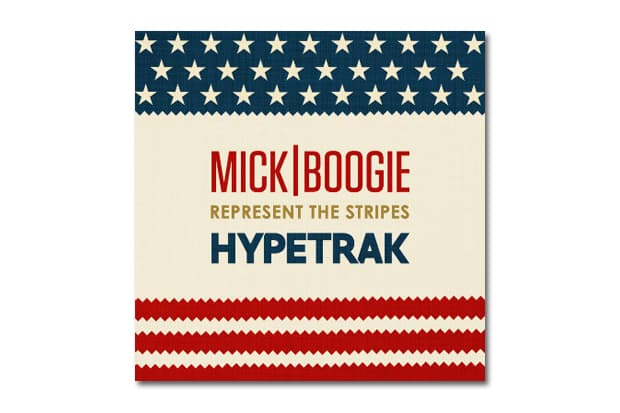 As the 2012 Summer Olympic Games are set to get underway in London later this week, HYPETRAK has linked up with Mick Boogie to create an 18-track mixtape dubbed Represent The Stripes. Inspired by adidas Originals and dedicated to the U.S. Olympic squad, the hip-hop-heavy tape includes tracks from the likes of Action Bronson, King Louie, Rilgood and Slum Village alongside Chip Tha Ripper, New York Knicks shooting guard Iman Shumpert and many more.
What do YOU represent? Mick Boogie was so impressed with the upcoming adidas #represent campaign that he decided to make a mixtape paying homage to it: "Represent The Stripes." And he brought along his good friends at HYPETRAK to make it even better! The project ties in the ideals of the adidas campaign with the patriotism of the Olympics going on next month… hence the double entendre of "Represent The Stripes." More of an exclusive, awesome compilation than a mixtape, this project features a who's who of dope new rappers and some legends as well! Check it out NOW exclusively at HYPETRAK.
Listen below and download here.
Mick Boogie x HYPETRAK – Represent The Stripes (Track List)

1) OnCue: Represent (produced by Chi Duly)
2) Rapper Big Pooh: Where I Am (produced by Mell and D)
3) Action Bronson: Midget Cough (produced by Party Supplies)
4) Mike Jaggerr & STS: Jokes (produced by Andres Lozano and Mike Jaggerr)
5) Kids These Days: I Don't Know (produced by Kids These Days)
6) King Louie: Sneak Disser
7) Kirk Knight & Pro Era: Dreams (produced by Block)
8) IAMSU! & Jay Ant: Broccoli With The Cheese (produced by Jay Ant)
9) Troy Ave: I Know Why You Mad (produced by DJ Uneek)
10) Rilgood: NY Times (produced by RC Bankwell)
11) Slum Village: Whatchu' Want (produced by Focus…)
12) Chip Tha Ripper: Keep It So Real (produced by Cardo)
13) Vince Staples & Michael Uzowuru: Lord (produced by Michael Uzowuru)
14) Boldy James: One Of One (produced by Blended Babies)
15) Thurz featuring Rocki Evans & Rich Kidd: Keep The Faith (produced by Junia-T & Rich Kidd)
16) Fly Union: Come Up (produced by Fly Union)
17) SUBMiT: Turbulence (produced by SUBMiT)
18) Iman Shumpert: My Adidas