Event Recap: Rick Ross, The-Dream & Zola Jesus perform at FADER & vitaminwater's 'Uncapped' Los Angeles
Free magazines, cold drinks and very, very loud music were in abundance in Hollywood last Thursday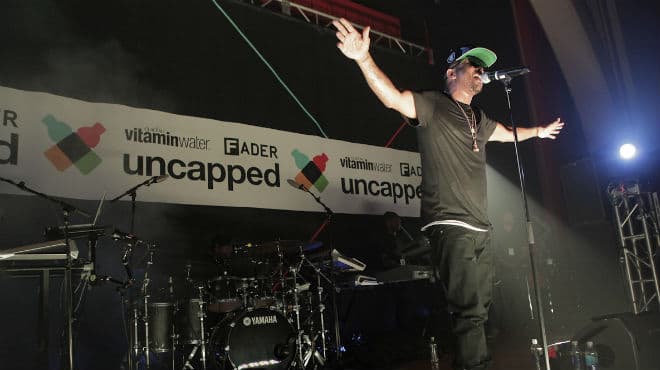 1 of 3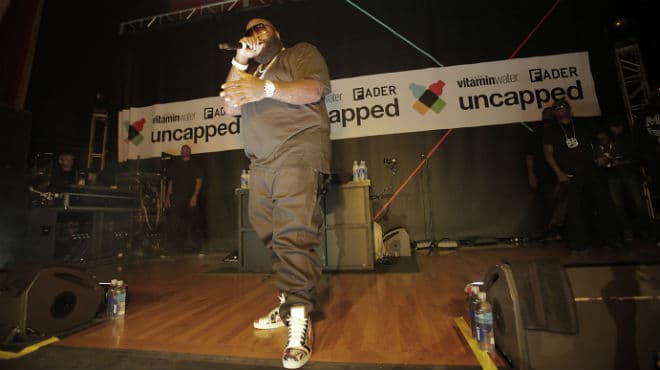 2 of 3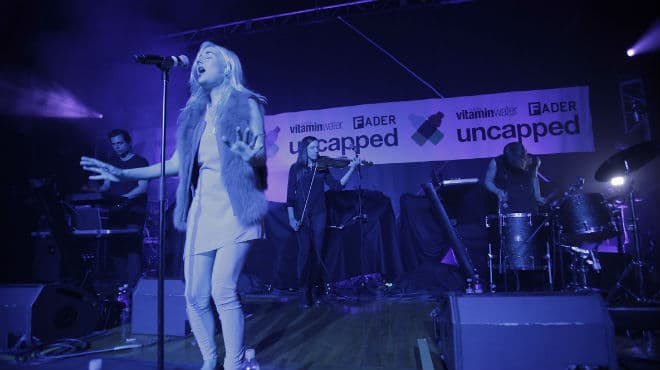 3 of 3
Free magazines, cold drinks and very, very loud music were in abundance in Hollywood last Thursday night. At Post 43, an American Legion structure that has been around since 1928, FADER Magazine and vitaminwater joined forces for a very special event that had the town buzzing and music fans in other parts of the world wishing they were in the City of Angels.
On Tuesday, June 5, the trendsetting publication announced the kickoff of its 'Uncapped' series with 50 Cent's former beverage investment by making this post. Within just a few hours, the RSVP link for the event was closed. And that was before the general public even knew who was performing.
When the night arrived, most people were aware that industrial goth-tinted songstress Zola Jesus would be the opener and Mr. Radio Killa himself, The-Dream, would be the follow-up act. For those that didn't know who the surprise headliner was going to be, it was no secret once they walked in the door. Although it hadn't been officially announced that someone bigger—notoriously and physically—was going to be capping the evening off, word had spread pretty quickly about who was going to be present. And present, he was.
Zola Jesus did a good job of corralling people into the performance area of the church-like structure. Things were just kicking off when she took the stage around 8:20 p.m., so the quarter-full room was to be expected. Her set was high in drum-guided energy and impressive with soaring vocal presence, but when she decided to walk into the crowd and hop up into the seats on the side of the room toward the end of her set, people seemed a little thrown off. If there was ever a mood index tipping point for when people were ready for The-Dream to come on, that was it.
As soon as he strutted out on stage to the tune of "Love Vs. Money Pt. 2," everyone's eyes drifted downward and focused on The-Dream's Nike Air Mags. When the lights dimmed low for fan favorites such as "Fancy" and "Purple Kisses," Marty McFly's signature footwear still glowed strong. And although Dream seems to think he's underrated, he too was beaming that night. Full of energy and humor, it seemed like he was partly still adjusting to the high amount of attention he's garnered from the indie community since he released his free album, 1977, last year under his birth name, Terius Nash, and partly just happy to be performing in a venue where his music could be intimately conveyed to people who were consumed in it. Many in the crowd sang along, and those who didn't had an unmistakable look of appreciation when he got to hits such as "Falsetto," "Luv Your Girl" and "Rockin' That Sh**." After pumping through most of the tracks from his first two critically acclaimed albums, Love Hate and Love Vs. Money, and claiming that he's been "running this sh** since '07," it became apparent to everyone in the room just how impacting the Grammy Award-winning singer-songwriter has been.
When a venue is split between industry folk, hip-hop fans and clear enthusiasts of indie music, the safest move a DJ could make is to drop his needle on 2 Chainz, Young Jeezy, Chief Keef and other trap-bred rappers of the like. To the crowd's satisfaction, "I Don't Like" and "Mercy" were played at extremely high volume in between performers. Joyful ruckus and reciting of lewd lyrics ensued. But this was only warmup for what was coming next.
After about 15 minutes of the DJ getting his shine on, one of rap's most magnetic figures emerged from behind the curtains. Clad in all black, his signature large shades and diamonds all over, FADER and vitaminwater had brought out the untouchable Rick Ross front and center for a crowd much smaller than he's used to. Aware of this, those in front of him looked on in awe of who was just a few feet away. With none of his Maybach Music cohorts initially accompanying him in front of the 250 or so in attendance—unless you count his hype man—the appearance was certainly a one-off rarity that Ross seemed surprised about too. At first, he lacked energy and looked around into the crowd as if he was having flashbacks into the past, pre-"Hustlin'," when a crowd this size would have been a big deal. But once he got into the groove of things and into the likes of "Yella Diamonds" and "B.M.F. (Blowin' Money Fast)," the energy was palpable and everyone's hands were in the air just as frequently as lyrics were flying off of their lips. For one of his most recent fan favorites, "Stay Schemin'," Ross brought out Harlem's own French Montana, who would end up releasing his brand new single featuring Ross, Drake and Lil Wayne just a few days later. That went off without a hitch, but unfortunately for the MMG head honcho, the low point in his set was the presence of his newest signee. The crowd wasn't feeling Omarion—point, blank, period. The demographic just wasn't right. His dance moves were out of place and his R&B ballads only raised appreciation even more for the unique take on the genre that Mr. Nash had effectively displayed 45 minutes prior.
Once Omarion began his spin moves, Post 38 started to clear out little by little. Ross picked the hype back up when he regained the mic and dished out some more new and old cuts, including his latest lady-friendly single, "Touch'N You," but it was midnight by this time and most attendees had been there for nearly four hours. After all of that time in such closed quarters with ten-foot-tall speakers blaring from the stage, sore ears were in abundance when the music stopped. As I tried to pop mine back to normal by doing strange mouth movements as if I had just been on a cross-country plane ride, I hunted around for a final parting beverage from the host. I found a vitaminwater Zero in one of the several coolers that were strewn throughout the venue and stocked high with them the entire night. As I walked out, I grabbed a few new and old copies of FADER that were readily available and an event poster to keep as a memento.
Nights like that don't come around very often. Zola Jesus, The-Dream and Rick Ross all on one bill for a free show in a pre-World War II venue the size of a high school auditorium? No concert promoter would have ever made that daring a choice with his money. Only two days notice, no official word of who was performing and an RSVP-only list that filled up with the snap of a finger? These are things that only a tastemaker company known for doing the unexpected could have pulled off. With a little assistance from vitaminwater, FADER did just that and held true to their positioning as one of the avant-garde mainstays of modern music media and popular culture. The only thing the two could have done to make the night even better would have been to provide food. Luckily, I saw the lights still on at the Sunset Blvd. Chick-fil-A on my way home.
Photography: Kiino Villand