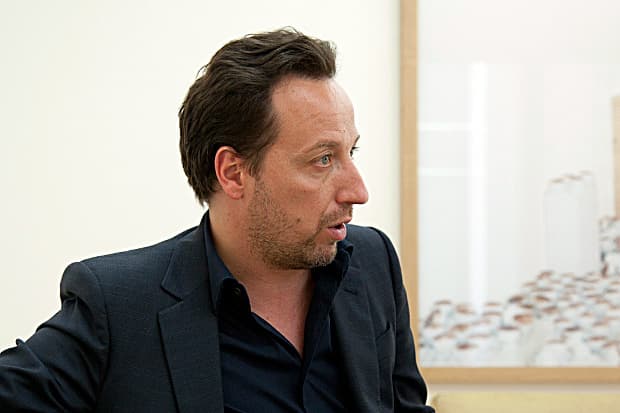 Emmanuel Perrotin: Deconstructing Galerie Perrotin
The role the Asian art market has and is set to play in the coming years is paramount. With little
---
The role the Asian art market has and is set to play in the coming years is paramount. With little in the form of investment tools in Mainland China, art has become a lucrative area of investment. Just as much as China and its little sister Hong Kong have long held a questionable position when it came to creativity, nevertheless, the region possesses too much money and attention to overlook its growing importance on a global scale. Galerie Perrotin is the latest to join the local art scene which has seen some dividing opinions on its positioning, encompassing small local movements among big international galleries. For Galerie Perrotin and its founder Emmanuel Perrotin, the gallery does maintain a certain business perspective albeit it's a necessary requirement to subsist and to continue pushing the envelope of creativity with his all-star roster of artists. Counting the likes of KAWS, Takashi Murakami, Xavier Veilhan, Mr. and JR among others in his stable, the humble and grateful Perrotin offered us some insights into his progression and hardships as a gallery owner as we met in preparation of his upcoming debut with KAWS's "The Nature of Need" exhibition.
You're here in Hong Kong for the launch of your new gallery. What do you think of the local art and gallery scene?
First off, I like Hong Kong a lot. But despite all the new galleries opening here, you don't open a gallery in Hong Kong because of them. You open it because, five times a year there's an influx of collectors, all who view Hong Kong as a hub and as a place for business. Additionally, the auctions are doing a great job of promoting the art and getting it into the right places. I have to thank Hong Kong for providing me with the opportunity of meeting a lot of interesting artists.
Pharrell is also in town and it's no secret you two share a close relationship. How did you and Pharrell link up?
We met at the Miami gallery. He bought some stuff and I found out he was into design. Since then, we have done some collaborations together. He did a chair which we showed in Paris and we've been supportive of each other's work. Pharrell is a very talented person who's both a smart guy and a great producer.
You went to Japan in the early '90s to find new artists. Do you think there exists an upcoming Asian hot spot for a new range of artists?
I don't think it is necessarily a country that defines where the most interesting artists come from. I started with Japan because there was no market, no one was collecting art from the country at the time.
There's been a lot of talk about "risk-taking" by gallery owners. What are some of the risks you took and how did they pay off?
I think many people outside the gallery imagine that real estate was my biggest risk factor, but actually producing the work has been the biggest risk. I've helped artists produce work that simply wouldn't sell and ended up losing a lot of money, but that's the risk. Sometimes the reception is incredible and the artist does really well and the artwork has great return. But looking at this most recent Hong Kong gallery, opening in a city with such a volatile real estate market, that was a risk. I do not own this space and every month that's money I am losing on rent. Even being successful comes with its own kind of risk.
How did you approach the design of this gallery, being that it is in an office building?
Well it was a different approach from say the gallery in Paris which is located in a beautiful 17th century building. In Hong Kong, we're located on the 17th floor with a great view, so we didn't want to play around too much. We wanted to have a space where people felt like staying and feeling engaged, including places to rest and sit. We definitely did not want an "in-and-out" experience. The design was also something that had to be different from my other galleries. While I understand some galleries want to brand themselves similarly across the world, I want people to see the same exhibition in Paris and Hong Kong but be able to distinguish them.
You've helped artists achieve their creativity, but where does your creativity come from?
I brainstorm a lot with others. Everyone has that moment when something just comes to you and you know you have try to make it a reality.
You represent a lot of big artists. Do you even need to market them or do they market themselves through their name?
The art market does a good job on its own already and we try to collaborate to add more interesting elements to the mix. We help the artists along the way, such as helping them come up with solutions, publish books or help create some buzz on our digital platforms.
What are are some of the difficulties of running a gallery that are often unseen?
The work involved is far beyond just hanging some work. If the artist has a request for something opening night, no matter how outlandish it's our job to see it through. It's also our call whether or not we produce the work for them. Sometimes you have to say no, but that means you could potentially be missing out on a hit. Other times, you take on a show concept with disastrous outcomes. Ultimately as a gallery owner, we don't take breaks and must stay completely focused.