The 101: Momotaro Denim
For approximately 20 years the group consortium of Japan Blue has illustrated its tenacity for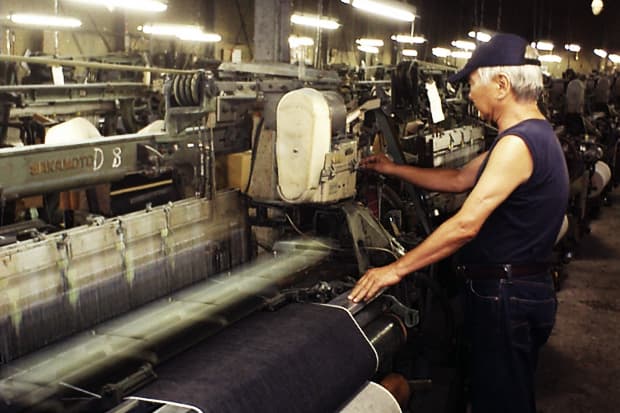 1 of 2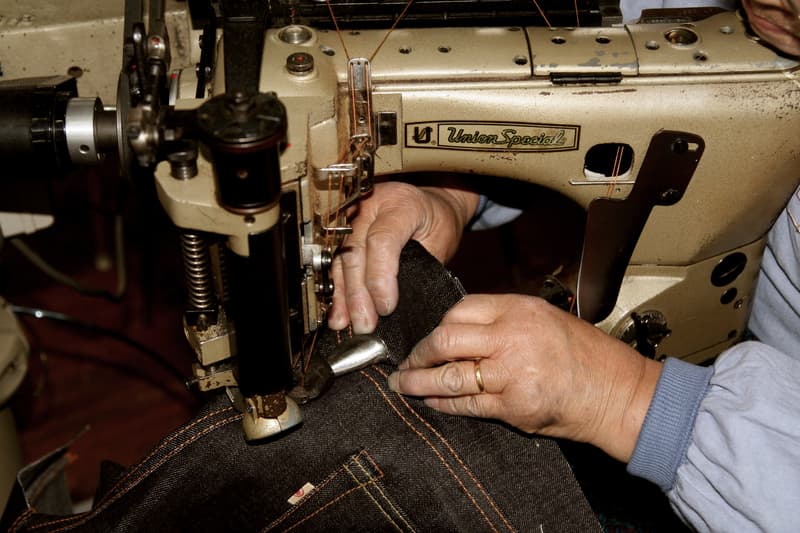 2 of 2
For approximately 20 years the group consortium of Japan Blue has illustrated its tenacity for innovation in the area of denim manufacturing. Based in the Okayama prefecture, Japan Blue has firmly instituted itself in an area affectionately referred to by many as the denim capital of Japan. Denim label Momotaro, textile manufacturer Collect Co., and dyeing specialists Rampuya & Co. are the three sub-brands that comprise Japan Blue. Rampuya is one of many aizome kobo in Okayama – which are studios dedicated to indigo dyeing. This area has been a center of textile production for centuries, not only for denim but many other types of fabric. The collective company known as Japan Blue started only 20 years ago with five machines. It was after an extensive period of trial and error before owners Mr. Manabe and Mr. Suwaki settled on a suitable fabric to manufacture.
Momotaro's background is based in Japanese folklore; embedded in a story that has been passed down for generations about a brave character that often protected Japanese villages from outward threats. One of the best known in Japanese culture, the story chronicles a small boy who arrived on Earth in a giant peach. His name known as Momotarō was often translated as Peach Boy. Many of his tales were linked to Onigashima – a demon island in Okayama that was notoriously shrouded in mystery. For many in Japan, the rejuvenation of the story in a modern context is representative of standing fast with one's ambitions. Since it was established, many aspects of Japanese culture have emanated through the brand. Acting as a reflection upon Samurai in the Edo period, Momotaro has incorporated two signature painted lines into its collection to recognize flags commonly carried into battle bearing the same design. Representing morale and momentum, Momotaro pays tribute to this by including the lines as a sign of homage on its products.
From a perspective of construction, Momotaro jeans are comprised of 100% Zimbabwean cotton, which is recognized as one of the cottons of highest quality found around the world. Characterized by its durable fiber structure and ability to retain dye coloring, the cotton is harvested by hand and remains free from extraneous elements up until the manufacturing process. The result of using high quality cotton is visible in the slubby texture of the denim and while it doesn't create a smooth to the touch fabric, it represents the utmost quality. Tateochi, or a particular fading that occurs, is a product of the special cotton.
Over the course of the last two decades, Japan Blue has supplied over 300 companies with denim including Ralph Lauren and Gucci. The affiliated company Collect Co. was established under the principle of "development with no compromise" and has produced high quality denim fabrics for years that embody the characteristic of jeans crafted to age. The traditional rope-dyeing process, particular shuttle rooms responsible for creating selvage fabric and vintage sewing machines known as Union Specials (which provide a highly sought after chain stitch) are all essential in the process of creating a pair of quality vintage reproduction jeans.
Momotaro offers three main lines: the Copper label, Vintage label, and Battle collection. The Copper label includes soft, rope-dyed heavyweight denim rinsed once in mineral water, the Vintage label includes shrink-to-fit denim with a rougher texture and the Battle collection which offers a dark shade of indigo in a heavy denim format featuring the brand's signature two stripes on the rear pocket. Aside from these three, a fourth lesser-known line of Momotaro manifests itself as the Gold label which features handmade denim. A much longer manufacturing process is required to produce a single pair which are woven using handlooms, dyed by hand, and rinsed once in salt water. Aside from each line sharing similar 15.7oz Zimbabwe cotton, a pink thread recalling the shade of Momtaro's peach is often used for the inseams of each pair of jeans.
Among Japanese heritage brands such as Edwin and Big John, Momotaro remains distinct in its aesthetic and brand positioning. Thoroughly embedded in the culture of Japan itself through connections in the brand's philosophy to folklore in Okayama, the label created in tradition simultaneously succeeds in appealing to the young and informed denimhead as well as those looking for the essence of vintage and paramount quality. Enforcing the parallel between traditional manufacturing style and staying relevant as a contemporary denim brand, we see collaborations such as the one between Momotaro and Naked & Famous.
Momotaro and Japan Blue continue to innovate while offering traditionally-styled denim products. The brand's thorough proficiency with denim has developed into an inimitable expertise in the areas of production, dyeing and style. A decidedly clear duality of vintage and modern seem to characterize Momotaro as a label that continues to be one of the most globally sought after brands in a space where numerous Japanese denim brands haven't been universally available in international markets. Not only preserving quality by maintaining strict manufacturing standards, the brand also acts as a testament to the importance of tradition by upholding its signature design aesthetic for decades.
"When you imagine Momotaro, think Okayama. When you imagine Okayama, think jeans."