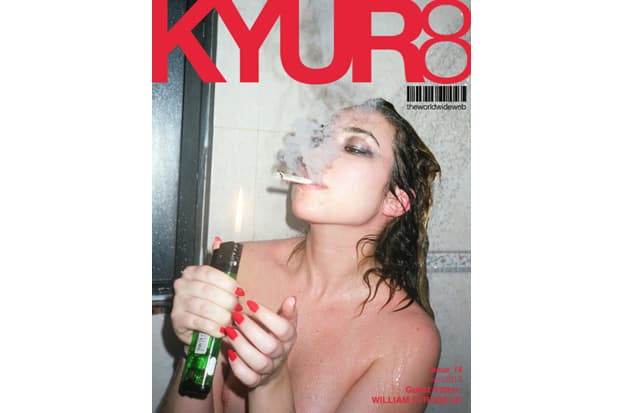 KYUR8 #14 with Guest Editor: William Strobeck
No, it's no April Fool's prank — the April issue (#14) of culture and fashion webzine KYUR8 was
---
No, it's no April Fool's prank — the April issue (#14) of culture and fashion webzine KYUR8 was guest-edited by legendary skate filmographer William Strobeck. Strobeck's love for analog photography and distinct eye for raw, unfiltered imagery in fashion and art was a perfect creative and collaborative fit for KYUR8, as you can see in the new issue. You can click here to view the issue in fullscreen with a short Q+A below.
Was there anything you looked for when picking photos for this issue?
Truthfully, I knew about most of the photographs before I even was approached to do the issue, so I had the thing basically ready mentally before I even started.
Favorite shot in this issue?
Man, I picked out every single photo for the issue, so I actually like them all. I guess if I was to pick one from them all out it would probably be Dash's "puke on the street" photo. I always liked that one. I like the colors and find it to be pretty actually.
How many photos did you go through for the mag?
Not too many really. I asked everyone for certain pictures I knew about… the only ones I had to go through were Silver's and Dill sent me like 20 pics and I picked the few I was into. Actually, I wanted these photos that Silver had shot that were "The American flag swastika" and the "Pigeon" one. His house had burnt down and he didn't have them anymore. I remembered I had photographed them from my wall a long time ago, I just used that instead.
Have you ever been too scared to press the shutter?
Can't think of a particular time… but I'm sure I have been before with the strange shit I'm around.
Does it phase you when a picture you really wanted to turn out didn't?
I don't even think about it, good or bad getting film back from being developed is a surprise. Sometimes the ones I think I'll like I end up blowing and sometimes not… oh well, shit happens.