Matters of Taste: Why Kanye West (the label) Matters
It has been a whirlwind few fashion weeks. Big names are playing hopscotch at historic houses -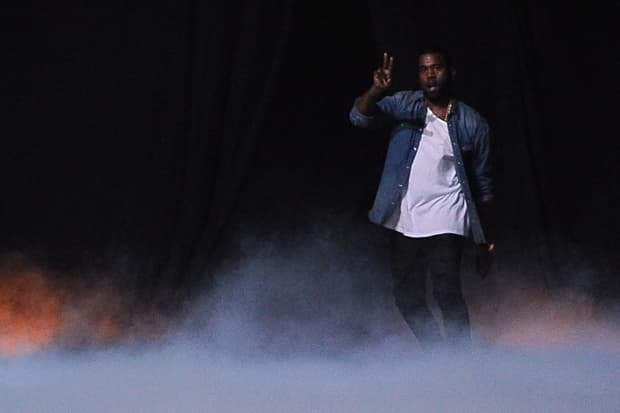 It has been a whirlwind few fashion weeks. Big names are playing hopscotch at historic houses – from Slimane replacing Pilati at YSL to Raf Simons stepping down at Jil Sander. Marketing continues to skew extreme with Burberry advancing their egalitarian "tweetwalk" social philosophy via animated GIFS while Tom Ford at his eponymous label and Phoebe Philo at Celine host increasingly intimate showings for editors and influencers only. Amidst this chaos, the seriousness utilized by critics to analyze every stud at Givenchy, or the details of each one of Sarah Burton's heavily feathered gowns at McQueen can border on the absurd. Yet the industry itself – like most artistic endeavors – is a bit absurd.
Why is it, then, that still no one can take Paris' newest designer seriously? Yes, I'm talking about Kanye West. He certainly has the credentials: The man has successfully designed sneakers for Louis Vuitton and Nike, supposedly interned at Fendi and apprenticed at Giuseppe Zanotti (the Italian shoemaker that assisted in the creation of these questionably crocheted $5,800 stilettos). Sure, his name is inextricably linked to his celebrity, but so was Stella McCartney's when she first started. Yes, his first collection was a flop, but let's not forget, as a recent NY Times Magazine editorial pointed out, so was the now-revered Beatles progeny.
So, why all the ridicule for Mr. West? He's undeniably one of the most creative musicians alive today. He is an international trendsetter and a notorious hard worker. He has experimented successfully in film and editing. He's got as much ego, brashness, aesthetic principle and business-savvy as most designers. And, let's not forget, he shops so much he could speak Italian.
Yet, despite his potential, Kanye has unveiled two at-best mediocre women's collections and been received with mock-interest and general ridicule. Why shouldn't Yeezy be treated as a joke by the fashion community that once embraced him so warmly as a mascot? For several reasons.
First of all, Kanye is a black, American, heterosexual, male hip-hop artist. For a man of this background to even show at Paris fashion week is not only a coup, it's a miracle. Kanye should be respected and lauded for getting a spot two seasons in a row on the covetable schedule. Instead of a single sentence outlining the difficulties that this task entailed, however, most editorials spend paragraphs discussing the fact that Kim Kardashian and Diddy attended his show. The media flat-out doesn't treat him fairly and, thus, most legitimate critiques of his collections have been drowned out by rhetoric.
Secondly, he has plenty of time to grow. This piece isn't designed to defend the latest Kanye West line, which was stronger than his last yet still boasted enough black leather, crocodile collars and fur embellishments to have been lifted straight from a Madonna video. It is, however, an attempt to argue that Kanye West – the label – could prosper artistically and commercially. West has infamously slated a crew of Central Saint Martins students as designers and fashion veterans as consultants. He has, over the course of only two collections, shown significant progress. Most importantly, he's clearly passionate about what he is doing here – the man tweets about chiffon while most of his contemporaries use their social media presences to propagate images of vacation spots and Maybachs. West has even gotten some editorial love, with one of his garments ironically swathed on Taylor Swift in an issue of Australian Harper's Bazaar.
Finally, Kanye West's fashion label matters because it proves to people all over the globe that interest in the fashion community is not mutually exclusive with participation in it. Could any average Joe reach Kanye's level of success in Paris? Of course not. But in the wake of Mr. West – he could certainly dream about it with less ridicule from his peers. Yeezy has always been a trailblazer, opening the eyes and hearts of enthusiasts from around the world in his own uniquely egotistical way.
So, I say design on Mr. West. Keep trying. Ignore the critics and know that, if it's meant to be, your time will come. And if it doesn't – at least you tried. At least you proved to your fans once again that individuality and infatuation with art are not roadblocks to the finer things in life, but rather a launch pad.
In today's globalized, plugged-in and obsessive fashion world, it can be hard to differentiate what's truly stylish and what is merely a passing trend. Matters of Taste is a weekly column by born-and-bred New Yorker Douglas Brundage dedicated to exploring the cultural, artistic and commercial aspects of the fashion industry from a more in-depth, conceptual stance. In a realm constantly straddling the line between tech-savvy futurism and old-world charm, Matters of Taste seeks to sort out the timeless from the fads – and hopefully spark conversation in the process.

Douglas currently works in digital strategy at Team Epiphany in Manhattan. Feel free to contact him with any questions or comments you may have.