David Altobelli: In Motion
Like many creatives his senior, 26-year-old director David Altobelli made the transition to his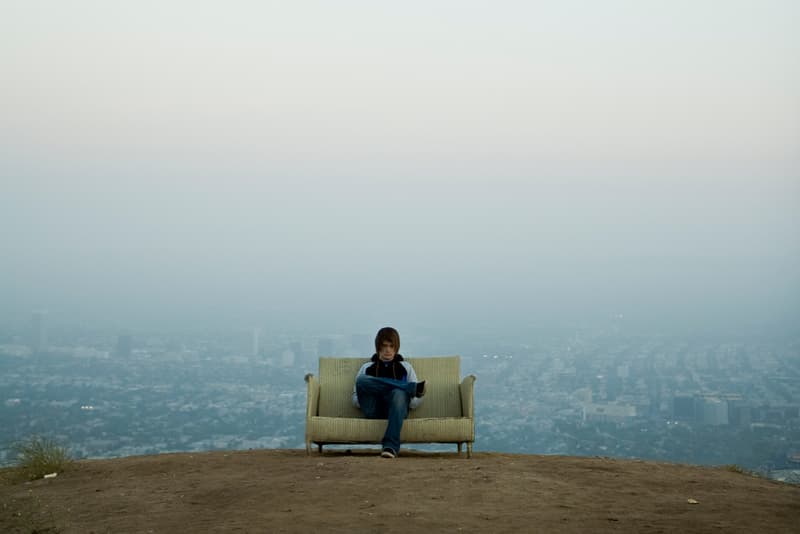 Like many creatives his senior, 26-year-old director David Altobelli made the transition to his current home of Los Angeles in hopes of learning anything and everything he could about filmmaking. The Brooklyn native began his foray into the filmmaking scene working alongside a range of bands who, at the time, were in need of low budget music videos. Having seen substantial growth in his client list since making the West Coast journey, Altobelli retains the same aesthetic foresight and youthful edge that initially established his platform as one of the newest coveted filmmakers. On a personal level, Altobelli boasts a proclivity towards both music and fashion, each a personal affinity that has afforded him a natural advantage in working alongside clients like his recent project with 55DSL. Altobelli took some time out with HYPEBEAST to discuss his recent project, "ROMA" while offering personal insight into his craft.
Can you introduce yourself?
David here. 26 years old and living in Los Angeles.
How did you get into filmmaking?
I moved to LA after college and began interning at production companies. From there I approached a few bands to do low-budget music videos. I had been making unofficial music videos for a while just for fun. At some point, I started hearing from bands directly and from there I began the transition into commercial and short form narrative.
How would you describe your style and approach?
I usually work with a fairly tight-knit crew of repeat collaborators. I flew my DP out for this project, and it was really helpful to attack the challenge together with a bit of familiarity. We've established a dynamic and dialogue that has become fine-tuned over time.
It starts with an idea. From there it's about catering those ideas to individual projects. The projects always seem to present themselves erratically and when you least expect them. So it's good to be always ready to dive in and take advantage of a cool opportunity when it comes.
How has your approach to filmmaking changed since you first started your craft?
As a continuation on the above, I've started to brainstorm ideas whilst taking more consideration in the eventual execution. A variety of things play into this: time, resources, scope, audience. When working with brands or artists, there needs to be a balance of all the above to arrive at a result that pleases all parties. I guess I try to think big picture from the start now instead of feeling it out as I go.
You've worked extensively with a lot of independent music artists such as Karen O and the Cults. What draws you to music as a director?
I started doing music videos because I loved the synchronization of sight and sound. Certain clips set to the right music will take on an entirely new quality. I feel very lucky to have worked with some of the talented artists that I have thus far. Some musicians especially foster the visual counterpart of their art and give directors freedom to scrape through, break down, and reassemble the track to add something fresh and unexpected.
Does filmmaking for fashion and music share the same approach?
There's some overlap, sure. Ultimately there is a client on either, and thus they must take the top priority slot. Although, in cases like this piece, where the brand commissioned a more untypical form of promotion, the clothes can be featured without feeling as though you're being force fed. A good music video should do the same for the audience; elevate the experience to something beyond just artist promotion.
How often are you able to fully communicate your vision without any concessions? Does this bother you?
The only time you will have complete, unfiltered control over your work is when you're paying for it yourself or you have an investor whose sole purpose is to support your vision. Just because you wouldn't normally feature a brand or artist doesn't mean that doing so will result in a serious creative concession. However, you need to discriminate based on the project. I make sure to find adequate time for what I consider personal projects versus what could be considered work for hire. In this case, it was a nice mix.
What are some of your favorite projects of the past?
Coming up in music videos, I have a strong appreciation for them. I love watching the new work my friends create, and we're always bouncing ideas off each other. That said, I have a massive appreciation for music video directors who have transitioned into more long form narrative work. I love the films and videos of Spike Jonze for example. I also love the work of Sofia Coppola, PT Anderson and Stanley Kubrick, among others.
How did you approach your project with 55DSL? What was it like shooting in Rome for the entirety of the film?
It's always a challenge to shoot in new environments. I had never been to Rome before despite having Italian heritage. The task put forth by 55DSL was to show a different side to the city rather than its common perception. In the end, we had a very unique experience and I think that carried over into the piece.
What sort of story and mood were you looking to achieve?
Rome's reputation of "The Eternal City" leant itself well to our narrative. I wanted to create something mostly about a feeling, and less about a contained story. As though these two characters and their story were eternal in a way.
Favorite part of shooting the film?
Meeting Romans. They lend a very unique perspective. To live in such an antiquated city with a modern perspective is infinitely interesting to me. I also loved meeting the production folks, whether from Vice, 55DSL, or the local crew we hired. And lastly, the two talents we cast (James and Sidney) were very cool and easy to work with.
Any last words?
I'm answering these questions from Amsterdam. I didn't think I'd find myself back in Europe so quickly (I spent an additional month traveling after we wrapped in Rome). This time I'm here editing a set of new spots I directed for adidas through the agency Sid Lee.