Andrew Montell: Carbon - A Building Block of Australian Street Culture
HYPEBEAST recently had the esteemed pleasure to pick the brain of Carbon Festival founder and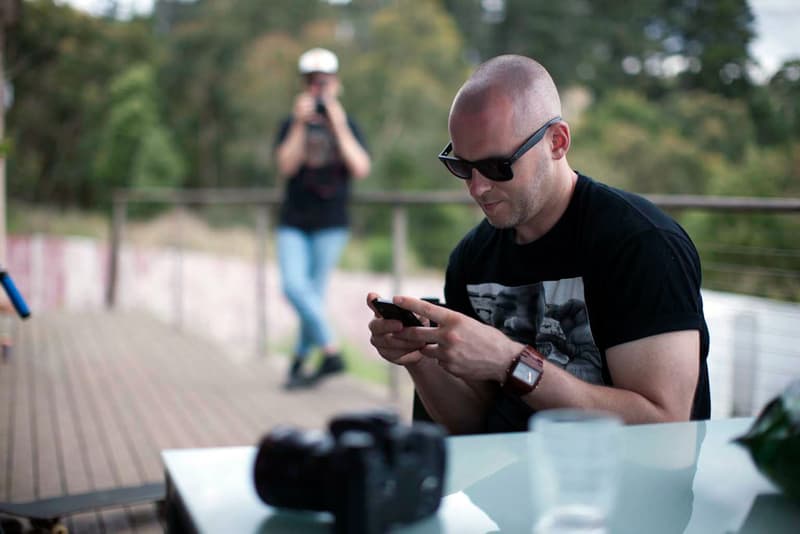 HYPEBEAST recently had the esteemed pleasure to pick the brain of Carbon Festival founder and editor-in-chief of ACCLAIM Magazine, Andrew Montell. In this brief piece, the Australian native offers a glimpse into his early years in publishing, the development of his homeland's creative subcultures, his current and future undertakings, including the Carbon Festival – which will be held late next month – and much more. The latest issue of ACCLAIM Magazine, based around a DIY theme features Iggy Azalea on the cover and an alternate cover design by Dust La Rock, that will hit newsstands soon.
Can you introduce yourself and what you do?
I'm Andrew Montell, I come up with creative concepts and try to make them a reality. I wear a few different hats, including GM, Editor In Chief and Creative Director. My various endeavours include ACCLAIM Magazine, acclaimmag.com, the Carbon Festival and various marketing/advertising initiatives for clients such as New Balance and New Era.
How did you get involved in both street culture and creating a magazine?
Back in 99 a buddy and I put together a photocopied zine titled 'Out4Fame' which was dedicated to showcasing the Melbourne hip-hop scene. At the time I was a pretty terrible bboy and dabbled in graffiti and even MC'd badly (very embarrassing) but it was through the creation of this zine that I found my feet, so to speak. We evolved that zine into a full colour, free magazine that was distributed around Australia and New Zealand until December 2005. I also toured hip-hop acts around Australia and produced many concerts and events. I went broke several times during that period and narrowly avoided bankruptcy at the end of that business. Feeling disillusioned by the politics and bullshit of the local hip-hop scene and having evolved my own interests I decided to try producing a news stand title that was more of a broader street-culture, lifestyle magazine and ACCLAIM was born, debuting early 2006. As the publishing game has changed quite dramatically we have also reinvented our business to be a Creative Agency with the print publication as one part of a bigger picture.
Where did the idea of Carbon come about? What do you hope to achieve?
Originally my idea was for a streetwear trade show with discussion forums for industry people as a side event. We delivered the trade show concept under the title of Buffet in 2010 and while the trade show aspect struggled due to the relatively small size of the street industry here in Australia, the discussion forums headlined by jeffstaple were very positively received. That was the 'lightbulb moment' for me. My team and I began brainstorming a format for delivering a forum event that could stand out from existing creative conferences and be representative of our own mindset.
We hoped to achieve an event that would be inspirational and educational whilst introducing influencers from overseas to Melbourne and the creativity being fostered here. It was designed to be relevant to the young aspiring entrepreneurs out there as well as people already working in the industry.
Coming from a publishing background, was it something difficult to achieve or rather seamless?
It certainly wasn't easy. We pulled together a fairly epic event with only a couple of months preparation. Whilst we're recognised as a publishing company we have always produced small to medium events as part of our business and my personal event production and management experience is fairly extensive, so it wasn't entirely new to us. That said, this was a fairly unique project to put together with very unique challenges. Luckily for me I work with a very talented and dedicated team of people who all went above and beyond to help deliver the first Carbon festival. This year we're far more prepared!
It seems a lot of people from media backgrounds make the move into other projects whether it be tradeshows or design. What do you equate this to?
I think in the past, probably just logical investment for media businesses into other related industries. These days, for many media businesses traditionally reliant on print revenues, expansion into other areas is a necessity! I can only think of a few select examples of magazine publishers who are still solely reliant on income from print. I guess you have to be good at communication to be successful in media and the communications skill set translates well into developing projects towards particular target audiences. [Sorry if this is reading like a marketing essay haha]
On a creative level, how would you describe the scene?
Right now I am seeing some really great art and design innovation from individuals, smaller collectives and independent brands, some from very unlikely places. On the flipside of the coin, commercially the "me too" mentality seems to be more prevalent than ever. The 'peer pressure' for brands to follow suit when a particular trend in fashion takes off can be pretty detrimental to creativity. My respect lies with brands and individuals that can progress with trends whilst still maintaining a very unique visual identity.
Education seems to be an integral part of Carbon's approach, how important is bringing in global experts to help expand Australia's horizons?
One of the biggest pitfalls to being based in Australia is our geographic isolation from the rest of the world. Educating people about creative movements and trends from cultural hubs around the world is really important to the expansion of Australian horizons. I believe that having inspiring individuals present to an audience and allowing for direct interaction between these speakers and the audience, is far more effective than browsing the internet for updates on what these people are doing thousands of miles away. Carbon is largely about the exchange of ideas, and this exchange happens on many levels, from the speaker/audience interaction to the networking between the different creative and industry people in attendance and the new relationships that grow out of all of this.
What is the unifying theme between the participants that have been invited out? How was the selection process?
Everyone on the Carbon speaker list is actively creating today and relevant to a contemporary audience. The selection process is a little tricky and several different points of view are considered when we short list our speaker wish list. Unlike other discussion forums or conferences, each forum at Carbon explores a particular theme, so speakers are selected based on their relevance to a particular theme rather than simply choosing people who can share a portfolio of work.
Any last words?
Shoutouts to everyone at ACCLAIM (Alexandra, PJ, Chris, Vinny, Meisy, Cdot) and Frank Liew working behind the scenes to pull this event together.
People should really consider a trip to Melbourne for the Carbon Festival. You can find full details at www.weareallcarbon.com.
Photography: 13thWitness