A Conversation with Salehe Bembury
To say that Salehe Bembury, Innovation Designer for Cole Haan, is merely a shoe designer would be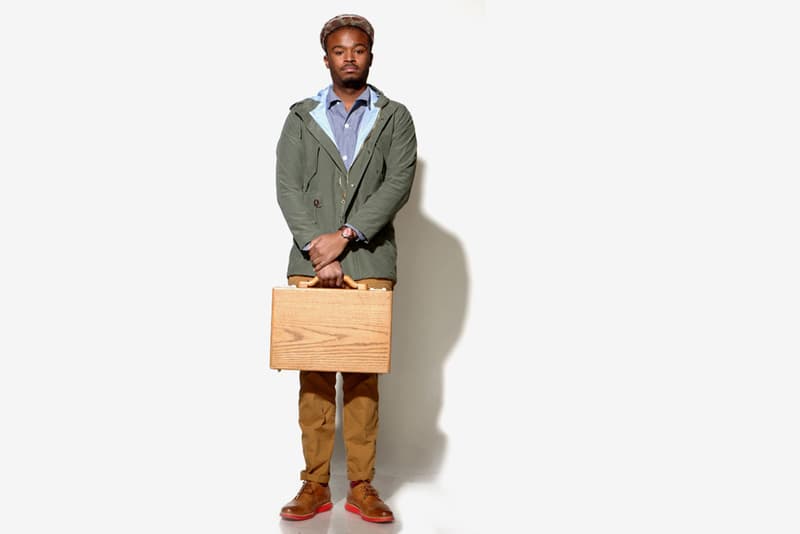 To say that Salehe Bembury, Innovation Designer for Cole Haan, is merely a shoe designer would be cutting the New York native short on multiple fronts. Born and bred in Tribeca, Bembury's early infatuation with all things footwear has been one of the catalysts to his current position working with the forward-thinking Nike subsidiary. But, it is his inherent proclivity through the years to push creative boundaries of art, illustration, and design that have firmly planted him in a position to drastically change the perceptions and expectations surrounding the traditionally flippant use of the title, "designer." The latest project for Bembury has seen him as part of the design team for the recent Cole Haan x Nike Lunargrand launch — an effortless pairing of a traditional footwear silhouette with an augmented Lunar outsole for contemporary function and relevance. Our latest A Conversation with focuses in on telling Bembury's story and progression as a designer while showcasing a relatable and often affable side of the insightful creative.
The Cole Haan x Nike Lunargrand… is a perfect example of tradition reinformed. That's all I can say about that. I can, however, speak on the importance of improving the traditional leather soled oxford. Growing up, I hated wearing traditional leather soled oxfords (or dress shoes as I called them) because they were either uncomfortable, funny looking, or had no traction. So when I wanted to bust a move at a Bar Mitzvah, I would be slipping in my Stacey Adams. New Yorkers walk more than most people and being a native New Yorker, I put a lot of miles on my shoes. Solving for both form and function is important when considering the traditional oxford.
Tradition and innovation… I think a lot of people see tradition as something that can't change. However, we see it as the foundation for innovation. The best part about being a designer is problem solving – seeing a problem, addressing it, exploring it, and ultimately designing to solve it. Since tradition is something that has stayed the same for so long (especially in the brown shoe industry), there are many opportunities to improve what hasn't been addressed. My job as a designer is to find an insight and design for it.
My role at Cole Haan… is innovation. I am an innovation designer working under Innovation Director Jeff Henderson. It's a great position because it keeps me versatile. Not one project is the same. The majority of them are based around footwear, my first, second, and last love. Winston Churchill once said, "Choose a job you like and you will never have to work a day in your life." I haven't worked since I graduated college and I feel blessed. When I was young and my friends wanted to be firemen and super heroes when they grew up, I wanted to design shoes.
Theophilus London and Cole Haan… was an extremely successful collaboration with an individual that represents the style, values and tradition of Cole Haan. For those of you that didn't see the shoe, it was a navy nubuck suede buck on a blue EVA outsole. Super clean. A successful collaboration is when two brands work together to reach a destination that they couldn't have alone. This collab went together like Macho Man Randy Savage and Slim Jim; it just worked.
Diversity through design… is important if you are talking about process. Collaborating, debating and sharing with other designers is crucial for the evolution of an idea. Getting an opinion from someone that knows absolutely nothing about a subject will surprisingly teach you just as much if not more than someone who does. For example, someone that has never driven a car might offer a completely different insight than a bunch of people that have. That insight could in turn affect your design in a way that the informed never could. I have always been taught to obtain as many perspectives as possible, ultimately making mine more informed. A perfect example of this is the song, "I Saw Mommy Kissing Santa Claus." My entire life I thought this kid's mom was cheating on her husband with Santa Claus…on Christmas eve of all times! I just realized a few days ago that it's really the kid's dad dressed up like Santa Claus…it's all about perspective.
My inspirations… come from my childhood. I grew up in the then artist neighborhood of TriBeCa. A lot of my inspirations and influences came from my surroundings. Many of my parents' friends were eccentric and animated artists. So from a young age I gained a point of view on fashion and self expression. Growing up in TriBeCa, going to school on the Upper West Side and West Village, having family in Harlem, and friends in damn near ever other section of the city allowed me to have a broad perspective of style, fashion and design in the city. I try to incorporate those old and new influences into my design. I document these inspirations on my blog saleheblack.com
Music… gets me through the day. I spend 10+ hours in front of a computer a day so listening to music helps me pass the time. I also use it for inspiration. Right now I'm listening to:
1. Black Star
2. Bone Thugs
3. Old OutKast
An example of your drive… is when I designed for DD172 and Dame Dash. I have always had a crackhead-like thirst for achieving my goals. I was a part of a few interns designing for him, but I wanted to join the official design team. Instead of sitting with my tail between my legs like the other interns waiting for an opportunity, I went to Duane Reade and bought a $20 TV dinner table. I then took that table and put it in the designer's room and started doing work there as if it were my desk. No one seemed to oppose and I joined the design team that day. Being too ambitious can sometimes be a negative, but I'm a big advocate of doing whatever it takes to achieve your goals.
More than anything… I need a lobster in my life. I was raised a seafood vegetarian so lobster is my steak…or bacon. I go to Ed's Lobster Bar at least twice a month. They easily have the best lobster roll in the city. I would love to be proven wrong. I need a falafel everyday from Mamoun's. I also need to sketch everyday. I've always thought that sketching is essential to design. With the amount of technology in our industry, it's important not to lose that tactile connection with a design.
Incorporating sneaker sensibilities… is something that can easily be perceived as a novelty. However when done the right way it can solve for both form and function. Achieving the style and tradition of the wingtip with the comfort and function of a sneaker is no easy task. When a design successfully solves a problem, the mission is accomplished. My design professor once told me that design is about the journey, not the destination. When designing, I make sure to research my subject as thoroughly as possible. That insight will influence my final destination. I just spent 5 hours wearing size 14 heels to further understand how it feels to wear heels and improve that experience. Without experiencing it firsthand I wouldn't know what problems warranted solutions.
Wingtips and brogues… have an interesting history. Brogued wingtips used to be functional footwear for farmers. The brogue holes were meant for water to pass through. They were seen as the shoe of the blue collar worker. However at some point an influential Prince began wearing them to high society social functions. This ultimately reinformed the tradition and social connotation, making them acceptable by the upper class. Wingtips are also an essential to every man's wardrobe. Stay tuned for the Cole Haan Lunar Grand.