HYPETRAK: Miike Snow - Imaginative Realm
Swedish indie pop trio Miike Snow are enjoying further success after releasing their sophomore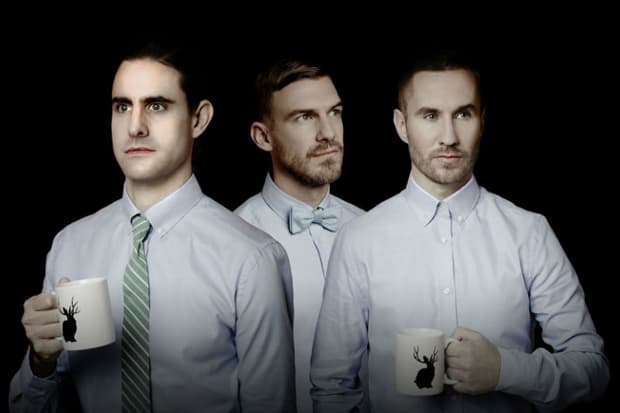 Swedish indie pop trio Miike Snow are enjoying further success after releasing their sophomore effort, Happy to You. Taking their emotionally uplifting pop sounds to another level with their new project, members Christian Karlsson, Pontus Winnberg and Andrew Wyatt are certainly evolving as musicians. Recently, HYPETRAK had the opportunity to sit down with them to touch on an array of topics. Choice excepts can be read below while the entire interview can be read in its entirety here.
You released your self-titled debut album in 2009 and now you're back with Happy to You, what have you been up to in the time in between?
Andrew Wyatt: We have been touring most of the time actually, which obviously kept us busy. Life on the road is pretty intense. Sometimes it's really fun and amazing, sometimes it can be a little bit rough. (laughs) It depends on the season, the type of bus and the type of gigs and so on. Depending on a number of factors.
Christian Karlsson: This tour should not be as crazy and busy as the last one when we did 260 shows. A lot of them were back-to-back with no days off. This time around, we are trying to map out things in a smarter way. A hectic tour schedule more selective on choosing the right shows because we have built this huge synth that takes up half the stages and it cannot fit in everywhere. So that alone, basically, solves a lots of decisions on what we can do and can't do.
Growing up we imagine you guys being really into music. Was there any specific genre of music?
Pontus Winnberg: My first thing that made me realize I want to write songs are The Beatles. Boring answer, I know. But they are still the best for pop music in my opinion. When I was 12 I stumbled upon Stevie Wonder. It blew me away so much that I wanted to be him for a while. (laughs)
AW: For me it was all kinds of stuff. I went through different phases. I remember my first really strong impact that I had that made me know what I want to do was "Pocket Calculator" by Kraftwerk. It sounded so good, it almost could not be true. It was one of those crazy experiences. (laughs)
Source: HYPETRAK