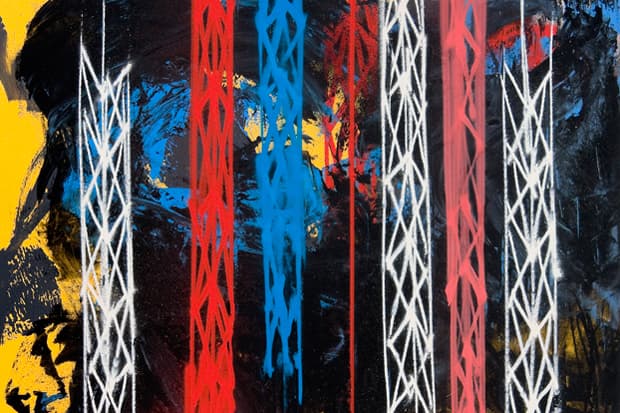 Trashfilter: Futura 2000 - Expansions 2012
Trashfilter was invited to preview graffiti legend Futura 2000's most recent works at The Galerie
---
Trashfilter was invited to preview graffiti legend Futura 2000's most recent works at The Galerie Jerome de Noirmont dubbed "Expansions 2012." A preview quickly turned into a full-fledged interview where a variety of topics were broached, including thoughts on consumerism to his journey forward as an artist. Read the choice excerpts below and head over to Trashfilter to read it in its entirety.
So, are you still in your studio in Brooklyn? Last time I came to see you, you had that nice place over in Brooklyn… You had this amazing coffee table of military memorabilia that you'd compiled into a 3D montage…
The Stash studio! All gone… all gone. All archived and in storage! I transitioned from there and I've just got a new studio and place to work in the city: it's just a painting studio. Not an office or anything any more, as I can do all that from home. That old neighbourhood in Brooklyn has really changed since you were last there. Everyone is living out there now and it became this 'escape Manhattan' destination – it's on fire, in terms of traffic and people and shops. Totally transformed from what it was.
Would you say that a lot of things have drastically changed since that period? I've watched the whole 'street art' movement rear its head since then. I've witnessed multiple bad dealings with various galleries, watched people jump onto what they consider to be graffiti, had valuable pieces stolen from exhibitions, cringed at shoddy stenciled pieces all pushing the same imagery… And, worst of all, I've watched veterans and who I consider to be genuine and worthy writers and artists get totally overlooked. Finally, it seems to be settling down now that the bubble has burst for some of the less-deserving chancers out there. And, to me, it's good to see people like KAWS still at the top of the tree.
So, when we first met that was in the offices near Carnaby Street (the original Unorthodox Styles/U-Dox offices) – and that was pre the whole streetwear/lifestyle/culture market explosion. All the sneakers/clothing/whatever thing took over and got totally overexposed for a while.
Now it's a good time for me to slip back in somehow. And these guys here – at Galerie Jérôme de Noirmont – seem very committed. This year is going to mark a real transition for me to start anew. I have this new studio in New York, I have this show here in Paris and these guys who are new investors in my work and my future. I've seen what's going on and it's awesome but all of what's happening in the 'street art' spectrum can only help me in the end. I don't want to be critical of it even if there are some people who I can't help being critical of, if you know what I mean! Normally, I just try to embrace the whole thing so it can continue and some other people can get some opportunities off it too.
And, hey Brian (KAWS) gets paid!
Yeah, but to me he was always a graffiti writer first. When I met and interviewed him for Spinemagazine in 2004, I was fully aware of his solid letter styles, billboard batterings and pioneering bus stop advertisement adventures. He went out and did all of that off his own back and he's a talented individual. And, you know what? He was the nicest and most humble guy I could have wanted to chat with. If I had the money, I'd buy his work all day long, not just because I like it but because I respect what he does.
Exactly: Brian is an amazing artist. He was clever enough to push certain elements of his work and iconography and make it totally work for him.
But I'd say that you did that even before he did with what you were doing with your own figures and icons. When we last spoke, you mentioned that you were moving away from painting your Pointmen figures because you didn't want to get typecast for that very small part of your artistic arsenal…
I still am leaning away from that. Perhaps for personal requests or signings, but less so for the exhibition work.
Yeah – I'd noticed that in this exhibition there were no real characters in your new pieces, other than some of the atom icons.
That's right: there's nothing. And that's the thing… It's really hard too because it seems to be something that somebody wants. But the people here were very open for me to do what I wanted to do. I can still see things like that coming up again in the future, but where I am now, it's not something that I particularly want to put out there in public right now.
My operation in Japan with Futura Laboratories… After everything that happened in Fukushima, I felt so bad that I just wanted to put my business in retreat for a minute. I didn't want my staff guys out there feeling pressured about MY thing when they're all dealing with that. How insignificant was my stuff in comparison, y'know? It's good to put things in perspective and realise that my thing doesn't really matter right now, so chill for a minute and take care of your lives. My operation over there has been really good and made sure I was able to put a few dollars in my pocket, but things are going to have to change slightly. Over the past decade I wasn't really out there trying to do this (painting). I found other ways to make loot in the meantime.
Source: GWARIZM