HYPEBEAST Trade: Jon Buscemi - Founder and Chief of Marketing at Gourmet NFN
With the recent launch of its 2012 spring collection and assorted video series including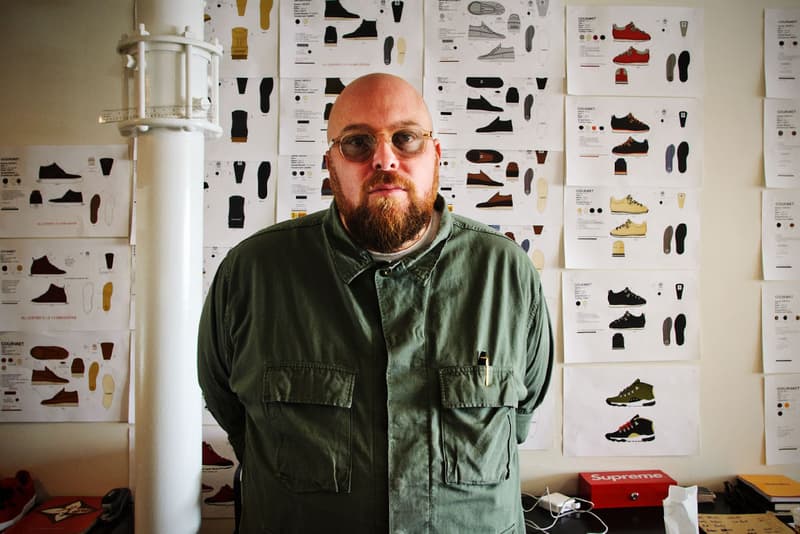 With the recent launch of its 2012 spring collection and assorted video series including "Lifestyling" and "Icons & Derelicts," Gourmet NFN's blend of Italian culture and American street styling has been a force in an industry dominated by conglomerates. As 2012 shapes up to be a promising yet eventful year, Co-Founder and Chief of Marketing, Jon Buscemi, sat down with HYPEBEAST Trade to further discuss the past and future of his brand. An investment banker turned skateboarding apparel sales representative, Buscemi had a knack for spotting marketing trends with an uncanny product knowledge and love for design, eventually leading to the Brand Director role at Oliver Peoples and now his own footwear line. In this piece Buscemi discusses Gourmet's developing history, the difficulties of the industry, overseas manufacturing, his brand's approach to trends, and more.
Can you introduce yourself and your role at Gourmet?
Good morning, this is Jon Buscemi, Founder and Chief of Marketing at Gourmet NFN.
Can you provide an overview of your company structure? Yearly revenues?
Gourmet is run very untraditionally but at the same time very structured. We employee about a dozen people full-time here in the U.S. including a bit of outsource/contract work locally and abroad, for design, PR and marketing. We have 6-10 footwear developers working on our project at between 2-4 different footwear manufacturing houses in Korea, Vietnam and China. Yearly revenue is just shy of $5 million U.S.
Between the three of you, aside from strong personalities, there's a lot of experience. What's the average meeting like and is there a lot of butting of heads over direction?
For the first three years of Gourmet, there was utter mutiny in the office at least once a week or more. Especially when it came to large ticket decisions or design direction for a particular shoe model, fabric choice or whatever. The average meeting now, since we have divided and defined roles in the biz has made life a whole lot easier.
How much more difficult is the footwear business relative to apparel?
Footwear has a much better flow and more structured development process. Maybe because of the volume of actual designs per season. In apparel, you have an average collection with lets say 200 or 300 styles. Where we are at in footwear, offering 20-25 styles per season, it is naturally easier…
Are the toolings/outsoles utilized on many Gourmet models developed on your own or third-party sourced?
Each and every Gourmet tool set and sole is owned and operated by our company and designed/built/commercialized by us.
What have been some of the biggest obstacles of the past few years and most recently?
The biggest hurdle, by far, is growing into new channels of distribution. We will be 5 years old in December and you find yourself at a crossroads from a customer standpoint. Who is buying your products and who should you be presenting your products to. Department stores, chains or whatever. It is a tough decision.
How often are you making factory visits to oversee quality and proper execution?
We go to our factories multiple times a year, whether it be for R & D or QC. We are also very lucky to have a partner in our company that lives in Korea and is close to the action. He holds it down for us locally.
With increasing production costs in China, how important will relatively lesser-known countries such as Vietnam be in the footwear industry? Does America stand a chance in regaining a production foothold for sneakers?
We have had many discussions about this topic over the past few years. Korea and Vietnam are our two major production centers with a very small amount of product, mainly autoclave/vulcanized, made in China. With that being said, I don't think we will ever completely leave those places, but we are finding out ways to make shoes in the U.S. Stay tuned.
How do you take into consideration trends? Would it be ignorant to completely ignore them?
This is one of the most frequently asked questions in interviews presented to us. The answer remains the same. When we set out to develop or concept a season, we look to the past. Nostalgic design. Bits and pieces of memories or past outfits from teenage years or pieces that we always wanted and couldn't afford, etc… But, when it comes to color and fabric, we work directly with one of the best leather/fabric dealers in the world and he keeps us fresh. But the application and details/use of those fabrics in the correct manner is the magic. It is what we covet the most.
The battle of vulcanized vs. cup sole, how does this factor into Gourmet's approach?
This doesn't really matter or even become an issue. We actually make vulcanized shoes because we always loved the classics in that genre, Chucks or Pro-Keds or whatever. We made our 22 as an ode to that '50s Hoosiers feel.
Any last words you'd like to share about the business side of Gourmet?
Thank you HYPEBEAST for the support over the years and we look forward to the next five years…
Photography: John Ong/HYPEBEAST